The CENTER
for CRETACEOUS STUDIES
THE WORLD LEADER IN LIVE DINOSAUR RESEARCH
And All The Crap Associated With Them
CENTER LEGAL TEAM SET TO ARGUE 5 MILLIONTH LAWSUIT
These Models Demonstrate Former IP DinoHandler Attempts To "Train" Tyrannosaurid

PROUD MEMBER OF THE MID-AMERICA PALEONTOLOGICAL SOCIETY
even though they asked us to go away


WELCOME to the Center for Cretaceous Studies [tC4CS] Dinosaur research facility website. At this site we'll show you the day-to-day operations, the research, the screaming, and the evacuation techniques practiced here around the clock.

At the Center for Cretaceous Studies we often research and sometimes study the unstudied and unresearched aspects of Dinosaur life, both past and present. That is, when we're not attending the funerals of those doing that unstudied and unresearched stuff. However, as the ONLY research institute in the world with eating, biting, living, biting, breathing, biting, carnivorous Dinosaurs from the Cretaceous Period [wait, did we mention biting?], we have live examples just down the hall, so eh, what do we care if we discover something in fossils or not?

Our record is incomparable to any other live Dinosaur research institute on Earth. Not because our "residents" are actually live, meat-eating Dinosaurs, but mostly because we are the only ones stupid enough to house live, meat-eating Dinosaurs.

Our unofficial motto: "Museums Are Nice, But We Have Them LIVE", remains our unofficial motto to this day, mostly because we don't want to be sued by Universal Studios or Spielberg. Then again we thought it was slightly better than our previous motto: "You're Probably Going To Die Here".

Set on a gorgeous college campus-like setting, our Dinosaur research facility would be on the cover of Better Homes & Gardens if not for the... well, you-know-what's. This research institution, located near Chicago, Illinois, is home to over 158 species* - we think - and probably growing every year.

*Note: Most of our DinoCensus volunteers have never returned, so we're kinda guessing at numbers.

BOOKMARK! BOOKMARK!:
'Bookmark' this site on your Favorites or Bucket List as company news and information (below) is updated often during the winter months (northern hemisphere) and once in a while during the summer (southeastern hemisphere).

You don't want to miss any of the 'adventures'... specially if for some insane reason you actually plan to visit us in person some day.

Thanks for visiting, and we hope to see you here soon!

Proof of life insurance, next of kin contact information, and blood type on separate piece of paper [in case the original is eaten] are required before admission will be granted.


CEO DR. BECKMANN RUINS ANOTHER COUPLE DINODIGS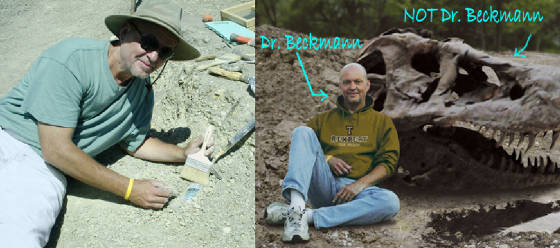 Over The Years Dr. Beckmann Has Dug Up Many Ounces Of Bones- Some Of Them Belong To Dinosaurs!
THE LATEST BUZZ, QUESTIONABLE FACTS, INNUENDO, HINTS,
ANCIENT NEWS, RUMORS AND GOSSIP...

ok, mostly just rumors and gossip,
DIRECT FROM tC4CS WATER COOLER

LAST UPDATED
6 DECEMBER 2013
A.D.
AKA: 66,005,318 YEARS AFTER "THE ANCIENTS" KICKED THE BUCKET
'ARMED' DINOSAUR FOUND BY C4CS DIG TEAM LOOKING FOR WORMS
Never Before Seen Species Tossed Back Into The Ground
A semi-nearly remarkable fossil find has led to the discovery of something quite unexpected: Not just a new species of dinosaur, but a whole new genus. On Monday, teams from C4CS Dig Team #951 somewhere in Spain uncovered two 'armed' dinosaur skeletons excavated while digging for worms. Luckily, the fossils had no handguns with them.
"We had given up looking for anything for the day, well, week actually, and decided to do some fishing instead,"
said C4CS Dig Team Supervisor Doug Dieper. Yep. Just like most C4CS DinoDig teams, they had given up looking for anything for the rest of the week - on a Monday. The specimens initially appeared to belong to a subspecies of armed dinosaur in the
Ankylosauria submachinegunna
group, but the researchers soon realized they were looking at something entirely different: earthworms.
The scientists, if we can call them that, described their find in the peer-reviewed journal Better Homes & Gardens, in the back by the ads for subscriptions, dubbing the previously unknown species
Europelta carbonensis
before tossing it back into the ground.
Like other large lizardlike Dinosaurs in the
nodosauridae
family,
Europelta
was a plant-eater and we're not particularly interested in salad-eating Dinosaurs around here - even if it was covered in scaly dermal plates.
"So, yeah,"
responded Dieper,
"we tossed it back in the ground and went fishing."
Other C4CS researchers, using a calculator with a low battery, estimated that
Europelta
was at least 915 feet long, weighed about four hundred dozen and two tons, and thrived between 113 million years ago and 11 to 10 minutes ago - although most likely during the Cretaceous, making it the oldest
nodosaurid
discovered by a C4CS DinoDig team in Europe during the daytime in December.
"The biggest point of significance is that one of our official DinoDig teams actually found something,"
C4CS paleontologist Dr. Carmen Dating, of Building R, told a crowd of 3 reporters at this morning's press conference [the doughnuts didn't arrive until an hour into the event].
Europelta
is Spanish for
"where are the earthworms?"
and
carbonensis
means
"probably over here"
.
What does this have to do with the new discovery? Not much. Since our team left
Europelta
to be re-found by someone else, the new finding may suggest that Europe was isolated from North America around 110 million years ago. If true, that suggests the widely held belief that the separation took place about 80 million years ago, long before The Beatles arrived.
There was no report on how many fish the dig team eventually landed but the 3 reporters had no problem polishing off every doughnut that finally showed up.
Read the REAL story: http://www.huffingtonpost.com/2013/12/04/armored-dinosaur-spain-skeletons-fossils-new-species_n_4378445.html
THE CRETACEOUSLAND! LINK (CLICK HERE)!
NO! WAIT!!! CLICK HERE TO RETURN TO C4CS PREVIEW PAGE
CLICK HERE TO RETURN TO TOP OF PAGE
A division of Beckmann Scientific [BS]