The CENTER
for CRETACEOUS STUDIES
THE WORLD LEADER IN LIVE DINOSAUR RESEARCH
And All The Crap Associated With Them
ARTIST'S SCREWY IDEA OF WHAT'S GONNA HAPPEN
CEO To Schedule Vacation Time Soon, According To Sources

PROUD MEMBER OF THE MID-AMERICA PALEONTOLOGY SOCIETY
even though they asked us to go away

FOLLOW
THE CENTER FOR CRETACEOUS STUDIES
ON FACEBOOK!
what? are you kidding? how'd THAT happen?!?

Look For CEO, Founder, DR. S BECKMANN On LinkedIn
seriously, why would you do that?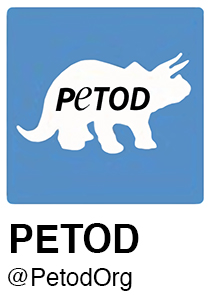 Charter Member of People for the Ethical Treatment of Dinosaurs Since Last Week
WELCOME to the Center for Cretaceous Studies [C4CS] LIVE Dinosaur research institution website. The animals [that is, the Dinosaurs, not the staff], are outdoors for the remainder of the Summer at Cretaceousland!. So, you are more than welcome to walk around inside the empty Indoor Paddocks [IPs] while construction and rehab is underway. Hey, we have to basically rebuild every year. YOU try housing these things indoors and see what kind of damage they can inflict!
Here at the Center for Cretaceous Studies we often research and sometimes study the unstudied and unresearched aspects of Dinosaur life, both past and present. That is, when we're not attending the funerals of those doing that unstudied and unresearched stuff. However, as the ONLY research institute in the world with eating, biting, living, biting, breathing, biting, carnivorous Dinosaurs from the Cretaceous Period [wait, did we mention biting?], we have live examples just down the hall, so eh, what do we care if we discover something in fossils or not?

Our record is incomparable to any other live Dinosaur research institute on Earth. Not because our "residents" are actually live, meat-eating Dinosaurs, but mostly because we are the only ones stupid enough to house live, meat-eating Dinosaurs. You're sure we mentioned "biting", right?

Our unofficial motto: "Museums Are Nice, But We Have Them LIVE", remains our unofficial motto to this day, mostly because we don't want to be sued by Universal Studios or that Spielberg guy. Then again we thought it was slightly better than our previous motto: "You're Probably Going To Die Here".

Set on a gorgeous college campus-like setting, our Dinosaur research facility would be on the cover of Better Homes & Gardens if not for the... well, you-know-what's. This research institution, located southwest of Chicago, Illinois, is home to over 158 species* - we think - and probably growing every year, for all we know.

*Note: Most of our DinoCensus volunteers have never returned, so we're kinda guessing at numbers.

BOOKMARK! BOOKMARK!:
'Bookmark' this site on your Favorites or Bucket List as company news and information [below] is updated nearly every weekend - or as long as someone is still around [alive] to write.

You don't want to miss any of the 'adventures'... specially if for some insane reason you actually plan to visit us some day. Thanks for looking, and we hope to see you here soon!

Proof of life insurance, next of kin contact information, and blood type on separate piece of paper [in case the original is eaten] are required before admission will be granted.


CEO DR. BECKMANN RUINS ANOTHER COUPLE DINODIGS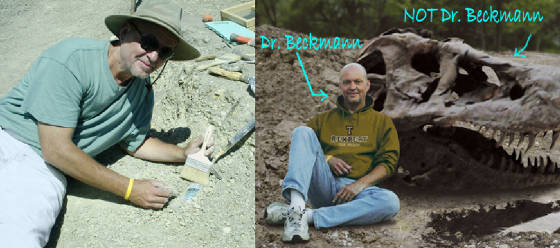 Over The Years Dr. Beckmann Has Dug Up Many Ounces Of Bones- Some Of Them Belong To Dinosaurs!
THE WEEK IN REVIEW BUZZ
QUESTIONABLE FACTS, INNUENDO, HINTS,
ANCIENT NEWS, RUMORS AND GOSSIP...

ok, mostly just rumors and gossip,
DIRECT FROM tC4CS WATER COOLER

LAST UPDATED
16 OCTOBER 2019
A.D.
AKA: 66,005,323 YEARS AFTER "THE ANCIENTS" KICKED THE BUCKET
COMET SPOTTED OUTSIDE SOLAR SYSTEM "PROBABLY" GOING TO HIT C4CS
"I Hope It Doesn't Ruin Barb's Retirement Party!" Pouts Several Barb Retirement Party Planners

A C4CS astronomer found one of the sharpest photos of a comet outside our solar system on Monday.
Chic Enliddle, a planetary stuff and astronomy scientist working in the C4CS Things That Fall Out Of The Sky Department [Building T], studied Comet 242i/Boristadeff [the "i" stands for "interstellar" because the guy who discovered it just came out of the movie] using NASA's Hubble Space Telescope Photo Of The Week, which captured images of the object when it was about 260 bazillion miles away from The Center for Cretaceous Studies.
The comet is traveling at approximately 4 miles per hour. Enliddle estimates it will crash head-on into The Center in either 3 weeks or 2089. According to the C4CS Board of Director [we only have one following Sunday's Board of Directors vs.
Carnotaurus sastrei
"incident] there are no immediate plans to declare an emergency.
"A lot depends on the wind,"
Enliddle noted during a press conference in Media Room 2.
"It looked like a bare rock, but Boristadeff is really active — there's a 3-hole golf course and an ice skating rink,"
claimed Enliddle, who was immediately whisked away from the podium.
"It's a puzzle why he said that,"
said his disgruntled boss, Dr. S. Teroyd.
"There is so much dust on this thing
[the photo]
we'll have to work hard to see if this is really a comet or someone's thumb print."
The comet, 2I/Boristadeff is reportedly the first object that has traveled from outside of our zip code into ours that has been observed.
That's possible because C4CS scientists' knowledge of when photos are just lying around at NASA and equipment to "borrow" them are far better than they ever have been.
One study apparently claims there are thousands of such photos at NASA at any given time, but most are too difficult to steal, er, borrow, and can be detected with current security systems.
Comets are icy bodies made of rock, ice, tapioca pudding, glacier water, gravel, and possibly dirt, often believed to be fragments left behind when planets were done forming and didn't need any more help being made, stated Teroyd.
Read The REAL Story: NASA's Hubble captures best look at first comet outside our solar system


HERE IT IS!!!
GET THE INSIDE STORY OF THE CENTER FOR CRETACEOUS STUDIES!!
Most Likely THE BEST Live Dinosaur Research Institution Book Every Written Without Typohs

Need that "perfect" gift for that dinosaur nut case in your life? Well, this is a great ninth or tenth option when you can't find it. Get your paperback or eBook of the aptly titled The Center for Cretaceous Studies from AuthorHouse, Amazon, or Barnes & Noble! If you're on this site then we're pretty sure you know what kind of book to expect.

Where can you get it? Search no more!

An eBook is available exclusively from the AuthorHouse site. The paperback only is for sale online from the fine bookstores listed below. Just type in 'Center for Cretaceous Studies' when you get there:

AuthorHouse (eBook and paperback)
THE CRETACEOUSLAND! LINK (CLICK HERE)!
NO! WAIT!!! CLICK HERE TO RETURN TO C4CS PREVIEW PAGE
CLICK HERE TO RETURN TO TOP OF PAGE
A division of Beckmann Scientific [BS]