The CENTER
for CRETACEOUS STUDIES
THE WORLD LEADER IN LIVE DINOSAUR RESEARCH
And All The Crap Associated With Them
TESTING OF NEW DINO-DETERRENTS CONTINUES
This One? Eh, Not So Good

PROUD MEMBER OF THE MID-AMERICA PALEONTOLOGY SOCIETY
even though they asked us to go away

FOLLOW
THE CENTER FOR CRETACEOUS STUDIES
ON FACEBOOK!
what? are you kidding? how'd THAT happen?!?

Look For CEO, Founder, DR. S BECKMANN On LinkedIn
seriously, why would you do that?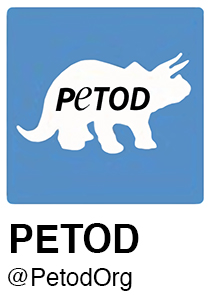 Charter Member of People for the Ethical Treatment of Dinosaurs Since Last Week
WELCOME to the Center for Cretaceous Studies [C4CS] LIVE Dinosaur research institution website. The animals [that is, the Dinosaurs, not the staff], are back indoors here in the warm, friendly confines of their Indoor Paddocks [IPs], of which you are more than welcome to walk around inside and experience these gentle, loving, man-eaters, up close and personal!
Here at the Center for Cretaceous Studies we often research and sometimes study the unstudied and unresearched aspects of Dinosaur life, both past and present. That is, when we're not attending the funerals of those doing that unstudied and unresearched stuff. However, as the ONLY research institute in the world with eating, biting, living, biting, breathing, biting, carnivorous Dinosaurs from the Cretaceous Period [wait, did we mention biting?], we have live examples just down the hall, so eh, what do we care if we discover something in fossils or not?

Our record is incomparable to any other live Dinosaur research institute on Earth. Not because our "residents" are actually live, meat-eating Dinosaurs, but mostly because we are the only ones stupid enough to house live, meat-eating Dinosaurs. You're sure we mentioned "biting", right?

Our unofficial motto: "Museums Are Nice, But We Have Them LIVE", remains our unofficial motto to this day, mostly because we don't want to be sued by Universal Studios or that Spielberg guy. Then again we thought it was slightly better than our previous motto: "You're Probably Going To Die Here".

Set on a gorgeous college campus-like setting, our Dinosaur research facility would be on the cover of Better Homes & Gardens if not for the... well, you-know-what's. This research institution, located southwest of Chicago, Illinois, is home to over 158 species* - we think - and probably growing every year, for all we know.

*Note: Most of our DinoCensus volunteers have never returned, so we're kinda guessing at numbers.

BOOKMARK! BOOKMARK!:
'Bookmark' this site on your Favorites or Bucket List as company news and information [below] is updated nearly every weekend - or as long as someone is still around [alive] to write.

You don't want to miss any of the 'adventures'... specially if for some insane reason you actually plan to visit us some day. Thanks for looking, and we hope to see you here soon!

Proof of life insurance, next of kin contact information, and blood type on separate piece of paper [in case the original is eaten] are required before admission will be granted.


CEO DR. BECKMANN RUINS ANOTHER COUPLE DINODIGS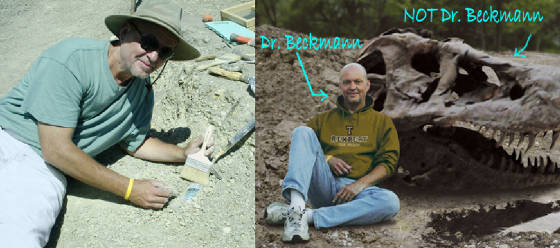 Over The Years Dr. Beckmann Has Dug Up Many Ounces Of Bones- Some Of Them Belong To Dinosaurs!
THE WEEK IN REVIEW BUZZ
QUESTIONABLE FACTS, INNUENDO, HINTS,
ANCIENT NEWS, RUMORS AND GOSSIP...

ok, mostly just rumors and gossip,
DIRECT FROM tC4CS WATER COOLER

LAST UPDATED
17 DECEMBER 2018
A.D.
AKA: 66,005,323 YEARS AFTER "THE ANCIENTS" KICKED THE BUCKET
C4CS ATTORNEYS: "NO. WE ARE NOT APPEARING IN THE SUPERBOWL HALFTIME"
"Never Say Never" Says IP16's Frank Never

It may be Marooned 6, according to a Variety report saying the Super Bowl is having trouble finding others acts who will play with its feature attraction for the halftime show. Rumors floating here at The Center seem to involve The Center for Cretaceous Studies appearing in some form during the big game.
The report states numerous acts are reluctant to take part in the 13-minute production because of the controversy concerning the NFL's stance on a player's right to protest. Gil T. Azell, C4CS Legal Department spokesman, noted that 13 minutes is
"not nearly enough time"
to bring out a couple live DinoResidents then
"clean up the mess afterwards."
We're assuming he meant Dino droppings but we were afraid to ask if "mess" meant ticket holders.
The centerpiece of this controversy is Colin Klappernack, IP91 DinoHandler [7th class], who has been reportedly working on routines that could be implemented in a football halftime show. Klappernack has told fellow employees that most of the DinoResidents in IP91 are
"out of their league"
since he sat down and kneeled from the inability of the animals to follow directions. Klappernack has said he's so stressed out that he has sat down and kneeled during the C4CS company anthem. That, along with subsequent "activism" from the DinoResidents, which included the eating of his predecessor, Tess Lyk-Chikun, make it difficult to believe the animals could be ready in time for a Super Bowl halftime show.
Earlier this afternoon, Azell spoke at Media Room 1 and said,
"According to our sources, the NFL has reached out to more than a 5.8 gazillion stars to appear as featured guests during the 13-minute slot midway through Super Bowl LIII, but so far, none have agreed to do it. Among those considering the appearance are Frank N. Beahns of Franks Live Bait Shoppe, and Andre, AKA Andre 3000 of beloved local Andre's Drywall and Plaster. Others — like Mary Meenow, from Mary's Bridal Fashions — had been approached but faced scheduling conflicts; still more, like John's Sporting Goods, who performed at the 2012 Northern Illinois Camping Conference along with his famous skiing squirrel, are names rumored to be in the mix.
The game will be played in Atlanta on Feb. 3, unless an asteroid hits the Earth [hey, ya never know]. The city has a rich music scene and not much of a Dinosaur or anything prehistoric reputation. An appearance by The Center would benefit from having some of its local stars on the stage with Maroon 6, which has not
"officially"
been announced.
A Change.org petition has more than 72,000 signatures of people who want The Center to cancel giving any thought to making an appearance. Under the best of circumstances the choice of the C4CS was received poorly.
One PR person, Howard B. Thyname of LaBrea Media, discussed the situation:
"We are all praying on hands and knees here for two things. 1. That the Center for Cretaceous Studies does NOT accept any offer to appear -- if it is ever made to them, and 2. See Number One. That's what the audience wants and that's the world we live in. Live Dinosaurs with thousands of people sitting there? No way."
Read The REAL Story: Report: Super Bowl having trouble finding acts to play with Maroon 5


HERE IT IS!!!
GET THE INSIDE STORY OF THE CENTER FOR CRETACEOUS STUDIES!!
Most Likely THE BEST Live Dinosaur Research Institution Book Every Written Without Typohs

Need that "perfect" gift for that dinosaur nut case in your life? Well, this is a great ninth or tenth option when you can't find it. Get your paperback or eBook of the aptly titled The Center for Cretaceous Studies from AuthorHouse, Amazon, or Barnes & Noble! If you're on this site then we're pretty sure you know what kind of book to expect.

Where can you get it? Search no more!

An eBook is available exclusively from the AuthorHouse site. The paperback only is for sale online from the fine bookstores listed below. Just type in 'Center for Cretaceous Studies' when you get there:

AuthorHouse (eBook and paperback)
THE CRETACEOUSLAND! LINK (CLICK HERE)!
NO! WAIT!!! CLICK HERE TO RETURN TO C4CS PREVIEW PAGE
CLICK HERE TO RETURN TO TOP OF PAGE
A division of Beckmann Scientific [BS]