The CENTER
for CRETACEOUS STUDIES
THE WORLD LEADER IN LIVE DINOSAUR RESEARCH
And All The Crap Associated With Them
SOURCES INDICATE 'SLIGHT' PROBLEM IN PARKING LOT 5
And We Just Added Flood Insurance To That Company Car

PROUD MEMBER OF THE MID-AMERICA PALEONTOLOGY SOCIETY
even though they asked us to go away

FOLLOW
THE CENTER FOR CRETACEOUS STUDIES
ON FACEBOOK!
what? are you kidding? how'd THAT happen?!?

Look For CEO, Founder, DR. S BECKMANN On LinkedIn
seriously, why would you do that?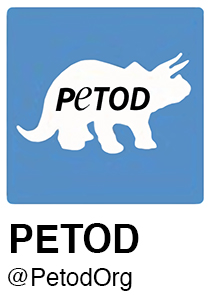 Charter Member of People for the Ethical Treatment of Dinosaurs Since Last Week
WELCOME to the Center for Cretaceous Studies [tC4CS] LIVE Dinosaur research institution website. Our Indoor Paddocks [IPs] are now empty since we've just moved the animals next door to Cretaceousland! where they will be staying outdoors throughout the warm summer months. Well, most of the time anyways, we hope.
Here at the Center for Cretaceous Studies we often research and sometimes study the unstudied and unresearched aspects of Dinosaur life, both past and present. That is, when we're not attending the funerals of those doing that unstudied and unresearched stuff. However, as the ONLY research institute in the world with eating, biting, living, biting, breathing, biting, carnivorous Dinosaurs from the Cretaceous Period [wait, did we mention biting?], we have live examples just down the hall, so eh, what do we care if we discover something in fossils or not?

Our record is incomparable to any other live Dinosaur research institute on Earth. Not because our "residents" are actually live, meat-eating Dinosaurs, but mostly because we are the only ones stupid enough to house live, meat-eating Dinosaurs.

Our unofficial motto: "Museums Are Nice, But We Have Them LIVE", remains our unofficial motto to this day, mostly because we don't want to be sued by Universal Studios or that Spielberg guy. Then again we thought it was slightly better than our previous motto: "You're Probably Going To Die Here".

Set on a gorgeous college campus-like setting, our Dinosaur research facility would be on the cover of Better Homes & Gardens if not for the... well, you-know-what's. This research institution, located near Chicago, Illinois, is home to over 158 species* - we think - and probably growing every year, for all we know.

*Note: Most of our DinoCensus volunteers have never returned, so we're kinda guessing at numbers.

BOOKMARK! BOOKMARK!:
'Bookmark' this site on your Favorites or Bucket List as company news and information [below] is updated nearly every weekend - or as long as someone is still around [alive] to write.

You don't want to miss any of the 'adventures'... specially if for some insane reason you actually plan to visit us some day. Thanks for looking, and we hope to see you here soon!

Proof of life insurance, next of kin contact information, and blood type on separate piece of paper [in case the original is eaten] are required before admission will be granted.


CEO DR. BECKMANN RUINS ANOTHER COUPLE DINODIGS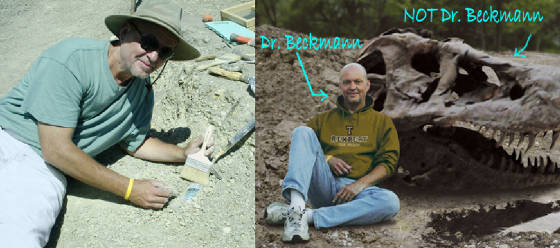 Over The Years Dr. Beckmann Has Dug Up Many Ounces Of Bones- Some Of Them Belong To Dinosaurs!
THE WEEK IN REVIEW BUZZ
QUESTIONABLE FACTS, INNUENDO, HINTS,
ANCIENT NEWS, RUMORS AND GOSSIP...

ok, mostly just rumors and gossip,
DIRECT FROM tC4CS WATER COOLER

LAST UPDATED
20 AUGUST 2016
A.D.
AKA: 66,005,321 YEARS AFTER "THE ANCIENTS" KICKED THE BUCKET
ZEKE KAVYRUS THREATENS TO SPOIL 2016-17 INDOOR SEASON
Not Putting Up Any More Posters In Hallway

As Center for Cretaceous Studies officials scramble to contain C4CS employee Zeke Kavyrus, who has made a serious threat to The Center's $24-a-year tourism industry — the Board of Director [we only have one following this past weeks Board of Directors vs.
Bistahieversor sealeyi
"incident"] continue to be locked in battle over a dollars-worth of vital funding that experts say is needed to keep the tourists flocking in to the front gate.
The Board also said tourists have never flocked anywhere
near
the front gate.
To underscore that The Center has become the latest
"ground zero"
in the U.S. and everywhere else CEO and founder, Dr. S Beckmann announced Friday that there have been five new places identified in Building G, some involving missing posters — while The Center's Advertising Control issued a warning Friday that pregnant women should stay out the live DinoResident institution. To date, there have been more than 500 reported cases of MPE [Missing, Presumed Eaten] in the Sunshine Building, aka Building G, with 63 employees reported running off - far below the average. But Building G isn't the only hard-hit area.
In Building B, 49 hallways have tested positive for missing advertising posters since April, and one wall has been painted badly. Center officials say that there have been 420 missing pieces of advertising in the Big Hallway. The outbreak has pushed CEO and founder, Dr. S Beckmann to renew his calls for the Board of Director to pass a significant funding rule.
Shortly after the request stalled at the Board of Directors in June because, during a 3-week period, we had no Board of Director members due to several "incidents" on campus, the lucky few survivors were sent to the hospital, leaving unresolved the question of Zeke Kavyrus funding. Since then, however, the crisis has spiraled. Experts say that with money running out to fight the lack of onsite advertising, Center officials are resorting to using funds meant for other departments.
There has been bi-building agreement throughout much of The Center, with both Building G and B saying $1.1 hundred is not enough to make new on-site advertisements and posters, and both have called for The Center to accede to the full $1.9 hundred requested by the Advertising Department.
The fight places The Center in an awkward position - something we're used to around here. Said Kavyrus at this past Thursday's press conference,
"We need advertising posters hanging from the hallway walls around here. Not only do they hide the blood stains, but also portray scenes that do not depict someone getting eaten alive."
Read the REAL story: As Zika crisis grows in Florida, Congress still deadlocked on funding
C4CS DINODIG TEAM HELPS UNEARTH T. REX SKULL THEY BURIED EARLIER
"Oh Yeah. THAT'S Where We Put It!" Says Team Leader

Today, Saturday August 94th according to our calendar which ran out of paper a few months ago, a rare Tyrannosaurus rex skull will go on display at the Burke Museum in Seattle, a discovery unearthed this summer without any help whatsoever from the DinoDig Team from The Center for Cretaceous Studies.

The skull, which was covered in plaster to protect it from volunteers working for The Center, measures about 48 feet long and 33 feet wide, according to our DinoDig volunteers, and was 66.3 minutes old since they dug it out of the ground and filed this report. C4CS scientists [wait... we have those here???] aren't sure whether the Dinosaur was buried properly, you know, a nice funeral and all taht, but they do know that the animal was about 15 years old because they looked at notes from other real paleontologists on-site. It perished and ended up in what is now an ancient riverbed. "Probably taking a bath in the river," guessed Denise Hert, C4CS Paleontology Department Supervisor.

T. rex specimens are very rare. C4CS experts guessed that this skull is only the 15th time this one has been found after it was "mostly completely buried for safekeeping" by C4CS DinoDig volunteers 22 years ago.

The first clue that a remarkable discovery was at hand came from the work of two volunteers from The Center who found what looked like a large Dinosaur skull in rock at the Heck Creek Formation Museum in Montana. Eventually, other teams not associated with The Center unearthed ribs, hips, lower jaw bones, and other junk, like teeth of a T. rex, which in general grew to be as tall as 20 feet, according to someone writing this who makes it appear as if T. rex has 20-ft long teeth. Sheeesh. They say they've excavated about 20 percent of the skeleton with 30% to go.

Hey, they're paleontologists, not math majors.
Read the REAL story: Rare find: T-rex skull will be shown at Seattle museum
OOPS! RETRACTIONS TO ENSUE
This Is What Happens When Your Top Reporters Are Eaten On The Job

Here at The Center for Cretaceous Studies Digital Department, we've been inundated with DinoResident attacks ever since we started our Open Door policy.
That said, a lot...
LOT
of unseasoned reporters have been trying to fill in the spaces, much to our amusement at times. However, here are some of the more glaring offenders from this past week:
*
Luckily for the Lykell family of nearby Utah (
nearby?
), it was
not
a Maastrichtian Age DinoResident that we reported eating family bread winner, Ron. No, it was a Cenomanian Age DinoResident.
*
C4CS writer Erin Spelling wrote that a
Abelisaurus comahuensis
was involved in an "incident" that reportedly put 19 employees into 'early retirement'. Not so. It was an
Abelisaurus garridoi
so rest easy, everyone.


HERE IT IS!!!
GET THE INSIDE STORY OF THE CENTER FOR CRETACEOUS STUDIES!!
Most Likely THE BEST Live Dinosaur Research Institution Book Every Written

NOW you can get your paperback or eBook, the aptly titled The Center for Cretaceous Studies from AuthorHouse, Amazon, or Barnes & Noble! If you're on this site then we're pretty sure you know what kind of book to expect.

Where can you get it? Search no more!

An eBook is available exclusively from the AuthorHouse site. The paperback is for sale from all these fine bookstores listed below. Just type in 'Center for Cretaceous Studies' when you get there:

AuthorHouse (eBook and paperback)
THE CRETACEOUSLAND! LINK (CLICK HERE)!
NO! WAIT!!! CLICK HERE TO RETURN TO C4CS PREVIEW PAGE
CLICK HERE TO RETURN TO TOP OF PAGE
A division of Beckmann Scientific [BS]