The CENTER
for CRETACEOUS STUDIES
THE WORLD LEADER IN LIVE DINOSAUR RESEARCH
And All The Crap Associated With Them
NEW DINO-PROOF SUIT TEST No.8234054 "NOT GOOD"
We Could Use A New Diver Also. Sign-Up Sheets Are Outside Employee Cafeteria 2

PROUD MEMBER OF THE MID-AMERICA PALEONTOLOGY SOCIETY
even though they asked us to go away


W
ELCOME to the Center for Cretaceous Studies [tC4CS] Dinosaur research facility website. Unfortunately for you, but fortunately for
us
, the DinoResidents have been moved next door to Cretaceousland! for the summer season. The Center, though it remains open, is undergoing building rehab, construction, and demolition in the meantime to repair damages done by the Dinosaurs during their stay here last winter.
What this means is, the "news and information" found below this cheerful welcome is updated only weekly -- not daily -- during the summer season. Mostly because we deserve a vacation or most of us are in the hospital. Hey, YOU try working around live, carnivorous, 9-ton Dinosaurs, pal.
___________________________________________________________________________________
All latest and updated information, news, and warnings now originates from the Cretaceousland! offices during the summer season.
Click on the link below!

CLICK HERE FOR THE LATEST C4CS INFORMATION!

_____________________________________________________________________________________________________

At this site we'll show you the day-to-day operations, the research, the screaming, and the evacuation techniques practiced here around the clock. At the Center for Cretaceous Studies we often research and sometimes study the unstudied and unresearched aspects of Dinosaur life, both past and present. That is, when we're not attending the funerals of those doing that unstudied and unresearched stuff. However, as the ONLY research institute in the world with eating, biting, living, biting, breathing, biting, carnivorous Dinosaurs from the Cretaceous Period [wait, did we mention biting?], we have live examples just down the hall, so eh, what do we care if we discover something in fossils or not?

Our record is incomparable to any other live Dinosaur research institute on Earth. Not because our "residents" are actually live, meat-eating Dinosaurs, but mostly because we are the only ones stupid enough to house live, meat-eating Dinosaurs.

Our unofficial motto: "Museums Are Nice, But We Have Them LIVE", remains our unofficial motto to this day, mostly because we don't want to be sued by Universal Studios or Spielberg. Then again we thought it was slightly better than our previous motto: "You're Probably Going To Die Here".

Set on a gorgeous college campus-like setting, our Dinosaur research facility would be on the cover of Better Homes & Gardens if not for the... well, you-know-what's. This research institution, located near Chicago, Illinois, is home to over 158 species* - we think - and probably growing every year.

*Note: Most of our DinoCensus volunteers have never returned, so we're kinda guessing at numbers.

BOOKMARK! BOOKMARK!:
'Bookmark' this site on your Favorites or Bucket List as company news and information (below) will be updated weekly during the summer - or as long as someone is around to write.

You don't want to miss any of the 'adventures'... specially if for some insane reason you actually plan to visit us in person some day.

Thanks for visiting, and we hope to see you here soon!

Proof of life insurance, next of kin contact information, and blood type on separate piece of paper [in case the original is eaten] are required before admission will be granted.


CEO DR. BECKMANN RUINS ANOTHER COUPLE DINODIGS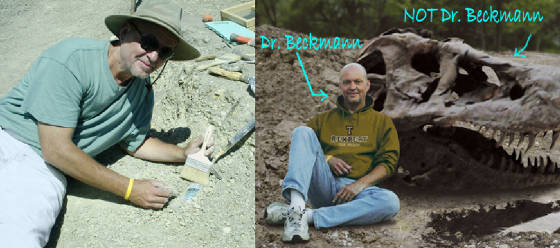 Over The Years Dr. Beckmann Has Dug Up Many Ounces Of Bones- Some Of Them Belong To Dinosaurs!
THE LATEST BUZZ, QUESTIONABLE FACTS, INNUENDO, HINTS,
ANCIENT NEWS, RUMORS AND GOSSIP...

ok, mostly just rumors and gossip,
DIRECT FROM tC4CS WATER COOLER

LAST UPDATED
1 OCTOBER 2014
A.D.
AKA: 66,005,319 YEARS AFTER "THE ANCIENTS" KICKED THE BUCKET
OUTSIDE RESEARCHERS FINALLY FIGURE OUT SOMETHING WE'VE KNOWN SINCE 1974
Here Comes That Bird Thing Again. Sheeesh.

When Dinosaurs evolved into birds [about 8:30 Monday], they had to adapt their arms into wings in order to take flight and for prehistoric bars to offer giant hot wings, a process that altered their lifespan. Now, researchers who have never been to the Center for Cretaceous Studies have found that this process included the rare disappearance and reappearance of a bone.
And then it disappeared and reappeared before disappearing and reappearing again. But then, it finally stayed.
The pisiform [our researchers giggle when you say that], which means
"lost bone crumb"
that helps keeps CE bird wings rigid in flight, had vanished in birdlike Dinosaurs without a trace, the researchers report in the journal Better Homes & Gardens. But birds later - about a month or so after the asteroid - evolved to have this bone again.
"It is rare,"
study researcher Ida Knoe said about his steak as he talked with members of the press in C4CS Media Room 1 this afternoon. Knoe, who actually knows what ontology and phylogeny are, said,
"This idea that a bone can disappear and reappear and disappear and reappear in evolution has been resisted a lot by evolutionary research. I don't believe it myself, but I need grant money, so...."
Similarities between Dinosaur and bird wrists are among the first evidence that paleontologists [
real
paleontologists, not our bums] use to argue that birds are Dinosaur descendants. For instance: neither ever wore a wristwatch.
That
is something our own researchers discovered. But the evolutionary picture is foggy, just like the brains of C4CS paleontologists: Early birdlike Dinosaurs had as many as nineteen wristbones, while modern birds have only two and a half. How that happened has been a challenging question, said C4CS Math Department Supervisor Juan Tufeefo.
One problem, Tufeefo said, is that paleontologists and developmental biologists don't even use the same terms for these bones. Said Tufeefo,
"Paleontologists say fossil; developmental biologists say rocky thing over there."
Knoe and his team were the first to bring together the often-contradictory lines of paleontology and religion while doing research on the Dinosaur and bird wrists. They scoured museum collections and obviously never came close to visiting The Center to examine bones of birdlike Dinosaurs.
Most importantly, they used a new technique to trace the prenatal development of the wrists of modern birds: they placed a knocked-out bird on a copying machine and hit START.
As a result, Ida Knoe and his colleagues were able to reconstruct the evolution of the bird wrist by guessing at just about everything. They found, for example, that a bone called 'the funny' by paleontologists and 'the smarting' by ornithologists is the same bone and should get a single name in both birds and Dinosaurs.
"The only difference,"
admitted Knoe,
"is the bone of the bird is about a half-inch long whereas the same bone in the Dinosaur is a little over 3-feet long. Other than that, exact same thing. Well, almost."
Meanwhile, the semiliterate, a half-moon-half-planet-shaped bone in birds, is the fusion of two carpal (wrist) bones from Dinosaurs, the researchers found. Most striking, however, was that none of the Dinosaur fossils tested positive for carpal tunnel syndrome.
"We think the Dinosaurs never had computers,"
Knoe guessed. The bone is important for animals that walk on four legs and can type, so birdlike dinosaurs
"probably lost it when they started walking on two legs, thus losing the ability to type or move a mouse,"
he said. Flight and All-You-Can-Eat Wings specials made the pisiform important again, and it returned - much to the amusement of our researchers.
Knoe and his team will be moving on to the evolution from Dinosaur ankle to bird ankle.
"We hope to find out if the Dinosaurs ever wore ankle bracelets or 1980s-style leg warmers."
Read the REAL story: Rare evolutionary twist morphed dino arms into bird wings
THE CRETACEOUSLAND! LINK (CLICK HERE)!
NO! WAIT!!! CLICK HERE TO RETURN TO C4CS PREVIEW PAGE
CLICK HERE TO RETURN TO TOP OF PAGE
A division of Beckmann Scientific [BS]