The CENTER
for CRETACEOUS STUDIES
THE WORLD LEADER IN LIVE DINOSAUR RESEARCH
And All The Crap Associated With Them
BLACK FRIDAY? WHAT BLACK FRIDAY?
C4CS Gifte $hoppe Sales Down 4000% Since Yesterday. And They Were Closed Yesterday.

PROUD MEMBER OF THE MID-AMERICA PALEONTOLOGY SOCIETY
even though they asked us to go away

FOLLOW
THE CENTER FOR CRETACEOUS STUDIES
ON FACEBOOK!
what? are you kidding? how'd THAT happen?!?

Look For CEO, Founder, DR. S BECKMANN On LinkedIn
seriously, why would you do that?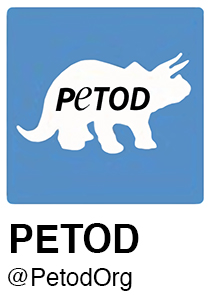 Charter Member of People for the Ethical Treatment of Dinosaurs Since Last Week
WELCOME to the Center for Cretaceous Studies [tC4CS] LIVE Dinosaur research institution website. Unfortunately for us, but GREAT for you, the DinoResidents are in their cozy and warm Indoor Paddocks [IPs] for the winter. Well, most of the time anyways.
Here at the Center for Cretaceous Studies we often research and sometimes study the unstudied and unresearched aspects of Dinosaur life, both past and present. That is, when we're not attending the funerals of those doing that unstudied and unresearched stuff. However, as the ONLY research institute in the world with eating, biting, living, biting, breathing, biting, carnivorous Dinosaurs from the Cretaceous Period [wait, did we mention biting?], we have live examples just down the hall, so eh, what do we care if we discover something in fossils or not?

Our record is incomparable to any other live Dinosaur research institute on Earth. Not because our "residents" are actually live, meat-eating Dinosaurs, but mostly because we are the only ones stupid enough to house live, meat-eating Dinosaurs.

Our unofficial motto: "Museums Are Nice, But We Have Them LIVE", remains our unofficial motto to this day, mostly because we don't want to be sued by Universal Studios or that Spielberg guy. Then again we thought it was slightly better than our previous motto: "You're Probably Going To Die Here".

Set on a gorgeous college campus-like setting, our Dinosaur research facility would be on the cover of Better Homes & Gardens if not for the... well, you-know-what's. This research institution, located near Chicago, Illinois, is home to over 158 species* - we think - and probably growing every year, for all we know.

*Note: Most of our DinoCensus volunteers have never returned, so we're kinda guessing at numbers.

BOOKMARK! BOOKMARK!:
'Bookmark' this site on your Favorites or Bucket List as company news and information [below] is updated often, sometimes daily - or as long as someone is still around [alive] to write.

You don't want to miss any of the 'adventures'... specially if for some insane reason you actually plan to visit us some day. Thanks for looking, and we hope to see you here soon!

Proof of life insurance, next of kin contact information, and blood type on separate piece of paper [in case the original is eaten] are required before admission will be granted.


CEO DR. BECKMANN RUINS ANOTHER COUPLE DINODIGS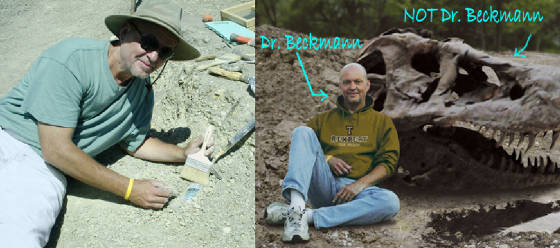 Over The Years Dr. Beckmann Has Dug Up Many Ounces Of Bones- Some Of Them Belong To Dinosaurs!
THE LATEST BUZZ, QUESTIONABLE FACTS, INNUENDO, HINTS,
ANCIENT NEWS, RUMORS AND GOSSIP...

ok, mostly just rumors and gossip,
DIRECT FROM tC4CS WATER COOLER

LAST UPDATED
27 NOVEMBER 2015
A.D.
AKA: 66,005,320 YEARS AFTER "THE ANCIENTS" KICKED THE BUCKET
C4CS HEADQUARTERS FENCE JUMPER MEETS DINORESIDENTS FOR LUNCH
DinoResidents Reported "Full"

A man who reportedly vowed to celebrate
"self-retirement"
on Thanksgiving caused hardly a commotion and got exactly what he was looking for by climbing over the Center for Cretaceous Studies headquarters fence as CEO and founder Dr. S Beckmann celebrated the holiday.
Of course, the CEO was celebrating on his private island in the Caribbean with Hollywood hot babe, actress, girlfriend Anita D'Groyne. Neither were reported injured in the fence-jumping that happened thousands of miles away.
The man, identified by Security as Joe Cuppa, was immediately apprehended by a ravenous pack of 25-foot, 2.25-ton
Abelisaurus comahuensis
and taken into nearby woods, where he was immediately reported MPE [Missing, Presumed Eaten] and will face criminal charges if anything is left, the C4CS Security Department said in a statement. The incident took place about 2:65 p.m. C4CSST.
Center authorities have not elaborated on Cuppa's age, hometown, whether or not he was an employee or visitor or motivation for his action, but several rumors reported that Cuppa repeatedly posted anti-early retirement rants on several bathroom walls and said of the Thanksgiving holiday,
"Today has as much to do with turkeys and Dinosaurs and pilgrims and Center employees as Easter does with raptor eggs and rabbits ... don't think of what your work here can do for you, think about what you can do for your future."
Said Indoor Paddock [IP]18 Supervisor Ron Forret,
"Yeah, with that kind of idiotic rambling, it's a good bet that he worked here. We're really going to miss him. That is, if we ever find out that he worked here."
An image of Cuppa draped in a Cretaceousland! flag and hurdling a section of fence in front of the lawn was posted on the bulletin board outside C4CS Employee Cafeteria 2. A note beneath asked if anyone could identify the idiot. Another image showed him standing on the lawn with his arms raised in anguish as the
Abelisaurs
took him gently into their mouths.
Witness Sally Forthe of IP94, said Joe Cuppa was standing with other people visiting The Center compound when he rushed toward the fence carrying what appeared to be a chip on his shoulder.
"I just heard him take a deep breath, exhale, stop to take a breath mint, and then whisper to himself, 'Ok, let's try not to get eaten this time' and he started climbing,"
Forthe said.
"It was a pretty normal scene for this dump. Everyone around us was yelling, trying to scare away the Dinosaurs and kids were crying when we didn't. It was pretty unexpected that he made it as far as he did."
Security personnel and the DinoPoop Squad ran toward the area where the
Abelisaurs
took Cuppa and several parts of him lay on the grass awaiting them, Forthe said.
In May, C4CS Security added a pretty sign warning humans to not climb the fence following an incident the previous month in which a California man scaled the fence and got onto the lawn, placing a "For Sale" sign up. Other long-term security enhancements were under consideration in response to a September 2014 security breach in which an IP employee managed to scale the fence, enter the Headquarters and run deep into the building looking for a restroom.
Said C4CS Security Chief Barb Dwyer,
"We should probably remove those ladders that hang on the fence."
Read The REAL Story: White House placed on Thanksgiving lockdown after man jumps fence
THE CRETACEOUSLAND! LINK (CLICK HERE)!
NO! WAIT!!! CLICK HERE TO RETURN TO C4CS PREVIEW PAGE
CLICK HERE TO RETURN TO TOP OF PAGE
A division of Beckmann Scientific [BS]