The CENTER
for CRETACEOUS STUDIES
THE WORLD LEADER IN LIVE DINOSAUR RESEARCH
And All The Crap Associated With Them
WE TOLD DON TO GO OUT AND GET A PIC OF EARTH DAY
He Never Came Back, But We Found This File On His Camera

PROUD MEMBER OF THE MID-AMERICA PALEONTOLOGY SOCIETY
even though they asked us to go away


WELCOME to the Center for Cretaceous Studies [tC4CS] Dinosaur research facility website. At this site we'll show you the day-to-day operations, the research, the screaming, and the evacuation techniques practiced here around the clock.

At the Center for Cretaceous Studies we often research and sometimes study the unstudied and unresearched aspects of Dinosaur life, both past and present. That is, when we're not attending the funerals of those doing that unstudied and unresearched stuff. However, as the ONLY research institute in the world with eating, biting, living, biting, breathing, biting, carnivorous Dinosaurs from the Cretaceous Period [wait, did we mention biting?], we have live examples just down the hall, so eh, what do we care if we discover something in fossils or not?

Our record is incomparable to any other live Dinosaur research institute on Earth. Not because our "residents" are actually live, meat-eating Dinosaurs, but mostly because we are the only ones stupid enough to house live, meat-eating Dinosaurs.

Our unofficial motto: "Museums Are Nice, But We Have Them LIVE", remains our unofficial motto to this day, mostly because we don't want to be sued by Universal Studios or Spielberg. Then again we thought it was slightly better than our previous motto: "You're Probably Going To Die Here".

Set on a gorgeous college campus-like setting, our Dinosaur research facility would be on the cover of Better Homes & Gardens if not for the... well, you-know-what's. This research institution, located near Chicago, Illinois, is home to over 158 species* - we think - and probably growing every year.

*Note: Most of our DinoCensus volunteers have never returned, so we're kinda guessing at numbers.

BOOKMARK! BOOKMARK!:
'Bookmark' this site on your Favorites or Bucket List as company news and information (below) is updated often during the winter months (northern hemisphere) and once in a while during the summer (southeastern hemisphere).

You don't want to miss any of the 'adventures'... specially if for some insane reason you actually plan to visit us in person some day.

Thanks for visiting, and we hope to see you here soon!

Proof of life insurance, next of kin contact information, and blood type on separate piece of paper [in case the original is eaten] are required before admission will be granted.


CEO DR. BECKMANN RUINS ANOTHER COUPLE DINODIGS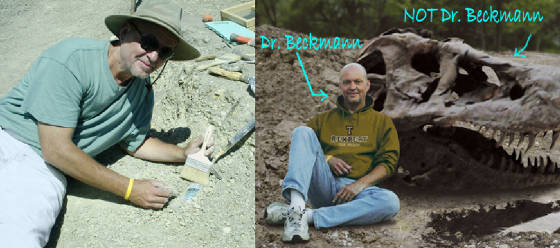 Over The Years Dr. Beckmann Has Dug Up Many Ounces Of Bones- Some Of Them Belong To Dinosaurs!
THE LATEST BUZZ, QUESTIONABLE FACTS, INNUENDO, HINTS,
ANCIENT NEWS, RUMORS AND GOSSIP...

ok, mostly just rumors and gossip,
DIRECT FROM tC4CS WATER COOLER

LAST UPDATED
22 APRIL 2014
A.D.
AKA: 66,005,319 YEARS AFTER "THE ANCIENTS" KICKED THE BUCKET
FIVE THINGS YOU PROBABLY DON'T CARE ABOUT THAT INVOLVE EARTH DAY AROUND THIS DUMP
Everyone We Told These To Said "So What?"

1. C4CS Earth Day was started by Dr. Beckmann
The holiday - no, there is no holiday pay - and celebration - no, there is no celebration - of all things Mother Earth was founded here at The Center by Dr. S Beckmann. Back in the 1970s he needed an excuse to take a day off and was out of sick days.
2. One in four fatalities companywide can be attributed to the environment around here
One-quarter of all fatalities [LEE - Life Ending Event] and MPE [Missing, Presumed Eaten] listings around the campus can be attributed to environmental factors, according to the Center Health Organization. In 2011, approximentally 127 employees worked in Padocks with locking gate "qualities" that didn't match national standards.
As Dr. Beckmann pointed out,
"But at least they had state-of-the-art vending machines."
3. There are a lot of ways to help the planet
As none of us know, DinoResident "droppings" are a rich source of nutrients for the soil and stuff like that. C4CS Psychiatrist [4th Class] Blaine Yermutha says,
"Victims of MPE or LEE incidents should be happy their former loved one will soon be compost. And th..."
SheeEEeesh... that's more than enough. Suffice to say The Center Landscaping crews 'return' a lot of former visitors 'to the Earth' every hour around here. Eww, even
that
sounds bad. But there ya go... It's live Dinosaurs. What do ya want?
4. The recycle symbol was created as part of a bet
The Center uses it's own recycle symbol [block letters that read
"RECYCLE"
] mostly because no one else has these big, toothy, hungry things running around eating garbage or employees and visitors.
Cretaceousland! HAB64 DinoHandler Ann N. Anderson bet Dr. Beckmann she could spell 'recycle' correctly. The CEO, perhaps the worst gambler ever, said if she did so she could create the logo.
Huh? Wha..? That's IT?!? That's the
whole
story?? Really?? You gotta be kidding. Wow. Pretty boring story, ain't it?.
5. Earth Day isn't just celebrated in Paddocks
Three DinoFeeders over in Cretaceousland! HAB18 donned green polo shirts and participated in a quick exit of the Habitat when a DinoWarning was issued. Funeral arrangements were pending.
In the 44 years C4CS Earth Day has been around, it has grown into an annual catastrophe, celebrated around the company. Why? No one knows. Over 1 billion people in over 190 Dinosaur Paddocks and Habitats have celebrated C4CS Earth Day. This year's official theme — No Fatalities — focused on what it takes to get through the whole day without being bit or eaten. Not that it ever matters because it never works.
Read the REAL story: http://news.yahoo.com/blogs/sideshow/earth-day-roundup-141956235.html
C4CS WEBSITE OFFICES NEARING SUMMER SHUTDOWN!
Editor Says "Woo Hoo!"

NINE DAYS TO GO!!!
The final countdown! The Spring DinoMove is so close now that there are reports of laughter in some areas. Employees know the DinoResidents are about to move to Cretaceousland! for the summer.
C4CS offices -- including this one -- will go into summer vacation mode as of 12:01 a.m. on May 1st. This column will then be updated only on occasion -- just as the Cretaceousland! column is now -- for the summer.
THE CRETACEOUSLAND! LINK (CLICK HERE)!
NO! WAIT!!! CLICK HERE TO RETURN TO C4CS PREVIEW PAGE
CLICK HERE TO RETURN TO TOP OF PAGE
A division of Beckmann Scientific [BS]