The CENTER
for CRETACEOUS STUDIES
THE WORLD LEADER IN LIVE DINOSAUR RESEARCH
And All The Crap Associated With Them
OK, WHO PULLED THE DINO ALERT ALARM?!?
This Is Either An Alert Or Jenkins Had Tacos Fro Lunch Again

PROUD MEMBER OF THE MID-AMERICA PALEONTOLOGY SOCIETY
even though they asked us to go away

FOLLOW
THE CENTER FOR CRETACEOUS STUDIES
ON FACEBOOK!
what? are you kidding? how'd THAT happen?!?

Look For CEO, Founder, DR. S BECKMANN On LinkedIn
seriously, why would you do that?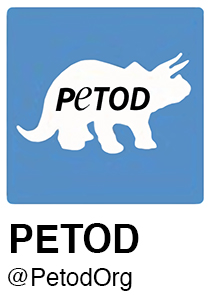 Charter Member of People for the Ethical Treatment of Dinosaurs Since Last Week
WELCOME to the Center for Cretaceous Studies [C4CS] LIVE Dinosaur research institution website. The animals [that is, the Dinosaurs, not the staff], are back indoors here in the warm, friendly confines of their Indoor Paddocks [IPs], of which you are more than welcome to walk around inside and experience these gentle, loving, man-eaters, up close and personal!
Here at the Center for Cretaceous Studies we often research and sometimes study the unstudied and unresearched aspects of Dinosaur life, both past and present. That is, when we're not attending the funerals of those doing that unstudied and unresearched stuff. However, as the ONLY research institute in the world with eating, biting, living, biting, breathing, biting, carnivorous Dinosaurs from the Cretaceous Period [wait, did we mention biting?], we have live examples just down the hall, so eh, what do we care if we discover something in fossils or not?

Our record is incomparable to any other live Dinosaur research institute on Earth. Not because our "residents" are actually live, meat-eating Dinosaurs, but mostly because we are the only ones stupid enough to house live, meat-eating Dinosaurs. You're sure we mentioned "biting", right?

Our unofficial motto: "Museums Are Nice, But We Have Them LIVE", remains our unofficial motto to this day, mostly because we don't want to be sued by Universal Studios or that Spielberg guy. Then again we thought it was slightly better than our previous motto: "You're Probably Going To Die Here".

Set on a gorgeous college campus-like setting, our Dinosaur research facility would be on the cover of Better Homes & Gardens if not for the... well, you-know-what's. This research institution, located southwest of Chicago, Illinois, is home to over 158 species* - we think - and probably growing every year, for all we know.

*Note: Most of our DinoCensus volunteers have never returned, so we're kinda guessing at numbers.

BOOKMARK! BOOKMARK!:
'Bookmark' this site on your Favorites or Bucket List as company news and information [below] is updated nearly every weekend - or as long as someone is still around [alive] to write.

You don't want to miss any of the 'adventures'... specially if for some insane reason you actually plan to visit us some day. Thanks for looking, and we hope to see you here soon!

Proof of life insurance, next of kin contact information, and blood type on separate piece of paper [in case the original is eaten] are required before admission will be granted.


CEO DR. BECKMANN RUINS ANOTHER COUPLE DINODIGS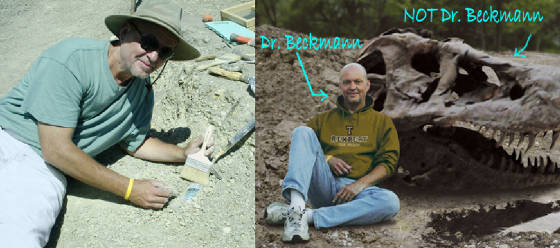 Over The Years Dr. Beckmann Has Dug Up Many Ounces Of Bones- Some Of Them Belong To Dinosaurs!
THE WEEK IN REVIEW BUZZ
QUESTIONABLE FACTS, INNUENDO, HINTS,
ANCIENT NEWS, RUMORS AND GOSSIP...

ok, mostly just rumors and gossip,
DIRECT FROM tC4CS WATER COOLER

LAST UPDATED
6 APRIL 2019
A.D.
AKA: 66,005,323 YEARS AFTER "THE ANCIENTS" KICKED THE BUCKET
C4CS LEGAL TEAM DEFENDS JESSIE OMELETT DECISION
Security Demands Resignation Of Azell And Partners

Center for Cretaceous Studies Legal Department spokesman and Chief Legal Counsel, Gil T. Azell, defended his office's decision to dismiss charges against Jessie Omelett, claiming the Indoor Paddock [IP] star didn't receive special treatment.
"I have been asking myself for the last two weeks what is this really about,"
Azell said at the Saturday morning press conference in Media Room 1.
"As someone who has worked at this dump, who came up in the IPs of this company to serve as the Chief Counsel in this role, it is disheartening to me ... that when we get in these positions somehow the goalposts change."
Immediately the attention of everyone in the room turned to the fresh doughnuts as they were wheeled in.
Azwll reportedly mentioned in his speech that he would not welcome an independent investigation into his handling of the case, saying that nearly 6,000 other
"low-level investigators refused to set foot near this place"
; the same result of returning tourists, adding that under the C4CS Bylaws, Omelett could've been fined a maximum of $10,000 — which he effectively paid when he forfeited his accrued vacation time.
Azell recused himself from Omelett's case after communicating with one of his relatives during Omelett's stay in the hospital into whether or not the DinoHandler [7th Class] staged an alleged DinoAlert himself.
In January, Omelett told Security that two DinoResidents attacked him, put a claw around his neck and "pounded" him mercilessly as he was walking back from break time. The DinoHandler said the two animals beat him up to the point where he started crying, made loud noises in his ears, and hissed
"This is Majungasaur country"
before fleeing the scene.
However, Security alleged that Omelett paid the two animals by giving them extra food for a
"phony attack"
in order to take
"advantage of the pain and anger of anti-Dino groups to promote his career as a barely average DinoHandler."
The DinoResidents were allegedly caught on surveillance footage pursuing Omellett down Hallway 8E.
The DinoHandler was later called into his supervisor's office for allegedly filing a false report and allowed to keep his job on a $10,000 bond. Omelett pleaded not guilty to 816 counts of disorderly conduct, illegal Dino wrestling, running in the hallway, illegal screaming, and uniform not tucked in, stemming from the alleged hoax. All charges against Omelett were dropped in late March in a move that many deaf and hard of hearing C4CS legal experts claimed was
"almost unheard of."
Still, the DinoHandler isn't entirely out of the woods yet: The C4CS is investigating whether Omelett sent himself a two week notice letter to the Center, which could potentially land him behind bars -- that is, IP163 -- for a decade.
Omelett has maintained his innocence throughout the ordeal. His attorneys previously told This Week In Paleontology they've
"witnessed an organized Security enforcement spectacle that has no place in any research institution's legal system. The presumption of innocence, a bedrock in the search for justice, was trampled upon at the expense of Mr. Omelett and notably, on the eve of a Sweet Sixteen basketball party. Mr. Omelett is a young man of impeccable character and integrity who fiercely and solemnly maintains his innocence betrayed by a system that apparently wants to skip due process and proceed directly to sentencing."
So, yeah, we're not sure if they are good with this or not.
Read The REAL Story: Chicago prosecutor Kim Foxx defends Jussie Smollett decision


HERE IT IS!!!
GET THE INSIDE STORY OF THE CENTER FOR CRETACEOUS STUDIES!!
Most Likely THE BEST Live Dinosaur Research Institution Book Every Written Without Typohs

Need that "perfect" gift for that dinosaur nut case in your life? Well, this is a great ninth or tenth option when you can't find it. Get your paperback or eBook of the aptly titled The Center for Cretaceous Studies from AuthorHouse, Amazon, or Barnes & Noble! If you're on this site then we're pretty sure you know what kind of book to expect.

Where can you get it? Search no more!

An eBook is available exclusively from the AuthorHouse site. The paperback only is for sale online from the fine bookstores listed below. Just type in 'Center for Cretaceous Studies' when you get there:

AuthorHouse (eBook and paperback)
THE CRETACEOUSLAND! LINK (CLICK HERE)!
NO! WAIT!!! CLICK HERE TO RETURN TO C4CS PREVIEW PAGE
CLICK HERE TO RETURN TO TOP OF PAGE
A division of Beckmann Scientific [BS]