The CENTER
for CRETACEOUS STUDIES
THE WORLD LEADER IN LIVE DINOSAUR RESEARCH
And All The Crap Associated With Them
SLIGHT POWER OUTAGE THROUGHOUT ENTIRE C4CS
Hundreds May Be Fatally Affected, But Don't Worry, Says Panic Dept. Supervisor

PROUD MEMBER OF THE MID-AMERICA PALEONTOLOGY SOCIETY
even though they asked us to go away

FOLLOW
THE CENTER FOR CRETACEOUS STUDIES
ON FACEBOOK!
what? are you kidding? how'd THAT happen?!?

Look For CEO, Founder, DR. S BECKMANN On LinkedIn
seriously, why would you do that?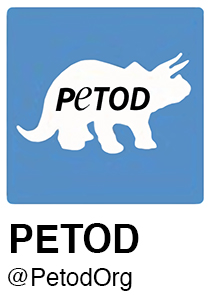 Charter Member of People for the Ethical Treatment of Dinosaurs Since Last Week
WELCOME to the Center for Cretaceous Studies [tC4CS] LIVE Dinosaur research institution website. The animals [that is, the Dinosaurs and not the staff], have been moved outdoors to their summer homes at Cretaceousland!. Now is the absolute WORST time to visit The DinoResidents are here -- back indoors, so your chances of getting out of here alive have fallen like stock in the Weinstein Company.
Here at the Center for Cretaceous Studies we often research and sometimes study the unstudied and unresearched aspects of Dinosaur life, both past and present. That is, when we're not attending the funerals of those doing that unstudied and unresearched stuff. However, as the ONLY research institute in the world with eating, biting, living, biting, breathing, biting, carnivorous Dinosaurs from the Cretaceous Period [wait, did we mention biting?], we have live examples just down the hall, so eh, what do we care if we discover something in fossils or not?

Our record is incomparable to any other live Dinosaur research institute on Earth. Not because our "residents" are actually live, meat-eating Dinosaurs, but mostly because we are the only ones stupid enough to house live, meat-eating Dinosaurs.

Our unofficial motto: "Museums Are Nice, But We Have Them LIVE", remains our unofficial motto to this day, mostly because we don't want to be sued by Universal Studios or that Spielberg guy. Then again we thought it was slightly better than our previous motto: "You're Probably Going To Die Here".

Set on a gorgeous college campus-like setting, our Dinosaur research facility would be on the cover of Better Homes & Gardens if not for the... well, you-know-what's. This research institution, located southwest of Chicago, Illinois, is home to over 158 species* - we think - and probably growing every year, for all we know.

*Note: Most of our DinoCensus volunteers have never returned, so we're kinda guessing at numbers.

BOOKMARK! BOOKMARK!:
'Bookmark' this site on your Favorites or Bucket List as company news and information [below] is updated nearly every weekend - or as long as someone is still around [alive] to write.

You don't want to miss any of the 'adventures'... specially if for some insane reason you actually plan to visit us some day. Thanks for looking, and we hope to see you here soon!

Proof of life insurance, next of kin contact information, and blood type on separate piece of paper [in case the original is eaten] are required before admission will be granted.


CEO DR. BECKMANN RUINS ANOTHER COUPLE DINODIGS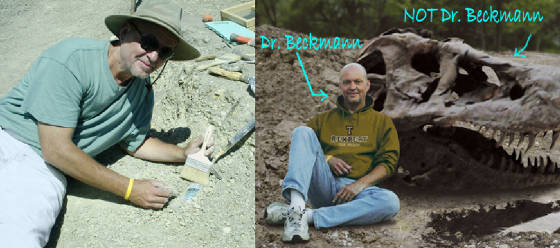 Over The Years Dr. Beckmann Has Dug Up Many Ounces Of Bones- Some Of Them Belong To Dinosaurs!
THE WEEK IN REVIEW BUZZ
QUESTIONABLE FACTS, INNUENDO, HINTS,
ANCIENT NEWS, RUMORS AND GOSSIP...

ok, mostly just rumors and gossip,
DIRECT FROM tC4CS WATER COOLER

LAST UPDATED
17 DECEMBER 2017
A.D.
AKA: 66,005,322 YEARS AFTER "THE ANCIENTS" KICKED THE BUCKET
"SLIGHT" POWER OUTAGE MAY RESULT IN THOUSANDS OF FATALITIES
C4CS Panic Dept. Spokesman Says "Nothing To Worry About". Leaves Work Early

The Center for Cretaceous Studies is experiencing a campus-wide power outage that has grounded many vending machines as well as lights, life support, and, oh yeah, electronic locking gates.
A complete power outage at the nation's busiest live Dinosaur research institution, grounded everything Sunday afternoon, threatening to cause a holiday travel nightmare for people who thought they just might make it out of here alive just over a week before Christmas.
Security officials said the power outage has forced the Company Panic Administration to suspend employees planning to work inside their IP throughout the campus and implement a
"ground stop"
for tourists wanting to go inside live DinoResident Indoor Paddocks [IPs] just to take a looksie around.
Tourists will be diverted to Cretaceousland!, citing C4CS Customary Panic & Desperation and Perimeter Fence Protection.
According to reports, the blackout was caused by a construction crew cutting a power line on or near the southeast Perimeter Fence. C4CS spokesman Kent Shuddup says the outage happened at 12:55 p.m., according to the 11 who made it out alive.
The Center reported to several local emergency services that power coming back in was delayed because
"several employees are still MPE
[Missing, Presumed Eaten]
or not working at all."
One woman tweeted out that the
"emergency electric exit doors [are] unable to open,"
and that
"locked gates were unable to stay closed!"
Meanwhile, video posted to social media showed an unidentified hallway illuminated only by the light from outside.
"Literal pandemonium at The Center, tourists can go no where! Which means Security can't either. Talk about delays!"
Officials are reportedly on the scene
"working to remedy the situation of loose DinoResidents eating tourists and employees,"
Shuddup said. There have been no reports on when the power is expected to be restored.
Read The REAL Story: 1 hour ago Power outage at Atlanta airport causes 'pandemonium,' grounds flights
"DINO WARS" DOESN'T OPEN, LOSES COMPANY $220M
Wait Until Next Week, Says Construction Crew

"DinoWars: The Last Employee"
was expected to rocket to a debut of $22 this weekend, landing the second-best opening ever for a tour involving live DinoResidents. But then malfunctions, tourists and employees showing up as MPE and a work force that would rather go see a space movie have kept the opening from happening.
The Center's Winter blockbuster became just the fortieth planned opening to not open. Aside from
"The Carcharodontosaur Awakens"
($248.8 million), the other top non-openers are
"The Scavengers"
($207.4 million) and
"Welcome To Our World"
($208.8 million). Accounting for inflation, the debut of 2012's
"The Scavengers"
would rank just ahead of
"The Last Employee."

"The Last Employee"
is about the average day of a C4CS DinoHandler. The tour shows what is needed to work inside a live DinoResident Indoor Paddock [IP]. Because of the delays it brings its three-day costs ranging anywhere from $3.89 to $450 million.
As anticipated,
"DinoWars: The Last Employee"
fell shy of the opening weekend for former DinoFeeder [if you know what we mean] K.K. Abrans' 2015 opening of the newly refurbished Utahraptor Paddock, which eventually lost $2.1 billion companywide. But the massive debt not only puts
"The Last Employee"
in the debit books, it singlehandedly brightens what has been a disappointingly so-so year for The Center. The weekend was to be far and away the highest grossing of the year.
The opening also gave the C4CS an opportunity to flex its muscles on the heels of its deal announced Thursday to purchase billions of land for $52.4 gaxillion. As part of the acquisition, The Center will expand Cretaceousland! outdoor Habitats, possible for more Cretaceous Period animals. Or maybe for the company picnic.
Read the REAL story: 'Star Wars: The Last Jedi' opens with $220M, 2nd best weekend all-time


HERE IT IS!!!
GET THE INSIDE STORY OF THE CENTER FOR CRETACEOUS STUDIES!!
Most Likely THE BEST Live Dinosaur Research Institution Book Every Written Without Typohs

NOW you can get your paperback or eBook, the aptly titled The Center for Cretaceous Studies from AuthorHouse, Amazon, or Barnes & Noble! If you're on this site then we're pretty sure you know what kind of book to expect.

Where can you get it? Search no more!

An eBook is available exclusively from the AuthorHouse site. The paperback only is for sale online from the fine bookstores listed below. Just type in 'Center for Cretaceous Studies' when you get there:

AuthorHouse (eBook and paperback)
THE CRETACEOUSLAND! LINK (CLICK HERE)!
NO! WAIT!!! CLICK HERE TO RETURN TO C4CS PREVIEW PAGE
CLICK HERE TO RETURN TO TOP OF PAGE
A division of Beckmann Scientific [BS]