The CENTER
for CRETACEOUS STUDIES
THE WORLD LEADER IN LIVE DINOSAUR RESEARCH
And All The Crap Associated With Them
COMPLAINT DEPARTMENT ALWAYS OPEN
"Could You Describe This "Animal" That Ate Your Family?"

PROUD MEMBER OF THE MID-AMERICA PALEONTOLOGY SOCIETY
even though they asked us to go away

FOLLOW
THE CENTER FOR CRETACEOUS STUDIES
ON FACEBOOK!
what? are you kidding? how'd THAT happen?!?

Look For CEO, Founder, DR. S BECKMANN On LinkedIn
seriously, why would you do that?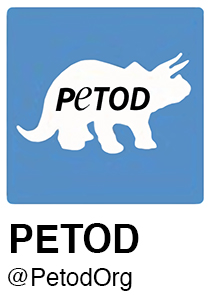 Charter Member of People for the Ethical Treatment of Dinosaurs Since Last Week
WELCOME to the Center for Cretaceous Studies [tC4CS] LIVE Dinosaur research institution website. The animals [that is, the Dinosaurs, not our staff] are now in their Indoor Paddocks [IPs] for the 2016-17 winter. Now is a GREAT time to visit The Center! Well, unless you have plans for a long life, that is.
Here at the Center for Cretaceous Studies we often research and sometimes study the unstudied and unresearched aspects of Dinosaur life, both past and present. That is, when we're not attending the funerals of those doing that unstudied and unresearched stuff. However, as the ONLY research institute in the world with eating, biting, living, biting, breathing, biting, carnivorous Dinosaurs from the Cretaceous Period [wait, did we mention biting?], we have live examples just down the hall, so eh, what do we care if we discover something in fossils or not?

Our record is incomparable to any other live Dinosaur research institute on Earth. Not because our "residents" are actually live, meat-eating Dinosaurs, but mostly because we are the only ones stupid enough to house live, meat-eating Dinosaurs.

Our unofficial motto: "Museums Are Nice, But We Have Them LIVE", remains our unofficial motto to this day, mostly because we don't want to be sued by Universal Studios or that Spielberg guy. Then again we thought it was slightly better than our previous motto: "You're Probably Going To Die Here".

Set on a gorgeous college campus-like setting, our Dinosaur research facility would be on the cover of Better Homes & Gardens if not for the... well, you-know-what's. This research institution, located southwest of Chicago, Illinois, is home to over 158 species* - we think - and probably growing every year, for all we know.

*Note: Most of our DinoCensus volunteers have never returned, so we're kinda guessing at numbers.

BOOKMARK! BOOKMARK!:
'Bookmark' this site on your Favorites or Bucket List as company news and information [below] is updated nearly every weekend - or as long as someone is still around [alive] to write.

You don't want to miss any of the 'adventures'... specially if for some insane reason you actually plan to visit us some day. Thanks for looking, and we hope to see you here soon!

Proof of life insurance, next of kin contact information, and blood type on separate piece of paper [in case the original is eaten] are required before admission will be granted.


CEO DR. BECKMANN RUINS ANOTHER COUPLE DINODIGS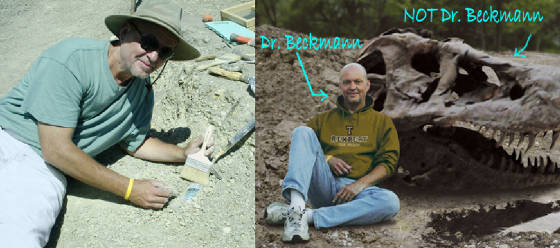 Over The Years Dr. Beckmann Has Dug Up Many Ounces Of Bones- Some Of Them Belong To Dinosaurs!
THE WEEK IN REVIEW BUZZ
QUESTIONABLE FACTS, INNUENDO, HINTS,
ANCIENT NEWS, RUMORS AND GOSSIP...

ok, mostly just rumors and gossip,
DIRECT FROM tC4CS WATER COOLER

LAST UPDATED
18 FEBRUARY 2017
A.D.
AKA: 66,005,322 YEARS AFTER "THE ANCIENTS" KICKED THE BUCKET
EMPLOYEES RANK DR. S BECKMANN AS 12th BEST EVER CEO
That's Fine, But He's Been Our ONLY CEO

C-SPAM [Cretaceous SPAM] released a survey Friday that asked historians and employees to rank past CEOs and current CEO and founder, Dr. S Beckmann was voted the company's 12th best, right behind Woody Wilson and Jimmy Monroe. Both are former [if you know what we mean] 'lavatory engineers' who suddenly retired in 1978 and 1994, respectfully.
Employees were asked to essentially grade the CEOs on items like
"public persuasion"
and
"moral authority."
Politico reported that Dr. Beckmann rated high in the category of
"equal justice for all carnivorous Dinosaurs,"
but received low marks for his relationship with anything to do with employee and visitor safety.
Of course, it is difficult to determine the validity of this entire story since Dr. Beckmann founded The Center for Cretaceous Studies and is the
only
CEO we've ever had, according to C4CS spokesman Kent Shuddup.
"Although 12th is a respectable overall ranking, one would have thought that Dr. Beckmann's favorable rating when he left the office yesterday would have translated into a higher ranking in this survey,"
said Shuddup at this morning's press conference - featuring doughnuts with sprinkles on them - and member of C-SPAM's advisory board.
Read the REAL story: Historians rank Obama 12th best president in new survey
"UNWAVERING" COMMITMENT: CENTER ASSURES NEIGHBORS THAT WE SUPPORT THEM
We Don't LIKE Them, But We Support Them

The Center for Cretaceous Studies on Thursday worked to assure familes living in houses bordering or near the Perimeter Fences of The Center and Cretaceousland! that the C4CS would be
"unwavering"
in its commitment to the trans-Perimeter alliance.
Dr. S Beckmann, before his first trip to the restroom, told the Neighborhood Security Conference [NSC] that he intends to
"stand with our neighbors."
He sought to calm nervous homeowners who remain concerned about escaped DinoResident aggression and have been alarmed by the positive evidence that very large animals have walked across front and back lawns, damaging automobiles and homes, for years.
"Today, on behalf of the Center for Cretaceous Studies, I bring you this assurance: The Center strongly supports those idiots living right next to a live Dinosaur research institution and will be unwavering in its commitment to our trans-Perimeter alliance,"
Dr. Beckmann said in a taped announcement that looked to be from around 1970.
During his address to neighborhood diplomats and C4CS Security officials also sought to reassure the hundreds of homeowners who worry that The Center may pursue tendencies to sue the NSC for 'luring' DinoResidents from The Center.
C4CS spokesman Kent Shuddup said The Center would demand that neighbors honor a 1988 peace deal agreed upon in Building G, to stop building houses near perimeter fences.
"Know this: The Center will continue to hold our neighbors accountable, even as we search for new fencing materials which as you know Dr. Beckmann believes can be found,"
Shuddup said.
The comments come just weeks after The Center called the NSC agreement obsolete, according to a Bloomberg Politics & Real Estate report about an interview Kent Shuddup gave to a neighborhood paper.
"It's obsolete, first because it was designed many, many years ago and they have continued building houses within a few feet of 30-foot tall Perimeter Fences,"
Dr. Beckmann said.
"Secondly, they aren't paying what they should and the NSC didn't deal with luring, on purpose, our loveable, tame, fun, and friendly DinoResidents outside these fences."
Shuddup also reinforced the CEO's message that NSC members must spend more on defense.
NSC's 128-houses committed in 2001 to spending 2 percent of their gross income on defense within a decade. But only The Center is meeting the standard, Shuddup said.
Failure to meet the commitment, he said,
"erodes the very foundation of our fencing."
Read the REAL story: 'UNWAVERING' COMMITMENT: Pence tries to assure Europe that US will support partnership


HERE IT IS!!!
GET THE INSIDE STORY OF THE CENTER FOR CRETACEOUS STUDIES!!
Most Likely THE BEST Live Dinosaur Research Institution Book Every Written Without Typohs

NOW you can get your paperback or eBook, the aptly titled The Center for Cretaceous Studies from AuthorHouse, Amazon, or Barnes & Noble! If you're on this site then we're pretty sure you know what kind of book to expect.

Where can you get it? Search no more!

An eBook is available exclusively from the AuthorHouse site. The paperback only is for sale online from the fine bookstores listed below. Just type in 'Center for Cretaceous Studies' when you get there:

AuthorHouse (eBook and paperback)
THE CRETACEOUSLAND! LINK (CLICK HERE)!
NO! WAIT!!! CLICK HERE TO RETURN TO C4CS PREVIEW PAGE
CLICK HERE TO RETURN TO TOP OF PAGE
A division of Beckmann Scientific [BS]