The CENTER
for CRETACEOUS STUDIES
THE WORLD LEADER IN LIVE DINOSAUR RESEARCH
And All The Crap Associated With Them
A "LITTLE" TROUBLE IN PARKING LOT ONE TODAY
Gorgosaurs Take Out Rows 3 Through 37 In Awesome Display Of Parking Inability

PROUD MEMBER OF THE MID-AMERICA PALEONTOLOGY SOCIETY
even though they asked us to go away


W
ELCOME to the Center for Cretaceous Studies [tC4CS] Dinosaur research facility website. Unfortunately for us, but fortunately for
you
, the DinoResidents are returning to their Indoor Paddocks [IPs] here at The Center this weekend for the coming winter season. The Center remains open during the move and has undergone tremendous and highly expensive building rehab, construction, and demolition to repair damages done by the Dinosaurs during their stay here....
last
winter. So WATCH OUT for wet paint!!
At this site we'll show you the day-to-day operations, the research, the screaming, and the evacuation techniques practiced here around the clock. At the Center for Cretaceous Studies we often research and sometimes study the unstudied and unresearched aspects of Dinosaur life, both past and present. That is, when we're not attending the funerals of those doing that unstudied and unresearched stuff. However, as the ONLY research institute in the world with eating, biting, living, biting, breathing, biting, carnivorous Dinosaurs from the Cretaceous Period [wait, did we mention biting?], we have live examples just down the hall, so eh, what do we care if we discover something in fossils or not?

Our record is incomparable to any other live Dinosaur research institute on Earth. Not because our "residents" are actually live, meat-eating Dinosaurs, but mostly because we are the only ones stupid enough to house live, meat-eating Dinosaurs.

Our unofficial motto: "Museums Are Nice, But We Have Them LIVE", remains our unofficial motto to this day, mostly because we don't want to be sued by Universal Studios or Spielberg. Then again we thought it was slightly better than our previous motto: "You're Probably Going To Die Here".

Set on a gorgeous college campus-like setting, our Dinosaur research facility would be on the cover of Better Homes & Gardens if not for the... well, you-know-what's. This research institution, located near Chicago, Illinois, is home to over 158 species* - we think - and probably growing every year.

*Note: Most of our DinoCensus volunteers have never returned, so we're kinda guessing at numbers.

BOOKMARK! BOOKMARK!:
'Bookmark' this site on your Favorites or Bucket List as company news and information (below) will be updated weekly during the summer - or as long as someone is around to write.

You don't want to miss any of the 'adventures'... specially if for some insane reason you actually plan to visit us in person some day.

Thanks for visiting, and we hope to see you here soon!

Proof of life insurance, next of kin contact information, and blood type on separate piece of paper [in case the original is eaten] are required before admission will be granted.


CEO DR. BECKMANN RUINS ANOTHER COUPLE DINODIGS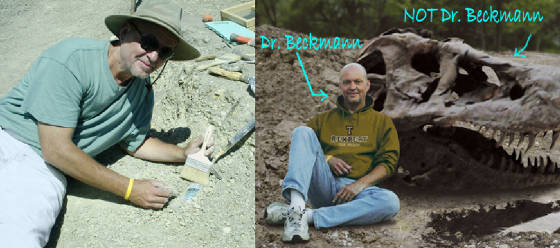 Over The Years Dr. Beckmann Has Dug Up Many Ounces Of Bones- Some Of Them Belong To Dinosaurs!
THE LATEST BUZZ, QUESTIONABLE FACTS, INNUENDO, HINTS,
ANCIENT NEWS, RUMORS AND GOSSIP...

ok, mostly just rumors and gossip,
DIRECT FROM tC4CS WATER COOLER

LAST UPDATED
29 OCTOBER 2014
A.D.
AKA: 66,005,319 YEARS AFTER "THE ANCIENTS" KICKED THE BUCKET
HUNDREDS OF EMPLOYEES PLACED IN QUARANTINE "FOR THE HECK OF IT"
No One Certain DinoResidents Can Carry A Tune, Let Alone Ebola

The Center for Cretaceous Studies would not say today whether the Board of Director [we only have one following this past weekend's Board of Directors vs.
Bahariasaurus ingens
incident] thinks Indoor Paddock [IP] employees returning from lunch should be quarantined, as the IP Supervisors had unilaterally imposed that policy on their own IPs.
IP18 Ron Lykell currently is considering the recommendation company-wide to impose a mandatory 21-day quarantine inside their IP for all returning employees. At Monday's daily briefing, C4CS spokesman Kent Shuddup acknowledged that Lykell might coordinate with the Board of Director on that decision.
But when pressed on what the CEO's position is, Shuddup would not say.
"We will let Security make an announcement,"
Shuddup said. Asked how The Center could send employees to lunch without a clear plan on procedures for returning, Shuddup said:
"We're going to let science drive that process."
Yeah, science around
here
? Good luck with that.
The comments reflected the latest area of confusion in the ever-evolving C4CS response to the Ebola outbreak that hasn't happened yet. Over the weekend, The Center put pressure on IP18 and IP33 over policies quarantining returning DinoResident workers. But it remains unclear where The Center -- and CEO and founder himself, Dr. S Beckmann -- stands on applying that standard to returning Center employees.
Also today, DinoMedical Center officials issued new guidelines calling for voluntary, Paddock quarantine for DinoResidents at the highest risk of contracting Ebola, even though we're pretty sure they can't. The new guidelines detail various risk levels, with the highest being those who, for instance, are Dinosaurs. But most Paddock workers still would be subject to daily monitoring.
So far, IP18 is the only one to take the step of ordering mandatory quarantines. In a decision that was made by IP18 Supervisor Ron Lykell, the Department of the Sick Animals has issued guidelines ordering employees returning from lunch into a 21-day isolation inside the live DinoResident Paddock, separated from their families and other employees.
Currently, a team that consists of IP18 DinoHandler Kirsten Hollered and 11 other employees is being held in isolation in Building A. Funeral plans are ready to be made at any time.
"There are several dozen more Paddocks due in, and they will go through the same procedure,"
said spokesman Shuddup, adding that
"no specific event or incident"
triggered the policy, though rumors were rampant that a DinoResident had sneezed on an IP18 DinoFeeder.
Read the REAL story: Fog of Ebola war: White House stance unclear as military leaders urge US troop quarantine
TWENTY EMPLOYEES EATEN, er, INVOLVED IN BABY SHOWER BRAWL
Question Arises: How'd 20 People Fit In That Shower?

C4CS Security says about 20 people, mostly employees, were listed as MPE [Missing, Presumed Eaten] after getting involved and possibly eaten in a brawl during a
Pycononeosaurus nevesi
baby shower.
Security Chief Barb Dwyer said at least three people were eaten immediately in the very much one-sided fight Saturday night in DinoResident Shower Area 20 inside Building D. The cute, little baby abelisaurid is doing fine, according to DinoMedical officials who were able to give it a giant Alka-Seltzer to relieve an upset - and very full - stomach.
IP84 DinoHandlers Bud Tuggli, Lou Segusi and Luigi Board are part of the group that will be remembered in a special ceremony during lunch on Thursday when, for 20 seconds -- 1 for each employee, there will be half-price Jello at all three C4CS Employee Cafeterias. Employee ID will be required.
Information on the Jello's expiration date wasn't immediately available.
Security says the three hit and kicked a 6-year-old
Pycononeosaur
and a 34-year-old shower head. The shower head refused to discharge water and then it was reportedly too hot. That's when the security camera went blank. Parts were later found 150-feet from the shower area. There are no answers why twenty people were at the scene. Well, for a while anyway.
The 6-year-old
Pycononeosaur
, an abelisaur from Late Cretaceous Campanian Age Brazil, had scratches on her face and other parts of her body, and shirt remnants stuck in the lower left-side teeth. The giant Alka-Seltzer was helping, according to DinoMed officials, and the animal was resting comfortably.
Read the REAL story: 20 people involved in baby shower brawl, police say
THE CRETACEOUSLAND! LINK (CLICK HERE)!
NO! WAIT!!! CLICK HERE TO RETURN TO C4CS PREVIEW PAGE
CLICK HERE TO RETURN TO TOP OF PAGE
A division of Beckmann Scientific [BS]