The CENTER
for CRETACEOUS STUDIES
THE WORLD LEADER IN LIVE DINOSAUR RESEARCH
And All The Crap Associated With Them
AHH! NOW WE KNOW WHAT HAPPENED TO JOHNSON
Good Luck Rescuing The Poor Sap. Once They Clamp Down It's Like A Bulldog

PROUD MEMBER OF THE MID-AMERICA PALEONTOLOGY SOCIETY
even though they asked us to go away

FOLLOW
THE CENTER FOR CRETACEOUS STUDIES
ON FACEBOOK!
what? are you kidding? how'd THAT happen?!?

Look For CEO, Founder, DR. S BECKMANN On LinkedIn
seriously, why would you do that?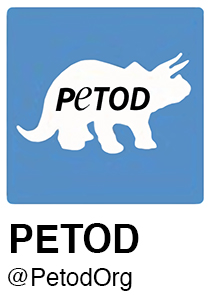 Charter Member of People for the Ethical Treatment of Dinosaurs Since Last Week
WELCOME to the Center for Cretaceous Studies [tC4CS] LIVE Dinosaur research institution website. Our Indoor Paddocks [IPs] are now empty since we've just moved the animals next door to Cretaceousland! where they will be staying outdoors throughout the warm summer months. Well, most of the time anyways, we hope. The good news [for you] is next month the animals will be returning to the IPs, as long as we don't have a massive amount of staff quitting, like last year.
Here at the Center for Cretaceous Studies we often research and sometimes study the unstudied and unresearched aspects of Dinosaur life, both past and present. That is, when we're not attending the funerals of those doing that unstudied and unresearched stuff. However, as the ONLY research institute in the world with eating, biting, living, biting, breathing, biting, carnivorous Dinosaurs from the Cretaceous Period [wait, did we mention biting?], we have live examples just down the hall, so eh, what do we care if we discover something in fossils or not?

Our record is incomparable to any other live Dinosaur research institute on Earth. Not because our "residents" are actually live, meat-eating Dinosaurs, but mostly because we are the only ones stupid enough to house live, meat-eating Dinosaurs.

Our unofficial motto: "Museums Are Nice, But We Have Them LIVE", remains our unofficial motto to this day, mostly because we don't want to be sued by Universal Studios or that Spielberg guy. Then again we thought it was slightly better than our previous motto: "You're Probably Going To Die Here".

Set on a gorgeous college campus-like setting, our Dinosaur research facility would be on the cover of Better Homes & Gardens if not for the... well, you-know-what's. This research institution, located near Chicago, Illinois, is home to over 158 species* - we think - and probably growing every year, for all we know.

*Note: Most of our DinoCensus volunteers have never returned, so we're kinda guessing at numbers.

BOOKMARK! BOOKMARK!:
'Bookmark' this site on your Favorites or Bucket List as company news and information [below] is updated nearly every weekend - or as long as someone is still around [alive] to write.

You don't want to miss any of the 'adventures'... specially if for some insane reason you actually plan to visit us some day. Thanks for looking, and we hope to see you here soon!

Proof of life insurance, next of kin contact information, and blood type on separate piece of paper [in case the original is eaten] are required before admission will be granted.


CEO DR. BECKMANN RUINS ANOTHER COUPLE DINODIGS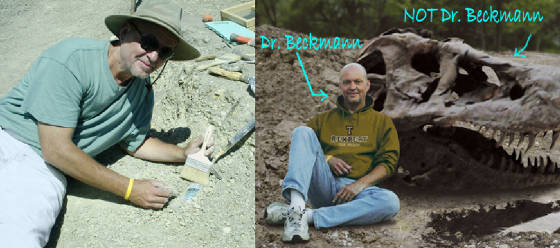 Over The Years Dr. Beckmann Has Dug Up Many Ounces Of Bones- Some Of Them Belong To Dinosaurs!
THE WEEK IN REVIEW BUZZ
QUESTIONABLE FACTS, INNUENDO, HINTS,
ANCIENT NEWS, RUMORS AND GOSSIP...

ok, mostly just rumors and gossip,
DIRECT FROM tC4CS WATER COOLER

LAST UPDATED
22 OCTOBER 2016
A.D.
AKA: 66,005,321 YEARS AFTER "THE ANCIENTS" KICKED THE BUCKET
OH COME ON. PEOPLE REALLY CROAK INSIDE OTHER PARKS, TOO?
Maybe We're Not So Bad After all

National parks are safe but accidents still happen. The Center for Cretaceous Studies isn't safe and accidents happen. The risk of being injured or killed while visiting a national park is very low, according to the National Park Service's Fatality Office.
"When looking at fatality rates during the 2007-2013 timeframe, the average rate is 0.57 deaths [per] 1 million visits,"
said Jerry Barnum, public affairs officer at National Park Service.
In contrast,between 2007 and 2013, in all C4CS Indoor Paddocks [IPs] and Cretaceousland! Habitats [HABs], there were 1,025 fatalities per day. On average, approximately 160 visitors will never get to leave while visiting The Center or Cretaceousland!.
In general, visitors can stay safe if they follow simple rules , said C4CS spokesman Kent Shuddup. Always plan and prepare to not come back, select the most appropriate funeral that matches your personality, seek information before entering a live DinoResident enclosure, and when arriving at The Center know the rules and regulations, and use sound judgment while you are here.
Here are the top six causes of death in national parks:
1. Drowning
2. Motor Vehicle Crash
3. Falling or Slipping
4. Nature
5. Poisoning
6. Wildlife or Animals
Here are the top six causes of death at The Center
1. Drowning -
never
swim in Lake Death
2. Motor Vehicle Crash - never try to run over a 6-ton crazy, wild, biting, hungry, roaring carnivorous animal.
3. Falling or Slipping - happens a lot while trying to get away from 6-ton crazy, wild, biting, hungry, roaring carnivorous animal
4. Nature - incudes 6-ton crazy, wild, biting, hungry, roaring carnivorous animal
5. Poisoning - don't eat at the Kretaceous Kitchen
6. Wildlife or Animals - uh, yeah. think about that 'carnivorous ' for a second. we'll get right back to you on that.
Read the REAL story: How many people actually die in national parks?
REPORT: FIRST DINOSAUR BONES FOUND IN DAN'S ALEY
"I Have No Idea What You Are Talking About," Says Dan

Al Laska's neighbor, C4CS DinoHandler [3rd class] Dan Park just threw Center for Cretaceous Studies searchers a major, ancient bone.
In July, while a Search & Rescue team from The Center was working alongside the northwest perimeter fence and an area in the alley near Park's residence when they discovered four
"significant"
fragments, including a 6-ft. Chewie Toy. These were
"clearly parts of big animal from a large animal research institution,"
wrote the team in a 3-ring binder before calling it a day and heading over to The Horseshoe Road Inn for a couple cold ones.
Patty Drunckonmiller, curator of Earth sciences [wait, we
have
one of those?!?] at Building G the building on the North, said the tendons probably belonged to a Dinosaur but
"could not say with 100% assurance that it was ours."
These Dinosaurs all look the same to me, he said later.
"Another larger fragment is composed of spongy bone originating from we fear is a long-missing neighborhood kid. This microstructure shows the bone didn't come from a prehistoric animal or other slow-growing, cold-blooded frogs or salamanders. It is clearly from a medium-sized to large human,"
wrote the team while doing shots at the bar.
This discovery comes more than a decade after the first Dinosaurs Relaxing In This Area evidence first surfaced. In 2005, animal tracks were found in the Cantrell back yard near Igloo Creek. Although thousands of tracks have been found in the local communities since then, the fragments represent the first identifiable bones from animals living in the Cretaceous period, or, also known as 'down the street'.
Drunckonmiller and Dan Park will collaborate over the next several years and explore additional areas of the alley, looking to make new discoveries, according to the S&R team.
"This marks the beginning of a multi-year project to locate, document and study Dinosaurs congregating in Dan's alley,"
Drunckonmiller said.
"This is a world-class site for tracks of live Dinosaurs that live down the street [see?] and during the Cretaceous Period. Now that we have found this spot, we have other ways to understand how the Dinosaurs that lived here 70 million years ago got out of the fenced-in area and why they come to this particular alley."
Read the REAL story: Dinosaurs in Denali: National park yields first dino bone discovery
2016 FALL DINOMOVE STARTS FRIDAY NIGHT, CRY C4CS EMPLOYEES
Run For The Hills, Say Experts

The DinoResidents will return to their Indoor Paddocks [IPs] here at The Center for Cretaceous Studies starting this coming Friday night and going from
October 28-30
. Get used to it, said all 21 employees who survived from last year. Even the gathered press corps, meeting inside C4CS Media Room 1 Thursday morning, gasped.
Then again, that may have involved one of the doughnut carts tipping over and spilling dozens of delicious doughnuts across the floor, but we'll just say gasping was from the announcement of the 2016 Fall DinoMove date.
Every Spring and Fall, for some odd reason, we move all the DinoResidents outdoors [Spring] or indoors [Fall]. This obviously takes thousands of volunteers and every year we get dozens who actually
want
to help.
Not our fault if some people are really stupid.
As usual, the Fall DinoMove will officially begin at 5:00pm on Friday, October 28 and continue until all the [or
most
of the carnivores are safely tucked indoors here at The Center. We just hope the reconstruction work - from last year's damage done by the same Dinosaurs - is finished by then. If not, well, things will get real interesting real fast.
Hey! Are YOU interested in volunteering? (why?!?) Sign-up sheets are posted on the bulletin board outside C4CS Employee Cafeteria 2. Come join the fun!! Or better yet, volunteer someone you don't like!


HERE IT IS!!!
GET THE INSIDE STORY OF THE CENTER FOR CRETACEOUS STUDIES!!
Most Likely THE BEST Live Dinosaur Research Institution Book Every Written

NOW you can get your paperback or eBook, the aptly titled The Center for Cretaceous Studies from AuthorHouse, Amazon, or Barnes & Noble! If you're on this site then we're pretty sure you know what kind of book to expect.

Where can you get it? Search no more!

An eBook is available exclusively from the AuthorHouse site. The paperback only is for sale online from the fine bookstores listed below. Just type in 'Center for Cretaceous Studies' when you get there:

AuthorHouse (eBook and paperback)
THE CRETACEOUSLAND! LINK (CLICK HERE)!
NO! WAIT!!! CLICK HERE TO RETURN TO C4CS PREVIEW PAGE
CLICK HERE TO RETURN TO TOP OF PAGE
A division of Beckmann Scientific [BS]