The CENTER
for CRETACEOUS STUDIES
THE WORLD LEADER IN LIVE DINOSAUR RESEARCH
And All The Crap Associated With Them
INTRUDER JUMPS FENCE AT HEADQUARTERS
Makes It 207.3 Feet Before Tyrannosaurids Catch Him And... Well, You Know

PROUD MEMBER OF THE MID-AMERICA PALEONTOLOGY SOCIETY
even though they asked us to go away


W
ELCOME to the Center for Cretaceous Studies [tC4CS] Dinosaur research facility website. Unfortunately for you, but fortunately for
us
, the DinoResidents have been moved next door to Cretaceousland! for the summer season. The Center, though it remains open, is undergoing building rehab, construction, and demolition in the meantime to repair damages done by the Dinosaurs during their stay here last winter.
What this means is, the "news and information" found below this cheerful welcome is updated only weekly -- not daily -- during the summer season. Mostly because we deserve a vacation or most of us are in the hospital. Hey, YOU try working around live, carnivorous, 9-ton Dinosaurs, pal.
___________________________________________________________________________________
All latest and updated information, news, and warnings now originates from the Cretaceousland! offices during the summer season.
Click on the link below!

CLICK HERE FOR THE LATEST C4CS INFORMATION!

_____________________________________________________________________________________________________

At this site we'll show you the day-to-day operations, the research, the screaming, and the evacuation techniques practiced here around the clock. At the Center for Cretaceous Studies we often research and sometimes study the unstudied and unresearched aspects of Dinosaur life, both past and present. That is, when we're not attending the funerals of those doing that unstudied and unresearched stuff. However, as the ONLY research institute in the world with eating, biting, living, biting, breathing, biting, carnivorous Dinosaurs from the Cretaceous Period [wait, did we mention biting?], we have live examples just down the hall, so eh, what do we care if we discover something in fossils or not?

Our record is incomparable to any other live Dinosaur research institute on Earth. Not because our "residents" are actually live, meat-eating Dinosaurs, but mostly because we are the only ones stupid enough to house live, meat-eating Dinosaurs.

Our unofficial motto: "Museums Are Nice, But We Have Them LIVE", remains our unofficial motto to this day, mostly because we don't want to be sued by Universal Studios or Spielberg. Then again we thought it was slightly better than our previous motto: "You're Probably Going To Die Here".

Set on a gorgeous college campus-like setting, our Dinosaur research facility would be on the cover of Better Homes & Gardens if not for the... well, you-know-what's. This research institution, located near Chicago, Illinois, is home to over 158 species* - we think - and probably growing every year.

*Note: Most of our DinoCensus volunteers have never returned, so we're kinda guessing at numbers.

BOOKMARK! BOOKMARK!:
'Bookmark' this site on your Favorites or Bucket List as company news and information (below) will be updated weekly during the summer - or as long as someone is around to write.

You don't want to miss any of the 'adventures'... specially if for some insane reason you actually plan to visit us in person some day.

Thanks for visiting, and we hope to see you here soon!

Proof of life insurance, next of kin contact information, and blood type on separate piece of paper [in case the original is eaten] are required before admission will be granted.


CEO DR. BECKMANN RUINS ANOTHER COUPLE DINODIGS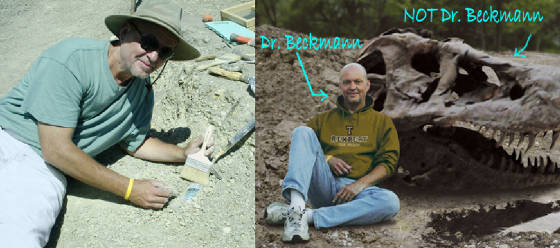 Over The Years Dr. Beckmann Has Dug Up Many Ounces Of Bones- Some Of Them Belong To Dinosaurs!
THE LATEST BUZZ, QUESTIONABLE FACTS, INNUENDO, HINTS,
ANCIENT NEWS, RUMORS AND GOSSIP...

ok, mostly just rumors and gossip,
DIRECT FROM tC4CS WATER COOLER

LAST UPDATED
20 SEPTEMBER 2014
A.D.
AKA: 66,005,319 YEARS AFTER "THE ANCIENTS" KICKED THE BUCKET
SECURITY "ASLEEP" AS INTRUDER JUMPS FENCE AT C4CS HQ
Man Jumps Fence. Dinosaurs Jump Man. This Is News?

A Center for Cretaceous Studies Security member had his finger pointed at a C4CS Headquarters intruder this morning but decided not to yell at him because he was running directly towards a group of tyrannosaurids, possibly
Daspletosaurus torsos
or
Labocania anomala
. Positive ID [of the species] was not made immediately because the Security guard was busy ducking for cover. Positive ID of the intruder will be be announced in 2-3 days, according to the DinoPoop Squad.
The incident occurred Saturday at 7:20 a.m. on the north side of the Center for Cretaceous Studies Headquarters, about four minutes after Dr. Beckmann and
"a friend"
departed by helicopter from the South Lawn. They were going for a weekend trip to Dr. Beckmann's private Caribbean island. Rumors swirled that Dr. Beckmann's hot babe Hollywood actress girlfriend, Anita DeGroyne, was the
"friend".

"It's always a split-second decision,"
C4CS spokesman Kent Shuddup said at today's press conference featuring jelly doughnuts.
"I mean about inviting Ms. DeGroyne -- that is, if she was ever here. But as far as the intruder? The officer may have shown good restraint. Why kill the guy when DinoResidents are right there?"
However, there is always the potential that an unarmed fence-jumper could be a distraction for other large, carnivorous animals at other spots along the headquarters perimeter, Shuddup also said.
Following Shuddup the C4CS Coroner stepped to the microphone and identified the suspect as Jack Flash, known to family and friends by his nickname of 'Jumpin' Jack', 42, of Copper Cave, Texas, and said
"he was unarmed when he left this Earth."
Chief of Security Barb Dwyer then said that if an intruder is not armed and there are DinoResidents on the lawn, then agents are
"not supposed to yell at him."
She also said a sure-footed intruder can jump the fence and reach the front doors in about five seconds, especially if he or she enters between the two front gate command posts - and there are no live, man-eating DinoResidents in the way.
"It's not a hard thing to do,"
the four-pack-per-day Dwyer said, acting as if she could 10 feet without gasping for air. She said an internal investigation is underway.
Flash was caught near the 200 foot marker inside the fence then taken another 80 feet in the mouth of a Greater Carnivore [those animals weighing over one ton each], said Shuddup.
The security breach triggered a rare evacuation of much of the C4CS headquarters, and woke up nearly 120 Security guards as they rushed staffers and visitors out a side door by the trash. No one was injured when staffers and visitors realized there were 8-10
Ceratonykus oculatus
foraging through the trash bins at the time.
The incident prompted fresh questions about the storied agency and its ability to protect the lawns of the C4CS headquarters.
C4CS Landscape Supervisor Moe D. Lahn called the incident
"totally unacceptable"
and just one of a string of failings to keep the animals off the well-manicured lawns.
"Unfortunately, they are failing to do their job,"
Lahn whined.
"These are big animals, and they leave huge divots in the grass and tear up the sod... we just watered that lawn. Security has a lot of questions to answer."
Flash, in jeans and a dark shirt, was tackled near the 200-foot mark by a very large foot. A few Security members said they thought he could have made it to the 400-foot mark but Flash ran right to a group of tyrannosaurids hiding in the brush.
Flash's next of kin will be charged with unlawful entry into the C4CS headquarters lawn and will be taken to the nearby cleaner if the C4CS Legal team decides to pursue the case.
"There are posted signs everywhere,"
said C4CS Chief Legal Counsel, Gil T. Azell.
"Do NOT step on the grass."
Read the REAL story: Secret Service agent was ready to shoot unarmed White House intruder
CHEESY MOVIE TO HAVE FEATHERED TYRANNOSAUR
Now We Know Why They Painted Our Rex

A movie coming out from Extinct Productions,
Dinosaur Island
, will be released as a mix of theatrical and video on demand/DVD releases. The North America premiere is in November in Santa Monica, California.
In the trailer [click on the link below] several Dinosaurs of unrelated time eras appear on screen. Our research teams are baffled. Then again, we didn't write the script. Then again, they're
our
researchers, so what d'ya expect?
Although no official information has been released by C4CS officials [making it official], rumors are being whispered in the hallways that several species from The Center were used in photographing, modeling, and as characters in the movie.
Look for The Center's official movie review just as soon as C4CS's official movie reviewer, Otto Phocus, is released from CFI Care.
Read the REAL story: Finally, We're Getting a Fluffy, Feathered T-Rex!
To Watch Dinosaur Island Trailer, Click Here
THE CRETACEOUSLAND! LINK (CLICK HERE)!
NO! WAIT!!! CLICK HERE TO RETURN TO C4CS PREVIEW PAGE
CLICK HERE TO RETURN TO TOP OF PAGE
A division of Beckmann Scientific [BS]