The CENTER
for CRETACEOUS STUDIES
THE WORLD LEADER IN LIVE DINOSAUR RESEARCH
And All The Crap Associated With Them
SECURITY HQ. WATCHING AROUND THE CLOCK FOR STUFF
Hard To Believe We Ever Have Troubles With This Group On The Job

PROUD MEMBER OF THE MID-AMERICA PALEONTOLOGY SOCIETY
even though they asked us to go away

FOLLOW
THE CENTER FOR CRETACEOUS STUDIES
ON FACEBOOK!
what? are you kidding? how'd THAT happen?!?

Look For CEO, Founder, DR. S BECKMANN On LinkedIn
seriously, why would you do that?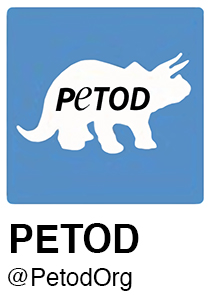 Charter Member of People for the Ethical Treatment of Dinosaurs Since Last Week
WELCOME to the Center for Cretaceous Studies [tC4CS] LIVE Dinosaur research institution website. The animals [that is, the Dinosaurs and not the staff], have been moved outdoors to their summer homes at Cretaceousland!. Now is the absolute WORST time to visit The DinoResidents are here -- back indoors, so your chances of getting out of here alive have fallen like stock in the Weinstein Company.
Here at the Center for Cretaceous Studies we often research and sometimes study the unstudied and unresearched aspects of Dinosaur life, both past and present. That is, when we're not attending the funerals of those doing that unstudied and unresearched stuff. However, as the ONLY research institute in the world with eating, biting, living, biting, breathing, biting, carnivorous Dinosaurs from the Cretaceous Period [wait, did we mention biting?], we have live examples just down the hall, so eh, what do we care if we discover something in fossils or not?

Our record is incomparable to any other live Dinosaur research institute on Earth. Not because our "residents" are actually live, meat-eating Dinosaurs, but mostly because we are the only ones stupid enough to house live, meat-eating Dinosaurs.

Our unofficial motto: "Museums Are Nice, But We Have Them LIVE", remains our unofficial motto to this day, mostly because we don't want to be sued by Universal Studios or that Spielberg guy. Then again we thought it was slightly better than our previous motto: "You're Probably Going To Die Here".

Set on a gorgeous college campus-like setting, our Dinosaur research facility would be on the cover of Better Homes & Gardens if not for the... well, you-know-what's. This research institution, located southwest of Chicago, Illinois, is home to over 158 species* - we think - and probably growing every year, for all we know.

*Note: Most of our DinoCensus volunteers have never returned, so we're kinda guessing at numbers.

BOOKMARK! BOOKMARK!:
'Bookmark' this site on your Favorites or Bucket List as company news and information [below] is updated nearly every weekend - or as long as someone is still around [alive] to write.

You don't want to miss any of the 'adventures'... specially if for some insane reason you actually plan to visit us some day. Thanks for looking, and we hope to see you here soon!

Proof of life insurance, next of kin contact information, and blood type on separate piece of paper [in case the original is eaten] are required before admission will be granted.


CEO DR. BECKMANN RUINS ANOTHER COUPLE DINODIGS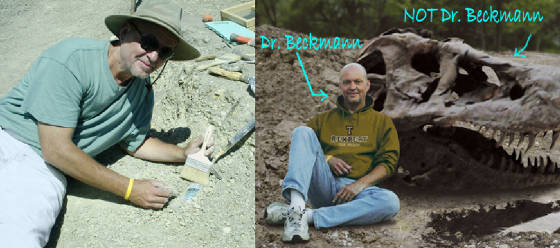 Over The Years Dr. Beckmann Has Dug Up Many Ounces Of Bones- Some Of Them Belong To Dinosaurs!
THE WEEK IN REVIEW BUZZ
QUESTIONABLE FACTS, INNUENDO, HINTS,
ANCIENT NEWS, RUMORS AND GOSSIP...

ok, mostly just rumors and gossip,
DIRECT FROM tC4CS WATER COOLER

LAST UPDATED
13 APRIL 2018
A.D.
AKA: 66,005,323 YEARS AFTER "THE ANCIENTS" KICKED THE BUCKET
HOMEY HINTS AT DAMAGING MATERIAL INVOLVING SECURITY FENCING
"Still Unknown To The General Public And Employees"

Jane Homey's cryptic reference in her new book to
"a development still unknown to the American public"
involving then-Perimeter Fence Building Contractor Bill Ding's email is sparking furious speculation inside and outside The Center for Cretaceous Studies.
According to This Week In Paleontology [TWIP], Homey writes in
"A Higher Royalty: Truth, Lies and How To Build Real Security Fences,"
that she became the public face of the investigation partly because of the mysterious development which she felt could cast
"serious doubt"
on whether 2016's new fencing would fall down at the slightest breeze.
"Had it become public, the unverified material would undoubtedly have been fallen down by itself, casting serious doubt on the awarding construction contracts connection with The Center,"
Homey wrote in crayon. He calls the material a
"development still unknown to the American public to this day."
Any revelation that the Bill Ding Construction Company might have been biased in favor of skimping on fencing material won't surprise any neighborhoods that surround Cretaceousland!, but what exactly Homey means is a tantalizing mystery. The only details Homey offers is that the U.S. government became aware of faulty fencing information from a classified source in earlier 2016 -- both the source and the information is still classified.
Rumors were fueled from speculation that hundreds of employees were running from Dino Alert! areas 5 or 6 times an hour just days before Homey announced that she would not be recommending charges against the Bill Ding Construction Company -- despite calling her handling of classified fencing material
"extremely careless."
Homey said in an interview with TWIP that they discussed only
"innocuous things"
but acknowledged that her
"speaking to the former president of a fencing company raised concerns in people's minds about whether or not there was going to be any impact on the fence investigation."

"What you do is you always consult the legal experts,"
Homey said.
"You always get an answer as to whether or not better fence inspection is required. … And had it been, then that's what I would have done."
Since 2016 the average Dino Alert! has involved nearly 58% more animals than previous. Currently the C4CS is looking into building a wall.
Read The REAL Story: Comey hints at damaging material involving ex-AG Lynch 'still unknown to the American public'


HERE IT IS!!!
GET THE INSIDE STORY OF THE CENTER FOR CRETACEOUS STUDIES!!
Most Likely THE BEST Live Dinosaur Research Institution Book Every Written Without Typohs

NOW you can get your paperback or eBook, the aptly titled The Center for Cretaceous Studies from AuthorHouse, Amazon, or Barnes & Noble! If you're on this site then we're pretty sure you know what kind of book to expect.

Where can you get it? Search no more!

An eBook is available exclusively from the AuthorHouse site. The paperback only is for sale online from the fine bookstores listed below. Just type in 'Center for Cretaceous Studies' when you get there:

AuthorHouse (eBook and paperback)
THE CRETACEOUSLAND! LINK (CLICK HERE)!
NO! WAIT!!! CLICK HERE TO RETURN TO C4CS PREVIEW PAGE
CLICK HERE TO RETURN TO TOP OF PAGE
A division of Beckmann Scientific [BS]