The CENTER
for CRETACEOUS STUDIES
THE WORLD LEADER IN LIVE DINOSAUR RESEARCH
And All The Crap Associated With Them
CEO AWARDS KITCHEN CHEF WITH PRETTY RIBBON
Told To Keep Peeling Onions During Ceremony

PROUD MEMBER OF THE MID-AMERICA PALEONTOLOGY SOCIETY
even though they asked us to go away

FOLLOW
THE CENTER FOR CRETACEOUS STUDIES
ON FACEBOOK!
what? are you kidding? how'd THAT happen?!?

Look For CEO, Founder, DR. S BECKMANN On LinkedIn
seriously, why would you do that?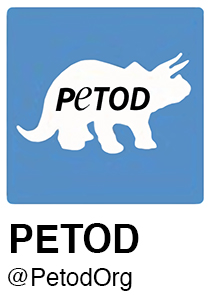 Charter Member of People for the Ethical Treatment of Dinosaurs Since Last Week
WELCOME to the Center for Cretaceous Studies [tC4CS] LIVE Dinosaur research institution website. The animals [Dinosaurs, not our staff] are now in their Indoor Paddocks [IPs] for the 2016-17 winter. Now is a GREAT time to visit The Center! Well, unless you have plans for a long life, that is.
Here at the Center for Cretaceous Studies we often research and sometimes study the unstudied and unresearched aspects of Dinosaur life, both past and present. That is, when we're not attending the funerals of those doing that unstudied and unresearched stuff. However, as the ONLY research institute in the world with eating, biting, living, biting, breathing, biting, carnivorous Dinosaurs from the Cretaceous Period [wait, did we mention biting?], we have live examples just down the hall, so eh, what do we care if we discover something in fossils or not?

Our record is incomparable to any other live Dinosaur research institute on Earth. Not because our "residents" are actually live, meat-eating Dinosaurs, but mostly because we are the only ones stupid enough to house live, meat-eating Dinosaurs.

Our unofficial motto: "Museums Are Nice, But We Have Them LIVE", remains our unofficial motto to this day, mostly because we don't want to be sued by Universal Studios or that Spielberg guy. Then again we thought it was slightly better than our previous motto: "You're Probably Going To Die Here".

Set on a gorgeous college campus-like setting, our Dinosaur research facility would be on the cover of Better Homes & Gardens if not for the... well, you-know-what's. This research institution, located southwest of Chicago, Illinois, is home to over 158 species* - we think - and probably growing every year, for all we know.

*Note: Most of our DinoCensus volunteers have never returned, so we're kinda guessing at numbers.

BOOKMARK! BOOKMARK!:
'Bookmark' this site on your Favorites or Bucket List as company news and information [below] is updated nearly every weekend - or as long as someone is still around [alive] to write.

You don't want to miss any of the 'adventures'... specially if for some insane reason you actually plan to visit us some day. Thanks for looking, and we hope to see you here soon!

Proof of life insurance, next of kin contact information, and blood type on separate piece of paper [in case the original is eaten] are required before admission will be granted.


CEO DR. BECKMANN RUINS ANOTHER COUPLE DINODIGS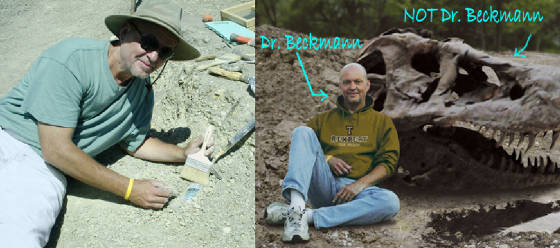 Over The Years Dr. Beckmann Has Dug Up Many Ounces Of Bones- Some Of Them Belong To Dinosaurs!
THE WEEK IN REVIEW BUZZ
QUESTIONABLE FACTS, INNUENDO, HINTS,
ANCIENT NEWS, RUMORS AND GOSSIP...

ok, mostly just rumors and gossip,
DIRECT FROM tC4CS WATER COOLER

LAST UPDATED
15 JANUARY 2017
A.D.
AKA: 66,005,322 YEARS AFTER "THE ANCIENTS" KICKED THE BUCKET
RECORD NUMBER OF TOURISTS CAUGHT TRYING TO BRING DINOSAURS HOME IN 2016
Usually Next Of Kin Finds Them, Says Returns Clerk

The Center for Cretaceous Studies found a record number of DinoResidents being snuck out of the campus in 2016, and a staggering 100 percent of them were from here.
The Center released its annual review on Thursday. 3 Dinosaurs, ranging from infant to nearly full grown examples were found in visitors homes in 2016. That's a 28 percent increase from 2015, and the ninth record-breaking year in a row. The Center also screened 43 more tourists than it did in 2015, and that was a 406 percent increase, mostly because the screen machine was inoperable from 2002-2015 due to operator error, loss of operator due to carnivore DinoResident, and reportedly sparks when operating. So the increase in screenings does not fully account for the increase in DinoResidents found in homes of former tourists.
The Center also showed off some of the other prohibited items it found in former tourists homes. There was photos taken with flash photography. There were also realistic looking Dinosaur toys or toy Dinosaur replicas, various Dinosaur bones [not fossils], ball point pens, key fobs, and gum, all stolen from the C4CS Gifte $hoppe. Speaking of gum, at least one person tried to give gum to a spinosaurid in IP31. He was later identified through dental charts.
The Center enjoys showing off the prohibited items people try to sneak out or in [or simply don't realize are against the rules, despite the ample warning signs and explanations posted throughout the C4CS campus].
Read the REAL story: Record number of people caught trying to bring guns on planes in 2016
OREGON MAN FINDS ADMISSIONS TICKET WHILE CLEANING HOUSE
"Does This Mean I
Have
To Go Now?" He Cries

Have you ever looked through the pockets an old pair of pants you found in the back of your closet and pulled out a court summons? Well, for one Oregon man, his experience with finding forgotten junk like that has come to a horrible end.
Joe Panamerica, an Oregon local, was motivated to tidy up his house thanks to the recent snow and ice storm that swept through the state. According to Center for Cretaceous Studies spokesman Kent Shuddup, as he was cleaning his home office, Panamerica unexpectedly came across an admissions ticket he had purchased from The Center on Jan. 15, 2016. Panamerica called the C4CS Ticket Offices and was shocked to find that the ticket was worth free admission but it expired in eight centuries.
Panamerica is now the fourth loser... er, lucky guy since the C4CS Ticket Office began offering 'No Way Out' admission tickets in 2015. They never lose their value. And he is also living proof that everyone should never clean their house.
Read the REAL story: Messy Oregon man finds a year-old lottery ticket worth $1 million cleaning his house


HERE IT IS!!!
GET THE INSIDE STORY OF THE CENTER FOR CRETACEOUS STUDIES!!
Most Likely THE BEST Live Dinosaur Research Institution Book Every Written Without Typohs

NOW you can get your paperback or eBook, the aptly titled The Center for Cretaceous Studies from AuthorHouse, Amazon, or Barnes & Noble! If you're on this site then we're pretty sure you know what kind of book to expect.

Where can you get it? Search no more!

An eBook is available exclusively from the AuthorHouse site. The paperback only is for sale online from the fine bookstores listed below. Just type in 'Center for Cretaceous Studies' when you get there:

AuthorHouse (eBook and paperback)
THE CRETACEOUSLAND! LINK (CLICK HERE)!
NO! WAIT!!! CLICK HERE TO RETURN TO C4CS PREVIEW PAGE
CLICK HERE TO RETURN TO TOP OF PAGE
A division of Beckmann Scientific [BS]