The CENTER
for CRETACEOUS STUDIES
THE WORLD LEADER IN LIVE DINOSAUR RESEARCH
And All The Crap Associated With Them
INFRARED SHOWS DINOSAUR GROUPS OR SOMETHING
At Least That's What The Company Who Charged Us For These Images Said It Was

PROUD MEMBER OF THE MID-AMERICA PALEONTOLOGY SOCIETY
even though they asked us to go away


W
ELCOME to the Center for Cretaceous Studies [tC4CS] Dinosaur research facility website. Unfortunately for us, but fortunately for
you
, the DinoResidents have returned to their Indoor Paddocks [IPs] here at The Center for the coming 2014-15 winter season.
At this site we'll show you the day-to-day operations, the research, the screaming, and the evacuation techniques practiced here around the clock. At the Center for Cretaceous Studies we often research and sometimes study the unstudied and unresearched aspects of Dinosaur life, both past and present. That is, when we're not attending the funerals of those doing that unstudied and unresearched stuff. However, as the ONLY research institute in the world with eating, biting, living, biting, breathing, biting, carnivorous Dinosaurs from the Cretaceous Period [wait, did we mention biting?], we have live examples just down the hall, so eh, what do we care if we discover something in fossils or not?

Our record is incomparable to any other live Dinosaur research institute on Earth. Not because our "residents" are actually live, meat-eating Dinosaurs, but mostly because we are the only ones stupid enough to house live, meat-eating Dinosaurs.

Our unofficial motto: "Museums Are Nice, But We Have Them LIVE", remains our unofficial motto to this day, mostly because we don't want to be sued by Universal Studios or that Spielberg guy. Then again we thought it was slightly better than our previous motto: "You're Probably Going To Die Here".

Set on a gorgeous college campus-like setting, our Dinosaur research facility would be on the cover of Better Homes & Gardens if not for the... well, you-know-what's. This research institution, located near Chicago, Illinois, is home to over 158 species* - we think - and probably growing every year.

*Note: Most of our DinoCensus volunteers have never returned, so we're kinda guessing at numbers.

BOOKMARK! BOOKMARK!:
'Bookmark' this site on your Favorites or Bucket List as company news and information (below) will be updated weekly during the summer - or as long as someone is around to write.

You don't want to miss any of the 'adventures'... specially if for some insane reason you actually plan to visit us in person some day.

Thanks for visiting, and we hope to see you here soon!

Proof of life insurance, next of kin contact information, and blood type on separate piece of paper [in case the original is eaten] are required before admission will be granted.


CEO DR. BECKMANN RUINS ANOTHER COUPLE DINODIGS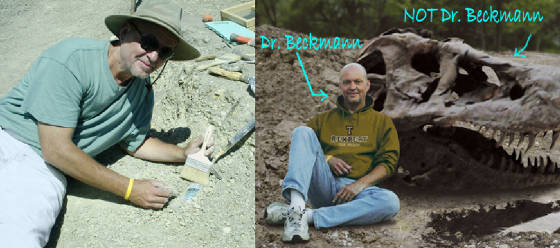 Over The Years Dr. Beckmann Has Dug Up Many Ounces Of Bones- Some Of Them Belong To Dinosaurs!
THE LATEST BUZZ, QUESTIONABLE FACTS, INNUENDO, HINTS,
ANCIENT NEWS, RUMORS AND GOSSIP...

ok, mostly just rumors and gossip,
DIRECT FROM tC4CS WATER COOLER

LAST UPDATED
26 JANUARY 2015
A.D.
AKA: 66,005,320 YEARS AFTER "THE ANCIENTS" KICKED THE BUCKET
QUADCOPTER CRASHES INTO DINORESIDENT; SECURITY REFUSES TO INVESTIGATE
"We're Not Going In There" Says 42 Out Of 35 First Responders

A two-foot-long "quadcopter" drone crashed onto the ground inside Indoor Paddock [IP]17 overnight, triggering an immediate lockdown as well as a Security investigation into where the mysterious device came from.
Moe Leery, a Security team dispatcher, said that an officer posted in the south hallway of the Building A complex
"heard and observed"
the device
"flying at a very low altitude"
shortly after 3 a.m. ET [8:17 p.m. C4CS Time]. Leery said the drone ultimately crashed into a 26-ft, 2.62-ton
Gorgosaurus libratus
before nose-diving to the ground where it was
really
bashed around.
Though Security says the device posed no threat, it is the latest in a line of security incidents at the complex.
"Every smart aleck wants to prove they are sooooo much smarter or tougher than a tyrannosaurid. An investigation is underway to determine the origin of this device, and whether it was being used to deliver pizzas to the IP17 employees, and to identify suspects,"
said Security Chief Barb Dwyer.
The "device" was found while CEO and founder Dr. S Beckmann and his hot babe girlfriend, Hollywood actress Anita D'Groyne were traveling in Indiana. It was unclear whether any other adult theropods, like Tasha and Makalia, were involved at the time of the incident with juveniles Marian and Robinson, who also live at the IP. The Center currently has 13
Gorgosaurs
at IP17.
C4CS spokesman Kent Shuddup acknowledged a "device" was found.
"Early indications are that it was a device of some sort. It does not seem to pose any sort of ongoing threat to regular pizza delivery at Building A or anywhere else on the compound,"
he detailed.
Police, fire and other emergency vehicles were called in the predawn hours, with several clustered outside the southeast gate, each of them refusing to come in. The Center was dark and scary, said most of the first responders. The entire campus was on lockdown until around 8:07:16.4 a.m., when those who work in the Building A complex were allowed inside.
After daylight, more than a dozen Security officers fanned out in a search across Building A's lawn for Easter eggs left over from last year as snow began to fall. They peered down in the grass and used flashlights to look through the large bushes that line the Building's driveway. No eggs were reportedly found, and more importantly, no injuries or reports of LOL or MPE were reported [Loss Of Life, and Missing, Presumed Eaten].
Read the REAL story: Secret Service: 'Quadcopter' drone crashed onto White House grounds
CAMPUS PREPS FOR FREE BLIZZARD!
Could Be Biggest Event Of The Year, Which Is 3 Weeks Old

Much of the northeast part of the Center for Cretaceous Studies campus was going into shutdown mode today, looking forward to a late-night delivery of Dairy Queen Blizzards -- an order of "historic proportions," while thousands of employees called in their cancellations for missing work, a travel ban in Building A [the tyrannosaurids building] as DinoHandlers braced for a long night of work heading into Tuesday, when the you-know-what could hit the fan.

The Blizzards were expected to create lines outside C4CS Employee Cafeterias as much as 3 feet long in a 250-ft stretch of Hallway B5, affecting as many as 50 people and potentially crippling staff numbers at several IPs as employees flock from their assigned worksites to the employee cafeterias. The line for the free ice cream treat was expected as far south as Room 119. The warning issued by the C4CS Dessert Service also indicated individual servings of up to 5 per hour and widespread whining was possible, starting Monday and extending throughout Tuesday.

"This will most likely be one of the largest Blizzard orders in the history of The Center," said C4CS Dessert Specialist [we have one of those?!?] Sheri Jubahlee, who said the Kretaceous Kitchen had 250,000 twelve-ounce cups on hand and would arrange 40 percent more ambulances than usual ready to roll. She said all non-emergency vehicles would be banned from the ambulance foyer from 11 a.m. until further notice.

Building A custodian Ike Leenupp issued a Building A travel ban beginning at 9 a.m. Monday because of treacherous floor conditions. C4CS spokesman Kent Shuddup told reporters he never knew custodians had the power to close down an entire Building. "That could potentially be a record-setter and because of that I urge all DinoResidents to stay indoors." He said that if the custodians are ticked off, they likely will be for "several days."

Because of the massive amounts of employees leaving their workplace to get a free Blizzard, Building C Supervisor Leo D. Lahey advised against unnecessary travel.

"It is imperative that you have a plan in place to get from your workplace to the Employee Cafeteria safely and then back before the icky stuff happens."

"The impending conditions of walking around inside a live Dinosaur research institution over the course of the afternoon will produce a variety of dangerous travel conditions throughout the campus,"Lahey said.

Chief of Security Barb Dwyer also declared a state of emergency, telling reporters that crews are prepared with 750 scoops and 50 pounds of cups each to handle the demand for free Blizzards, expected to reach as much as 18-24 people per hour in some cafeterias.
Read the REAL story: Shutdown mode: Northeast Corridor braces for 'potentially historic' snowstorm
WEBSITE CHANGES COMING "SOON"???
May Cause Temporary Halt To This Wonderful Prose

Ok, seriously, Tripod said this "change" was going to be coming SOON. We guess "soon" was being measured in geological time. Anyway, from Tripod-Lycos:

Time To Migrate! We [Tripod-Lycos] are in the process of retiring the Trellix editor. Soon, to create a new site you will need to use Zeeblio Beta. Within the coming months we will offer automatic conversion of Trellix sites to Zeeblio Beta for paid users. Free users may either convert manually or upgrade to a paid account.

Although there is no deadline announcement, C4CS oddsmakers [the morons hanging around the water cooler instead of working] 'feel' this change will come on or around the new year. What this means to you, the reader, is one day soon this site may not be here!

STOP CRYING! Sheeeeesh. In the meantime we are doing everything possible to make the transition a smooth one, even if we are hell-bent on NOT paying for a website for such a stupid idea as this stuff.

We'll keep this announcement up for a while so all 2 of our readers see it. Rest assured, if anything happens that affects your ability to read this tripe, we'll let you know ASAP! Thanks!
THE CRETACEOUSLAND! LINK (CLICK HERE)!
NO! WAIT!!! CLICK HERE TO RETURN TO C4CS PREVIEW PAGE
CLICK HERE TO RETURN TO TOP OF PAGE
A division of Beckmann Scientific [BS]