The CENTER
for CRETACEOUS STUDIES
THE WORLD LEADER IN LIVE DINOSAUR RESEARCH
And All The Crap Associated With Them
PROTESTS OUTSIDE C4CS HQ SPARK MASSIVE DINOALERT!
Most Of These Marchers Will Be Missed Come Monday

PROUD MEMBER OF THE MID-AMERICA PALEONTOLOGY SOCIETY
even though they asked us to go away


W
ELCOME to the Center for Cretaceous Studies [tC4CS] Dinosaur research facility website. Unfortunately for us, but fortunately for
you
, the DinoResidents are here, inside their Indoor Paddocks [IPs] for the winter season, but [thank God] will be returning to Cretaceousland! on MAYDAY [1 May].
At this site we'll show you the day-to-day operations, the research, the screaming, and the evacuation techniques practiced here around the clock. At the Center for Cretaceous Studies we often research and sometimes study the unstudied and unresearched aspects of Dinosaur life, both past and present. That is, when we're not attending the funerals of those doing that unstudied and unresearched stuff. However, as the ONLY research institute in the world with eating, biting, living, biting, breathing, biting, carnivorous Dinosaurs from the Cretaceous Period [wait, did we mention biting?], we have live examples just down the hall, so eh, what do we care if we discover something in fossils or not?

Our record is incomparable to any other live Dinosaur research institute on Earth. Not because our "residents" are actually live, meat-eating Dinosaurs, but mostly because we are the only ones stupid enough to house live, meat-eating Dinosaurs.

Our unofficial motto: "Museums Are Nice, But We Have Them LIVE", remains our unofficial motto to this day, mostly because we don't want to be sued by Universal Studios or that Spielberg guy. Then again we thought it was slightly better than our previous motto: "You're Probably Going To Die Here".

Set on a gorgeous college campus-like setting, our Dinosaur research facility would be on the cover of Better Homes & Gardens if not for the... well, you-know-what's. This research institution, located near Chicago, Illinois, is home to over 158 species* - we think - and probably growing every year.

*Note: Most of our DinoCensus volunteers have never returned, so we're kinda guessing at numbers.

BOOKMARK! BOOKMARK!:
'Bookmark' this site on your Favorites or Bucket List as company news and information [below] is updated often, sometimes daily - or as long as someone is still around [alive] to write.

You don't want to miss any of the 'adventures'... specially if for some insane reason you actually plan to visit us some day.

Thanks for looking, and we hope to see you here soon!

Proof of life insurance, next of kin contact information, and blood type on separate piece of paper [in case the original is eaten] are required before admission will be granted.


CEO DR. BECKMANN RUINS ANOTHER COUPLE DINODIGS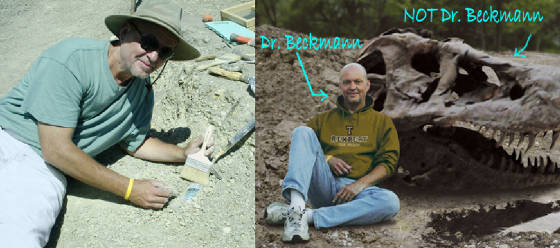 Over The Years Dr. Beckmann Has Dug Up Many Ounces Of Bones- Some Of Them Belong To Dinosaurs!
THE LATEST BUZZ, QUESTIONABLE FACTS, INNUENDO, HINTS,
ANCIENT NEWS, RUMORS AND GOSSIP...

ok, mostly just rumors and gossip,
DIRECT FROM tC4CS WATER COOLER

LAST UPDATED
29 MARCH 2015
A.D.
AKA: 66,005,320 YEARS AFTER "THE ANCIENTS" KICKED THE BUCKET
CEO: NEW RULE ON DINO FREEDOMS "NOT ABOUT DISCRIMINATION"
Says He Will Not Change The Rule One Iota; Maybe Two Iotas? Three?

Center for Cretaceous Studies CEO and founder Dr. S Beckmann said Sunday that a new company policy that attempts to protect long-standing freedoms
"is not about discrimination"
and that he and the Board of Directors do not intend to change it anytime soon.
Dr. Beckmann said the policy that he signed last week prohibits C4CS departments to
"substantially burden"
a DinoResident's ability to follow his or her beliefs that they are man-eaters.
The definition of
"man-eater"
includes every single, stinkin' Dinosaur on the premises, which is being interpreted as allowing a
Tyrannosaur
, for example, to legally eat a wedding cake maker or a wedding cake and not be punished.
Dr. Beckmann told "This Week In Paleontology" the original rule was more than 20 years old and that the purpose of the new one is to expand individual rights for those animals who feel The Center has impinged on their personal rights.
"This is not about discrimination,"
he said.
"This is about empowering DinoResidents to confront the overreach of many of our own departments."
However, the Big Shot [BS] did not answer directly when asked sixty-eight times whether under the rule it would be ok for a member of the Security team to refuse help to someone being eaten by a
Albertosaurus libratus.

"The issue here is still: Is tolerance a two-way street or not?"
he responded sixty-seven times [during the other time he was snoring].
Since he signed the policy, many Indoor Paddocks [IPs] at The Center have been widely criticized around the company, as well as on social media with the hashtag #75ja50&!OW. The department originating the hashtag was later determined to have been under a DinoAlert! at the time of posting. Already, consumer review service Angie's List has said it will suspend a planned listing that included the Center for Cretaceous Studies.
The CEO said earlier this weekend [about 3 hours ago] that he'll look at a couple magazines to clarify the rule's intent if he feels like it or has nothing else to do. He also told the gathered press on Saturday that he is in discussions with Paddock, Habitat, Security, Search & Rescue, and Janitorial leaders and expects a clarification to be introduced in the coming decade.
But Dr. Beckmann was adamant Sunday that the measure, slated to take effect in about 45 minutes, will stick.
"We're not going to change the policy,"
he said.
Some national Dino-rights groups say it's a way for The Center and other[??] live Dinosaur research organizations where such rules might be proposed this year to essentially grant a company-sanctioned waiver for discrimination as the question remains [pun intended] on whether humans should be working with live Dinosaurs.
Supporters of the rule, including Dr. Beckmann, contend discrimination claims are overblown and insist it will keep The Center from compelling employees to provide services they find objectionable on grounds that they may be listed MPE [Missing, Presumed Eaten]. They also maintain The Center hasn't allowed discrimination under similar rules covering most of the campus and 19 Habitats over at Cretaceousland!.
Kent Shuddup, The Center's spokesman, appeared on "This Week In Paleontology" just after Dr. Beckmann, and said the debate isn't an argument.
"If you have to go back two decades to try to justify what you're doing today, it may raise questions,"
Shuddup said, referring to the 1993 C4CS rule, signed by Dr. Beckmann.
"But we have to go back 66 million years. And besides, we are always in damage-control mode, even this morning, and he's got some damage to fix,"
Shuddup also said about why his boss had to leave the interview early.
Outside thousands, then hundreds, and finally almost a dozen protesters yelled slogans and held signs with typographical errors. Massive tonnage of DinoResidents met the protesters in what many claimed to be
"the largest DinoAlert! so far this week."
Before the carnage began, protesters chanted the familiar
"Two Four Six Eight.. We Need Something To Rhyme With Eight!"
as well as
"What Do We Want?"
followed by silence, then one very weak "I could use a hamburger?" and then
"When Do We Want It?"
followed by a mismanaged
"SOON!"
Read the REAL story: Pence: Indiana law on religious freedom 'not about discrimination ... not going to change'
CENTER PLANS TO PLUCK FEATHER OFF DINOSAUR, EXPLORE IT
Volunteers Line Up... To Call In Sick

The Center for Cretaceous Studies is aiming to launch a 'Things To Do' list to an Indoor Paddock [IP] in five years or so and grab a feather off of it — a stepping stone and training mission for an eventual trip sending humans into the Paddock to do more than just the usual running and screaming.
The Center earlier today unveiled details of the $1.25 billion plan to send a manned patrol into an IP by December 2020. The crew would spend about a minute circling a huge DinoResident and pluck a 2-foot feather off its surface using robotic arms. They would have three to maybe five opportunities to grab the feather, said Kent Shuddup,
"before the hopefully sleeping, giant, man-eating, killer Dinosaur would awake."
A smaller feather could be hauled out sooner if Mission Specialists could attain more federal grant money. Using a giant robotic arm and the crew's ability to run very fast - that are still being developed - two nincompoops, er, faithful volunteers would walk to the IP in 2020 and start exploring a way to remove a feather from one of the Greater Carnivores [those Dinosaurs weighing over one ton each]. The suckers, er, employees would then check with the robotic arm to make sure it works, say final farewells, climb around the DinoResident to inspect and document, and even grab a beer before returning to eagerly awaiting scientists and paleontologists here at The Center.
We're just not sure what those scientists and paleontologists are waiting for so 'eagerly'.
The mission will
"demonstrate the capabilities we're going to need for further future human missions beyond the current abbreviated time spent inside live DinoResident Paddocks and then ultimately to remove humans from the DinoResident nutritional pyramid,"
Shuddup said at this morning's press conference featuring jelly-filled doughnuts.
Shuddup also identified the leading target. It's a 35-ft 8-inch
Zhuchengtyrannus magnus
discovered in 2008 called "Ed", making it somewhat larger than most of the DinoResidents here at The Center. Two other species are being considered, called
Carcharodontosaurus iguidensis
and
Teratophoneus currie
, although Shuddup noted,
"Both are more difficult to pronounce."
C4CS scientists chose this option over another plan that would lasso or use a giant bag to grab an entire DinoResident and haul it near the main entrance of the IP. The selected plan is about $100 million more expensive but was picked by Supervisors in a meeting Tuesday because it would
" mean we're going to need a lot fewer body bags,"
Shuddup said during the press conference.
A few years ago, the C4CS administration proposed sending employees to an Indoor Paddock and grabbing a feather, but later changed that to not doing it at all and saving a lot of money on funeral expenses. The $1.25 billion price does not include the larger costs of either a victory parade or ceremonial funeral procession.
The entire project, called HARM for
H
oly cow,
A
int
R
eady for this
M
ission, would also test new Dino-proof suits for deep impact, if you know what we mean, as opposed to the usual Depends worn by 114% of the employees, and may even help companies look at the idea of using Dinosaur feathers for business purposes, said spokesman Shuddup. Everyone laughed.
Ann Tern, a likely candidate for the mission [if she is still with us], said the concept in some ways makes sense in terms of training, engineering and cost, but
"it still leaves the larger questions: What this leads to and why?"
Read the REAL story: NASA details plans to pluck rock off asteroid, explore it
WEBSITE CHANGES COMING "SOON"???
May Cause Temporary Halt To This Wonderful Prose

Ok, seriously, Tripod said this "change" was going to be coming SOON. We guess "soon" was being measured in geological time. Anyway, from Tripod-Lycos:

Time To Migrate! We [Tripod-Lycos] are in the process of retiring the Trellix editor. Soon, to create a new site you will need to use Zeeblio Beta. Within the coming months we will offer automatic conversion of Trellix sites to Zeeblio Beta for paid users. Free users may either convert manually or upgrade to a paid account.

Although there is no deadline announcement, C4CS oddsmakers [the morons hanging around the water cooler instead of working] 'feel' this change will come on or around... oh, last week or so. What this means to you, O faithful reader, is one day this site may be locked down, shut off, or stuck on a date a long time ago!

STOP CRYING! SheeEEEeesh. In the meantime we are doing everything possible, sorta, to make the transition a smooth one, even if we are hell-bent on NOT paying a dime for a website for such a stupid idea as this stuff.

We'll keep this announcement posted so all 2 of our readers see it. Rest assured, if anything happens that affects your ability to read this tripe, we'll let you know ASAP! Thanks!
THE CRETACEOUSLAND! LINK (CLICK HERE)!
NO! WAIT!!! CLICK HERE TO RETURN TO C4CS PREVIEW PAGE
CLICK HERE TO RETURN TO TOP OF PAGE
A division of Beckmann Scientific [BS]