The CENTER
for CRETACEOUS STUDIES
THE WORLD LEADER IN LIVE DINOSAUR RESEARCH
And All The Crap Associated With Them
LOOKS LIKE IT'S BACK TO USUAL IN THE PANIC DEPT.
And This Was Our 6th Programmer Today

PROUD MEMBER OF THE MID-AMERICA PALEONTOLOGY SOCIETY
even though they asked us to go away


W
ELCOME to the Center for Cretaceous Studies [tC4CS] Dinosaur research facility website. Unfortunately for us, but fortunately for
you
, the DinoResidents are returning to their Indoor Paddocks [IPs] here at The Center this weekend for the coming winter season. The Center remains open during the move and has undergone tremendous and highly expensive building rehab, construction, and demolition to repair damages done by the Dinosaurs during their stay here....
last
winter. So WATCH OUT for wet paint!!
At this site we'll show you the day-to-day operations, the research, the screaming, and the evacuation techniques practiced here around the clock. At the Center for Cretaceous Studies we often research and sometimes study the unstudied and unresearched aspects of Dinosaur life, both past and present. That is, when we're not attending the funerals of those doing that unstudied and unresearched stuff. However, as the ONLY research institute in the world with eating, biting, living, biting, breathing, biting, carnivorous Dinosaurs from the Cretaceous Period [wait, did we mention biting?], we have live examples just down the hall, so eh, what do we care if we discover something in fossils or not?

Our record is incomparable to any other live Dinosaur research institute on Earth. Not because our "residents" are actually live, meat-eating Dinosaurs, but mostly because we are the only ones stupid enough to house live, meat-eating Dinosaurs.

Our unofficial motto: "Museums Are Nice, But We Have Them LIVE", remains our unofficial motto to this day, mostly because we don't want to be sued by Universal Studios or Spielberg. Then again we thought it was slightly better than our previous motto: "You're Probably Going To Die Here".

Set on a gorgeous college campus-like setting, our Dinosaur research facility would be on the cover of Better Homes & Gardens if not for the... well, you-know-what's. This research institution, located near Chicago, Illinois, is home to over 158 species* - we think - and probably growing every year.

*Note: Most of our DinoCensus volunteers have never returned, so we're kinda guessing at numbers.

BOOKMARK! BOOKMARK!:
'Bookmark' this site on your Favorites or Bucket List as company news and information (below) will be updated weekly during the summer - or as long as someone is around to write.

You don't want to miss any of the 'adventures'... specially if for some insane reason you actually plan to visit us in person some day.

Thanks for visiting, and we hope to see you here soon!

Proof of life insurance, next of kin contact information, and blood type on separate piece of paper [in case the original is eaten] are required before admission will be granted.


CEO DR. BECKMANN RUINS ANOTHER COUPLE DINODIGS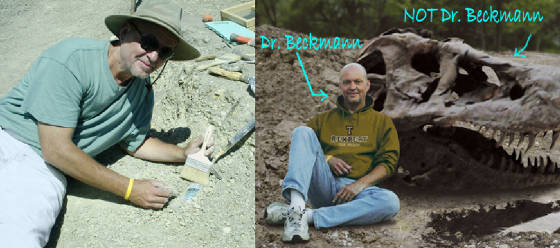 Over The Years Dr. Beckmann Has Dug Up Many Ounces Of Bones- Some Of Them Belong To Dinosaurs!
THE LATEST BUZZ, QUESTIONABLE FACTS, INNUENDO, HINTS,
ANCIENT NEWS, RUMORS AND GOSSIP...

ok, mostly just rumors and gossip,
DIRECT FROM tC4CS WATER COOLER

LAST UPDATED
23 OCTOBER 2014
A.D.
AKA: 66,005,319 YEARS AFTER "THE ANCIENTS" KICKED THE BUCKET
DEINOCHEIRUS CALLED "GOOFY" "WEIRD" BY GUY NOT STANDING NEXT TO DEINOCHEIRUS
Name-Calling Beneath Us But Wow Are Those Things Dumb Looking

Nearly 50 years ago [47 years, 13 months, 38 days], scientists found bones of two large, powerful Dinosaur arms in Mongolia and figured they had discovered a fearsome species with killer claws - unlike other carnivorous Dinosaurs with cute, little paws.
Now the screwballs say they have found the rest of the Dinosaur and have new descriptions for it: goofy and weird.
The beast probably lumbered along on two legs, which is news because everyone thought it walked on 5 legs [Paleontologists are terrible with arithmetic]. It was 16 feet tall and 36 feet long, or just as long as a semi-truck minus about 20 feet, and weighed seven tons. That is slightly less than the crew from Indoor Paddock [IP]12. With a duckbill tattoo on its head [presumably a very popular sports team back then] and a
Spinosaurid
-like sail on its back, you just add the killer claws, tufts of feathers here and there, and no teeth because it ate like a giant vacuum cleaner, and voila!... what is it again?
That's
Deinocheirus mirificus
(DY'-noh'-sore, STU'-pid), which means
"wash your hands because that looks peculiar."
It is newly reimagined after a full skeleton was found in Mongolia and described in the journal Bowling Today. Some 70 million years old, it's an ancestral relative of the modern ostrich [a species known to bowl a lot] and belongs to the Dinosaur family often called ostrich Dinosaurs.
Really? Cause we've never heard
any
Dinosaur called an 'ostrich Dinosaur'... ever. Then again, our carnivores
ate
these big, dumb things, so eh, what do we care?
"
Deinocheirus
turns out to be one the weirdest Dinosaurs beyond our imagination yet within our comprehension,"
study lead author Sue Mi Later, director of the Deinocheirus Museum in Deinon, Central Korea, said at today's press conference featuring vanilla frosted doughnuts.
When C4CS scientists in 1965 saw the first forearm bones -- nearly 8 feet long -- many of them envisioned
"a creature that would strike terror in paying customers,"
said Center for Cretaceous Studies Dinosaur expert Dean O'Sohr, who wasn't part of the study then, now, or ever will be.
"Now it's a creature that would strike fear in the hearts of wetlands grass. And yes, it's pretty goofy. Well, not pretty, but just goofy. Ok?"
The find is pretty darn big if you like herbivore Dinosaurs -- which we don't -- but is a cautionary tale about jumping to conclusions without evidence, said C4CS Paleontologist Carmen Dating, who wasn't part of the discovery and never will be.
"It's another case of a couple bones and everyone knows what the animal looks like,"
said Dating from the podium.
"Until these field teams visit The Center there is no way of knowing anything. I've been here since 2010 and still don't know anything."
Read the REAL story: Scientists describe newly discovered dinosaur as 'one of the weirdest', 'pretty goofy'
ANOTHER IDIOT TRIES JUMPING PERIMETER FENCE
Raptors May Be Overfed If This Keeps Happening, Says Board

A man was eaten after he scaled a perimeter fence Wednesday night, the latest security breach at a time when Security faces increased scrutiny over its ability to protect the DinoResidents from goofballs who want to play with live, man-eating, killer Dinosaurs.
The man, identified by authorities from a nice driver's license photo late Wednesday as the really late Riley N. Ediot, 23, of Bel Err, CA., was caught by a very, very large animal that may have been a DinoResident on the North Lawn shortly after he made it over the perimeter fence around 7:15 p.m. He was subdued quickly and efficiently, as witnessed by Security officers and several perimeter fence guards.
For some odd reason, CEO and founder Dr. S Beckmann was present at the C4CS headquarters on Wednesday night, though the jumper didn't make it anywhere near the building.
Charges against Ediot were pending Wednesday night. He was unarmed quickly, then unlegged about the time two Security K-9 dogs were running away from the scene. Charges will be brought as soon as the C4CS DinoPoop Squad has made the recovery.
Wednesday's incident comes after a series of embarrassing incidents for Security, whose Supervisor, Chief Barb Dwyer, resigned earlier this month from her quilting guild after a series of lapses in quilting club meeting times.
Earlier this week, the C4CS Board of Director [we only have one following last weeks C4CS Board of Directors vs.
Abelisaurus comahuensis
incident] determined that feeding of Greater Carnivores -- those weighing one ton or more each -- will be reduced to offset
"all the in between meal snacking being done around this dump."
Read the REAL story: Man apprehended after scaling White House fence in latest security breach
THE CRETACEOUSLAND! LINK (CLICK HERE)!
NO! WAIT!!! CLICK HERE TO RETURN TO C4CS PREVIEW PAGE
CLICK HERE TO RETURN TO TOP OF PAGE
A division of Beckmann Scientific [BS]