The CENTER
for CRETACEOUS STUDIES
THE WORLD LEADER IN LIVE DINOSAUR RESEARCH
And All The Crap Associated With Them
THIS IS NOT HOW YOU ESCAPE DINORESIDENTS
Fall DinoMove Completed As Soon As We Find The Missing Parts Of These Volunteers

PROUD MEMBER OF THE MID-AMERICA PALEONTOLOGY SOCIETY
even though they asked us to go away


W
ELCOME to the Center for Cretaceous Studies [tC4CS] Dinosaur research facility website. Unfortunately for us, but fortunately for
you
, the DinoResidents are returning to their Indoor Paddocks [IPs] here at The Center this weekend for the coming winter season. The Center remains open during the move and has undergone tremendous and highly expensive building rehab, construction, and demolition to repair damages done by the Dinosaurs during their stay here....
last
winter. So WATCH OUT for wet paint!!
At this site we'll show you the day-to-day operations, the research, the screaming, and the evacuation techniques practiced here around the clock. At the Center for Cretaceous Studies we often research and sometimes study the unstudied and unresearched aspects of Dinosaur life, both past and present. That is, when we're not attending the funerals of those doing that unstudied and unresearched stuff. However, as the ONLY research institute in the world with eating, biting, living, biting, breathing, biting, carnivorous Dinosaurs from the Cretaceous Period [wait, did we mention biting?], we have live examples just down the hall, so eh, what do we care if we discover something in fossils or not?

Our record is incomparable to any other live Dinosaur research institute on Earth. Not because our "residents" are actually live, meat-eating Dinosaurs, but mostly because we are the only ones stupid enough to house live, meat-eating Dinosaurs.

Our unofficial motto: "Museums Are Nice, But We Have Them LIVE", remains our unofficial motto to this day, mostly because we don't want to be sued by Universal Studios or Spielberg. Then again we thought it was slightly better than our previous motto: "You're Probably Going To Die Here".

Set on a gorgeous college campus-like setting, our Dinosaur research facility would be on the cover of Better Homes & Gardens if not for the... well, you-know-what's. This research institution, located near Chicago, Illinois, is home to over 158 species* - we think - and probably growing every year.

*Note: Most of our DinoCensus volunteers have never returned, so we're kinda guessing at numbers.

BOOKMARK! BOOKMARK!:
'Bookmark' this site on your Favorites or Bucket List as company news and information (below) will be updated weekly during the summer - or as long as someone is around to write.

You don't want to miss any of the 'adventures'... specially if for some insane reason you actually plan to visit us in person some day.

Thanks for visiting, and we hope to see you here soon!

Proof of life insurance, next of kin contact information, and blood type on separate piece of paper [in case the original is eaten] are required before admission will be granted.


CEO DR. BECKMANN RUINS ANOTHER COUPLE DINODIGS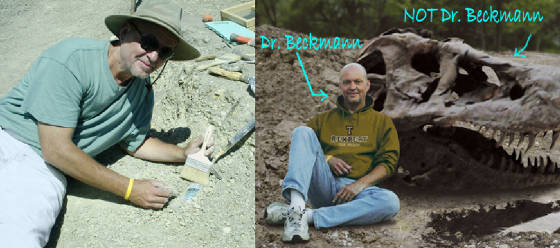 Over The Years Dr. Beckmann Has Dug Up Many Ounces Of Bones- Some Of Them Belong To Dinosaurs!
THE LATEST BUZZ, QUESTIONABLE FACTS, INNUENDO, HINTS,
ANCIENT NEWS, RUMORS AND GOSSIP...

ok, mostly just rumors and gossip,
DIRECT FROM tC4CS WATER COOLER

LAST UPDATED
21 OCTOBER 2014
A.D.
AKA: 66,005,319 YEARS AFTER "THE ANCIENTS" KICKED THE BUCKET
DETAINED EMPLOYEE RELEASED FROM IP18, SECURITY SAYS
Fell Asleep As DinoResidents Moved In

Center for Cretaceous Studies employee Geoffrey Foal has been released from Indoor Paddock [IP]18, nearly six hours after he was discovered still inside the most dangerous IP at The Center, the
Tyrannosaurus rex
Paddock, C4CS Security said today. Two other employees who have been trying to get out are still being held.
Foal, 56, of Miami, Kentucky, had been sleeping, er, cleaning inside the Paddock when all three family groups of the
Tyrannosaurs
were herded in during the 2014 Fall DinoMove. He was flown out of Building A to CFI Care for observation and portential burial. The IP18 DinoFeeders helped negotiate Foal's release by tempting the DinoResidents with hamburgers from the Kretaceous Kitchen.
C4CS spokesman Kent Shuddup said it was a positive decision by the DinoFeeders to rescue Foal. He urged other employees, Kenneth B. Wright and Pat N. Pending to make a run for the nearest emergency exit in the IP.
"The Center will continue to work actively on them,"
he lied.
CFI Care spokeswoman Eve Cagey said Foal was on his way to the promised land until he arrived at the hospital.
"We welcome the decision to transport him by Life Flight helicopter instead of the usual bus,"
she said in a statement, using the dictionary for big words.
Cagey also thanked the IP18 employees for
"tireless efforts"
. She provided no other details and was rather boring after that part.
For their part, almost all IP18 DinoFeeders said,
"Tireless? Man, I'm tired!"
IP18 Supervisor Ron Forret had repeatedly tried to send a high-level rescue team in to seek release of the three men. The
Tyrannosaurs
refused as recently as about an hour ago, according to the C4CS Numbers & Estimation Dept.
Read the REAL story: Detained American released from North Korea, State Department says
300,000.6 EMPLOYEES MAY HAVE DEADLY DISEASE
Ok, It's Not Really Deadly, But We Made Ya Look, Didn't We?

As the world continues to grapple with the Ebola and Fbola epidemic raging in west Cretaceousland!, there's growing concern about another invasive disease whose origin is much closer to home.
ChimiChagas is a disease found mainly in Latin American Dinosaurs, but is starting to gain a foothold in U.S. Dinosaurs. Caused by a parasite inside tacos, ChimiChagas causes fatigue, body aches, headache and other symptoms that are more than enough for employees to call in sick and get away with it.
The Center for Cretaceous Studies researchers estimate that 8 million employees working in the region live are no longer with us. But back to the disease. The disease – isolated cases of ChimiChagas have begun to crop up throughout The Center in places like IP82, IP88 and C4CS Employee Cafeteria #3. The researchers believe that there are currently 300,000.6 people infected with ChimiChagas working in The Center, enough for a clinic devoted to diagnosing and treating the disease to close so they could quickly schedule vacations.
The DinoDisease is not classified by C4CS DinoHealth officials as endemic, leaving many doctors to fail to diagnose ChimiChagas or not think that people could contract the disease in the cafeteria.
"It's not something that we think of asking right away. In fact, I don't remember any of our staff asking anyone... ever,"
C4CS DinoMedic Hannah Mia Sucherr told the whimpering media - looking anywhere for a surgical mask - at this morning's press conference.
"I wouldn't be surprised if the numbers were higher and we're just not seeing it."
That was followed by a lot of groaning.
Read the REAL story: 300,000 people in U.S. have Chagas disease as country unsure how to deal with growing threat
THE CRETACEOUSLAND! LINK (CLICK HERE)!
NO! WAIT!!! CLICK HERE TO RETURN TO C4CS PREVIEW PAGE
CLICK HERE TO RETURN TO TOP OF PAGE
A division of Beckmann Scientific [BS]