The CENTER
for CRETACEOUS STUDIES
THE WORLD LEADER IN LIVE DINOSAUR RESEARCH
And All The Crap Associated With Them
EMPLOYEE OF THE MONTH NOMINATIONS NOW OPEN
A Live Winner Would Be Nice... And Also A First

PROUD MEMBER OF THE MID-AMERICA PALEONTOLOGY SOCIETY
even though they asked us to go away


W
ELCOME to the Center for Cretaceous Studies [tC4CS] Dinosaur research facility website. Unfortunately for you, but fortunately for
us
, the DinoResidents have been moved next door to Cretaceousland! for the summer season. The Center, though it remains open, is undergoing building rehab, construction, and demolition in the meantime to repair damages done by the Dinosaurs during their stay here last winter.
What this means is, the "news and information" found below this cheerful welcome is updated only weekly -- not daily -- during the summer season. Mostly because we deserve a vacation or most of us are in the hospital. Hey, YOU try working around live, carnivorous, 9-ton Dinosaurs, pal.
___________________________________________________________________________________
All latest and updated information, news, and warnings now originates from the Cretaceousland! offices during the summer season.
Click on the link below!

CLICK HERE FOR THE LATEST C4CS INFORMATION!

_____________________________________________________________________________________________________

At this site we'll show you the day-to-day operations, the research, the screaming, and the evacuation techniques practiced here around the clock. At the Center for Cretaceous Studies we often research and sometimes study the unstudied and unresearched aspects of Dinosaur life, both past and present. That is, when we're not attending the funerals of those doing that unstudied and unresearched stuff. However, as the ONLY research institute in the world with eating, biting, living, biting, breathing, biting, carnivorous Dinosaurs from the Cretaceous Period [wait, did we mention biting?], we have live examples just down the hall, so eh, what do we care if we discover something in fossils or not?

Our record is incomparable to any other live Dinosaur research institute on Earth. Not because our "residents" are actually live, meat-eating Dinosaurs, but mostly because we are the only ones stupid enough to house live, meat-eating Dinosaurs.

Our unofficial motto: "Museums Are Nice, But We Have Them LIVE", remains our unofficial motto to this day, mostly because we don't want to be sued by Universal Studios or Spielberg. Then again we thought it was slightly better than our previous motto: "You're Probably Going To Die Here".

Set on a gorgeous college campus-like setting, our Dinosaur research facility would be on the cover of Better Homes & Gardens if not for the... well, you-know-what's. This research institution, located near Chicago, Illinois, is home to over 158 species* - we think - and probably growing every year.

*Note: Most of our DinoCensus volunteers have never returned, so we're kinda guessing at numbers.

BOOKMARK! BOOKMARK!:
'Bookmark' this site on your Favorites or Bucket List as company news and information (below) will be updated weekly during the summer - or as long as someone is around to write.

You don't want to miss any of the 'adventures'... specially if for some insane reason you actually plan to visit us in person some day.

Thanks for visiting, and we hope to see you here soon!

Proof of life insurance, next of kin contact information, and blood type on separate piece of paper [in case the original is eaten] are required before admission will be granted.


CEO DR. BECKMANN RUINS ANOTHER COUPLE DINODIGS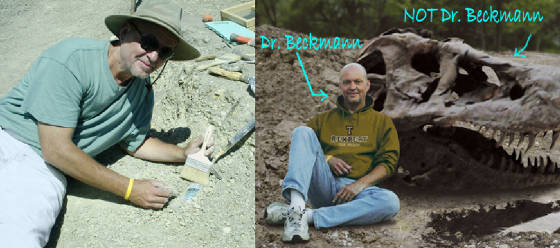 Over The Years Dr. Beckmann Has Dug Up Many Ounces Of Bones- Some Of Them Belong To Dinosaurs!
THE LATEST BUZZ, QUESTIONABLE FACTS, INNUENDO, HINTS,
ANCIENT NEWS, RUMORS AND GOSSIP...

ok, mostly just rumors and gossip,
DIRECT FROM tC4CS WATER COOLER

LAST UPDATED
29 AUGUST 2014
A.D.
AKA: 66,005,319 YEARS AFTER "THE ANCIENTS" KICKED THE BUCKET
IS THERE A MICROCHIP IN YOUR FUTURE?
There Is If You Plan On Visiting THIS Dump.. er.. Research Institute

You can inject one under the skin of a 2-foot
Xixianykys shangi
and no one will ever notice. Using really-long-long-range radio frequency identification (RLLRFID) signals, it can transmit the little alvarezsaurid's identity as it passes through the perimeter fence or walking inside the hallway outside the Indoor Paddock. It can help employees and visitors buy time getting to a Personal Safety Zone [PSZ]. In a worst-case scenario – if you are eaten, for example – it could help Search & Rescue teams identify what species did the dining.
Microchip implants like the ones Indoor Paddock [IP] Supervisors use to track their species have become commonplace in the Center for Cretaceous Studies for more than a decade. Experts are divided on whether they're appropriate for larger species, which could easily eat an entire team of microchip implanters, but the implants could offer several advantages. For Greater Carnivores - animals weighing over one ton each - an implant could be the difference between life and death. Well, maybe serious injury and death. Really serious injury. A tracker could also help Security quickly locate a really full DinoResident.
"In the long run, chip implants could make it less intrusive than some emerging ID systems which rely on physical biometrics
(like claw marks or unique eye pattern)
,"
says C4CS's Chip Monk, from Room 215 of Building R.
"This should be a matter of common knowledge, but keeping DinoResidents from eating employees or tourists is much easier using chips,"
adds DinoPoop Squad Supervisor John Flushing. Flushing said he supports chip implantation for security reasons, provided he isn't the one implanting them.
Chips are being used today to manage DinoResident diets. Supervisors can track Carcharadontosaurids, Tyrannosaurids, Coelursaurids, and Ornithomimosaurids as they move through a gate, weigh them instantly and make sure they are eating properly.
"Those same chips have found their way into RLLRFID devices to activate the DinoAlert! signals,"
said Dan Defino, a C4CS electrical engineer and electrical and electronics spokesman. Geez, we sure have a lot of spokesmen around here.
"There have been people who volunteered to put them in some of our species. We sure miss those people."
At least it's better than having a barcode stitched onto the foreheads of 40-foot, 6-ton man-eaters.
Read the REAL story: http://www.foxnews.com/tech/2014/08/29/is-there-microchip-implant-in-your-future/?intcmp=latestnews
THE CRETACEOUSLAND! LINK (CLICK HERE)!
NO! WAIT!!! CLICK HERE TO RETURN TO C4CS PREVIEW PAGE
CLICK HERE TO RETURN TO TOP OF PAGE
A division of Beckmann Scientific [BS]