The CENTER
for CRETACEOUS STUDIES
THE WORLD LEADER IN LIVE DINOSAUR RESEARCH
And All The Crap Associated With Them
LABWORK NEVER STOPS AROUND HERE
With Or Without Window Peekers

PROUD MEMBER OF THE MID-AMERICA PALEONTOLOGY SOCIETY
even though they asked us to go away

FOLLOW
THE CENTER FOR CRETACEOUS STUDIES
ON FACEBOOK!
what? are you kidding? how'd THAT happen?!?

Look For CEO, Founder, DR. S BECKMANN On LinkedIn
seriously, why would you do that?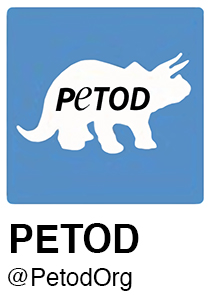 Charter Member of People for the Ethical Treatment of Dinosaurs Since Last Week
WELCOME to the Center for Cretaceous Studies [tC4CS] LIVE Dinosaur research institution website. The animals [that is, the Dinosaurs and not the staff], have been moved outdoors to their summer homes at Cretaceousland!. Now is the absolute WORST time to visit We've just moved the DinoResidents back indoors, so your chances of getting out of here alive have fallen like stock in the Weinstein Company.
Here at the Center for Cretaceous Studies we often research and sometimes study the unstudied and unresearched aspects of Dinosaur life, both past and present. That is, when we're not attending the funerals of those doing that unstudied and unresearched stuff. However, as the ONLY research institute in the world with eating, biting, living, biting, breathing, biting, carnivorous Dinosaurs from the Cretaceous Period [wait, did we mention biting?], we have live examples just down the hall, so eh, what do we care if we discover something in fossils or not?

Our record is incomparable to any other live Dinosaur research institute on Earth. Not because our "residents" are actually live, meat-eating Dinosaurs, but mostly because we are the only ones stupid enough to house live, meat-eating Dinosaurs.

Our unofficial motto: "Museums Are Nice, But We Have Them LIVE", remains our unofficial motto to this day, mostly because we don't want to be sued by Universal Studios or that Spielberg guy. Then again we thought it was slightly better than our previous motto: "You're Probably Going To Die Here".

Set on a gorgeous college campus-like setting, our Dinosaur research facility would be on the cover of Better Homes & Gardens if not for the... well, you-know-what's. This research institution, located southwest of Chicago, Illinois, is home to over 158 species* - we think - and probably growing every year, for all we know.

*Note: Most of our DinoCensus volunteers have never returned, so we're kinda guessing at numbers.

BOOKMARK! BOOKMARK!:
'Bookmark' this site on your Favorites or Bucket List as company news and information [below] is updated nearly every weekend - or as long as someone is still around [alive] to write.

You don't want to miss any of the 'adventures'... specially if for some insane reason you actually plan to visit us some day. Thanks for looking, and we hope to see you here soon!

Proof of life insurance, next of kin contact information, and blood type on separate piece of paper [in case the original is eaten] are required before admission will be granted.


CEO DR. BECKMANN RUINS ANOTHER COUPLE DINODIGS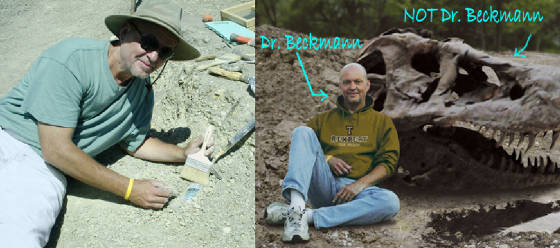 Over The Years Dr. Beckmann Has Dug Up Many Ounces Of Bones- Some Of Them Belong To Dinosaurs!
THE WEEK IN REVIEW BUZZ
QUESTIONABLE FACTS, INNUENDO, HINTS,
ANCIENT NEWS, RUMORS AND GOSSIP...

ok, mostly just rumors and gossip,
DIRECT FROM tC4CS WATER COOLER

LAST UPDATED
22 OCTOBER 2017
A.D.
AKA: 66,005,322 YEARS AFTER "THE ANCIENTS" KICKED THE BUCKET
BUILDING C TAKES DOWN 8,416-POUND WILD ANIMAL
"Could Be A Dinosaur," Claims Security From Behind Their Comfortable, Safe Video Screens

If you're a wandering the hallways here at The Center, don't mess with those guys in Building C.
That's the lesson learned by a 8,416-pound
Albertosaurus sarcophagus
that was knocked out with a hypodermic needle-shooting rifle by an Indoor Paddock [IP] employee after wreaking havoc on our Building C property for nearly five minutes.
The employee, Moe M. Downe, from Texas, used only 25 shots, reloading three times, to put the Greater Carnivore into "sleepy time".
"My work area is between some popular areas of Building C and I try to maintain an environment like a sanctuary or nursery for the tourists to visit,"
Downe read from a prepared statement written by the C4CS Legal Department to the gathered media in Media Room 1 at this morning's press conference featuring chocolate doughnuts with sprinkles.
Building C is home to the largest
Albertosaur
population in the United States, with an estimated 14 animals ranging from hatchlings to full-grown, wild, crazy, mean adults, according to C4CS spokesman Kent Shuddup, and the animals are increasingly finding their way to escape their IP.
Along with things like parking lot fees, Kretaceous Kitchen food, and reading this,
Albertosaurus sarcophagus
are probably one of the more disliked animals at The Center.
They have been preying on the parked cars in the east parking lots and Downe said he always stayed armed when walking in the hallways of Building C.
The departed
Albertosaur
will live on as if nothing happened, he added.
"He was the big daddy,"
Downe said.
"I called him the couch beast because he ate, bit, chomped on, and just totally destroyed every chair and couch in that hallway."
Read The REAL Story: East Texas man takes down 416-pound wild hog in backyard
CEO TO DONATE CLOTHING TO SMITHSONIAN - AGAIN
But They Keep Returning It

On Friday morning, CEO and founder Dr. S Beckmann donated his cardboard box full of old suits he has worn to work to the Smithsonian National Museum of American History in Washington, D.C.
The box of bloodied and torn suit jackets and trousers, with assorted bloody, ripped shirts, designed by French-American fashion designer Donna Komplane, will be placed in the museum's
"First Live Dinosaur Research"
exhibit alongside several others worn by tourists and employees, including Wendy Pigsfly, Susan Shocks, Trudy Door and Donna Hall.
Komplane, too, reportedly accompanied the box to the Smithsonian on Friday morning, telling Men's Wear Monthly that he jumped at the chance. That is, jumped at the chance to get out of here, even if only for a few minutes.
"He asked me if I wanted to go to the Smithsonian, and I said, 'Oh hell, yes,'"
Komplane told the gathered media at this morning's press conference.
"As an employee who has seen the horrors of this place, to have a chance to get out of here for any reason, let alone the freakin' Smithsonian Museum is a big huge honor. I got chills. I know how in the designer world, there are lots of big egos. I have always tried to manage my ego for many, many years. But in this case, there is nothing to be ashamed of — it's a big ego thing. I'm really, really glad, happy, beside myself, just to get out of that dump for an hour."
In a January interview with Harper's Bazaar, Komplane said Dr. Beckmann contributed to the schedule of shipping things to the Smithsonian, picking out a
"beautiful six-ply cardboard box"
that he regaled for the construction and ability to hold all
"the crappy clothing"
the CEO was sending.
"The suits and most of the shirts are fluid, still wet from what we hope is sweat, yet the overall shape of the clothing remained sharp and intense,"
he told the press. Most of them were too busy inhaling free doughnuts.
"For me it reflects the personality of this dump."
According to the Smithsonian, the tradition of returning Dr. Beckmann's contributions began in 1998, when he donated the white silk chiffon shirt he wore by mistake to the 1997 Christmas Party. As most survivors remember, that year a juvenile
Abelisaurus comahuensis
attacked the punchbowl.
The First Live Dinosaur Research exhibit, which has never made it past the proposal stages [as proposed by Dr. Beckmann]
"belongs to the trash"
from every U.S. Presidential, Supreme Court, and Congressional administration, though
"we get a good laugh at some of the junk they send,"
the museum wrote.
Read the REAL story: Melania Trump to present inaugural ball gown to Smithsonian


HERE IT IS!!!
GET THE INSIDE STORY OF THE CENTER FOR CRETACEOUS STUDIES!!
Most Likely THE BEST Live Dinosaur Research Institution Book Every Written Without Typohs

NOW you can get your paperback or eBook, the aptly titled The Center for Cretaceous Studies from AuthorHouse, Amazon, or Barnes & Noble! If you're on this site then we're pretty sure you know what kind of book to expect.

Where can you get it? Search no more!

An eBook is available exclusively from the AuthorHouse site. The paperback only is for sale online from the fine bookstores listed below. Just type in 'Center for Cretaceous Studies' when you get there:

AuthorHouse (eBook and paperback)
THE CRETACEOUSLAND! LINK (CLICK HERE)!
NO! WAIT!!! CLICK HERE TO RETURN TO C4CS PREVIEW PAGE
CLICK HERE TO RETURN TO TOP OF PAGE
A division of Beckmann Scientific [BS]