The CENTER
for CRETACEOUS STUDIES
THE WORLD LEADER IN LIVE DINOSAUR RESEARCH
And All The Crap Associated With Them
FIRST SNOWFALL AT THE CENTER SINCE LAST YEAR
Forecast Is For 20% Chance Of Snow 112% Chance Of Terror And Bloodshed

PROUD MEMBER OF THE MID-AMERICA PALEONTOLOGY SOCIETY
even though they asked us to go away


W
ELCOME to the Center for Cretaceous Studies [tC4CS] Dinosaur research facility website. Unfortunately for us, but fortunately for
you
, the DinoResidents have returned to their Indoor Paddocks [IPs] here at The Center for the coming 2014-15 winter season.
At this site we'll show you the day-to-day operations, the research, the screaming, and the evacuation techniques practiced here around the clock. At the Center for Cretaceous Studies we often research and sometimes study the unstudied and unresearched aspects of Dinosaur life, both past and present. That is, when we're not attending the funerals of those doing that unstudied and unresearched stuff. However, as the ONLY research institute in the world with eating, biting, living, biting, breathing, biting, carnivorous Dinosaurs from the Cretaceous Period [wait, did we mention biting?], we have live examples just down the hall, so eh, what do we care if we discover something in fossils or not?

Our record is incomparable to any other live Dinosaur research institute on Earth. Not because our "residents" are actually live, meat-eating Dinosaurs, but mostly because we are the only ones stupid enough to house live, meat-eating Dinosaurs.

Our unofficial motto: "Museums Are Nice, But We Have Them LIVE", remains our unofficial motto to this day, mostly because we don't want to be sued by Universal Studios or that Spielberg guy. Then again we thought it was slightly better than our previous motto: "You're Probably Going To Die Here".

Set on a gorgeous college campus-like setting, our Dinosaur research facility would be on the cover of Better Homes & Gardens if not for the... well, you-know-what's. This research institution, located near Chicago, Illinois, is home to over 158 species* - we think - and probably growing every year.

*Note: Most of our DinoCensus volunteers have never returned, so we're kinda guessing at numbers.

BOOKMARK! BOOKMARK!:
'Bookmark' this site on your Favorites or Bucket List as company news and information (below) will be updated weekly during the summer - or as long as someone is around to write.

You don't want to miss any of the 'adventures'... specially if for some insane reason you actually plan to visit us in person some day.

Thanks for visiting, and we hope to see you here soon!

Proof of life insurance, next of kin contact information, and blood type on separate piece of paper [in case the original is eaten] are required before admission will be granted.


CEO DR. BECKMANN RUINS ANOTHER COUPLE DINODIGS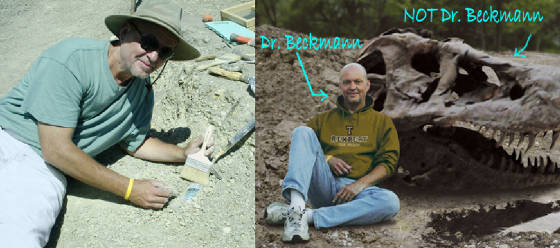 Over The Years Dr. Beckmann Has Dug Up Many Ounces Of Bones- Some Of Them Belong To Dinosaurs!
THE LATEST BUZZ, QUESTIONABLE FACTS, INNUENDO, HINTS,
ANCIENT NEWS, RUMORS AND GOSSIP...

ok, mostly just rumors and gossip,
DIRECT FROM tC4CS WATER COOLER

LAST UPDATED
20 NOVEMBER 2014
A.D.
AKA: 66,005,319 YEARS AFTER "THE ANCIENTS" KICKED THE BUCKET
CENTER KEEPS NO-FLY ZONE OVER CAMPUS
Includes C4CS Int'l Airport For Some Reason

The Center for Cretaceous Studies has benefited from a deal slipped into a 30054-page spending bill that designates airspace above both parks [includes Cretaceousland!] as no-fly zones. That means anyone caught trying to chopper in to a live DinoResident EMLZ [Emergency Medical Landing Zone] or outdoor Habitat could risk prosecution and jail time if the C4CS Search & Rescue teams get there fast enough to do that 'rescuing' stuff. Who knows? Someday they might actually
get
someone out... alive.
The no-fly zones were put in place ostensibly for security reasons following 9/11 but have stayed in place by what is unofficially agreed to as
"a pretty good idea"
to keep humans away from live, human-eating Dinosaurs.
The zones over The Center and Cretaceousland! work the same way as those imposed when the U.S. is at war, during those times anyone flying over can be arrested for being an idiot and those attempting to land or crash will probably have their plane stepped on, chewed, and/or shredded. The Center's zones are not temporary.
Backers of the no-fly zones argue that these areas should stay restricted because of the large animals running around here. They also say that the Center for Cretaceous Studies is a major American attraction that deserves extra attention. Those that say
that
are known as morons.
"We believe the airspace restrictions over large gathering places with man-eating Dinosaurs continues to make sense for enhancing public safety,"
said C4CS spokeswoman Kent Shuddup.
Not everyone is feeling the same.
Critics say the no-fly zones, which cover a really, really big radius over the main campus here and the Cretaceousland! theme park, are only in place to prevent pilots from towing advertising banners. They also say the no-fly zones will do little in the event of an actual airplane trying to land at the C4CS Int'l [interdenominational] Airport.
Stevie Crampt, chief counsel for the Association of Bad Piloting Skills which opposes the no-fly zones, argues The Center wants no-fly zones to prevent competitors from spying and that DinoAlert! fears gave the company the cover it needed to keep its airspace empty.
"We're not spying; we're trying to reach a specific target airport on the other side of that dump,"
Crampt said in a court room TV show taping.
"But The Center alone makes our members fly aaaaall the way around."
The Center's restrictions have been in place since 2003 when they were tucked into a massive $397.4 billion spending bill that was paid by taxpayers.
An investigation into the no-fly zones by a local high school newspaper revealed that The Center's government-granted security zones put them on par with those for U.S. Presidents, nuclear submarine bases and military stockpiles of sarin gas.
All along, C4CS officials, including CEO and founder Dr. S Beckmann, have insisted they did nothing illegal - for the most part. They have denied bending the rules in their favor and refute accusations they aren't operating on a level playing field. The no-fly zones prohibit planes from flying below 35,000 feet within twenty-three miles of the main campus and Cretaceousland!.
But theme parks like Six Flags and Knott's Berry Farm don't enjoy the same no-fly perks.
"I don't remember live DinoResidents at Six Flags or DinoAlert!s at Knott's Berry Farm,"
said Shuddup.
In 2003, The Center for Cretaceous Studies had 9,113 lobbyists on its less-than-minimum-wage payroll. In 2014, that number rose to 18,752. When asked recently about The Center's no-fly zone, Crampt said the live Dinosaur research institutions arguments grow weaker with time.
"They haven't had any animals over there stepping on a plane or eating the passengers in months,"
he told the Los Angeles Tribune.
"In the past 10, 12 years since those things happened, we've seen no further DinoAlert!s of the type that took place on their lone runway and no real threat in these fly-over zones. I would say, today, that the case for protecting humans flying over a live, man-eating Dinosaur research institute is even weaker than it was when we argued about the ban."
Multiple calls to the FAA, Six Flags and Knott's Berry Farm for comment were immediately hung up.
Read the REAL story: No carpet rides here: Disney keeps no-fly zone over parks
BLACK FRIDAY DEALS FOCUS ON FINAL GIFTS
Difficult To ReGift, Says Coroner

Some of the most enticing 2014 Black Friday deals here at The Center will come on a Friday this year.

Big box [casket] retailer Best Bury will offer $10 off on all models on Black Friday, the day after Thanksgiving, or just about any Friday until the end of the year. Maybe into next year.

That will bring the $4990 model down to $8965 [after C4CS taxes] and the high-end $6990 offering to $12982, for example. Price does not include a lot of stuff people usually associate with caskets.

Best Bury has also slated the iCasket Mini 3, released in October, for price cuts. That diminutive 7.9-inch casket will see a $7.50 discount on all models. That cuts the entry-level casket to $3252.14 or so from $3990, for instance. The iCasket Mini is popular with 'former' [if you know what we mean] tourists and employees who meet their Maker or a 32-foot Tyrannosaur and there isn't much left for a full-size model.

But the iCasket Mini 3 is a bit of an enigma in the scheme of Best Bury product updates. Little has changed from the previous generation iCasket Mini 2, with the exception of the addition of the open-close button and the gold color option.

Why the focus on the iCasket? "As a retailer you go where the traffic is or at least once was," noted Barry M. Diep, C4CS Coroner.

"All iCaskets are discounted pretty much everywhere for Black Friday. The slowdown in the casket market, which never happens at this dump, are still pretty high unit volume products with very high brand recognition, an ideal combination for Black Friday promotion," he said.
Read the REAL story: Black Friday Apple deals focus on iPad Air
THE CRETACEOUSLAND! LINK (CLICK HERE)!
NO! WAIT!!! CLICK HERE TO RETURN TO C4CS PREVIEW PAGE
CLICK HERE TO RETURN TO TOP OF PAGE
A division of Beckmann Scientific [BS]