The CENTER
for CRETACEOUS STUDIES
THE WORLD LEADER IN LIVE DINOSAUR RESEARCH
And All The Crap Associated With Them
INDOOR DINORESIDENTS GETTING A BIT ANTSY IT SEEMS
Only A Few More Days Until We Release Them To The Great Outdoors, Thank God.

PROUD MEMBER OF THE MID-AMERICA PALEONTOLOGY SOCIETY
even though they asked us to go away


W
ELCOME to the Center for Cretaceous Studies [tC4CS] Dinosaur research facility website. Unfortunately for us, but fortunately for
you
, the DinoResidents are here, inside their Indoor Paddocks [IPs] for the winter season, but [thank God] will be returning to Cretaceousland! on MAYDAY [1 May].
At this site we'll show you the day-to-day operations, the research, the screaming, and the evacuation techniques practiced here around the clock. At the Center for Cretaceous Studies we often research and sometimes study the unstudied and unresearched aspects of Dinosaur life, both past and present. That is, when we're not attending the funerals of those doing that unstudied and unresearched stuff. However, as the ONLY research institute in the world with eating, biting, living, biting, breathing, biting, carnivorous Dinosaurs from the Cretaceous Period [wait, did we mention biting?], we have live examples just down the hall, so eh, what do we care if we discover something in fossils or not?

Our record is incomparable to any other live Dinosaur research institute on Earth. Not because our "residents" are actually live, meat-eating Dinosaurs, but mostly because we are the only ones stupid enough to house live, meat-eating Dinosaurs.

Our unofficial motto: "Museums Are Nice, But We Have Them LIVE", remains our unofficial motto to this day, mostly because we don't want to be sued by Universal Studios or that Spielberg guy. Then again we thought it was slightly better than our previous motto: "You're Probably Going To Die Here".

Set on a gorgeous college campus-like setting, our Dinosaur research facility would be on the cover of Better Homes & Gardens if not for the... well, you-know-what's. This research institution, located near Chicago, Illinois, is home to over 158 species* - we think - and probably growing every year.

*Note: Most of our DinoCensus volunteers have never returned, so we're kinda guessing at numbers.

BOOKMARK! BOOKMARK!:
'Bookmark' this site on your Favorites or Bucket List as company news and information [below] is updated often, sometimes daily - or as long as someone is still around [alive] to write.

You don't want to miss any of the 'adventures'... specially if for some insane reason you actually plan to visit us some day.

Thanks for looking, and we hope to see you here soon!

Proof of life insurance, next of kin contact information, and blood type on separate piece of paper [in case the original is eaten] are required before admission will be granted.


CEO DR. BECKMANN RUINS ANOTHER COUPLE DINODIGS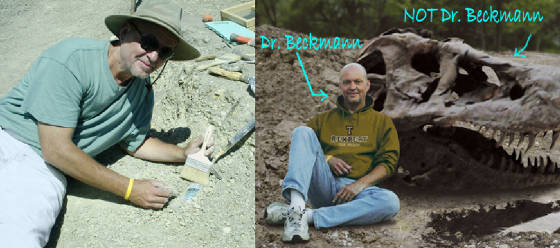 Over The Years Dr. Beckmann Has Dug Up Many Ounces Of Bones- Some Of Them Belong To Dinosaurs!
THE LATEST BUZZ, QUESTIONABLE FACTS, INNUENDO, HINTS,
ANCIENT NEWS, RUMORS AND GOSSIP...

ok, mostly just rumors and gossip,
DIRECT FROM tC4CS WATER COOLER

LAST UPDATED
22 APRIL 2015
A.D.
AKA: 66,005,320 YEARS AFTER "THE ANCIENTS" KICKED THE BUCKET
DOZENS OF DINOSAUR EGGS FOUND IN CHINESE CITY
Alright, Who Removed Them From The Kitchen Without Permission?!?

The Chinese city that boasts the largest number of Dinosaur eggs in the world has added a new batch to its impressive collection. Construction workers unearthed 43 Dinosaur eggs during road repair work in Heyuu city in the southern Chinese province of Guandingdong, Center for Cretaceous Studies officials said today.
The city, which calls itself the
"Home of the Really Dead Dinosaurs,"
won a Guinness World Record for the world's largest collection of Dinosaur eggs at its museum in 2004. It was a down year here at The Center. The population burst of the late 1990s had subsided. Of course the people from Guinness didn't
have
a stupid world record for largest collection of dumb ol' Dinosaur eggs back in the 1980s
or
90s. We've invited them here on several occasions but they keep refusing to come anywhere near this dump.
Huang Tu, deputy director of the Heyuu Museum, said that it was the first time eggs have been discovered in the bustling city center.
"Usually it's in the non-bustling part of town,"
he said while downing a plate of Chinese take-out.
Major road repair work was halted as a team of researchers and construction workers jumped up and down once news broke over city speakers that more eggs had been found. Giddy as teenaged schoolgirls, nineteen of the eggs were found to be completely intact, with the largest measuring as much as 13 centimeters (56 inches) in diameter, Huang guessed.
Researchers said they will continue to examine the eggs to determine which Dinosaur species they belong to. In the meantime, C4CS officials are scrambling [no pun inten... oh, ok, it was] to find out if someone raided the Kretaceous Kitchen refrigerator or if any eggs are missing from the Hatchery Department.
"Great,"
sighed Hatchery Department Supervisor Brock Adoodaldew,
"more inventory work. Just great."
Most of the eggs in the museum's existing collection belong to oviraptorid and duck-billed Dinosaurs, which roamed the earth 89 million years ago and are species that we don't care about at all. C4CS spokesman Kent Shuddup egged the gathered media with,
"We call those 'feeders' because they're all namby-pamby herbivores."
Nearly 17,000 Dinosaur eggs have been uncovered in the city since the first group was found in 1996 by children who found 3 suitcases stuffed with them at a construction site. The side of each suitcase was clearly marked
Property of the Center for Cretaceous Studies
, but was never confirmed nor denied as existing by China's official news agency Xinhua Times & Evening Gazette.
Read the REAL story: Dozens of dinosaur eggs discovered by construction workers in Chinese city
SOME OLD DINOSAUR MOVIE TRAILER HITS THE WEB
Everyone Here, Well, Those Still Breathing, Ask When Triassic Park Opens

Here's the latest teaser from the 100% fake Jurassic World movie, due in theaters June 12:
Read the REAL story: Jurassic World trailer hits the web
WATCH THE JURASSIC WORLD TRAILER HERE
JW ACTOR GETS SCHOOLED BY KID ON ELLEN TV SHOW
Almost Half Of Our Researchers Got Two Correct

Actor Chris Pratt, one of the stars in the upcoming
"Jurassic World"
make-believe movie, appeared on the
"Ellen"
TV show recently. He and some kid named Noah went head-to-head answering Dinosaur trivia questions.
SECOND CALL GOES OUT FOR SPRING DINOMOVE VOLUNTEERS
Pretty Posters In Company Hallways Will Inform Employees Of Things
The 2015 Spring DinoMove is upon us. Oh, please. Stop popping the champagne bottles already.
"They"
are still here, y'know. However, in less than TWO WEEKS the DinoResidents return to Cretaceousland! to enjoy the great outdoors once again and -- more importantly -- they will be out of
our
hair for another summer.
C4CS HR Department Supervisor Kay Sera has already announced a freeze on all vacations until mid-May, so don't get any ideas about leaving or calling in sick.
CEO and founder Dr. S Beckmann has released a statement saying,
"We depend a great deal on the volunteers and employees here at The Center and Cretaceousland! when it comes to the DinoMoves in the Spring and Fall. After last year's horrendous, er, unexpected catastrophe... um, event, we'll make sure most of the mouths of the Greater Carnivores are secured this year. Good luck to everyone, and sign up today!"
2015 Spring DinoMove Supervisor Patty Pewper once again noted that early volunteers will get their choice of species to move -- obviously the first ones chosen are usually something about the size of a chicken -- while late volunteers will be stuck with
Tyrannosaurs
or something of that nature.
"One good thing about being a late volunteer,"
said Pewper,
"is the free Last Rites everyone gets for helping move any animal that weighs over a ton."
She also coaxed employees to 'volunteer' their noisy neighbors or any other people they really don't like. Unlike years past, Pewper said this year's list will
not
include a special category for Mother-In-Laws.
Opening Day (MAYDAY!) starts at 6:00am rain or shine, May 1st, over at the back gate of Building F. Current plans are for a huge parade with marching bands, several floats, cartoon character balloons, dignitaries, and a fly-over by the CFI Care Life-Flight helicopter squad. Then again, those are just plans. If it's anything like previous Spring DinoMoves, it's every man for himself.
Sign up sheets can be found on the bulletin boards outside all three C4CS Employee Cafeterias.
WEBSITE CHANGES UPDATE
Posted April 13
Here's the latest update from Tripod-Lycos, our free website hosts:
In order to allow more time for users to prepare their sites for migration and to learn the Zeeblio editor, we have postponed the migration date from Trellix into Zeeblio Beta. Any further updates on the migration will be posted.


Current Trellix Status:

•Trellix is no longer a supported editor. We are not maintaining the code and will not be fixing any bugs within the editor.
•Trellix is only compatible with Internet Explorer 10 or earlier. If you use Internet Explorer 11 you will need to use compatibility mode.

Note:
The Center currently uses Internet Explorer 3.1
•Since Trellix is a legacy editor, there are limitations as to what the editor can accomplish and you may assume that a behavior is a bug, but it is actually just a limitation. For example, there is no ability to change page width in Trellix.
Trellix Migration Date: TBD


Remember, we are
very
cheap around here, so for us to take this 'free ride' for as long as it lasts shouldn't come as a big surprise. A back-up site is being prepared. Well, sort of. First we really need to have enough DinoResident incident-surviving programmers and we can tear them away from the bar.
We knew you'd understand.
-- The Center for Cretaceous Studies Website & Publishing Department
THE CRETACEOUSLAND! LINK (CLICK HERE)!
NO! WAIT!!! CLICK HERE TO RETURN TO C4CS PREVIEW PAGE
CLICK HERE TO RETURN TO TOP OF PAGE
A division of Beckmann Scientific [BS]