The CENTER
for CRETACEOUS STUDIES
THE WORLD LEADER IN LIVE DINOSAUR RESEARCH
And All The Crap Associated With Them
NEW TECH MANUALS STUDY OPENS TO TYPICAL RESULTS
Screaming, Roaring, Thrashing... The Usual Stuff

PROUD MEMBER OF THE MID-AMERICA PALEONTOLOGY SOCIETY
even though they asked us to go away

FOLLOW
THE CENTER FOR CRETACEOUS STUDIES
ON FACEBOOK!
what? are you kidding? how'd THAT happen?!?

Look For CEO, Founder, DR. S BECKMANN On LinkedIn
seriously, why would you do that?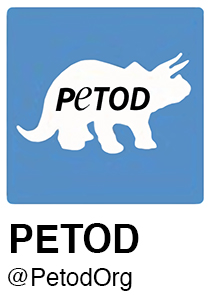 Charter Member of People for the Ethical Treatment of Dinosaurs Since Last Week
WELCOME to the Center for Cretaceous Studies [tC4CS] LIVE Dinosaur research institution website. The animals [Dinosaurs, not our staff] are now in their Indoor Paddocks [IPs] for the 2016-17 winter. Now is a GREAT time to visit The Center! Well, unless you have plans for a long life, that is.
Here at the Center for Cretaceous Studies we often research and sometimes study the unstudied and unresearched aspects of Dinosaur life, both past and present. That is, when we're not attending the funerals of those doing that unstudied and unresearched stuff. However, as the ONLY research institute in the world with eating, biting, living, biting, breathing, biting, carnivorous Dinosaurs from the Cretaceous Period [wait, did we mention biting?], we have live examples just down the hall, so eh, what do we care if we discover something in fossils or not?

Our record is incomparable to any other live Dinosaur research institute on Earth. Not because our "residents" are actually live, meat-eating Dinosaurs, but mostly because we are the only ones stupid enough to house live, meat-eating Dinosaurs.

Our unofficial motto: "Museums Are Nice, But We Have Them LIVE", remains our unofficial motto to this day, mostly because we don't want to be sued by Universal Studios or that Spielberg guy. Then again we thought it was slightly better than our previous motto: "You're Probably Going To Die Here".

Set on a gorgeous college campus-like setting, our Dinosaur research facility would be on the cover of Better Homes & Gardens if not for the... well, you-know-what's. This research institution, located southwest of Chicago, Illinois, is home to over 158 species* - we think - and probably growing every year, for all we know.

*Note: Most of our DinoCensus volunteers have never returned, so we're kinda guessing at numbers.

BOOKMARK! BOOKMARK!:
'Bookmark' this site on your Favorites or Bucket List as company news and information [below] is updated nearly every weekend - or as long as someone is still around [alive] to write.

You don't want to miss any of the 'adventures'... specially if for some insane reason you actually plan to visit us some day. Thanks for looking, and we hope to see you here soon!

Proof of life insurance, next of kin contact information, and blood type on separate piece of paper [in case the original is eaten] are required before admission will be granted.


CEO DR. BECKMANN RUINS ANOTHER COUPLE DINODIGS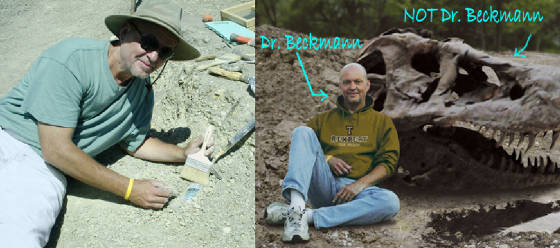 Over The Years Dr. Beckmann Has Dug Up Many Ounces Of Bones- Some Of Them Belong To Dinosaurs!
THE WEEK IN REVIEW BUZZ
QUESTIONABLE FACTS, INNUENDO, HINTS,
ANCIENT NEWS, RUMORS AND GOSSIP...

ok, mostly just rumors and gossip,
DIRECT FROM tC4CS WATER COOLER

LAST UPDATED
3 DECEMBER 2016
A.D.
AKA: 66,005,321 YEARS AFTER "THE ANCIENTS" KICKED THE BUCKET
IP67 DINOHANDLER TANYA WASTE HOSPITALIZED
Fellow Employees Complain About 'Goofy-Looking' Face

Indoor Paddock [IP]67 DinoHandler Tanya Waste's on-going 8-day hospitalization is the result of an altered direction from her
"longstanding psychological issues,"
This Week In Paleontology reported on Thursday.
C4CS spokesman Kent Shudder said the DinoHandler [3rd Class] had been taking the hallway to Building H for years, but
"deviated from the prescribed route"
after her husband, Kitt, was reported MPE [Missing, Presumed Eaten] in early October during Paris Fashion Week.
The trauma of the terrifying incident evidently had a large effect on Waste, who has changed her behavior and hairstyle ever since. For her part, Tanya has stayed away from buying frozen and fast food almost completely, with the exception of a few spottings in public at burger joints and photos released through C4CS security cameras.
Waste, had also exhibited a series of erratic and concerning behaviors during each day of her work inside IP67, which she continued throughout the fall after the tragic loss of what's-his-name.
Following a last-minute cancellation of a girl's night out, Waste then cancelled the rest of her work week. That same night, the DinoHandler was rushed to the hospital following an alleged outburst at the home of the
Tarascosaurus salluvicus
in IP67. C4CS doctor's call leaked on Thursday. It showed that C4CS doctors had ordered at least 8 delivery pizzas and made several crank calls to local businesses.
8 days after being hospitalized after her breakdown, Waste is no where near getting discharged from CFI Care Medical Center. Instead, she is allegedly receiving inpatient care under a different name: Tanya Blinkerov.
In the meantime, all IP67 employees - at least those still alive - are staying at work, getting the job done. It's unclear whether or not Waste will be present for next week's 1st Anniversary of the 2008 Terrible Tarascosaurs Outbreak, as she is allegedly
"concerned"
for her health.
Sources close to IP67 also indicate that all of the recent drama in her life has taken a strain on her friends and fellow coworkers, but first she has to get back to work.
Read the REAL story: Kanye West's hospitalization reportedly a result of altered medication for longstanding 'psychological issues'
CEO ANNOUNCES PLANS TO GIVE MONEY FOR JOB TRAINING
"I Think I'm Going To Faint" Is Majority Reaction With Employees

CEO and founder Dr. S Beckmann announced Tuesday that the Center for Cretaceous Studies is extending a sizable olive branch to neighbors rankled by its plans to expand its campus and build new DinoResident buildings, a move some locals fear will exacerbate a growing housing shortage. Other neighbors feel the new "Raptor Houses" will exacerbate personal growth among those living near the world's only live Dinosaur research institution.
The Center then announced Friday it will spend about $20 per person to support job-training programs and provide legal and ambulatory assistance to nearby residents in danger of being caught living next door to a live Dinosaur research institution.
Some $18.54 will go to a fund for new employee job training, primarily targeted at slow- and moderately slow employees, with consultation from groups such as Mort Chewary Funeral Home and Lief N. Shurrance Auto and Life Insurance.
C4CS officials and community groups in neighborhoods outside the southwest gate and to the east at Peaceful Valley [which really
isn't
] have tried to engage The Center in their backyards for help in solving the problem of wandering Dinosaurs. Housing insurance costs have skyrocketed due to the seemingly endless parade of loose DinoResidents wandering around at any given time of day..
The Center's decision to begin funneling tens of dollars to train employees from local communities underscores the growing pressure on this company to help tackle housing damages caused by very large animals, an issue that also is beginning to make it difficult to sell new homes.
While about 500,000 new jobs have been created since 2010, just 2.6% of the new employees hired are still alive. Between 2007 and 2014, a shortfall of nearly 22,000 employees, according to Center statistics, may have been primarily from no previous training in working with large, prehistoric animals.
Read the REAL story: Facebook announces it will give $20M to Bay Area cities for affordable housing, job training


HERE IT IS!!!
GET THE INSIDE STORY OF THE CENTER FOR CRETACEOUS STUDIES!!
Most Likely THE BEST Live Dinosaur Research Institution Book Every Written Without Typohs

NOW you can get your paperback or eBook, the aptly titled The Center for Cretaceous Studies from AuthorHouse, Amazon, or Barnes & Noble! If you're on this site then we're pretty sure you know what kind of book to expect.

Where can you get it? Search no more!

An eBook is available exclusively from the AuthorHouse site. The paperback only is for sale online from the fine bookstores listed below. Just type in 'Center for Cretaceous Studies' when you get there:

AuthorHouse (eBook and paperback)
THE CRETACEOUSLAND! LINK (CLICK HERE)!
NO! WAIT!!! CLICK HERE TO RETURN TO C4CS PREVIEW PAGE
CLICK HERE TO RETURN TO TOP OF PAGE
A division of Beckmann Scientific [BS]