The CENTER
for CRETACEOUS STUDIES
THE WORLD LEADER IN LIVE DINOSAUR RESEARCH
And All The Crap Associated With Them
CEO SIGNS MONUMENTAL PAPERWORK AT CEREMONY
First Time In 6 Years He's Paid For Lunch.

PROUD MEMBER OF THE MID-AMERICA PALEONTOLOGY SOCIETY
even though they asked us to go away


WELCOME to the Center for Cretaceous Studies [tC4CS] Dinosaur research facility website. At this site we'll show you the day-to-day operations, the research, the screaming, and the evacuation techniques practiced here around the clock.

At the Center for Cretaceous Studies we often research and sometimes study the unstudied and unresearched aspects of Dinosaur life, both past and present. That is, when we're not attending the funerals of those doing that unstudied and unresearched stuff. However, as the ONLY research institute in the world with eating, biting, living, biting, breathing, biting, carnivorous Dinosaurs from the Cretaceous Period [wait, did we mention biting?], we have live examples just down the hall, so eh, what do we care if we discover something in fossils or not?

Our record is incomparable to any other live Dinosaur research institute on Earth. Not because our "residents" are actually live, meat-eating Dinosaurs, but mostly because we are the only ones stupid enough to house live, meat-eating Dinosaurs.

Our unofficial motto: "Museums Are Nice, But We Have Them LIVE", remains our unofficial motto to this day, mostly because we don't want to be sued by Universal Studios or Spielberg. Then again we thought it was slightly better than our previous motto: "You're Probably Going To Die Here".

Set on a gorgeous college campus-like setting, our Dinosaur research facility would be on the cover of Better Homes & Gardens if not for the... well, you-know-what's. This research institution, located near Chicago, Illinois, is home to over 158 species* - we think - and probably growing every year.

*Note: Most of our DinoCensus volunteers have never returned, so we're kinda guessing at numbers.

BOOKMARK! BOOKMARK!:
'Bookmark' this site on your Favorites or Bucket List as company news and information (below) is updated often during the winter months (northern hemisphere) and once in a while during the summer (southeastern hemisphere).

You don't want to miss any of the 'adventures'... specially if for some insane reason you actually plan to visit us in person some day.

Thanks for visiting, and we hope to see you here soon!

Proof of life insurance, next of kin contact information, and blood type on separate piece of paper [in case the original is eaten] are required before admission will be granted.


CEO DR. BECKMANN RUINS ANOTHER COUPLE DINODIGS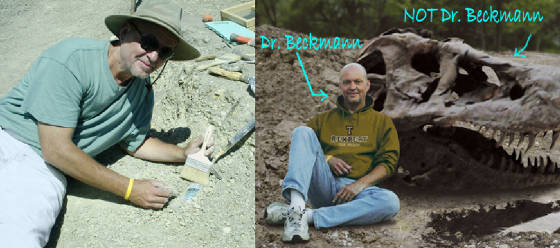 Over The Years Dr. Beckmann Has Dug Up Many Ounces Of Bones- Some Of Them Belong To Dinosaurs!
THE LATEST BUZZ, QUESTIONABLE FACTS, INNUENDO, HINTS,
ANCIENT NEWS, RUMORS AND GOSSIP...

ok, mostly just rumors and gossip,
DIRECT FROM tC4CS WATER COOLER

LAST UPDATED
16 APRIL 2014
A.D.
AKA: 66,005,319 YEARS AFTER "THE ANCIENTS" KICKED THE BUCKET
10 OUT OF 6 EMPLOYEES SAY CEO STRETCHES THE TRUTH
Many Important Matters Aren't THAT Important

About ten in six Center for Cretaceous Studies employees believe CEO and founder Dr. S Beckmann fibs to the company on important matters some or most of the time, according to a News poll released Wednesday by tC4CS Numbers & Estimation Department.
Thirty-seven percent think Dr. Beckmann lies
"most of the time,"
while another 24 percent say he lies
"some of the time."
Twenty percent of employees say
"only now and then"
15 percent
"never,"
and an amazing 84 percent say
"he lies in his sleep."
The CEO Big Shot has been accused by Indoor Paddock [IP] Supervisors and company fact-checkers alike of telling falsehoods. Frequently cited: His repeated claim that under DinoCare
"If you like your plan of escape, you can keep it"
and his insistence that
"the day after the incident in IP47 happened, I acknowledged that this was an act of our DinoResidents."
The number of employees saying Dr. Beckmann lies
"in his sleep"
is actually down 12 percent from last year. Yet some of the employees are also those most likely to say Dr. Beckmann
"never"
lies to the company on important matters. So the entire poll is pretty much screwed up, according to Numbers & Estimation Department spokesman Juan Tewfree.
"The people we questioned think everyone around here is a liar,"
said Tewfree at this morning's press conference featuring jelly-filled doughnuts.
"They thought we were lying when we told them we were taking a poll."
On a more positive note for Dr. Beckmann, his overall job performance rating has improved. The new poll finds that 4.2 percent of employees approve of the job he's doing, while 95.8 percent disapprove. That represents a substantial gain from 2013.
The Numbers & Estimation Department News poll is based on interviews at C4CS Employee Cafeterias with 141,012 randomly chosen employees companywide who were not being rushed to the hospital with life-threatening injuries and was conducted under the joint direction of Supervisor Kent Cowntwell starting April 13, 2013. They have now started the 2015 poll, hoping to interview twice as many employees. We think they're just holding onto their jobs - or maybe we got a big government grant that pays for this nonsense.
All numbers for this story were provided by the C4CS Numbers & Estimation Department, Building X+Y, room 123
Read the REAL story: http://www.foxnews.com/politics/2014/04/16/fox-news-poll-many-voters-say-obama-lies-to-country-on-important-matters/
LIST FOR 2014 SPRING VOLUNTEERS CONTINUES TO GROW
Yeah.. "Grow".. Like That Stuff In The Back Of Your Refrigerator

15 days to go! The Spring DinoMove is getting close enough now that many C4CS employees are starting to smile at each other on rare occasions. They know the DinoResidents are about to move next door.
"Next week we anticipate one of the last personal addresses by Dr. Beckmann. Well, we hope it's one of the last speeches. Geez that guy likes to talk,"
said IP62 DinoFeeder Les Digits.
Every spring volunteers move the DinoResidents from the Indoor Paddocks [IPs] here at The Center to the outdoor Habitats [HABs] over at Cretaceousland!, reversing that direction in autumn. Here's your opportunity to help
your
C4CS and lend a hand or arm or leg or th... well, we won't get into that right now. DinoMove Committee Chairman Patty Pewper noted,
"It's the same as always. Early volunteers get their choice of species to move."
Amazingly, early volunteers seem to
always
choose to move something like the 2-ft
Albertonykus borealis
or
Mahakala omnigovae
and not the crowd-pleasing, awesome 25-ft, 1.6-ton
Dryptosaurus aquilunguis
or any of the other Greater Carnivores [those animals weighing at least one ton each].
Huh. Imagine that.
Sign-up sheets can be found on the bulletin board outside C4CS Employee Cafeteria #2. Note to all those signing up: Unlike last year, you can NO LONGER sign up your Supervisor or the guy that pulled into your parking space. The Spring DinoMove Department also hopes everyone stays in one line when signing up. No pushing or shoving, although that would be nice for a change.
THE CRETACEOUSLAND! LINK (CLICK HERE)!
NO! WAIT!!! CLICK HERE TO RETURN TO C4CS PREVIEW PAGE
CLICK HERE TO RETURN TO TOP OF PAGE
A division of Beckmann Scientific [BS]