The CENTER
for CRETACEOUS STUDIES
THE WORLD LEADER IN LIVE DINOSAUR RESEARCH
And All The Crap Associated With Them
MORE NEIGHBORS TESTIFY ABOUT OUR NOISE LEVELS
"We Were Here First" Losing Ground As Suburbanites Flock To Nearby Housing Developments

PROUD MEMBER OF THE MID-AMERICA PALEONTOLOGY SOCIETY
even though they asked us to go away

FOLLOW
THE CENTER FOR CRETACEOUS STUDIES
ON FACEBOOK!
what? are you kidding? how'd THAT happen?!?

Look For CEO, Founder, DR. S BECKMANN On LinkedIn
seriously, why would you do that?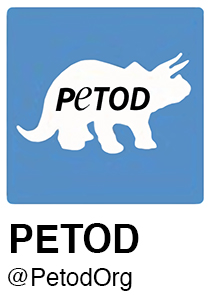 Charter Member of People for the Ethical Treatment of Dinosaurs Since Last Week
WELCOME to the Center for Cretaceous Studies [C4CS] LIVE Dinosaur research institution website. The animals [that is, the Dinosaurs, not the staff], are back indoors here in the warm, friendly confines of their Indoor Paddocks [IPs], of which you are more than welcome to walk around inside and experience these gentle, loving, man-eaters, up close and personal!
Here at the Center for Cretaceous Studies we often research and sometimes study the unstudied and unresearched aspects of Dinosaur life, both past and present. That is, when we're not attending the funerals of those doing that unstudied and unresearched stuff. However, as the ONLY research institute in the world with eating, biting, living, biting, breathing, biting, carnivorous Dinosaurs from the Cretaceous Period [wait, did we mention biting?], we have live examples just down the hall, so eh, what do we care if we discover something in fossils or not?

Our record is incomparable to any other live Dinosaur research institute on Earth. Not because our "residents" are actually live, meat-eating Dinosaurs, but mostly because we are the only ones stupid enough to house live, meat-eating Dinosaurs. You're sure we mentioned "biting", right?

Our unofficial motto: "Museums Are Nice, But We Have Them LIVE", remains our unofficial motto to this day, mostly because we don't want to be sued by Universal Studios or that Spielberg guy. Then again we thought it was slightly better than our previous motto: "You're Probably Going To Die Here".

Set on a gorgeous college campus-like setting, our Dinosaur research facility would be on the cover of Better Homes & Gardens if not for the... well, you-know-what's. This research institution, located southwest of Chicago, Illinois, is home to over 158 species* - we think - and probably growing every year, for all we know.

*Note: Most of our DinoCensus volunteers have never returned, so we're kinda guessing at numbers.

BOOKMARK! BOOKMARK!:
'Bookmark' this site on your Favorites or Bucket List as company news and information [below] is updated nearly every weekend - or as long as someone is still around [alive] to write.

You don't want to miss any of the 'adventures'... specially if for some insane reason you actually plan to visit us some day. Thanks for looking, and we hope to see you here soon!

Proof of life insurance, next of kin contact information, and blood type on separate piece of paper [in case the original is eaten] are required before admission will be granted.


CEO DR. BECKMANN RUINS ANOTHER COUPLE DINODIGS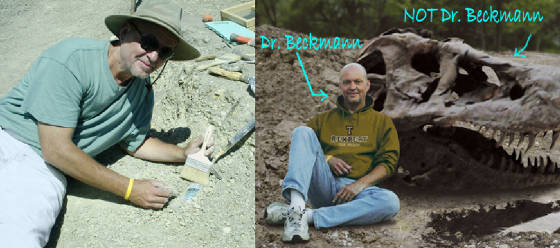 Over The Years Dr. Beckmann Has Dug Up Many Ounces Of Bones- Some Of Them Belong To Dinosaurs!
THE WEEK IN REVIEW BUZZ
QUESTIONABLE FACTS, INNUENDO, HINTS,
ANCIENT NEWS, RUMORS AND GOSSIP...

ok, mostly just rumors and gossip,
DIRECT FROM tC4CS WATER COOLER

LAST UPDATED
17 FEBRUARY 2019
A.D.
AKA: 66,005,323 YEARS AFTER "THE ANCIENTS" KICKED THE BUCKET
ERRAND RUNNER ATTACKED BY 80-POUND DINORESIDENT? MAYBE DOG? RACCOON?
Medical Staff Laughs: "Only 80 Pounds?!?"

Mary Thonmann, 40, was in Building G and a yards away from finishing her errand running for several departments, when
"a very large animal, perhaps a DinoResident"
aggressively attacked and latched on before she got away. Still dripping with blood and adrenaline, she managed to finish delivering her messages to the crews in Building G, IP44, but passed out soon after she returned to her cubicle at the Message Running Department in Building K.
"I was running away in a state of shock,"
Thonmann said, according to errandrunnersworld.com.
"In all my weeks of delivering messages, I've never encountered anything like that."
Thonmann said the animal, perhaps a dog, as suggested by C4CS Security, or perhaps a small DinoResident as suggested by Thonmann, was in Hallway G6 and knocked her over. As the animal tried to bite her face off, she managed to shield herself with her satchel full of messages that she was supposed to be delivering. That's when the animal took a bite. She was then encouraged by her boss, Ron Fastuh and her own self-motivation to finish making the deliveries, which she did -- in about the slowest errand time in C4CS history, no less.
"About 80 pounds, it was aggressive, snarling, growling. It was coming to attack, I knew right away,"
Thonmann said.
"I instantly shifted from mile-to-go errand deliverying mode to fight or flight. I needed to avoid it as best as possible."
After the messages were delivered she was transported to the CFI Care ER and given six stitches in her foot, even though she was bitten on the neck and face. Thonmann described them as a battle scar. She also admitted the doctor had
"a pretty bad aim"
. She admits she probably lost about 45 seconds on her delivery time due to the encounter. Ron Fastuh declined to say whether or not she ad been written up for lying down on the job or being attacked while running errands.
According to Fastuh, the department felt terrible after they heard what happened.
"We feel terrible,"
he said. There was to be a department card going around, signed by everyone still alive at the end of yesterday's shift. The incident brought back memories of last week when five C4CS message runners were listed as MPE [Missing, Presumed Eaten].
Mary Thonmann is an avid runner and a coach in her personal life. She's won a 1/10th-marathon once and trains every day by running from her couch to the refrigerator.
She loves animals, but hopes in the future this can spread light on how important it is to keep your DinoResidents inside their Indoor Paddocks [IPs].
"This place
[The Center]
has been really good to me,"
she said.
"I get discounts on bandages, blood transfers, and sometimes a day off for recovery, too."
Security is currently reviewing video to determine what kind of DinoRes... er, dog it was that attacked her.
Read The REAL Story: Florida runner attacked by 80-pound dog near half-marathon's end


HERE IT IS!!!
GET THE INSIDE STORY OF THE CENTER FOR CRETACEOUS STUDIES!!
Most Likely THE BEST Live Dinosaur Research Institution Book Every Written Without Typohs

Need that "perfect" gift for that dinosaur nut case in your life? Well, this is a great ninth or tenth option when you can't find it. Get your paperback or eBook of the aptly titled The Center for Cretaceous Studies from AuthorHouse, Amazon, or Barnes & Noble! If you're on this site then we're pretty sure you know what kind of book to expect.

Where can you get it? Search no more!

An eBook is available exclusively from the AuthorHouse site. The paperback only is for sale online from the fine bookstores listed below. Just type in 'Center for Cretaceous Studies' when you get there:

AuthorHouse (eBook and paperback)
THE CRETACEOUSLAND! LINK (CLICK HERE)!
NO! WAIT!!! CLICK HERE TO RETURN TO C4CS PREVIEW PAGE
CLICK HERE TO RETURN TO TOP OF PAGE
A division of Beckmann Scientific [BS]