The CENTER
for CRETACEOUS STUDIES
THE WORLD LEADER IN LIVE DINOSAUR RESEARCH
And All The Crap Associated With Them
IF YOU GET CALLED INTO THIS OFFICE - CONGRATS!
That Means You're Still Alive

PROUD MEMBER OF THE MID-AMERICA PALEONTOLOGY SOCIETY
even though they asked us to go away

FOLLOW
THE CENTER FOR CRETACEOUS STUDIES
ON FACEBOOK!
what? are you kidding? how'd THAT happen?!?

Look For CEO, Founder, DR. S BECKMANN On LinkedIn
seriously, why would you do that?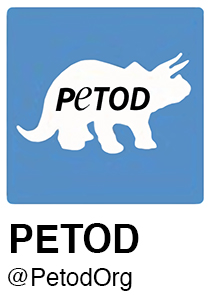 Charter Member of People for the Ethical Treatment of Dinosaurs Since Last Week
WELCOME to the Center for Cretaceous Studies [tC4CS] LIVE Dinosaur research institution website. The animals [that is, the Dinosaurs and not the staff], have been moved outdoors to their summer homes at Cretaceousland!. Now is a GREAT time to visit The Center! During the summer season your chances of getting out of here alive go up by nearly 4.025%!
Here at the Center for Cretaceous Studies we often research and sometimes study the unstudied and unresearched aspects of Dinosaur life, both past and present. That is, when we're not attending the funerals of those doing that unstudied and unresearched stuff. However, as the ONLY research institute in the world with eating, biting, living, biting, breathing, biting, carnivorous Dinosaurs from the Cretaceous Period [wait, did we mention biting?], we have live examples just down the hall, so eh, what do we care if we discover something in fossils or not?

Our record is incomparable to any other live Dinosaur research institute on Earth. Not because our "residents" are actually live, meat-eating Dinosaurs, but mostly because we are the only ones stupid enough to house live, meat-eating Dinosaurs.

Our unofficial motto: "Museums Are Nice, But We Have Them LIVE", remains our unofficial motto to this day, mostly because we don't want to be sued by Universal Studios or that Spielberg guy. Then again we thought it was slightly better than our previous motto: "You're Probably Going To Die Here".

Set on a gorgeous college campus-like setting, our Dinosaur research facility would be on the cover of Better Homes & Gardens if not for the... well, you-know-what's. This research institution, located southwest of Chicago, Illinois, is home to over 158 species* - we think - and probably growing every year, for all we know.

*Note: Most of our DinoCensus volunteers have never returned, so we're kinda guessing at numbers.

BOOKMARK! BOOKMARK!:
'Bookmark' this site on your Favorites or Bucket List as company news and information [below] is updated nearly every weekend - or as long as someone is still around [alive] to write.

You don't want to miss any of the 'adventures'... specially if for some insane reason you actually plan to visit us some day. Thanks for looking, and we hope to see you here soon!

Proof of life insurance, next of kin contact information, and blood type on separate piece of paper [in case the original is eaten] are required before admission will be granted.


CEO DR. BECKMANN RUINS ANOTHER COUPLE DINODIGS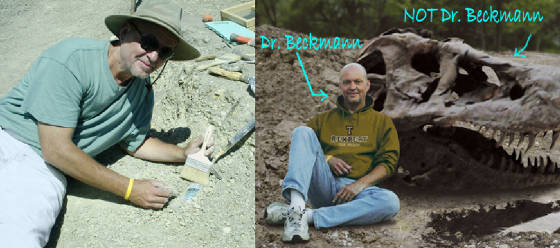 Over The Years Dr. Beckmann Has Dug Up Many Ounces Of Bones- Some Of Them Belong To Dinosaurs!
THE WEEK IN REVIEW BUZZ
QUESTIONABLE FACTS, INNUENDO, HINTS,
ANCIENT NEWS, RUMORS AND GOSSIP...

ok, mostly just rumors and gossip,
DIRECT FROM tC4CS WATER COOLER

LAST UPDATED
12 AUGUST 2017
A.D.
AKA: 66,005,322 YEARS AFTER "THE ANCIENTS" KICKED THE BUCKET
CENTER "ON STANDBY TO EVACUATE" IN RESPONSE TO LATEST DINO ALERT
Many Fear Death Or Not Getting Paid While Running For Their Lives

The Center for Cretaceous Studies took its turn Saturday in the company's escalating, back-and-fourth with Cretaceousland! employees saying many of the currently contained DinoResidents are
"capable of fighting and possibly eating anyone they want."
The assertion was made in Food Court 15 and now The Center is
"on the standby to launch forces able to repel any employee fighting with DinoResidents and/or DinoResidents eating employees, waiting for an order of final attack."
The statement was made on Saturday morning during a company-sponsored brunch and also said The Center
"finds itself in an ever worsening dilemma, being thrown into the grip of extreme security unrest by the SouthEast Gate
[the closest gate to Cretaceousland!]
. This is tragicomedy of its own making. … If the Board of Directors does not want the C4CS research institution to meet its tragic doom, they had better talk and act properly."
The statement, made by the pancake grills, appears to be in response to a series of comments made by C4CS employees in recent days, most recently Friday that The Center is
"locked and loaded."
CEO and founder, Dr. S Beckmann, meanwhile, continues to pursue a solution to stay away from his desk as long as it takes. He made no statements from his private island in the Caribbean, where he is on a
"working vacation"
with hot Hollywood actress sweetheart, Anita DeGroyne.
C4CS spokesman Kent Shuddup says the Big Shot has had a phone conversation with all Cretaceousland! and C4CS Supervisors in which the leaders reiterated their commitment to degrade the situation into personal assaults and innuendo.
The next C4CS-sponsored brunch is next Thursday.
Read the REAL story: N. Korea 'on standby to launch,' state-run paper says in response to Trump's latest warnings
EMPLOYEES FURIOUS ABOUT NEW CAMPUS AREA
Annual Rebuild Misses Mark. And Frank. And Halley. etc

After nearly a half-year of rebuilding, some C4CS employees recently started moving back into its gargantuan $5 bazillion campus. Imposing and impressive structures to say the least, the buildings are torn down and reconstructed every summer, following a winter's worth of battering and destruction by 6-ton animals that do NOT like to be inside. Designed to run on 10% renewable energy, The Center's massive new headquarters features a number of interesting architectural quirks that will make the 12,4810 employees working here more productive and 4% more likely to make it to an emergency exit.
With an abundance of open areas on the outside and free-flowing workspaces on the inside, construction foreman Bill Ding told a gathered media earlier today that the building's crowning achievement is that
"it's a place where many people can connect and apply bandages, tourniquets, CPR, or try to walk off their injuries."
Now that all sounds well and good, but there are rumblings that not everyone within The Center is thrilled with the new work environment. Specifically, open workspaces as opposed to smaller work areas and individual hiding spaces appear to be the cause of most of the discontent.
CEO Dr. S Beckmann's only comment was,
"Most of these people won't be here by the time The Center opens up again this October. Plus, we're going to most likely tear down these buildings again next Spring to repair the damage done by the DinoResidents."
Read the REAL Story: Some Apple employees are furious about the company's new spaceship campus


HERE IT IS!!!
GET THE INSIDE STORY OF THE CENTER FOR CRETACEOUS STUDIES!!
Most Likely THE BEST Live Dinosaur Research Institution Book Every Written Without Typohs

NOW you can get your paperback or eBook, the aptly titled The Center for Cretaceous Studies from AuthorHouse, Amazon, or Barnes & Noble! If you're on this site then we're pretty sure you know what kind of book to expect.

Where can you get it? Search no more!

An eBook is available exclusively from the AuthorHouse site. The paperback only is for sale online from the fine bookstores listed below. Just type in 'Center for Cretaceous Studies' when you get there:

AuthorHouse (eBook and paperback)
THE CRETACEOUSLAND! LINK (CLICK HERE)!
NO! WAIT!!! CLICK HERE TO RETURN TO C4CS PREVIEW PAGE
CLICK HERE TO RETURN TO TOP OF PAGE
A division of Beckmann Scientific [BS]