The CENTER
for CRETACEOUS STUDIES
THE WORLD LEADER IN LIVE DINOSAUR RESEARCH
And All The Crap Associated With Them
"SLIGHT" ALTERCATION OUTSIDE BUILDING R LAST NIGHT
Carnotaurus Outbreak. Nothing We Couldn't Handle. Riiiiiiiiiiiight.

PROUD MEMBER OF THE MID-AMERICA PALEONTOLOGY SOCIETY
even though they asked us to go away

FOLLOW
THE CENTER FOR CRETACEOUS STUDIES
ON FACEBOOK!
what? are you kidding? how'd THAT happen?!?

Look For CEO, Founder, DR. S BECKMANN On LinkedIn
seriously, why would you do that?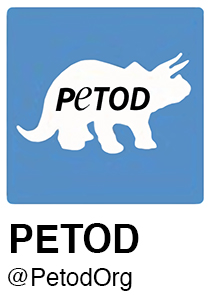 Charter Member of People for the Ethical Treatment of Dinosaurs Since Last Week
WELCOME to the Center for Cretaceous Studies [C4CS] LIVE Dinosaur research institution website.
Here at the Center for Cretaceous Studies we often research and sometimes study the unstudied and unresearched aspects of Dinosaur life, both past and present. That is, when we're not attending the funerals of those doing that unstudied and unresearched stuff. However, as the ONLY research institute in the world with eating, biting, living, biting, breathing, biting, carnivorous Dinosaurs from the Cretaceous Period [wait, did we mention biting?], we have live examples just down the hall, so eh, what do we care if we discover something in fossils or not?

Our record is incomparable to any other live Dinosaur research institute on Earth. Not because our "residents" are actually live, meat-eating Dinosaurs, but mostly because we are the only ones stupid enough to house live, meat-eating Dinosaurs. You're sure we mentioned "biting", right?

Our unofficial motto: "Museums Are Nice, But We Have Them LIVE", remains our unofficial motto to this day, mostly because we don't want to be sued by Universal Studios or that Spielberg guy. Then again we thought it was slightly better than our previous motto: "You're Probably Going To Die Here".

Set on a gorgeous college campus-like setting, our Dinosaur research facility would be on the cover of Better Homes & Gardens if not for the... well, you-know-what's. This research institution, located southwest of Chicago, Illinois, is home to over 158 species* - we think - and probably growing every year, for all we know.

*Note: Most of our DinoCensus volunteers have never returned, so we're kinda guessing at numbers.

BOOKMARK! BOOKMARK!:
'Bookmark' this site on your Favorites or Bucket List as company news and information [below] is updated nearly every weekend - or as long as someone is still around [alive] to write.

You don't want to miss any of the 'adventures'... specially if for some insane reason you actually plan to visit us some day. Thanks for looking, and we hope to see you here soon!

Proof of life insurance, next of kin contact information, and blood type on separate piece of paper [in case the original is eaten] are required before admission will be granted.


CEO DR. BECKMANN RUINS ANOTHER COUPLE DINODIGS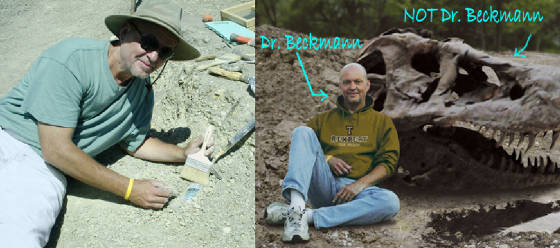 Over The Years Dr. Beckmann Has Dug Up Many Ounces Of Bones- Some Of Them Belong To Dinosaurs!
THE WEEK IN REVIEW BUZZ
QUESTIONABLE FACTS, INNUENDO, HINTS,
ANCIENT NEWS, RUMORS AND GOSSIP...

ok, mostly just rumors and gossip,
DIRECT FROM tC4CS WATER COOLER

LAST UPDATED
16 FEBRUARY 2020
A.D.
AKA: 66,005,324 YEARS AFTER "THE ANCIENTS" KICKED THE BUCKET
"SLIGHT LEAKAGE" OF CARNOTAURUS "NOT A SYNDROME" SAYS C4CS OFFICIAL
Well, He Was Saying That From The Comfort Of His Home

A Center for Cretaceous Studies DinoHandler in Indoor Paddock [IP]35, which is currently quarantined off from the hallway in Building R amid a
Carnotaurus
outbreak, is speaking out against The Center's plan to evacuate employees.
Ima Gahner, who has been quarantined with his fellow IP35 coworkers since Feb. 15, said that he prefers to stay in the IP.
"Our greatest desire at this point is to maintain the quarantine that The Center's DinoHealth officials have established,"
Gahner said,
"then get a test at the end of that quarantine so we can establish with relative certainty that we are not stupid for working here or for staying here when we could be outside of this dump.

"Unfortunately, the C4CS DinoHealth Department has thrown a monkey wrench into that,"
he added.
Approximately 400 employees on the first and second shifts will be offered overtime that could as early as Sunday, May 2024, a C4CS official told the gathered Press in Media Room 1 on Tuesday.
A CarnoVirus team will screen employees and those animals exhibiting symptoms but won't be allowed to use the Men's Room across the hallway. That's good news for most employees.
Gahner, however, said he's skeptical about the proposed plan.
"I understand getting out of here to use the facilities, but under these circumstance, the offer is we're going to make you pee with other people who haven't completed their quarantines and have not been tested,"
Gahner said.
"We don't even know anything about this so-called test. Is it multiple choice? Essay?"

"We're going to then put you in a testing area with all these people and then get you back to your normal work shift, and because of the risk you still pose due to that situation we're going to stick you in another quarantined IP."
Gahner said he would rather stay put in Indoor Paddock 35. While the IP is
"getting a bad rap"
for its living conditions, Gahner said he is content where he is.
"We have access to the several hiding places, we are fed well – three times a day along with excess food — The Center provides all the necessities we need in there,"
he said.
Gahner said he does, however, sympathize with those who are staying in other IPs than he and his coworkers.
"They can't go outside for fresh air and sunshine – when it does shine – whenever they like,"
he explained.
"Well, we can't either, but at least we have an ice machine and crappy wifi connections."

"Other IP35 employees have a vastly different experience if they were working in an interior area, which is markedly smaller and no access to fresh air. They have allowed those guys up out of the hole where they are hiding for an hour every few days."
Gahner said his coworkers had been
"depressed"
and
"more emotional"
about the quarantine situation. They, too, were upset to learn about the C4CS plan to evacuate.
"Health-wise we are perfectly fine,"
he said.
"So far the Carnos have only eaten 5 of our IP35 employees."
Read The REAL Story: Quarantined cruise ship passenger speaks out against US coronavirus evacuation plan


HERE IT IS!!!
GET THE INSIDE STORY OF THE CENTER FOR CRETACEOUS STUDIES!!
Most Likely THE BEST Live Dinosaur Research Institution Book Every Written Without Typohs

Need that "perfect" gift for that dinosaur nut case in your life? Well, this is a great ninth or tenth option when you can't find it. Get your paperback or eBook of the aptly titled The Center for Cretaceous Studies from AuthorHouse, Amazon, or Barnes & Noble! If you're on this site then we're pretty sure you know what kind of book to expect.

Where can you get it? Search no more!

An eBook is available exclusively from the AuthorHouse site. The paperback only is for sale online from the fine bookstores listed below. Just type in 'Center for Cretaceous Studies' when you get there:

AuthorHouse (eBook and paperback)
THE CRETACEOUSLAND! LINK (CLICK HERE)!
NO! WAIT!!! CLICK HERE TO RETURN TO C4CS PREVIEW PAGE
CLICK HERE TO RETURN TO TOP OF PAGE
A division of Beckmann Scientific [BS]