The CENTER
for CRETACEOUS STUDIES
THE WORLD LEADER IN LIVE DINOSAUR RESEARCH
And All The Crap Associated With Them
SECURITY MONITORS ALL - OR MOST - OF DINO MOVEMENT
Move Is On To Cut Access To ESPN

PROUD MEMBER OF THE MID-AMERICA PALEONTOLOGY SOCIETY
even though they asked us to go away


W
ELCOME to the Center for Cretaceous Studies [tC4CS] Dinosaur research facility website. Unfortunately for you, but fortunately for
us
, the DinoResidents have been moved next door to Cretaceousland! for the summer season. The Center, though it remains open, is undergoing building rehab, construction, and demolition in the meantime to repair damages done by the Dinosaurs during their stay here last winter.
What this means is, the "news and information" found below this cheerful welcome is updated only weekly -- not daily -- during the summer season. Mostly because we deserve a vacation or most of us are in the hospital. Hey, YOU try working around live, carnivorous, 9-ton Dinosaurs, pal.
___________________________________________________________________________________
All latest and updated information, news, and warnings now originates from the Cretaceousland! offices during the summer season.
Click on the link below!

CLICK HERE FOR THE LATEST C4CS INFORMATION!

_____________________________________________________________________________________________________

At this site we'll show you the day-to-day operations, the research, the screaming, and the evacuation techniques practiced here around the clock. At the Center for Cretaceous Studies we often research and sometimes study the unstudied and unresearched aspects of Dinosaur life, both past and present. That is, when we're not attending the funerals of those doing that unstudied and unresearched stuff. However, as the ONLY research institute in the world with eating, biting, living, biting, breathing, biting, carnivorous Dinosaurs from the Cretaceous Period [wait, did we mention biting?], we have live examples just down the hall, so eh, what do we care if we discover something in fossils or not?

Our record is incomparable to any other live Dinosaur research institute on Earth. Not because our "residents" are actually live, meat-eating Dinosaurs, but mostly because we are the only ones stupid enough to house live, meat-eating Dinosaurs.

Our unofficial motto: "Museums Are Nice, But We Have Them LIVE", remains our unofficial motto to this day, mostly because we don't want to be sued by Universal Studios or Spielberg. Then again we thought it was slightly better than our previous motto: "You're Probably Going To Die Here".

Set on a gorgeous college campus-like setting, our Dinosaur research facility would be on the cover of Better Homes & Gardens if not for the... well, you-know-what's. This research institution, located near Chicago, Illinois, is home to over 158 species* - we think - and probably growing every year.

*Note: Most of our DinoCensus volunteers have never returned, so we're kinda guessing at numbers.

BOOKMARK! BOOKMARK!:
'Bookmark' this site on your Favorites or Bucket List as company news and information (below) will be updated weekly during the summer - or as long as someone is around to write.

You don't want to miss any of the 'adventures'... specially if for some insane reason you actually plan to visit us in person some day.

Thanks for visiting, and we hope to see you here soon!

Proof of life insurance, next of kin contact information, and blood type on separate piece of paper [in case the original is eaten] are required before admission will be granted.


CEO DR. BECKMANN RUINS ANOTHER COUPLE DINODIGS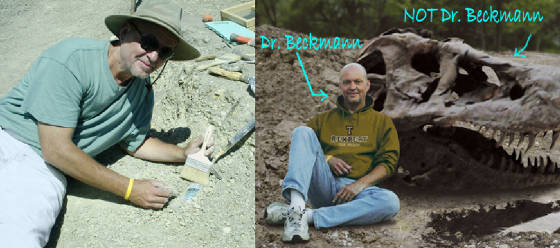 Over The Years Dr. Beckmann Has Dug Up Many Ounces Of Bones- Some Of Them Belong To Dinosaurs!
THE LATEST BUZZ, QUESTIONABLE FACTS, INNUENDO, HINTS,
ANCIENT NEWS, RUMORS AND GOSSIP...

ok, mostly just rumors and gossip,
DIRECT FROM tC4CS WATER COOLER

LAST UPDATED
21 JULY 2014
A.D.
AKA: 66,005,319 YEARS AFTER "THE ANCIENTS" KICKED THE BUCKET
CONSTRUCTION WORKER TOLD TO NOT USE DINOSAURS AS THERAPY PETS
Cure Is Worse Than The Disease

Stu Pidd, a 3-year veteran of construction here at The Center, says he relies on 14-foot
Aucasaurus garridoi
for comfort and physical therapy, but by keeping the Dinos, he's running afoul of local rules. Rule Number 1: Don't keep man-eating Dinosaurs as therapy pets.
As a result, the construction crewmember's boss is trying to make the 36-year-old ditch his raptors.
Pidd said that he worked nearly a year in Building E in 2005 and came close to being eaten 38 times. While the Department of Construction Affairs paid for his back surgery from a bite in 2012, the agency ducked his doctor's request for physical therapy.
In addition, Pidd says he's facing both depression and post-traumatic stress, conditions that are eased by his "friends", three to five 500-pound Campanian Age Dinosaurs.
"Taking care of them is both mental and physical therapy,"
Pidd said through his breathing tube at CFI Care.
"(Watching them) keeps you entertained for seconds at a time."
While it may seem a little unusual or just plain idiotic to rely on Dinosaurs for therapy, it's not unheard of. In January, 2-day veteran Norma Lee Sayne, who was a kitchen disposal officer in the Kretaceous Kitchen, said Dinosaurs helped her overcome the stress of having to throw away food
"or stuff that we make that sorta resembles food."

"I saw children playing with juvenile Dinos and getting away with it. Every night I went to sleep, I had to relive that horrible experience,"
Sayne once said.
"I'm getting it under control now, thanks to the Dinos."
Sayne was reported MPE [Missing, Presumed Eaten] 3 hours after the interview, and she was only using the cute, little
Buiteraptor gonzalezorium
for therapy.
Stu Pidd said the VA [Velociraptor Association] even provided him with a letter recommending that he be allowed to keep the DinoResidents. But C4CS officials say a 1980s rule that allows only
"things that won't eat you"
as therapy pets and cited him with a violation that carries a potential fine of up to $15.37.
Pidd plans to make his case to the Board of Director [we only have one after last weekend's Board of Directors vs.
Concavenator corcovatus
incident] some time this week.
Read the REAL story: http://www.huffingtonpost.com/2014/07/21/iraq-veteran-therapy-ducks_n_5604608.html?utm_hp_ref=weird-news
DINO FAN CONVENTION - PHOENIX, ARIZONA
Public Relations Details

Phoenix, Arizona is gonna be home to a Dinosaur convention this August! Check out the release below for more details:

PHOENIX, Ariz. (August 2, 2014) — From lively debates about blockbusters like "Jurassic Park" and "Godzilla," to nostalgic jabs at the "Mighty Morphin Power Rangers" and "The Land Before Time," Arizona's original dinosaur fan convention Phoenix DinoCon devours movie and TV dinosaurs from 3 p.m. – 9 p.m. on Saturday, August 2 at the Phoenix Center for the Arts (1202 N 3rd St, Phoenix, AZ 85004).

Nationally unique within the fan event landscape in subject and scope, this 2nd annual dinosaur and kaiju party is suitable for ages 12 and above, but geared toward adults with an everlasting love for dinos. Phoenix DinoCon gives fans a chance to interact with pop culture experts, learn reptilian crafts, purchase locally-produced dinosaur art and even vote a legendary pop culture icon into the Bookmans and Phoenix DinoCon Hall of Distinguished Dinosaurs.

The convention's extensive "Jurassic Park" and "Jurassic World" related programming provides a first-hand account of the original movie's T.rex — from concept to life-sized, working model — by Sedona resident, sculptor and special effects artist Michael Trcic in the Phoenix DinoCon Tyrannosaurus Theater.

In addition to panels focused on "Godzilla" and "Pacific Rim," Phoenix Dinocon explores appearances of dinosaurs in steampunk and tabletop games. Geologist Melanie Dolberg pits Hollywood dinosaurs against their scientific counterparts and FilmBar's Andrea Beesley heads a dinosaur-themed spin-off of her annual Phoenix Comicon signature event, the first-ever Phoenix Ultimate Geek Smackdown: Turbo Dinosaur Edition.

New this year to Phoenix DinoCon is the Diplodocus Demo Den, where fans gain hands-on drawing and crafting experiences like a special make-and-take opportunity: DIY mini-notebooks featuring the hunks of the "Jurassic Park" franchise, depicted in Tiger Beat likenesses.

A Velociraptor Vendor Hall roars through the day with dinosaur-inspired local artists, crafters and business owners. Returning this year are Jon Garza and Damien Hernandez, who make dream dinosaur scenarios a reality on location with pencil and watercolor (think Ron Swansonasaurus or your pet Chihuahuas as dueling sauropods.)

Admission is $5 at phxdinocon.brownpapertickets.com or at the door on August 2 upon availability. After-party tickets to a screening of the '90s B movie "Adventures in Dinosaur City" are available for $9 at thefilmbarphx.com/event/619291-adventures-in-dinosaur-city-phoenix.

For more information on the 2nd annual Phoenix DinoCon, please visit phxdinocon.com.

Phoenix Dinocon, Arizona's original pop culture dinosaur convention, is organized by a group of Phoenix, Ariz. based dinosaur enthusiasts who provide fans, artists, crafters and local businesses an outlet to celebrate dinosaur and kaiju pop culture. Since 2013, Phoenix DinoCon champions opportunities for local artists, supports as many locally owned businesses as possible, and relishes the thrill of dinosaur-related movies, TV and literature. Phoenix DinoCon is the only event of its intensity in the nation, combining panels, demos and vendors laser-focused on pop culture dinosaurs, financially independent from museum or paleontology organizations. Partners for the 2014 Phoenix DinoCon event include Downtown Phoenix Inc., Roosevelt Row CDC, Bookmans and FilmBar. For more information on Phoenix DinoCon, please email phxdinocon@gmail.com or visit phxdinocon.com.

From: http://www.jplegacy.org
THE CRETACEOUSLAND! LINK (CLICK HERE)!
NO! WAIT!!! CLICK HERE TO RETURN TO C4CS PREVIEW PAGE
CLICK HERE TO RETURN TO TOP OF PAGE
A division of Beckmann Scientific [BS]