The CENTER
for CRETACEOUS STUDIES
THE WORLD LEADER IN LIVE DINOSAUR RESEARCH
And All The Crap Associated With Them
"TIME-OUTS" NOT SUGGESTED DURING DINOMOVE
This Photo, Taken At Cretaceousland!, Shows Former Volunteer 'Resting'. A BIG No No.

PROUD MEMBER OF THE MID-AMERICA PALEONTOLOGY SOCIETY
even though they asked us to go away

FOLLOW
THE CENTER FOR CRETACEOUS STUDIES
ON FACEBOOK!
what? are you kidding? how'd THAT happen?!?

Look For CEO, Founder, DR. S BECKMANN On LinkedIn
seriously, why would you do that?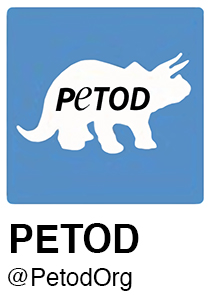 Charter Member of People for the Ethical Treatment of Dinosaurs Since Last Week
WELCOME to the Center for Cretaceous Studies [tC4CS] LIVE Dinosaur research institution website. Our Indoor Paddocks [IPs] are now empty since we've just moved the animals next door to Cretaceousland! where they will be staying outdoors throughout the warm summer months. Well, most of the time anyways, we hope.
Here at the Center for Cretaceous Studies we often research and sometimes study the unstudied and unresearched aspects of Dinosaur life, both past and present. That is, when we're not attending the funerals of those doing that unstudied and unresearched stuff. However, as the ONLY research institute in the world with eating, biting, living, biting, breathing, biting, carnivorous Dinosaurs from the Cretaceous Period [wait, did we mention biting?], we have live examples just down the hall, so eh, what do we care if we discover something in fossils or not?

Our record is incomparable to any other live Dinosaur research institute on Earth. Not because our "residents" are actually live, meat-eating Dinosaurs, but mostly because we are the only ones stupid enough to house live, meat-eating Dinosaurs.

Our unofficial motto: "Museums Are Nice, But We Have Them LIVE", remains our unofficial motto to this day, mostly because we don't want to be sued by Universal Studios or that Spielberg guy. Then again we thought it was slightly better than our previous motto: "You're Probably Going To Die Here".

Set on a gorgeous college campus-like setting, our Dinosaur research facility would be on the cover of Better Homes & Gardens if not for the... well, you-know-what's. This research institution, located near Chicago, Illinois, is home to over 158 species* - we think - and probably growing every year, for all we know.

*Note: Most of our DinoCensus volunteers have never returned, so we're kinda guessing at numbers.

BOOKMARK! BOOKMARK!:
'Bookmark' this site on your Favorites or Bucket List as company news and information [below] is updated nearly every weekend - or as long as someone is still around [alive] to write.

You don't want to miss any of the 'adventures'... specially if for some insane reason you actually plan to visit us some day. Thanks for looking, and we hope to see you here soon!

Proof of life insurance, next of kin contact information, and blood type on separate piece of paper [in case the original is eaten] are required before admission will be granted.


CEO DR. BECKMANN RUINS ANOTHER COUPLE DINODIGS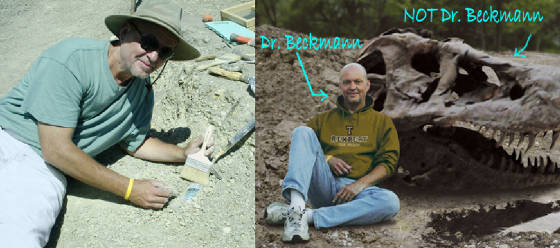 Over The Years Dr. Beckmann Has Dug Up Many Ounces Of Bones- Some Of Them Belong To Dinosaurs!
THE LATEST BUZZ, QUESTIONABLE FACTS, INNUENDO, HINTS,
ANCIENT NEWS, RUMORS AND GOSSIP...

ok, mostly just rumors and gossip,
DIRECT FROM tC4CS WATER COOLER

LAST UPDATED
1 MAY 2016
A.D.
AKA: 66,005,321 YEARS AFTER "THE ANCIENTS" KICKED THE BUCKET
SPRING DINOMOVE CONTINUES AT RECORD PACE
'Record' For The Staff At CFI Care As Hundreds Keep Life Flight Helicopters Busy

The first day of no DinoResidents at The Center's Indoor Paddocks [IPs] brings an alarming silence to the hallways. Many employees who've never experienced the quiet [yes
quiet!
] of the occasion have been taken aback. Some have been taken even further.
"I can't believe it's this quiet!"
said an astounded Noah Remorse, Employee Cafeteria 1 worker.
"I've been here for weeks and it's always been so loud. I never knew we had Muzak!"
As Remorse celebrated with fellow Employee Cafeteria staff, others were being hoisted aboard CFI Care Life Flight helicopters, their reward for volunteering to help move the DinoResidents outdoors to Cretaceousland! for the coming summer season. Though the skies remain overcast and there were few rain showers early, the 2016 Spring DinoMove is going, as Spring DinoMove Director Patty Pewper said,
"Terribly."
So, basically, par for the course.
CFI brought in 10 brand new 2017 Life Flight choppers this year - all paid-for from the 2015 Fall DinoMove. Also on hand for any 'ouchies' were 64 ambulances, 22 buses, and a special triage site near the southwest Emergency Landing Zone.
C4CS Security Chief Barb Dwyer reported the Spring DinoMove began on schedule, precisely at 4:17:74.
"By 4:17:89 we had our first LOL
[Loss Of Life]
incident. The volunteer was identified from a leftover sneaker as IP88 DinoHandler Bruce Wade Shews."
Though early in the DinoMove, Shews' 'retirement' did not break the 1981 record of former [if you know what we mean] IP60 employee Maya Certz, who 'retired' 1.9 seconds into the Spring 1981 DinoMove.
The DinoMove continues until we get them all outta here, noted Pewper.
CENTER FACES LAWSUIT OVER AMOUNT OF DINORESIDENTS IN IPs
Tourists Usually Too Busy Running/Screaming To Count, Say IP Supervisors

The Center for Cretaceous Studies is being sued for $5 over the amount of DinoResidents it puts in its Indoor Paddocks [IPs].
According to This Week In Paleontology, a C4CS tourist named Winston Paine filed a 2-page complaint in Northern Illinois Federal Court in Chicago last week. The former visitor, recuperating at CFI Care following his visit, alleges that The Center's customers are being misled because the company's IPs contain just over half the Dinosaurs they are paying for.
"A Center for Cretaceous Studies customer who walks into a
Tyrannosaur
Paddock gets only 14 animals in that Paddock – just over half the stated amount, and just over half the amount for which they are paying,"
the complaint reads.
Paine said in the complaint that a customer who pays to see
"a bunch of Tyrannosaurs"
will only get to see only about 14 even though they are expected to see 24 as The Center for Cretaceous Studies states on a pretty sign outside the gate.
"In essence, The Center is saying the number of its
Tyrannosaurs
is a lot, rather than the amount a customer will see when they purchase a ticket — and deceiving its customers in the process,"
the complaint added.
The lawsuit he filed is a class action on behalf of anyone who has visited the
Tyrannosaurus rex
Paddock in the last 10 years. Anyone included in the lawsuit will also have to be alive. This could hurt the cause, admitted Paine.
Lotta Hert, Paine's lawyer, told This Week In Paleontology that the damage could be higher than $5 if the case is successful.
"We may shoot for the... the... well, those bright, twinkly things in the sky at night,"
Hert stated - or tried to state - outside the southwest gate earlier this afternoon.
CEO and founder Dr. S Beckmann called the lawsuit
"absurd,"
and said this lawsuit may hold up his own lawsuit against The Center which he mistakenly filed over a year ago.
"Our customers understand and expect that counting live DinoResidents is an essential component of letting the customer know approximately how many animals they may see,"
the CEO said in a statement.
"We are still looking to hire someone who wants to go in there and take a count."
Read The REAL Story: Starbucks faces $5M lawsuit over amount of ice in its iced beverages