The CENTER
for CRETACEOUS STUDIES
THE WORLD LEADER IN LIVE DINOSAUR RESEARCH
And All The Crap Associated With Them
FALL DINOMOVE. IP15! NOT HALLWAY 15!!!
This Is The Kind Of Stuff That Happens When You Use Volunteers

PROUD MEMBER OF THE MID-AMERICA PALEONTOLOGY SOCIETY
even though they asked us to go away

FOLLOW
THE CENTER FOR CRETACEOUS STUDIES
ON FACEBOOK!
what? are you kidding? how'd THAT happen?!?

Look For CEO, Founder, DR. S BECKMANN On LinkedIn
seriously, why would you do that?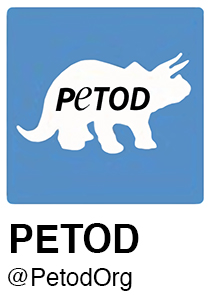 Charter Member of People for the Ethical Treatment of Dinosaurs Since Last Week
WELCOME to the Center for Cretaceous Studies [C4CS] LIVE Dinosaur research institution website. The animals [that is, the Dinosaurs, not the staff], are back indoors here in the warm, friendly confines of their Indoor Paddocks [IPs], of which you are more than welcome to walk around inside and experience these gentle, loving, man-eaters, up close and personal!
Here at the Center for Cretaceous Studies we often research and sometimes study the unstudied and unresearched aspects of Dinosaur life, both past and present. That is, when we're not attending the funerals of those doing that unstudied and unresearched stuff. However, as the ONLY research institute in the world with eating, biting, living, biting, breathing, biting, carnivorous Dinosaurs from the Cretaceous Period [wait, did we mention biting?], we have live examples just down the hall, so eh, what do we care if we discover something in fossils or not?

Our record is incomparable to any other live Dinosaur research institute on Earth. Not because our "residents" are actually live, meat-eating Dinosaurs, but mostly because we are the only ones stupid enough to house live, meat-eating Dinosaurs. You're sure we mentioned "biting", right?

Our unofficial motto: "Museums Are Nice, But We Have Them LIVE", remains our unofficial motto to this day, mostly because we don't want to be sued by Universal Studios or that Spielberg guy. Then again we thought it was slightly better than our previous motto: "You're Probably Going To Die Here".

Set on a gorgeous college campus-like setting, our Dinosaur research facility would be on the cover of Better Homes & Gardens if not for the... well, you-know-what's. This research institution, located southwest of Chicago, Illinois, is home to over 158 species* - we think - and probably growing every year, for all we know.

*Note: Most of our DinoCensus volunteers have never returned, so we're kinda guessing at numbers.

BOOKMARK! BOOKMARK!:
'Bookmark' this site on your Favorites or Bucket List as company news and information [below] is updated nearly every weekend - or as long as someone is still around [alive] to write.

You don't want to miss any of the 'adventures'... specially if for some insane reason you actually plan to visit us some day. Thanks for looking, and we hope to see you here soon!

Proof of life insurance, next of kin contact information, and blood type on separate piece of paper [in case the original is eaten] are required before admission will be granted.


CEO DR. BECKMANN RUINS ANOTHER COUPLE DINODIGS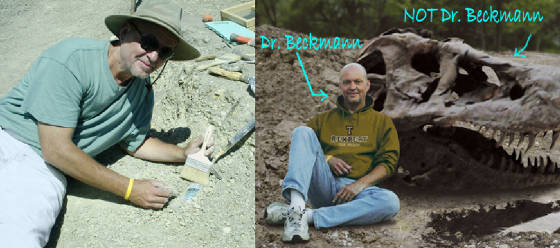 Over The Years Dr. Beckmann Has Dug Up Many Ounces Of Bones- Some Of Them Belong To Dinosaurs!
THE WEEK IN REVIEW BUZZ
QUESTIONABLE FACTS, INNUENDO, HINTS,
ANCIENT NEWS, RUMORS AND GOSSIP...

ok, mostly just rumors and gossip,
DIRECT FROM tC4CS WATER COOLER

LAST UPDATED
20 OCTOBER 2018
A.D.
AKA: 66,005,323 YEARS AFTER "THE ANCIENTS" KICKED THE BUCKET
MEGA MILLIONS JACKPOT WINNER INVITED TO BUY THIS CRAPFEST
CEO Wants To Retire To His Private Island With Girlfriend And Forget This Dump

If you're checking your numbers today for the $1 billion Mega Millions jackpot, you're not a grand prize winner. But neither was anyone else. The next Mega Millions jackpot will be an estimated $1.6 billion -- the highest total in U.S. lottery history. The cash payout is $904 million. That's just enough to make a good down payment on this place, according to CEO and founder, Dr. S Beckmann.
"We're in chartered territory,"
C4CS spokesman Kent Shuddup told
"Good Morning C4CS"
earlier Saturday.
"Dr. Beckmann long ago figured out how much he would need to sell this facility, and $1.6 billion is right about there. Let's just say it would be a great down payment."
The drawing will be Tuesday at 11 p.m. and the record jackpot can increase between now and then. That means some lucky winner could very well be the new CEO by Wednesday, or at least after the check clears.
"Hold on to your butts!"
Shuddup said, causing several groans in the gathered media room.
"I may be out of a job very soon."
When asked if the grand prize hits a shocking $2 billion, would The Center be sold? Shuddup said
"anything's possible."
There were a number of smaller winners in Friday's drawing, including 15 people who won at least $1 million for matching each white ball. New York had the highest number of second-prize winners with four. One ticket in Texas was worth $2 million for matching all five white balls and doubling the total with the Megaplier. Although impressive, those numbers wouldn't even buy a single Indoor Paddock, noted Shuddup.
The previous record for a lottery drawing was a $1.59 billion windfall for the Powerball in January 2016. That jackpot was split three ways, which is why no one from that lottery winning was able to purchase the Center for Cretaceous Studies.
The $1 billion prize has attracted buyers to rush to get the tickets before Friday night's drawing. Not a single person indicated any interest in purchasing a live dinosaur research institution.
"That's the winning ticket, and if I do win, this is not going to buy some stupid research place for dinosaurs. Thank you and have a good day,"
Phil N. DeBlanx, a lottery player, told This Week In Paleontology.
"It's really cool. I'm actually getting this for my mom. So my mom just called me to get the lottery for her. But no, we have no intention of buying anything with dinosaurs,"
Alex S. Knott told the TWIP while on line waiting to buy tickets.
Some people already have a plan for the winning prize, too.
"We hope we win... if we do win, we sure as hell ain't spending it on... what was it again, dinosaur research? Are you kidding me?"
Mel N. Kollie said.
C4CS spokesman Shuddup noted that The Center's PR Department is working overtime to get the word out about what a "great deal" it would be to buy this dump. Meanwhile, the jackpot for Powerball skyrocketed to almost half a billion after no one won Wednesday. The pot rises to $430 million for Saturday's drawing. The cash payout is $248 million. That could help pay for nearly a year of care for several of the smaller raptors in Building F, noted Shuddup.
The next drawing for Powerball is Saturday.
Read The REAL Story: No winner means Mega Millions rises to record $1.6 billion jackpot


2018 FALL DINOMOVE GOING ABOUT AS PLANNED - HORRIFIC
"We Are Running Out Of Volunteers With Every Second That Passes" Says Guy In Ambulance

One thing you an always look forward to during the Fall DinoMove is an exciting ride to the local hospital, says Fall 2018 DinoMove Chairman Kay Sera.

Starting last night [Friday] at 5:00pm, the Fall DinoMove is, according to survivors, going "great" - although several new patients at CFI Care would like to argue that point. Setting a new record this year was Cretaceousland!s Habitat [HAB]81 C. Howie Rhunn, who was permanently retired [if you know what we mean] only 4 minutes 18 seconds into the DinoMove. This breaks the previous record of 4 minutes 18.5 seconds, set in 2017, by former DinoHandler Dawn N. Owt.

Sera, hiding under the desk in her office, noted that <i>"it appears we will run out of volunteers by 4pm today"</i> which is kind of funny, because she always says stuff like that.

CFI Care is currently treating over 1000 volunteers while Our Lady of Bingo has administered Last Rites to about the same number. Sera said these numbers are in line with what her committee had estimated.

The DinoMove continues through Sunday evening, or until we get all the man-eating carnivores into their respected Indoor Paddocks here at The Center. If you would like to volunteer, come on by!


HERE IT IS!!!
GET THE INSIDE STORY OF THE CENTER FOR CRETACEOUS STUDIES!!
Most Likely THE BEST Live Dinosaur Research Institution Book Every Written Without Typohs

NOW you can get your paperback or eBook, the aptly titled The Center for Cretaceous Studies from AuthorHouse, Amazon, or Barnes & Noble! If you're on this site then we're pretty sure you know what kind of book to expect.

Where can you get it? Search no more!

An eBook is available exclusively from the AuthorHouse site. The paperback only is for sale online from the fine bookstores listed below. Just type in 'Center for Cretaceous Studies' when you get there:

AuthorHouse (eBook and paperback)
THE CRETACEOUSLAND! LINK (CLICK HERE)!
NO! WAIT!!! CLICK HERE TO RETURN TO C4CS PREVIEW PAGE
CLICK HERE TO RETURN TO TOP OF PAGE
A division of Beckmann Scientific [BS]