The CENTER
for CRETACEOUS STUDIES
THE WORLD LEADER IN LIVE DINOSAUR RESEARCH
And All The Crap Associated With Them
VOTING FOR INDOOR PADDOCK SUPERVISORS
We'd Suggest Staying Away From Building 5 Until The Clean Up Is Finished

PROUD MEMBER OF THE MID-AMERICA PALEONTOLOGY SOCIETY
even though they asked us to go away

FOLLOW
THE CENTER FOR CRETACEOUS STUDIES
ON FACEBOOK!
what? are you kidding? how'd THAT happen?!?

Look For CEO, Founder, DR. S BECKMANN On LinkedIn
seriously, why would you do that?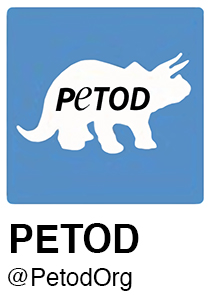 Charter Member of People for the Ethical Treatment of Dinosaurs Since Last Week
WELCOME to the Center for Cretaceous Studies [tC4CS] LIVE Dinosaur research institution website. Our Indoor Paddocks [IPs] are now empty since we've just moved the animals next door to Cretaceousland! where they will be staying outdoors throughout the warm summer months. Well, most of the time anyways, we hope.
Here at the Center for Cretaceous Studies we often research and sometimes study the unstudied and unresearched aspects of Dinosaur life, both past and present. That is, when we're not attending the funerals of those doing that unstudied and unresearched stuff. However, as the ONLY research institute in the world with eating, biting, living, biting, breathing, biting, carnivorous Dinosaurs from the Cretaceous Period [wait, did we mention biting?], we have live examples just down the hall, so eh, what do we care if we discover something in fossils or not?

Our record is incomparable to any other live Dinosaur research institute on Earth. Not because our "residents" are actually live, meat-eating Dinosaurs, but mostly because we are the only ones stupid enough to house live, meat-eating Dinosaurs.

Our unofficial motto: "Museums Are Nice, But We Have Them LIVE", remains our unofficial motto to this day, mostly because we don't want to be sued by Universal Studios or that Spielberg guy. Then again we thought it was slightly better than our previous motto: "You're Probably Going To Die Here".

Set on a gorgeous college campus-like setting, our Dinosaur research facility would be on the cover of Better Homes & Gardens if not for the... well, you-know-what's. This research institution, located near Chicago, Illinois, is home to over 158 species* - we think - and probably growing every year, for all we know.

*Note: Most of our DinoCensus volunteers have never returned, so we're kinda guessing at numbers.

BOOKMARK! BOOKMARK!:
'Bookmark' this site on your Favorites or Bucket List as company news and information [below] is updated nearly every weekend - or as long as someone is still around [alive] to write.

You don't want to miss any of the 'adventures'... specially if for some insane reason you actually plan to visit us some day. Thanks for looking, and we hope to see you here soon!

Proof of life insurance, next of kin contact information, and blood type on separate piece of paper [in case the original is eaten] are required before admission will be granted.


CEO DR. BECKMANN RUINS ANOTHER COUPLE DINODIGS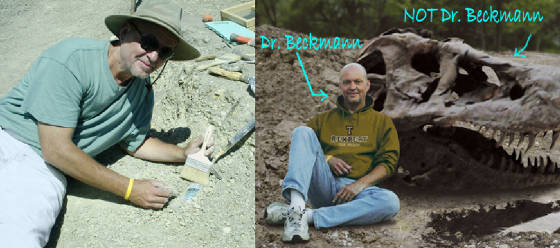 Over The Years Dr. Beckmann Has Dug Up Many Ounces Of Bones- Some Of Them Belong To Dinosaurs!
THE LATEST BUZZ, QUESTIONABLE FACTS, INNUENDO, HINTS,
ANCIENT NEWS, RUMORS AND GOSSIP...

ok, mostly just rumors and gossip,
DIRECT FROM tC4CS WATER COOLER

LAST UPDATED
14 MAY 2016
A.D.
AKA: 66,005,321 YEARS AFTER "THE ANCIENTS" KICKED THE BUCKET
CENTER LOSING FULL-AND-PART TIME EMPLOYEES
Wait. THIS Is News??

EXCLUSIVE: It was just a few weeks ago, in April, when a pair of Indoor Paddock [IP] employees – during a storm – took off from their locker room to run across the compound to help other employees who were being eaten, er... bothered by Greater Carnivores, only 6 hours after given the order to go help.
Today, many inside the IPs are questioning whether a similar order could still be accomplished, after years of staff cuts due to a bad habit of working with live carnivorous DinoResidents that have taken an undeniable toll. The Center for Cretaceous Studies is now short 4,000 IP employees, short 700 employees who regularly work with the animals and short vital spare parts necessary to keep their live animals inside. The shortage is so dire that some have even been forced to scrounge for employees in an employment agency while looking for survivors that may want to return in places known as
"The Boneyard."

"It's not only the personnel that are tired of being chased and/or eaten, it's the Supervisors that are tired as well,"
noted Ben Thar and Don Thatt, who have over two days of experience in IP87.
Many of those working inside IPs reported feeing
"burnt out"
and
"exhausted"
due to the operational norm of a place that houses live, meat-eating Dinosaurs on purpose, and limited resources to support them.
"We have only 20 people assigned on station currently. Out of those 20 only nine showed up to work,"
Thatt said.
"The IP I worked in 20 minutes ago had 1,000 MPEs [Missing, Presumed Eaten] reported this past winter. Now we're looking at some of the IPs out here that are pushing over 10,000,"
he said.
When told the animals have been over at Cretaceousland! for more than a couple weeks, both Thar and Thatt were surprised.
"Well, that should cut down on the MPEs. But there are still a few stragglers lurking in hiding places around here. I've seen 'em,"
said Thar. The two then left to attend remembrance services for a fellow coworker who met one of the 'straggers' on Thursday.
Read the REAL story: 'Wiped Out': Air Force losing pilots and planes to cuts, scrounging for spare parts