The CENTER
for CRETACEOUS STUDIES
THE WORLD LEADER IN LIVE DINOSAUR RESEARCH
And All The Crap Associated With Them
REDLIGHT CAMERAS CATCHING "ALL KINDS" OF VIOLATERS
Yep. Sure Does. Now... YOU Wanna Give Them A Ticket?!?

PROUD MEMBER OF THE MID-AMERICA PALEONTOLOGY SOCIETY
even though they asked us to go away

LOOK FOR
THE CENTER FOR CRETACEOUS STUDIES
ON FACEBOOK!
what? are you kidding? how'd THAT happen?!?

W
ELCOME to the Center for Cretaceous Studies [tC4CS] Dinosaur research institution website. Unfortunately for you, but GREAT for us, the DinoResidents have been moved to the outdoor Habitats at Cretaceousland! for the summer. Our offices are now closed until the Fall DinoMove and this site will be updated only sporadically. For the latest company information, please click on the link below:


la lala la la lala la....


Huh? What? You're still here?

Well, ummm, ok. Guess at this site we could go ahead and show you the day-to-day operations, the research, the screaming, and the evacuation techniques practiced here around the clock.

At the Center for Cretaceous Studies we often research and sometimes study the unstudied and unresearched aspects of Dinosaur life, both past and present. That is, when we're not attending the funerals of those doing that unstudied and unresearched stuff. However, as the ONLY research institute in the world with eating, biting, living, biting, breathing, biting, carnivorous Dinosaurs from the Cretaceous Period [wait, did we mention biting?], we have live examples just down the hall, so eh, what do we care if we discover something in fossils or not?

Our record is incomparable to any other live Dinosaur research institute on Earth. Not because our "residents" are actually live, meat-eating Dinosaurs, but mostly because we are the only ones stupid enough to house live, meat-eating Dinosaurs.

Our unofficial motto: "Museums Are Nice, But We Have Them LIVE", remains our unofficial motto to this day, mostly because we don't want to be sued by Universal Studios or that Spielberg guy. Then again we thought it was slightly better than our previous motto: "You're Probably Going To Die Here".

Set on a gorgeous college campus-like setting, our Dinosaur research facility would be on the cover of Better Homes & Gardens if not for the... well, you-know-what's. This research institution, located near Chicago, Illinois, is home to over 158 species* - we think - and probably growing every year, for all we know.

*Note: Most of our DinoCensus volunteers have never returned, so we're kinda guessing at numbers.

BOOKMARK! BOOKMARK!:
'Bookmark' this site on your Favorites or Bucket List as company news and information [below] is updated often, sometimes daily - or as long as someone is still around [alive] to write.

You don't want to miss any of the 'adventures'... specially if for some insane reason you actually plan to visit us some day.

Thanks for looking, and we hope to see you here soon!

Proof of life insurance, next of kin contact information, and blood type on separate piece of paper [in case the original is eaten] are required before admission will be granted.


CEO DR. BECKMANN RUINS ANOTHER COUPLE DINODIGS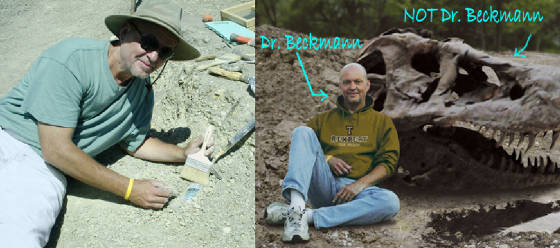 Over The Years Dr. Beckmann Has Dug Up Many Ounces Of Bones- Some Of Them Belong To Dinosaurs!
THE LATEST BUZZ, QUESTIONABLE FACTS, INNUENDO, HINTS,
ANCIENT NEWS, RUMORS AND GOSSIP...

ok, mostly just rumors and gossip,
DIRECT FROM tC4CS WATER COOLER

LAST UPDATED
21 MAY 2015
A.D.
AKA: 66,005,320 YEARS AFTER "THE ANCIENTS" KICKED THE BUCKET
CONSTRUCTION CREWS RETURNING TO CENTER, LURED BY NO DINOSAURS
Well, That's More Of A 'Hope' Than A 'Promise'

Construction and rehab crews are moving back to The Center for Cretaceous Studies Indoor Paddocks [IPs] that came to epitomize human flight, even as a few stray live DinoResidents continue to be found hiding in ambush spots and The Center's overall population of live DinoResidents shrinks.
IP18 may be the latest major Paddock to see an influx of construction workers who may not find the Paddocks as alluring as their predecessors did last spring. Unlike IP90, IP74 and many other Indoor Paddocks that are home to smaller species of carnivorous DinoResidents, though, it's a bigger paycheck and incentive programs that are partly fueling the return of the construction and rehab worker population.
"For any individual who wants to rebuild a Paddock or contribute to the return of functional hallways that have been destroyed by 10-ton animals running up and down them, The Center is the perfect place to be,"
lied Bill Ding, construction foreman.
"You can come to the C4CS and you can really make a difference."
No other live Dinosaur research institution may be as synonymous as The Center with human flight, the exodus of employees and visitors from large Paddocks that began in the middle of the last winter. The Center went from a thriving institution with a population of 1.8 hundred or so live DinoResidents to a company of roughly 690 full-time employees working inside IPs that recently went through the largest mutilation and destruction in C4CS history.
"A young person can move a lot faster, and with $10 bonus can start up a hallway or toward a PSZ
[Personal Safety Zone]
and live to work another day,"
Ding said.
"It's the uprising of the animals that are still hiding, of our employees being able to have the opportunities to make an escape for themselves."

"The nearest PSZ is eight minutes from where I work ... super close, nice neighborhood and really reasonably secure,"
construction worker F. I. Haddahamer said.
"Like any part of any live Dinosaur research place, I'm sure there are good parts and bad parts. You just make sure you don't end up in the areas you are not supposed to be in."
IP Supervisors appear to be weary of waiting for construction crews to turn things around and have been in search of better ideas to lure in faster workers.
"As I see a resurgence of construction, I really want to leave here,"
said IP20's Noah Remorse.
"I feel there are two IPs. There's an IP where you are able to go in and enjoy, and then in this IP there's not much change."
IP20 is the winter home of the
Albertosaurus libratus
, a 26-ft, 2-ton Greater Carnivore, so we know what Remorse is saying.
Kay Sera, who heads the Human Resources Department, said about 1,150 people have been hired in the 2015 C4CS IP construction program, 38 percent of whom are scared and 38 percent of whom are probably not coming back after Day One. She said it's great to see crews moving back into the Paddocks, but The Center needs to attract more people and stop others from leaving.
"The reality is this place is not diverse enough,"
Sera said of The Center as a whole.
"We need some animals that don't try to eat everyone here. We need good numbers of all people to come back to visit this next fall."
Read the REAL story: Whites returning to Detroit, lured by cheaper living to city that epitomized white flight
REMINDER: CENTER OFFICES ARE CLOSED
Only Thing In Hallways Are Chalk Outlines Of Former Employees

The Center for Cretaceous Studies offices have officially closed for the summer season. This, according to spokesman Kent Shuddup, who called this news in from his cell phone to the horde of media reps gathered in Media Room 1 looking for their free doughnuts like zombies looking for brains.
The construction and rehab crews that have been constructing and rehabbing all winter in Cretaceousland!, repairing damages inflicted by DinoResidents during last summer's season, are constructing and rehabbing damaged buildings and Paddocks caused by housing live DinoResidents
here
this past winter.
Tourists and visitors will still be able to walk the hallways and peek through locked gates at the ongoing work, but the DinoResidents will not be there - or at least they won't be there in theory.
C4CS officials remind all visitors: if you see a live, man-eating DinoResident here, please inform the animal it should be over at Cretaceousland! and not here.
thank you
THE CRETACEOUSLAND! LINK (CLICK HERE)!
NO! WAIT!!! CLICK HERE TO RETURN TO C4CS PREVIEW PAGE
CLICK HERE TO RETURN TO TOP OF PAGE
A division of Beckmann Scientific [BS]