W
ELCOME to the Center for Cretaceous Studies [C4CS] Dinosaur research facility website. At this site we'll show you the day-to-day operations, research, screaming and evacuation techniques practiced here around the clock.
At the Center for Cretaceous Studies we often research and sometimes study the unstudied and unresearched aspects of Dinosaur life, both past and present. That is, when we're not attending the funerals of those doing the unstudied and unresearched aspects of Dinosaur life. However, as the ONLY research institute in the world with eating, biting, living, biting, breathing, biting, carnivorous Dinosaurs from the Cretaceous Period [wait, did we mention biting?], we have live examples just down the hall, so eh, what do we care if we discover something in fossils or not?
Now the bad news: If you're coming here to see live Dinosaurs - you missed them!

We moved the Dinosaurs outdoors to Cretaceousland! for the summer.
We are also working from the Cretaceousland! offices for the summer!
Click on the Cretaceousland! link below for daily updates!
TAKE ME TO WHERE THE DINOS ARE: CRETACEOUSLAND!
Our record is incomparable to any other live Dinosaur research institute on Earth. Not because our "residents" are actually live, meat-eating Dinosaurs, but mostly because we are the only ones stupid enough to house live, meat-eating Dinosaurs.

Our unofficial motto: "Museums Are Nice, But We Have Them LIVE", remains our unofficial motto to this day, mostly because we don't want to be sued by Universal or Spielberg. Then again we thought it was slightly better than our previous motto: "You're Probably Going To Die Here".

Set on a gorgeous college campus-like setting, our Dinosaur research facility would be on the cover of Better Homes & Gardens if not for the... well, you-know-what's. This research facility, located near Chicago, Illinois, is home to over 158 species* - we think - and probably growing every year.
*Note: Most of our DinoCensus Pollsters have never returned, so we're kinda guessing at numbers.

BOOKMARK! BOOKMARK!:
'Bookmark' this site on your Favorites or Bucket List as company news and information (below) is updated often.
You don't want to miss any of the 'adventures'... specially if for some insane reason you actually plan to visit us in person some day.

Thanks for visiting, and we hope to see you here soon!
Proof of life insurance, next of kin contact information, and blood type listed on separate piece of paper [in case the original is eaten] is required before admission can be allowed.


CEO DR. BECKMANN RUINS ANOTHER COUPLE DINODIGS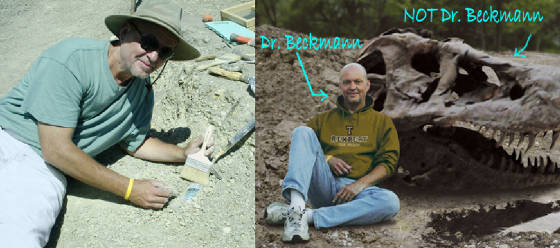 Over The Years Dr. Beckmann Has Dug Up Many Ounces Of Bones- Some Of Them Belong To Dinosaurs!
THE LATEST BUZZ, QUESTIONABLE FACTS, INNUENDO, HINTS,
ANCIENT NEWS, RUMORS AND GOSSIP... Ok, Mostly Just Rumors And Gossip,
DIRECT FROM THE C4CS WATER COOLER

LAST UPDATED
23 MAY 2013
A.D.
AKA: 66,005,318 YEARS AFTER "THE ANCIENTS" KICKED THE BUCKET
VOLCANO SHOOTS LAVA AND ALL KINDS OF CRAP INTO THE AIR

Probably Won't Be Seen Or Felt Here, Say Officials Crossing Their Fingers
Alaska's remote Pavlof N. Stayov volcano was shooting lava hundreds of feet into the air, according to C4CS Doomsday Department spokesman Rock Jabralter.
"Well? Where else is it supposed to shoot out stuff?"
But its ash plume was thinning Saturday and no longer making it dangerous for tourist-filled airplanes to fly into, sputter, and crash. The thinning smoke and ash also came as a sign of relief to those who handle live Dinosaurs.
"When it comes to meteors, comets, volcanos, asteroids, these animals seem to have a 7th sense,"
Jabralter said, showing off his math skills.
The narrow ash plume extends a couple billion inches southnorth from the volcano, which is 625.38 pedometers west of Canada, which is no where near the volcano, said C4CS Numbers and Estimation Department's Jess Gessin.
The eruption that began last Monday seemed to be slowing on Saturday after several virgins were sacrificed, but Jabralter said that could change at any time.
"Things could ramp up quickly, because there are only 5 families with the last name of Virgin, Vergin, and Vihrjun in the area, and the locals have already thrown in the last known Verjen."
There are no flight restrictions because of the eruption, but pilots are being told to use deodorant and pay attention when flying into the choking ash cloud because the engines will fail, Jabralter said.
C4CS scientists are not expecting the eruption to be seen or felt around here anytime soon and so far it has not been. There are mud flows, but no one lives close enough to take advantage of a nice, warm, mud bath.
The weather forecast is calling for winds to shift and the ash cloud to head right towards The Center, pushing it toward the community of live Dinosaurs that are currently outdoors where they will see it, but Jabralter said those Cretaceousland! employees shouldn't expect more than a trace amount of ash or a small stampede by man-eating DinoResidents for the next few weeks.
Read more: http://www.foxnews.com/us/2013/05/19/alaska-volcano-shoots-lava-hundreds-feet-into-air-but-ash-plume-is-thinning/?test=latestnews#ixzz2TkMw2paS
THE CRETACEOUSLAND! LINK (CLICK HERE)!
NO! WAIT!!! CLICK HERE TO RETURN TO C4CS PREVIEW PAGE
CLICK HERE TO RETURN TO TOP OF PAGE
A division of Beckmann Scientific [BS]