The CENTER
for CRETACEOUS STUDIES
THE WORLD LEADER IN LIVE DINOSAUR RESEARCH
And All The Crap Associated With Them
MANY EMPLOYEES COMPLAINING ABOUT BACK PAIN
Usually This Place Is A Pain In The

PROUD MEMBER OF THE MID-AMERICA PALEONTOLOGY SOCIETY
even though they asked us to go away

FOLLOW
THE CENTER FOR CRETACEOUS STUDIES
ON FACEBOOK!
what? are you kidding? how'd THAT happen?!?

Look For CEO, Founder, DR. S BECKMANN On LinkedIn
seriously, why would you do that?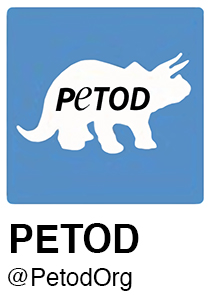 Charter Member of People for the Ethical Treatment of Dinosaurs Since Last Week
WELCOME to the Center for Cretaceous Studies [tC4CS] LIVE Dinosaur research institution website. Our Indoor Paddocks [IPs] are now empty since we've just moved the animals next door to Cretaceousland! where they will be staying outdoors throughout the warm summer months. Well, most of the time anyways, we hope. The good news [for you] is next month the animals will be returning to the IPs, as long as we don't have a massive amount of staff quitting, like last year.
Here at the Center for Cretaceous Studies we often research and sometimes study the unstudied and unresearched aspects of Dinosaur life, both past and present. That is, when we're not attending the funerals of those doing that unstudied and unresearched stuff. However, as the ONLY research institute in the world with eating, biting, living, biting, breathing, biting, carnivorous Dinosaurs from the Cretaceous Period [wait, did we mention biting?], we have live examples just down the hall, so eh, what do we care if we discover something in fossils or not?

Our record is incomparable to any other live Dinosaur research institute on Earth. Not because our "residents" are actually live, meat-eating Dinosaurs, but mostly because we are the only ones stupid enough to house live, meat-eating Dinosaurs.

Our unofficial motto: "Museums Are Nice, But We Have Them LIVE", remains our unofficial motto to this day, mostly because we don't want to be sued by Universal Studios or that Spielberg guy. Then again we thought it was slightly better than our previous motto: "You're Probably Going To Die Here".

Set on a gorgeous college campus-like setting, our Dinosaur research facility would be on the cover of Better Homes & Gardens if not for the... well, you-know-what's. This research institution, located near Chicago, Illinois, is home to over 158 species* - we think - and probably growing every year, for all we know.

*Note: Most of our DinoCensus volunteers have never returned, so we're kinda guessing at numbers.

BOOKMARK! BOOKMARK!:
'Bookmark' this site on your Favorites or Bucket List as company news and information [below] is updated nearly every weekend - or as long as someone is still around [alive] to write.

You don't want to miss any of the 'adventures'... specially if for some insane reason you actually plan to visit us some day. Thanks for looking, and we hope to see you here soon!

Proof of life insurance, next of kin contact information, and blood type on separate piece of paper [in case the original is eaten] are required before admission will be granted.


CEO DR. BECKMANN RUINS ANOTHER COUPLE DINODIGS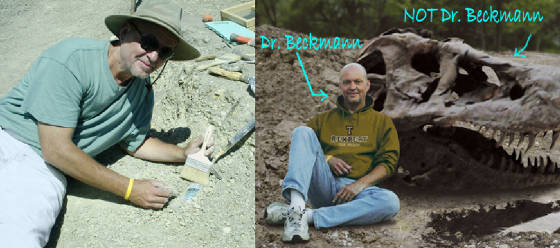 Over The Years Dr. Beckmann Has Dug Up Many Ounces Of Bones- Some Of Them Belong To Dinosaurs!
THE WEEK IN REVIEW BUZZ
QUESTIONABLE FACTS, INNUENDO, HINTS,
ANCIENT NEWS, RUMORS AND GOSSIP...

ok, mostly just rumors and gossip,
DIRECT FROM tC4CS WATER COOLER

LAST UPDATED
24 SEPTEMBER 2016
A.D.
AKA: 66,005,321 YEARS AFTER "THE ANCIENTS" KICKED THE BUCKET
WHOOPTIE-DOO SILVERBERG SAYS SHE'S "PROBABLY NOT" GOING TO WORK HERE
"I Want To Die In Piece, Not Pieces," She Tells C4CS Show Host

The longtime talk show host, Whooptie-Doo Silverberg dropped by
"The Center For Cretaceous Studies Show"
[Channel 0.03 on your FM dial] on Friday, where she revealed that she's
"probably not"
going to work for The Center for Cretaceous Studies after season 20 is finished at her current show.
"I know you've only signed on, according to what we've talked about, for one more year,"
Kent Shuddup, host of the C4CS Show pressed to Silverberg's agreement.
"So, in September, when everyone comes back for the new season, you might not be there. Will you consider a full or part-time job here at The Center?"

"No, probably not,"
the "Blister Act" star replied.
"I can't do it, dude,"
Silverberg continued,
"because I have to go and grow. I've got stuff to do. I've got movies I need to direct, I got books I gotta finish."

"This was great, and I love doing it, but you know, it's been a while since I could walk around and not get eaten by a live Dinosaur, which is what would happen if I came to work at this dump,"
she added.
The C4CS Show caught up with Silverberg just after
"The View Of Few"
was renewed for a 20th season, where she gushed about the exciting news.
"When
[Barb Waiters, the show's creator]
came to our anniversary show, and highly intoxicated to the point of falling-down drunk, she slurred, 'Ya know we thought it wash never gonna last,"
she revealed.
Twenty years later,
"The View Of Few"
is clearly going strong, with Silverberg currently holding the title of the show's longest-running on-air talent and Waiters in a 12-step program.
Read the REAL story: Whoopi Goldberg says she's 'probably not' returning to 'The View' after this season
EMPLOYEES WASTING TRILLIONS ON PREMIUM GAS, SAYS GUY AT GAS STATION
When's The Last Time Anyone Used A Full Tank Of Gas Around Here?

Center for Cretaceous Studies employees with company cars wasted $2.1 bazillion on premium gasoline over the past month, according to Bob, the guy behind the counter at Todd's Gas & Hi-Priced Snax.
Bob says he determined that premium gasoline doesn't improve performance, fuel efficiency or emissions for vehicles that run on regular-grade fuel
"from something I read a couple weeks ago."
Yet an estimated 96.945% of C4CS employees have opted to pay for premium gasoline at least once in the last 12 minutes, believing it's better for their car's engine. Drivers
"upgraded"
to premium gasoline more than 270 billion times last week, Bob said.
"Drivers see the 'premium' name at the pump and may assume the fuel is better at keeping their vehicle out of the jaws of those large animals you guys have over there,"
said Todd 'TV' Nielsen, Bob's managing director of automotive engineering and repair.
Gasoline sold in the U.S. is typically available in three grades. Regular gasoline is 87-octane, mid-grade is 89-octane and premium is 91/93-octane. 86% of Center for Cretaceous Studies drivers believe the 'better' gasoline helps with acceleration
"during those times when your car is about to get stepped on or eaten by a 40-foot, crazy, mad, large-toothed DinoResident,"
noted C4CS Finance Administrator Imelda Czechs. Seventy percent of C4CS car owners have vehicles that barely run and 45% of those vehicles have been either stepped on or bitten while parked in the employee parking lot.
For our company cars, The Center evaluated vehicles equipped with four, five, six, and eighty-cylinder engines to determine which should be used while working inside a live DinoResident Habitat, such as those at Cretaceousland!. Each vehicle was tested with regular and premium gasoline while running on a dynamometer — a treadmill-like device often referred to as a dyno for short. A dyno can be used to measure horsepower and other data.
"The other problem around here is that most of the cars are so damaged on their first day here that the owner never needs to fill the tank again,"
said Megan Model, Parking Lot Manager.
Read the REAL story: Some Gasolines Are Healthier for Your Car, AAA Says
FIRST CALL FOR VOLUNTEERS! 2016 FALL DINOMOVE IS COMING!!!
Run For The Hills, Say Experts

Next month the DinoResidents return to their Indoor Paddocks [IPs] here at The Center for Cretaceous Studies, whined C4CS spokesman Kent Shudder. Even the gathered press corps, meeting inside C4CS Media Room 1 this morning, gasped.
Then again, that may have involved the arrival of the doughnut carts, but we'll just say gasping was from the announcement of the 2016 Fall DinoMove.
Every Spring and Fall, for some odd reason, we move all the DinoResidents outdoors [Spring] or indoors [Fall]. This obviously takes thousands of volunteers and every year we get dozens who actually
want
to help.
Not our fault if some people are really stupid.
Hey! Are YOU interested in volunteering? Sign-up sheets will be posted this next week on the bulletin board outside C4CS Employee Cafeteria 2. Come join the fun!!


HERE IT IS!!!
GET THE INSIDE STORY OF THE CENTER FOR CRETACEOUS STUDIES!!
Most Likely THE BEST Live Dinosaur Research Institution Book Every Written

NOW you can get your paperback or eBook, the aptly titled The Center for Cretaceous Studies from AuthorHouse, Amazon, or Barnes & Noble! If you're on this site then we're pretty sure you know what kind of book to expect.

Where can you get it? Search no more!

An eBook is available exclusively from the AuthorHouse site. The paperback is for sale from all these fine bookstores listed below. Just type in 'Center for Cretaceous Studies' when you get there:

AuthorHouse (eBook and paperback)
THE CRETACEOUSLAND! LINK (CLICK HERE)!
NO! WAIT!!! CLICK HERE TO RETURN TO C4CS PREVIEW PAGE
CLICK HERE TO RETURN TO TOP OF PAGE
A division of Beckmann Scientific [BS]