The CENTER
for CRETACEOUS STUDIES
THE WORLD LEADER IN LIVE DINOSAUR RESEARCH
And All The Crap Associated With Them
SLIGHT PROBLEM AT PARKING LOT 2 ENTRANCE
There Would Be HUGE Delays - If Anyone Ever Visited This Dump

PROUD MEMBER OF THE MID-AMERICA PALEONTOLOGY SOCIETY
even though they asked us to go away

FOLLOW
THE CENTER FOR CRETACEOUS STUDIES
ON FACEBOOK!
what? are you kidding? how'd THAT happen?!?

Look For CEO, Founder, DR. S BECKMANN On LinkedIn
seriously, why would you do that?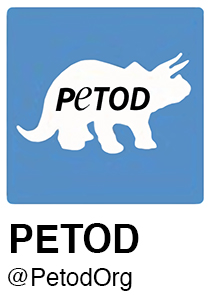 Charter Member of People for the Ethical Treatment of Dinosaurs Since Last Week
WELCOME to the Center for Cretaceous Studies [tC4CS] LIVE Dinosaur research institution website. The animals [that is, the Dinosaurs and not the staff], have been moved outdoors to their summer homes at Cretaceousland!. Now is a GREAT time to visit The Center! During the summer season your chances of getting out of here alive go up nearly 4.5%!
Here at the Center for Cretaceous Studies we often research and sometimes study the unstudied and unresearched aspects of Dinosaur life, both past and present. That is, when we're not attending the funerals of those doing that unstudied and unresearched stuff. However, as the ONLY research institute in the world with eating, biting, living, biting, breathing, biting, carnivorous Dinosaurs from the Cretaceous Period [wait, did we mention biting?], we have live examples just down the hall, so eh, what do we care if we discover something in fossils or not?

Our record is incomparable to any other live Dinosaur research institute on Earth. Not because our "residents" are actually live, meat-eating Dinosaurs, but mostly because we are the only ones stupid enough to house live, meat-eating Dinosaurs.

Our unofficial motto: "Museums Are Nice, But We Have Them LIVE", remains our unofficial motto to this day, mostly because we don't want to be sued by Universal Studios or that Spielberg guy. Then again we thought it was slightly better than our previous motto: "You're Probably Going To Die Here".

Set on a gorgeous college campus-like setting, our Dinosaur research facility would be on the cover of Better Homes & Gardens if not for the... well, you-know-what's. This research institution, located southwest of Chicago, Illinois, is home to over 158 species* - we think - and probably growing every year, for all we know.

*Note: Most of our DinoCensus volunteers have never returned, so we're kinda guessing at numbers.

BOOKMARK! BOOKMARK!:
'Bookmark' this site on your Favorites or Bucket List as company news and information [below] is updated nearly every weekend - or as long as someone is still around [alive] to write.

You don't want to miss any of the 'adventures'... specially if for some insane reason you actually plan to visit us some day. Thanks for looking, and we hope to see you here soon!

Proof of life insurance, next of kin contact information, and blood type on separate piece of paper [in case the original is eaten] are required before admission will be granted.


CEO DR. BECKMANN RUINS ANOTHER COUPLE DINODIGS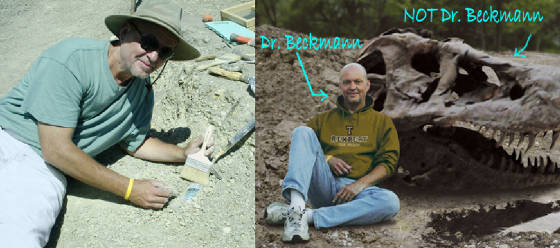 Over The Years Dr. Beckmann Has Dug Up Many Ounces Of Bones- Some Of Them Belong To Dinosaurs!
THE WEEK IN REVIEW BUZZ
QUESTIONABLE FACTS, INNUENDO, HINTS,
ANCIENT NEWS, RUMORS AND GOSSIP...

ok, mostly just rumors and gossip,
DIRECT FROM tC4CS WATER COOLER

LAST UPDATED
20 MAY 2017
A.D.
AKA: 66,005,322 YEARS AFTER "THE ANCIENTS" KICKED THE BUCKET
CENTER SIGNS $110B DEAL WITH COUNTRY THAT HAS $110B
That's $110B More Than We Have, According To Finance Department

CEO and founder Dr. S Beckmann on Saturday signed a $110 billion deal to help the Persian Gulf ally with its Dinosaur-defense system.
"That was a tremendous day,"
the CEO said after signing the deal.
"Tremendous investments in The Center. Hundreds of billions of dollars of investments into the research and stuff on Dinosaurs and jobs, jobs, jobs."
The Center's spokesman, Kent Shuddup, says the package includes defense equipment [fencing, surveillance, etc.] and other support to help them learn about man-eating, carnivorous Dinosaurs, and build defense systems to keep them out of their country. It's unknown why the country needs fences or education about this type of animal, but they had $110B so no questions were asked.
Dr. Beckmann argued The Center can no longer be the world's police officer when it comes to bringing back escaped carnivore DinoResidents and that other nations must become more self-sufficient in efforts to combat this kind of junk and in protecting themselves against rogue animals like
tyrannosaurs
and
carcharadontosaurs
.
Dr. Beckmann left early Saturday as the start to his nine-day, overseas tour that will also take him to Israel, Europe, Disneyland, and Six Flags. The international trip is his first since getting back to the office in January.
"Great to be in here,"
Mr. Big Shot [BS] tweeted upon landing in C4CS One.
"Looking forward to the afternoon and evening ahead."
The CEO is expected to pledge his respect and support to leaders and to the region, after they hand over the check for $110B.
Dr. Beckmann was greeted at the airport with an elaborate ceremony, punctuated by a bunch of crappy finger-painted posters done by local school children at the King Salman grade school.
Accompanying Mr. BS was his Hollywood girlfriend, Anita DeGroyne, wearing a black pantsuit with a golden belt and did not cover her head with a big hat for the arrival because it wouldn't fit out the aircraft's doorway, a consistent with custom for foreign dignitaries who come looking to take checks for $110B.
After two days of meetings and waiting for the check to clear, Dr. Beckmann will travel to Rome, have an audience with Pope Francis at the Vatican, then meet with paleontologists at a summit in Brussels and the Group of 1, the nations who conduct live Dinosaur research, in Sicily. Basically, it's The Center and no one else.
The multi-billion dollar defense deal
"in the clearest terms possible"
shows The Center's commitment to any nation with money and expands economic opportunities, spokesman Shuddup said. The deal will also supporting tens-of-thousands of new jobs at The Center, Shuddup also said. He wouldn't comment on what
kind
of jobs these might be.
Read the REAL story: Trump in Saudi Arabia signs $110B arms deal with Persian Gulf ally


HERE IT IS!!!
GET THE INSIDE STORY OF THE CENTER FOR CRETACEOUS STUDIES!!
Most Likely THE BEST Live Dinosaur Research Institution Book Every Written Without Typohs

NOW you can get your paperback or eBook, the aptly titled The Center for Cretaceous Studies from AuthorHouse, Amazon, or Barnes & Noble! If you're on this site then we're pretty sure you know what kind of book to expect.

Where can you get it? Search no more!

An eBook is available exclusively from the AuthorHouse site. The paperback only is for sale online from the fine bookstores listed below. Just type in 'Center for Cretaceous Studies' when you get there:

AuthorHouse (eBook and paperback)
THE CRETACEOUSLAND! LINK (CLICK HERE)!
NO! WAIT!!! CLICK HERE TO RETURN TO C4CS PREVIEW PAGE
CLICK HERE TO RETURN TO TOP OF PAGE
A division of Beckmann Scientific [BS]