The CENTER
for CRETACEOUS STUDIES
THE WORLD LEADER IN LIVE DINOSAUR RESEARCH
And All The Crap Associated With Them
RESEARCH TESTS FIRST TRANQ-GUN (1964)
They Had A Lovely Memorial Service

PROUD MEMBER OF THE MID-AMERICA PALEONTOLOGY SOCIETY
even though they asked us to go away

FOLLOW
THE CENTER FOR CRETACEOUS STUDIES
ON FACEBOOK!
what? are you kidding? how'd THAT happen?!?

Look For CEO, Founder, DR. S BECKMANN On LinkedIn
seriously, why would you do that?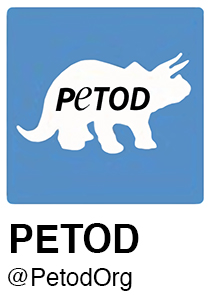 Charter Member of People for the Ethical Treatment of Dinosaurs Since Last Week
W
ELCOME to the Center for Cretaceous Studies [tC4CS] Dinosaur research institution website. Unfortunately for you, but GREAT for us, the DinoResidents have been moved to the outdoor Habitats at Cretaceousland! for the summer. Our offices are now closed until the Fall DinoMove and this site will be updated only sporadically. For the latest company information, please click on the link below:


la lala la la lala la....


Huh? What? You're still here?

Well, ummm, ok. Guess at this site we could go ahead and show you the day-to-day operations, the research, the screaming, and the evacuation techniques we 'practice' around the clock.

At the Center for Cretaceous Studies we often research and sometimes study the unstudied and unresearched aspects of Dinosaur life, both past and present. That is, when we're not attending the funerals of those doing that unstudied and unresearched stuff. However, as the ONLY research institute in the world with eating, biting, living, biting, breathing, biting, carnivorous Dinosaurs from the Cretaceous Period [wait, did we mention biting?], we have live examples just down the hall, so eh, what do we care if we discover something in fossils or not?

Our record is incomparable to any other live Dinosaur research institute on Earth. Not because our "residents" are actually live, meat-eating Dinosaurs, but mostly because we are the only ones stupid enough to house live, meat-eating Dinosaurs.

Our unofficial motto: "Museums Are Nice, But We Have Them LIVE", remains our unofficial motto to this day, mostly because we don't want to be sued by Universal Studios or that Spielberg guy. Then again we thought it was slightly better than our previous motto: "You're Probably Going To Die Here".

Set on a gorgeous college campus-like setting, our Dinosaur research facility would be on the cover of Better Homes & Gardens if not for the... well, you-know-what's. This research institution, located near Chicago, Illinois, is home to over 158 species* - we think - and probably growing every year, for all we know.

*Note: Most of our DinoCensus volunteers have never returned, so we're kinda guessing at numbers.

BOOKMARK! BOOKMARK!:
'Bookmark' this site on your Favorites or Bucket List as company news and information [below] is updated often, sometimes daily - or as long as someone is still around [alive] to write.

You don't want to miss any of the 'adventures'... specially if for some insane reason you actually plan to visit us some day. Thanks for looking, and we hope to see you here soon!

Proof of life insurance, next of kin contact information, and blood type on separate piece of paper [in case the original is eaten] are required before admission will be granted.


CEO DR. BECKMANN RUINS ANOTHER COUPLE DINODIGS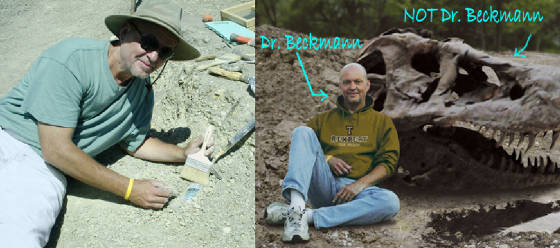 Over The Years Dr. Beckmann Has Dug Up Many Ounces Of Bones- Some Of Them Belong To Dinosaurs!
THE LATEST BUZZ, QUESTIONABLE FACTS, INNUENDO, HINTS,
ANCIENT NEWS, RUMORS AND GOSSIP...

ok, mostly just rumors and gossip,
DIRECT FROM tC4CS WATER COOLER

LAST UPDATED
1 AUGUST 2015
A.D.
AKA: 66,005,320 YEARS AFTER "THE ANCIENTS" KICKED THE BUCKET
SHOOTING OF DINORESIDENT PRESSURES CENTER TO PROTECT DINOSAURS
Ok, But Who's Gonna Protect US? Cry Employees

The shooting of Cecil the
Lythronax
[oh, Cecil is fine and has returned to his Habitat in Cretaceousland!] by a hunter in Cretaceousland!s HAB38 has turned up the pressure on The Center to extend legal protection to all DinoResidents by declaring them an endangered species, but some advocates said that would lead to more regulations that could ultimately harm the big man-eaters.
The Center for Cretaceous Studies has the world's most powerful animal protection rule, called the
Don't Mess With Our Prehistoric Species Act
, which has been extended by the C4CS Board of Directors to many of the Greater Carnivore [those animals weighing one ton each] species.
Adding every DinoResident to The Center's list would not prohibit tourists from being eaten but it would require a permit from The Center.
Such a permit would only be issued if the C4CS determined that an individual visitor would not be harmful to the survival of the species, said C4CS spokesman Kent Shuddup.
"Bony or skinny visitors have been identified as a threat to the continued existence of certain species,"
said Shuddup, whose group has backed listing the DinoResidents as endangered.
In 2014, The Center's Wildlife Service proposed listing every DinoResident as threatened under the
Don't Mess With Our Prehistoric Species Act
.
Apart from the Species Act-thing, visitors are barred under the C4CS Gracey Act from shooting at or near or in the vicinity thereof, or transporting or selling any of our DinoResidents. That rule applies to about all DinoResident species currently living in Cretaceousland!s outdoor Habitats.
Supporters of regulated visiting said,
"Cameras should not be discouraged because those idiots, er, fine, great, admission-paying tourists generate revenue for The Center, which can be used to conserve food bills and to discourage poaching eggs inside a live Dinosaur Paddock or Habitat."
Of course this quote came right around breakfast time.
Read the REAL story: Killing of Cecil pressures United States to protect African lion
THE CRETACEOUSLAND! LINK (CLICK HERE)!
NO! WAIT!!! CLICK HERE TO RETURN TO C4CS PREVIEW PAGE
CLICK HERE TO RETURN TO TOP OF PAGE
A division of Beckmann Scientific [BS]