The CENTER
for CRETACEOUS STUDIES
THE WORLD LEADER IN LIVE DINOSAUR RESEARCH
And All The Crap Associated With Them
MARTHA TRIES TO LEAVE WORK EARLY - AGAIN
"Can't Take This Any More!" Gets Old After Awhile, Says Supervisor

PROUD MEMBER OF THE MID-AMERICA PALEONTOLOGY SOCIETY
even though they asked us to go away

FOLLOW
THE CENTER FOR CRETACEOUS STUDIES
ON FACEBOOK!
what? are you kidding? how'd THAT happen?!?

Look For CEO, Founder, DR. S BECKMANN On LinkedIn
seriously, why would you do that?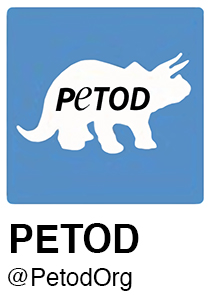 Charter Member of People for the Ethical Treatment of Dinosaurs Since Last Week
WELCOME to the Center for Cretaceous Studies [C4CS] LIVE Dinosaur research institution website. The animals [that is, the Dinosaurs, not the staff], are outdoors for the remainder of the Summer at Cretaceousland!. So, you are more than welcome to walk around inside the empty Indoor Paddocks [IPs] while construction and rehab is underway. Hey, we have to basically rebuild every year. YOU try housing these things indoors and see what kind of damage they can inflict!
Here at the Center for Cretaceous Studies we often research and sometimes study the unstudied and unresearched aspects of Dinosaur life, both past and present. That is, when we're not attending the funerals of those doing that unstudied and unresearched stuff. However, as the ONLY research institute in the world with eating, biting, living, biting, breathing, biting, carnivorous Dinosaurs from the Cretaceous Period [wait, did we mention biting?], we have live examples just down the hall, so eh, what do we care if we discover something in fossils or not?

Our record is incomparable to any other live Dinosaur research institute on Earth. Not because our "residents" are actually live, meat-eating Dinosaurs, but mostly because we are the only ones stupid enough to house live, meat-eating Dinosaurs. You're sure we mentioned "biting", right?

Our unofficial motto: "Museums Are Nice, But We Have Them LIVE", remains our unofficial motto to this day, mostly because we don't want to be sued by Universal Studios or that Spielberg guy. Then again we thought it was slightly better than our previous motto: "You're Probably Going To Die Here".

Set on a gorgeous college campus-like setting, our Dinosaur research facility would be on the cover of Better Homes & Gardens if not for the... well, you-know-what's. This research institution, located southwest of Chicago, Illinois, is home to over 158 species* - we think - and probably growing every year, for all we know.

*Note: Most of our DinoCensus volunteers have never returned, so we're kinda guessing at numbers.

BOOKMARK! BOOKMARK!:
'Bookmark' this site on your Favorites or Bucket List as company news and information [below] is updated nearly every weekend - or as long as someone is still around [alive] to write.

You don't want to miss any of the 'adventures'... specially if for some insane reason you actually plan to visit us some day. Thanks for looking, and we hope to see you here soon!

Proof of life insurance, next of kin contact information, and blood type on separate piece of paper [in case the original is eaten] are required before admission will be granted.


CEO DR. BECKMANN RUINS ANOTHER COUPLE DINODIGS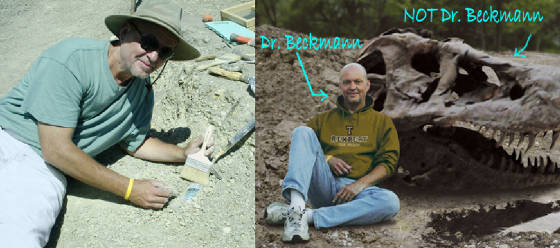 Over The Years Dr. Beckmann Has Dug Up Many Ounces Of Bones- Some Of Them Belong To Dinosaurs!
THE WEEK IN REVIEW BUZZ
QUESTIONABLE FACTS, INNUENDO, HINTS,
ANCIENT NEWS, RUMORS AND GOSSIP...

ok, mostly just rumors and gossip,
DIRECT FROM tC4CS WATER COOLER

LAST UPDATED
18 AUGUST 2019
A.D.
AKA: 66,005,323 YEARS AFTER "THE ANCIENTS" KICKED THE BUCKET
WOMAN USES 34-YEAR OLD FREE PASS TO ENTER C4CS
"Eh, We Gave Out Thousands Of Those Things," Says Ticket Supervisor

A woman who purchased a half-day ticket and then received a free ticket to the Center for Cretaceous Studies over 30 years ago finally attempted to use it at the famous theme park near Chicago. Much to her surprise, and pleasure, the park honored the free ticket.
Tammy Dickson visited The Center was with her family when she was 14 and her father [may he rest in peace] purchased the half-day tickets. At the time, visitors could buy one ticket and get one free ticket as part of the park's celebration of the grand opening of our first indoor plumbing building in 1985. She had been back to the C4CS several times over the last 34 years but had apparently never had the guts to actually leave the parking lot or get out of her car [it happens a lot].
Dickson, a teacher from Alberta, Canada, reportedly had the ticket in a box full of other junk she was about to throw out or sell at a yard sale. She decided that she would try to use it.
She traveled to The Center this past week with her two daughters and handed over the free pass to C4CS Ticket Supervisor, Rick Etmastor. Surprisingly, despite being 34-years-old, the ticket was honored and Dickson was granted access to the Indoor Paddocks [IPs]. The three "enjoyed" watching the work being accomplished on the IPs in anticipation of the return of the DinoResidents this Fall. And, as luck would have it, they got to "meet" a small group of
Carcharodontosaurus saharicus
in Hallway 16B. We bet they were thrilled! C4CS Search & Rescue teams were immediately dispensed to the scene. Their names will be added to all the others at tonight's prayer vigil [7pm at Our Lady of Bingo], according to Search & Rescue Supervisor Luke E. Dayer.
"I was a little nervous because it was an old ticket,"
Dickson told the small crowd at the ticketing area.
"I was crossing my fingers."
When she presented the ticket at the turnstile, an employee reportedly had to check with her Supervisor [Etmastor] if the ticket was still valid. Ultimately, it was decided to honor the prize and Dickson was admitted with her two daughters. Their last images were seen on security cameras in Hallway 16B.
When her father originally got the ticket, it was the least valuable prize attached to the promotion, which included other prizes such as a brand new toilet plunger. Even with inflation, the ticket still isn't worth as much as a that handy tool, but it still put a smile on Dickson's face. For a few minutes, anyway.
Read The REAL Story: Woman uses 34-year-old free pass to enter Disneyland


HERE IT IS!!!
GET THE INSIDE STORY OF THE CENTER FOR CRETACEOUS STUDIES!!
Most Likely THE BEST Live Dinosaur Research Institution Book Every Written Without Typohs

Need that "perfect" gift for that dinosaur nut case in your life? Well, this is a great ninth or tenth option when you can't find it. Get your paperback or eBook of the aptly titled The Center for Cretaceous Studies from AuthorHouse, Amazon, or Barnes & Noble! If you're on this site then we're pretty sure you know what kind of book to expect.

Where can you get it? Search no more!

An eBook is available exclusively from the AuthorHouse site. The paperback only is for sale online from the fine bookstores listed below. Just type in 'Center for Cretaceous Studies' when you get there:

AuthorHouse (eBook and paperback)
THE CRETACEOUSLAND! LINK (CLICK HERE)!
NO! WAIT!!! CLICK HERE TO RETURN TO C4CS PREVIEW PAGE
CLICK HERE TO RETURN TO TOP OF PAGE
A division of Beckmann Scientific [BS]