The CENTER
for CRETACEOUS STUDIES
THE WORLD LEADER IN LIVE DINOSAUR RESEARCH
And All The Crap Associated With Them
INDOOR PADDOCK EXPANSION COMING FOR 2016
Nothing About "Safer Places For Employees" or "Better Vending Machine Choices" Yet

PROUD MEMBER OF THE MID-AMERICA PALEONTOLOGY SOCIETY
even though they asked us to go away

LOOK FOR
THE CENTER FOR CRETACEOUS STUDIES
ON FACEBOOK!
what? are you kidding? how'd THAT happen?!?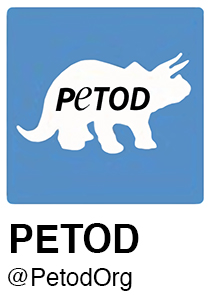 Charter Member of People for the Ethical Treatment of Dinosaurs Since Last Week
W
ELCOME to the Center for Cretaceous Studies [tC4CS] Dinosaur research institution website. Unfortunately for you, but GREAT for us, the DinoResidents have been moved to the outdoor Habitats at Cretaceousland! for the summer. Our offices are now closed until the Fall DinoMove and this site will be updated only sporadically. For the latest company information, please click on the link below:


la lala la la lala la....


Huh? What? You're still here?

Well, ummm, ok. Guess at this site we could go ahead and show you the day-to-day operations, the research, the screaming, and the evacuation techniques practiced here around the clock.

At the Center for Cretaceous Studies we often research and sometimes study the unstudied and unresearched aspects of Dinosaur life, both past and present. That is, when we're not attending the funerals of those doing that unstudied and unresearched stuff. However, as the ONLY research institute in the world with eating, biting, living, biting, breathing, biting, carnivorous Dinosaurs from the Cretaceous Period [wait, did we mention biting?], we have live examples just down the hall, so eh, what do we care if we discover something in fossils or not?

Our record is incomparable to any other live Dinosaur research institute on Earth. Not because our "residents" are actually live, meat-eating Dinosaurs, but mostly because we are the only ones stupid enough to house live, meat-eating Dinosaurs.

Our unofficial motto: "Museums Are Nice, But We Have Them LIVE", remains our unofficial motto to this day, mostly because we don't want to be sued by Universal Studios or that Spielberg guy. Then again we thought it was slightly better than our previous motto: "You're Probably Going To Die Here".

Set on a gorgeous college campus-like setting, our Dinosaur research facility would be on the cover of Better Homes & Gardens if not for the... well, you-know-what's. This research institution, located near Chicago, Illinois, is home to over 158 species* - we think - and probably growing every year, for all we know.

*Note: Most of our DinoCensus volunteers have never returned, so we're kinda guessing at numbers.

BOOKMARK! BOOKMARK!:
'Bookmark' this site on your Favorites or Bucket List as company news and information [below] is updated often, sometimes daily - or as long as someone is still around [alive] to write.

You don't want to miss any of the 'adventures'... specially if for some insane reason you actually plan to visit us some day. Thanks for looking, and we hope to see you here soon!

Proof of life insurance, next of kin contact information, and blood type on separate piece of paper [in case the original is eaten] are required before admission will be granted.


CEO DR. BECKMANN RUINS ANOTHER COUPLE DINODIGS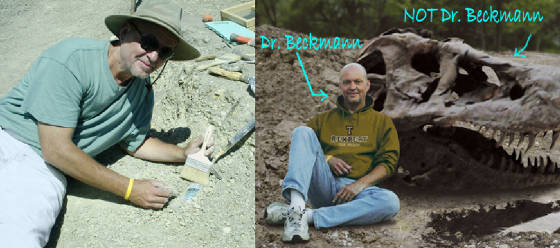 Over The Years Dr. Beckmann Has Dug Up Many Ounces Of Bones- Some Of Them Belong To Dinosaurs!
THE LATEST BUZZ, QUESTIONABLE FACTS, INNUENDO, HINTS,
ANCIENT NEWS, RUMORS AND GOSSIP...

ok, mostly just rumors and gossip,
DIRECT FROM tC4CS WATER COOLER

LAST UPDATED
27 JUNE 2015
A.D.
AKA: 66,005,320 YEARS AFTER "THE ANCIENTS" KICKED THE BUCKET
RESTROOMS MAY BE REQUIRED TO BE DINO-FREE
Could Mean Tons Of OT For Security

Center for Cretaceous Studies officials are getting ready to issue a plan to curb bias and embarassment in The Center by converting some restrooms to DinoResident-free facilities.
A suggestion from the Employee Suggestion Box [in Building G] is being introduced to the Board of Director [we only have one following yesterday's Board of Directors vs.
Linheraptor exquisitus
incident] that would require publicly available single-occupancy restrooms in all buildings on the C4CS campus to be designated as DinoResident-free. The legislation would also amend the language of the building code, which requires MUCH larger lavatories for Dinosaurs than men or women.
"This is a very important issue,"
said C4CS HR Supervisor Kay Sera, whose office is releasing a report next week recommending the changes.
"It's time to keep animals who identify as man-eaters and killers out and to use a different bathroom without fear of consequence from our visitors and employees."
The new rule would require new signage on existing restrooms to identify them as Dinosaur-free. It would not apply to multistall bathrooms. That's still a gamble, just as it always has been since, like, forever.
"We're not talking about constructing new bathrooms or spending any money, except basically purchasing a sign,"
Sera said.
"Just putting a sign on an existing bathroom will go a long way to reducing fatalities in our restrooms."
The proposal follows the annual company viewing of "Jurassic Park" and we all know how
that
restroom scene ended.
Neal Porsalen, C4CS Toilet Department Supervisor [wait. we
have
one of those?!?], said that Sera's proposal was needed and was a common-sense approach to tackling one avenue of embarassment.
"Being eaten by a DinoResident in a bathroom, it's not about the bathrooms. It's that other people try to make it that way,"
said Porsalen.
"This step is simply just a way to make things safer for everybody, to stop DinoResidents eating visitors on a daily basis that doesn't really have to exist."
Porsalen says he has experienced a near-fatal attack when trying to use the public restroom in Building K.
"I've been aware that it would not be safe for me to access the facilities appropriately,"
he said.
"So having a little sign out front where a basic necessity of the body, where we can actually go and do that without fear of being assaulted, is pretty important."
Calls to the construction company that will be erecting the signs were not immediately returned. In fact, the number seemed to be disconnected.
Read the REAL story: New York City bill would require some bathrooms to be gender-neutral
THE CRETACEOUSLAND! LINK (CLICK HERE)!
NO! WAIT!!! CLICK HERE TO RETURN TO C4CS PREVIEW PAGE
CLICK HERE TO RETURN TO TOP OF PAGE
A division of Beckmann Scientific [BS]