The CENTER
for CRETACEOUS STUDIES
THE WORLD LEADER IN LIVE DINOSAUR RESEARCH
And All The Crap Associated With Them
DASPLETOSAURS GET OK TO BUNGEE JUMP IN IP17
At 3.7 Tons They Break About 1 Crane Per Hour

PROUD MEMBER OF THE MID-AMERICA PALEONTOLOGICAL SOCIETY
even though they asked us to go away


WELCOME to the Center for Cretaceous Studies [tC4CS] Dinosaur research facility website. At this site we'll show you the day-to-day operations, the research, the screaming, and the evacuation techniques practiced here around the clock.

At the Center for Cretaceous Studies we often research and sometimes study the unstudied and unresearched aspects of Dinosaur life, both past and present. That is, when we're not attending the funerals of those doing that unstudied and unresearched stuff. However, as the ONLY research institute in the world with eating, biting, living, biting, breathing, biting, carnivorous Dinosaurs from the Cretaceous Period [wait, did we mention biting?], we have live examples just down the hall, so eh, what do we care if we discover something in fossils or not?

Our record is incomparable to any other live Dinosaur research institute on Earth. Not because our "residents" are actually live, meat-eating Dinosaurs, but mostly because we are the only ones stupid enough to house live, meat-eating Dinosaurs.

Our unofficial motto: "Museums Are Nice, But We Have Them LIVE", remains our unofficial motto to this day, mostly because we don't want to be sued by Universal Studios or Spielberg. Then again we thought it was slightly better than our previous motto: "You're Probably Going To Die Here".

Set on a gorgeous college campus-like setting, our Dinosaur research facility would be on the cover of Better Homes & Gardens if not for the... well, you-know-what's. This research institution, located near Chicago, Illinois, is home to over 158 species* - we think - and probably growing every year.

*Note: Most of our DinoCensus volunteers have never returned, so we're kinda guessing at numbers.

BOOKMARK! BOOKMARK!:
'Bookmark' this site on your Favorites or Bucket List as company news and information (below) is updated often during the winter months (northern hemisphere) and once in a while during the summer (southeastern hemisphere).

You don't want to miss any of the 'adventures'... specially if for some insane reason you actually plan to visit us in person some day.

Thanks for visiting, and we hope to see you here soon!

Proof of life insurance, next of kin contact information, and blood type on separate piece of paper [in case the original is eaten] are required before admission will be granted.


CEO DR. BECKMANN RUINS ANOTHER COUPLE DINODIGS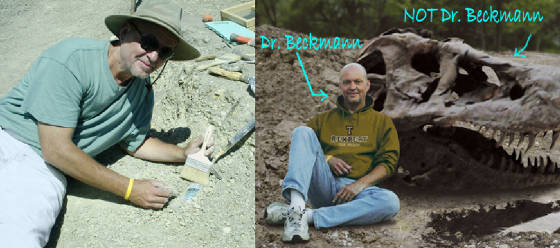 Over The Years Dr. Beckmann Has Dug Up Many Ounces Of Bones- Some Of Them Belong To Dinosaurs!
THE LATEST BUZZ, QUESTIONABLE FACTS, INNUENDO, HINTS,
ANCIENT NEWS, RUMORS AND GOSSIP...

ok, mostly just rumors and gossip,
DIRECT FROM tC4CS WATER COOLER

LAST UPDATED
8 MARCH 2014
A.D.
AKA: 66,005,319 YEARS AFTER "THE ANCIENTS" KICKED THE BUCKET
SINKHOLE CREATES NEWEST DINO-ATTRACTION
Or Maybe That Should Be Newest Attraction Creates Sinkhole

The DinoHandlers of Indoor Paddock [IP]17 have begun the extraction of eight rare
Daspletosaurus torosus
that were swallowed by a 40-foot wide sinkhole that opened up under the facility last week. At least that's the story the guys in IP17 are sticking with.
No visitors or employees were injured in the incident though 99.9% of them - or more - were listed MPE [Missing, Presumed Eaten] that occurred in the early hours of either last Tuesday or Friday before the IP was shut down for nearly 6 minutes.
The three most accessible DinoResidents will be moved this weekend to IP1 [the DinoObservation Paddock] according to IP17 Supervisor Kent Hoyt, and the entire process will be watched over carefully by paramedics from CFI Care with Life Flight choppers standing by.
The first
Daspletosaur
out was a female adult
"Killer"
that was sitting on top of first responders and remained in such good condition she was able to be lifted out before workers ran away from the hole.
Crews will next tackle a 27-ft. 4-ton male - 'tackle' probably being the wrong word to use here - that's also bungee jumped five times [4 of them successful], but a gaggle... a school... a herd... a bunch of former tourists [called 'customers' by C4CS Coroner Paul Bayer] from the IP floor are "resting" under a 16-ft. 1-ton juvenile, and must be removed simultaneously with the animal, complicating the process.
After the first three DinoResidents are recovered, the IP will start the more difficult task of digging out the remaining tourists, which are buried much deeper under the bungee jumping area. Among them are the 1 millionth and the 1.5 millionth visitors listed as MPE.
The long-term plan is to refill the hole or offer bungee jumping to other tyrannosaurid families, but there is no exact timeframe for the completion of the process.
Although the employees in IP17 are privately happy to see the DinoResidents enjoying something new [it takes their minds off eating IP17 employees], The Center has pledged to repair any Paddock employees damaged in the new attraction.
Read the REAL story: http://www.foxnews.com/leisure/2014/03/04/corvette-museum-begins-recovering-cars-from-sinkhole/
GAL ON PORCH DISCOVERS EUROPE'S LARGEST PREDATORY DINOSAUR
Animal Believed To Be Dead, No Charges Filed

A woman sitting on her porch in Portugal has discovered a new species of dinosaur -- possibly the largest land predator of any kind ever found near a porch.
A team of C4CS Paleontologists rushed... well, not so much rushed as "planned to take a boat over to Europe soon" to speak with discoverer Chrissy LaHendrickx and her husband Octávio LaHendrickx of 2281 Universidade Street, de Lisboa in Portugal. Both say the 33-foot-long Dinosaur called
Torvosaurus gurneyi
was the scourge of Jurassic Europe - a family fun park about 35 miles west of Hamburg, Germany. According to unofficial reports, the LaHendrickxi spotted the animal on Friday while having tea on their back porch.
"It was indeed better not to cross the street this way,"
local authorities said of the dead animal. Initial signs seem to indicate the animal was hit by a tiny, ugly, European sedan while jaywalking.
"
Torvosaurus gurneyi
was obviously a super predator feeding on the LaHendrickx backyard garden as well as wearing the tell-tale bright red cape. That always tells us if the animal is just a predator or a super predator."
Remains of the species were unearthed by a shovel borrowed from an amateur fossil hunter near Lisbon, Hendrickx told C4CS DigTeam Supervisor Denise Hert via international phone call [charges were reversed]. For her part Hert remained mostly unimpressed, telling the media at this morning's press conference,
"it's just a Jurassic animal site and we believe the thing to be dead."
The predator, which roamed Europe 150 million 27 thousand 4 hundred years and 7 months 3 weeks 5 days and 19 hours ago, weighed four to five tons as long as it stayed away from starchy food, had a nearly 4-foot-long skull making brushing difficult and flossing impossible, possessed powerful jaws lined with fork-shaped teeth four inches long that probably contributed to a
"lengthy and costly cell phone bill,"
Hert said.
Scientists said this is the second species of the genus
Torvosaurus
. The
Torvosaurus tanneri
, which lived outside a Tannery & Leather Works shop in North Lisbon, (hence the name) was identified in 1979, then used as car interior for a custom 1981 Ferrari.
The newly-identified predator is not only is the largest known meat-eating dinosaur from Europe, but also has the biggest feet of any land predator of any kind ever found on the continent, according to LaHendrixkx, a shoe salesman.
"This is not the largest predatory dinosaur we know,"
noted Hert at the podium earlier today.
"Tyrannosaurus
[IP18]
, Carcharodontosaurus
[IP27]
, and Giganotosaurus
[IP44]
from the Cretaceous are bigger animals"
, referring to predators that appeared on Earth after the Jurassic period fizzled.
"This animal,
Torvosaurus
, was already a fossil for 80 bazillion months before the
Tyrannosaurus rex
ever walked the Paddocks,"
Hert said, stuffing another french doughnut in her mouth.
Read the REAL story: http://www.foxnews.com/science/2014/03/06/remains-europe-largest-predatory-dinosaur-discovered-in-portugal/
BURPEE MUSEUM TO HOST 2014 PALEOFEST
Another Event We're Not Invited To Attend

Just down the road in Rockford, Illinois, the Burpee Museum is cranking up for their annual PaleoFest. Here's a little info from their website:
On March 8 & 9, 2014 PaleoFest will focus on the Cenozoic Era, or, The World After Dinosaurs. Tickets have been on sale since December 2013.

Since 1999, PaleoFest has been an ongoing success for Burpee Museum. Bringing nationally and internationally recognized paleontologists to speak every year, the draw is immense and the crow is enthralled! This family friendly event offers you the chance to meet celebrated scientists, explore the time when dinosaurs roamed the earth, and actively engage in learning about our natural world. Come watch as Burpee transforms itself for a weekend of prehistoric wonder as we present PaleoFest, a series of activities and lectures that blend professional paleontologists and the general public.

PaleoFest 2014 "The World After Dinosaurs, will focus on the Cenozoic, a time period ranging from 65 Million Years ago to the present. While there will be a few dinosaur lectures this year, most talks will focus on how mammals and non-mammals filled ecological niches previously occupied by dinosaurs, what was happening to the environments and related topics. Past speakers include Drs. Scott Sampson, Jack Horner, Mark Norell, Hans Dieter-Sues, Philip Currie, and Bob Bakker. PaleoFest has become internationally recognized for bringing together the professional scientific community with the general public and brings nearly 3,000 people from around the world annually for this one of a kind event, promoting the Rockford community every step of the way.

There are hands on activities for families, but it is also a venue for paleontologists to meet the public and introduce them to cutting-edge research. PaleoFest opens the door and makes science a public process, and allows more and more students to meet with scientists to discuss their educational pursuits.

Click On The Link For More Information!
2014 PALEOFEST AT BURPEE MUSEUM
THE CRETACEOUSLAND! LINK (CLICK HERE)!
NO! WAIT!!! CLICK HERE TO RETURN TO C4CS PREVIEW PAGE
CLICK HERE TO RETURN TO TOP OF PAGE
A division of Beckmann Scientific [BS]