The CENTER
for CRETACEOUS STUDIES
THE WORLD LEADER IN LIVE DINOSAUR RESEARCH
And All The Crap Associated With Them
SHOPPING AT THE GIFTE $HOPPE IS ALWAYS 'EXCITING'
Damaged Goods Are Non-Refundable

PROUD MEMBER OF THE MID-AMERICA PALEONTOLOGY SOCIETY
even though they asked us to go away

FOLLOW
THE CENTER FOR CRETACEOUS STUDIES
ON FACEBOOK!
what? are you kidding? how'd THAT happen?!?

Look For CEO, Founder, DR. S BECKMANN On LinkedIn
seriously, why would you do that?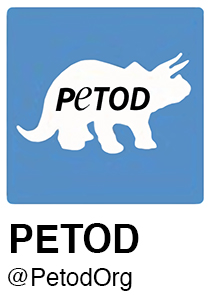 Charter Member of People for the Ethical Treatment of Dinosaurs Since Last Week
W
ELCOME to the Center for Cretaceous Studies [tC4CS] Dinosaur research institution website. Unfortunately for you, but GREAT for us, the DinoResidents have been moved to the outdoor Habitats at Cretaceousland! for the summer. Unfortunately for us, summer is ending so expect the return of the DinoResidents on the weekend of October 23 to 25. Until then our offices are closed and this site will be updated only sporadically. For the latest company information, please click on the link below:


la lala la la lala la....


Huh? What? You're still here?

Well, ummm, ok. Guess at this site we could go ahead and show you the day-to-day operations, the research, the screaming, and the evacuation techniques we 'practice' around the clock.

At the Center for Cretaceous Studies we often research and sometimes study the unstudied and unresearched aspects of Dinosaur life, both past and present. That is, when we're not attending the funerals of those doing that unstudied and unresearched stuff. However, as the ONLY research institute in the world with eating, biting, living, biting, breathing, biting, carnivorous Dinosaurs from the Cretaceous Period [wait, did we mention biting?], we have live examples just down the hall, so eh, what do we care if we discover something in fossils or not?

Our record is incomparable to any other live Dinosaur research institute on Earth. Not because our "residents" are actually live, meat-eating Dinosaurs, but mostly because we are the only ones stupid enough to house live, meat-eating Dinosaurs.

Our unofficial motto: "Museums Are Nice, But We Have Them LIVE", remains our unofficial motto to this day, mostly because we don't want to be sued by Universal Studios or that Spielberg guy. Then again we thought it was slightly better than our previous motto: "You're Probably Going To Die Here".

Set on a gorgeous college campus-like setting, our Dinosaur research facility would be on the cover of Better Homes & Gardens if not for the... well, you-know-what's. This research institution, located near Chicago, Illinois, is home to over 158 species* - we think - and probably growing every year, for all we know.

*Note: Most of our DinoCensus volunteers have never returned, so we're kinda guessing at numbers.

BOOKMARK! BOOKMARK!:
'Bookmark' this site on your Favorites or Bucket List as company news and information [below] is updated often, sometimes daily - or as long as someone is still around [alive] to write.

You don't want to miss any of the 'adventures'... specially if for some insane reason you actually plan to visit us some day. Thanks for looking, and we hope to see you here soon!

Proof of life insurance, next of kin contact information, and blood type on separate piece of paper [in case the original is eaten] are required before admission will be granted.


CEO DR. BECKMANN RUINS ANOTHER COUPLE DINODIGS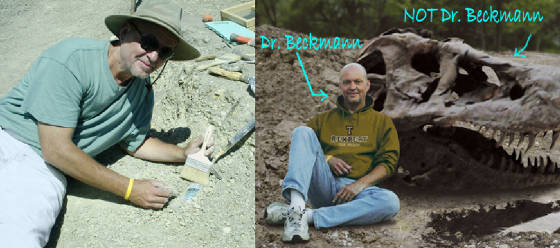 Over The Years Dr. Beckmann Has Dug Up Many Ounces Of Bones- Some Of Them Belong To Dinosaurs!
THE LATEST BUZZ, QUESTIONABLE FACTS, INNUENDO, HINTS,
ANCIENT NEWS, RUMORS AND GOSSIP...

ok, mostly just rumors and gossip,
DIRECT FROM tC4CS WATER COOLER

LAST UPDATED
4 OCTOBER 2015
A.D.
AKA: 66,005,320 YEARS AFTER "THE ANCIENTS" KICKED THE BUCKET
FARMER FINDS LARGE ANIMAL IN MICHIGAN FIELD
"After It Ate 2 Of My Farm Hands, We Figured It Might Be Alive," He Says From Hospital

Del N. Defahrmer and a couple farm hands were walking in his southern Michigan soybean field when they unearthed what looked like a giant snake, caked with mud. Instead, it was part of a tail from a
Dryptosaurus aquilunguis
, a 25-ft., 1.7-ton tyrannosaur currently [supposedly] living in Habitat 15 over in Cretaceousland! - at least according to
our
records.
A team of paleontologists from The Center and a county coroner recovered about 20 human parts in Washtenaw County's Lima Township after teams from The Center 'rescued' the big animal. Aside from the stench, they found the animal in good condition, along with numerous vertebrae, ribs and both shoulder blades of missing farm animals.
"We think that humans were here and may have been butchered by the animals and stashed so that he could come back later for it,"
Denise Hert, the C4CS scientist [we use that term lightly] who led the recovery, guessed.
Dryptosaurs
are not very common in these here parts of North America, noted a local local farmer. Remains of about 300 cows and 30 horses have been discovered in the area, said Hert, although most of the finds aren't as complete as those at The Center.
Defahrmer told the Ann Arbor News he bought the property a couple of months ago. He and his employees were walking to the gas station to buy lottery tickets when they found the odd object.
"When we yanked on that tail, he
[the
Dryptosaurus
]
just stood there with his jaw wide open and stared. And then he tore into those two guys like hot butter through a knife or something like that,"
Defahrmer said while being wheeled into a waiting ambulance.
Doctors at CFI Care said Defahrmer's bones will be cleaned and examined by researchers for cut marks that would indicate something, or so they said. Study of the crushed bones may shed light on what to do when you meet a live
Dryptosaurus
, a topic of debate among archaeologists.
Read The REAL Story: Farmer finds woolly mammoth bones in Michigan field
2015 FALL DINOMOVE IN THREE WEEKS
Grief Counselors Refuse To Come Near This Place

The 2015 Fall DinoMove is but a few weeks away, starting up on Friday evening, October 23, at 6:00pm [or whenever someone shows up to volunteer]. Already there are twice as many volunteers this time than in previous Fall DinoMove history. This, according to Fall DinoMove Supervisor Patty Pewper, may be attributed to the slightly misleading headline on the sign-up sheet which proclaims "Sign Up For Free Money!"

Authorities as CFI Care are reportedly adding extra staff for that weekend and expect to pay for another new Life Flight helicopter before the whole thing is over. The Fall DinoMove After Party will be held at The Horseshoe Road Inn, and according to owner Mick Strinks "all drink specials will be only 4 times their normal price" which is much better than the Spring DinoMove.

Sign-up sheets are located on the bulletin board outside C4CS Employee Cafeteria 2. Employees are encouraged to volunteer, or sign up someone you really don't like.
THE CRETACEOUSLAND! LINK (CLICK HERE)!
NO! WAIT!!! CLICK HERE TO RETURN TO C4CS PREVIEW PAGE
CLICK HERE TO RETURN TO TOP OF PAGE
A division of Beckmann Scientific [BS]