The CENTER
for CRETACEOUS STUDIES
THE WORLD LEADER IN LIVE DINOSAUR RESEARCH
And All The Crap Associated With Them
A COUPLE KIDS DISCOVER DINOALERT! SITE
Give 'Em Books, Tell 'Em To Get Out Of The Hallway, And They STILL Get Listed As MPE

PROUD MEMBER OF THE MID-AMERICA PALEONTOLOGY SOCIETY
even though they asked us to go away


W
ELCOME to the Center for Cretaceous Studies [tC4CS] Dinosaur research facility website. Unfortunately for us, but fortunately for
you
, the DinoResidents have returned to their Indoor Paddocks [IPs] here at The Center for the coming 2014-15 winter season.
At this site we'll show you the day-to-day operations, the research, the screaming, and the evacuation techniques practiced here around the clock. At the Center for Cretaceous Studies we often research and sometimes study the unstudied and unresearched aspects of Dinosaur life, both past and present. That is, when we're not attending the funerals of those doing that unstudied and unresearched stuff. However, as the ONLY research institute in the world with eating, biting, living, biting, breathing, biting, carnivorous Dinosaurs from the Cretaceous Period [wait, did we mention biting?], we have live examples just down the hall, so eh, what do we care if we discover something in fossils or not?

Our record is incomparable to any other live Dinosaur research institute on Earth. Not because our "residents" are actually live, meat-eating Dinosaurs, but mostly because we are the only ones stupid enough to house live, meat-eating Dinosaurs.

Our unofficial motto: "Museums Are Nice, But We Have Them LIVE", remains our unofficial motto to this day, mostly because we don't want to be sued by Universal Studios or that Spielberg guy. Then again we thought it was slightly better than our previous motto: "You're Probably Going To Die Here".

Set on a gorgeous college campus-like setting, our Dinosaur research facility would be on the cover of Better Homes & Gardens if not for the... well, you-know-what's. This research institution, located near Chicago, Illinois, is home to over 158 species* - we think - and probably growing every year.

*Note: Most of our DinoCensus volunteers have never returned, so we're kinda guessing at numbers.

BOOKMARK! BOOKMARK!:
'Bookmark' this site on your Favorites or Bucket List as company news and information (below) will be updated weekly during the summer - or as long as someone is around to write.

You don't want to miss any of the 'adventures'... specially if for some insane reason you actually plan to visit us in person some day.

Thanks for visiting, and we hope to see you here soon!

Proof of life insurance, next of kin contact information, and blood type on separate piece of paper [in case the original is eaten] are required before admission will be granted.


CEO DR. BECKMANN RUINS ANOTHER COUPLE DINODIGS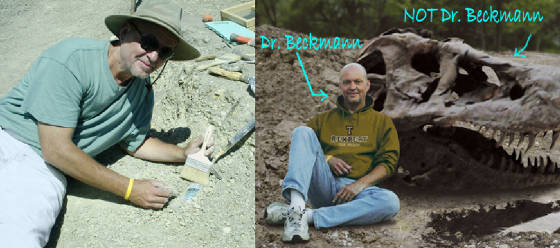 Over The Years Dr. Beckmann Has Dug Up Many Ounces Of Bones- Some Of Them Belong To Dinosaurs!
THE LATEST BUZZ, QUESTIONABLE FACTS, INNUENDO, HINTS,
ANCIENT NEWS, RUMORS AND GOSSIP...

ok, mostly just rumors and gossip,
DIRECT FROM tC4CS WATER COOLER

LAST UPDATED
4 MARCH 2015
A.D.
AKA: 66,005,320 YEARS AFTER "THE ANCIENTS" KICKED THE BUCKET
PLAYSTATION KIDS CLAIM TO HAVE LOCATED DINOALERT!
No Official Word On Funeral Arrangements

A couple of pre-teens named Paul and Allen said that they and a
"bunch of other kids"
have located the wreckage from a DinoAlert! this morning, more than 70 feet from where C4CS Security members claimed.
If confirmed as the site, the find would complete eight hours of searching by the Security team, who had pretty much given up and were last sighted sitting on barstools at The Horseshoe Road Inn, with all the high-tech equipment to find DinoAlert! damages and stuff.
A statement released by the Center for Cretaceous Studies DinoAlert! Investigation Team [we
have
one of those?!?] said the wreckage had been located by a couple of kids outfitted with a flashlight. The two discoverers, Paul and Allen [last names withheld until next of kin can be notified] are listed MPE [Missing, Presumed Eaten].
"Since a couple years ago, me and Paul have been fascinated with Dinosaur history, inspired by my father's service at The Center,"
Allen wrote in a note found near the wreckage in Hallway WW2.
"The Center is truly a marvel and, as a kid, I have a deep appreciation for the technology and effort that went into its construction. I am honored to play a part in finding this key DinoAlert! location and honoring the memory of the incredible bravery and stupidity of the men and women who worked here."
Allen tweeted out two pictures of the wreckage, which was located in Hallway WW2 off the central mezzanine, less than 12-feet below the main floor's surface.
C4CS officials have not made any public statement confirming or denying the location is the actual site of the DinoAlert!. Spokesman Kent Shuddup said they had not been informed of any such discovery.
Completed by 11:13 a.m., the DinoAlert! was one of the largest ever, with the group of DinoResidents weighing in at just under 73,000 tons and many armed with nine inch teeth. C4CS sources would only comment that
"there is so much DinoAlert! damage around here we can't tell an old site from a freshly made wreckage."
Read the REAL story: Microsoft co-founder claims to have located wreckage of Japanese WWII battleship
NTSB REPORTEDLY CONSIDERS RE-OPENING CRASH INVESTIGATION
First They Must Find Someone Who WANTS To Come Here

The National Transportation Safety Board reportedly is considering re-opening its investigation into the 1969 plane crash that kill... er, "retired" a whole bunch of former visitors as their plane attempted to leave the C4CS Int'l [Interdenominational] Airport.

C4CS Int'l Airport Supervisor Yolana Ulucky reported that a man who claims to be a retired pilot, aircraft dispatcher, and is just now coming off his meds, has petitioned the NTSB to take a second look at the case. The Civil Aeronautics Board, the NTSB's predecessor in air crash investigation, ruled that the primary cause of the crash seven feet down runway 1L, our only runway, was pilot error and "runway conditions".

That "runway conditions" is usually fancy talk for "too many DinoResidents on or near the runway ready to attack anything that moves", and has been the number one choice for reasons and/or excuses used by the over 5,000 attempted take-off and landings at C4CS Int'l.

However, the unidentified man wants investigators to consider whether problems with the plane's rudder pedals caused the pilot to lose control of the plane. He theorized that the pilot, Rex Alott, may have tried to guide the nine-engined Beechcraft Bonanza to a stop before the plane's right wing was ripped off by a very, very, large animal - unconfirmed as a DinoResident - sending it cartwheeling across the field. This was Alott's fourth attempt to take off before the crash, which was ok until the plane skidded into the aviation fuel storage tanks at the airport.

"I believe that the NTSB will review pilot's diagnostic actions in the aircraft during this 3.5-second flight attempt and realize the heroic efforts that took place in those 6.9 feet," the request said.

The NTSB responded in an e-mail dated Feb. 19, 2015, and read in part "You have got to be kidding us. We're not going inside that death trap." A final decision on a re-investigation could take several weeks as the NTSB must hire new interns to send.

"Unfortunately, our cases are never closed, and we get these goofball requests to investigate that Dinosaur place from time to time," NTSB spokesman Hugo Furst said. "The key is if there is new information not previously considered by the board. But I can tell you right now, I'll be on vacation that week."

The crash has been mortalized in books, movies, and music, with Ron McLeen's 1971 hit christening Feb. 3, 1969 as "The Day The Airport Closed."
Read the REAL story: NTSB reportedly considers re-opening probe of Buddy Holly plane crash
WEBSITE CHANGES COMING "SOON"???
May Cause Temporary Halt To This Wonderful Prose

Ok, seriously, Tripod said this "change" was going to be coming SOON. We guess "soon" was being measured in geological time. Anyway, from Tripod-Lycos:

Time To Migrate! We [Tripod-Lycos] are in the process of retiring the Trellix editor. Soon, to create a new site you will need to use Zeeblio Beta. Within the coming months we will offer automatic conversion of Trellix sites to Zeeblio Beta for paid users. Free users may either convert manually or upgrade to a paid account.

Although there is no deadline announcement, C4CS oddsmakers [the morons hanging around the water cooler instead of working] 'feel' this change will come on or around the new year. What this means to you, the reader, is one day soon this site may not be here!

STOP CRYING! Sheeeeesh. In the meantime we are doing everything possible to make the transition a smooth one, even if we are hell-bent on NOT paying for a website for such a stupid idea as this stuff.

We'll keep this announcement up for a while so all 2 of our readers see it. Rest assured, if anything happens that affects your ability to read this tripe, we'll let you know ASAP! Thanks!
THE CRETACEOUSLAND! LINK (CLICK HERE)!
NO! WAIT!!! CLICK HERE TO RETURN TO C4CS PREVIEW PAGE
CLICK HERE TO RETURN TO TOP OF PAGE
A division of Beckmann Scientific [BS]