The CENTER
for CRETACEOUS STUDIES
THE WORLD LEADER IN LIVE DINOSAUR RESEARCH
And All The Crap Associated With Them
ANNIVERSARY OF FIRST MEN TO WALK IN DINO PADDOCK
1969 Photo Borrowed From Next Of Kin

PROUD MEMBER OF THE MID-AMERICA PALEONTOLOGY SOCIETY
even though they asked us to go away


W
ELCOME to the Center for Cretaceous Studies [tC4CS] Dinosaur research facility website. Unfortunately for you, but fortunately for
us
, the DinoResidents have been moved next door to Cretaceousland! for the summer season. The Center, though it remains open, is undergoing building rehab, construction, and demolition in the meantime to repair damages done by the Dinosaurs during their stay here last winter.
What this means is, the "news and information" found below this cheerful welcome is updated only weekly -- not daily -- during the summer season. Mostly because we deserve a vacation or most of us are in the hospital. Hey, YOU try working around live, carnivorous, 9-ton Dinosaurs, pal.
___________________________________________________________________________________
All latest and updated information, news, and warnings now originates from the Cretaceousland! offices during the summer season.
Click on the link below!

CLICK HERE FOR THE LATEST C4CS INFORMATION!

_____________________________________________________________________________________________________

At this site we'll show you the day-to-day operations, the research, the screaming, and the evacuation techniques practiced here around the clock. At the Center for Cretaceous Studies we often research and sometimes study the unstudied and unresearched aspects of Dinosaur life, both past and present. That is, when we're not attending the funerals of those doing that unstudied and unresearched stuff. However, as the ONLY research institute in the world with eating, biting, living, biting, breathing, biting, carnivorous Dinosaurs from the Cretaceous Period [wait, did we mention biting?], we have live examples just down the hall, so eh, what do we care if we discover something in fossils or not?

Our record is incomparable to any other live Dinosaur research institute on Earth. Not because our "residents" are actually live, meat-eating Dinosaurs, but mostly because we are the only ones stupid enough to house live, meat-eating Dinosaurs.

Our unofficial motto: "Museums Are Nice, But We Have Them LIVE", remains our unofficial motto to this day, mostly because we don't want to be sued by Universal Studios or Spielberg. Then again we thought it was slightly better than our previous motto: "You're Probably Going To Die Here".

Set on a gorgeous college campus-like setting, our Dinosaur research facility would be on the cover of Better Homes & Gardens if not for the... well, you-know-what's. This research institution, located near Chicago, Illinois, is home to over 158 species* - we think - and probably growing every year.

*Note: Most of our DinoCensus volunteers have never returned, so we're kinda guessing at numbers.

BOOKMARK! BOOKMARK!:
'Bookmark' this site on your Favorites or Bucket List as company news and information (below) will be updated weekly during the summer - or as long as someone is around to write.

You don't want to miss any of the 'adventures'... specially if for some insane reason you actually plan to visit us in person some day.

Thanks for visiting, and we hope to see you here soon!

Proof of life insurance, next of kin contact information, and blood type on separate piece of paper [in case the original is eaten] are required before admission will be granted.


CEO DR. BECKMANN RUINS ANOTHER COUPLE DINODIGS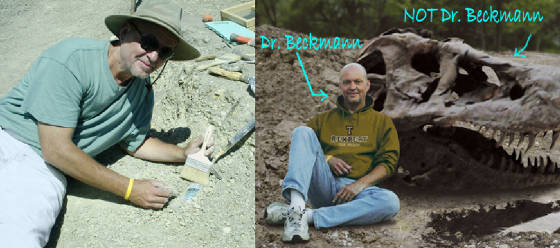 Over The Years Dr. Beckmann Has Dug Up Many Ounces Of Bones- Some Of Them Belong To Dinosaurs!
THE LATEST BUZZ, QUESTIONABLE FACTS, INNUENDO, HINTS,
ANCIENT NEWS, RUMORS AND GOSSIP...

ok, mostly just rumors and gossip,
DIRECT FROM tC4CS WATER COOLER

LAST UPDATED
27 JULY 2014
A.D.
AKA: 66,005,319 YEARS AFTER "THE ANCIENTS" KICKED THE BUCKET
GIANT CRATER IN BUILDING H's BACKYARD SPARKS MYSTERY
First Researcher To Guess Correctly Gets A BIG Prize, Says CEO

A vast crater discovered in the shrubs just outside of Building H, known to locals as
"the end of the world"
is causing a sensation in many construction crew members. And by 'many' we mean 'almost more than one'. A group of C4CS scientists is being sent to investigate. The giant hole in the bushes first came to light in a video uploaded to YerToob that has since been viewed more than seven times.
"The crater is enormous in size -- you could throw all kinds of trash into it without being afraid of hitting anything,"
the person who last saw the video, named Dee Seased, wrote.
The crater is located on the east side of Building H around 30 kilometres (18 gallons) from the huge perimeter fence line north of Parking Lot 2, roughly 2,000 acres northeast of Moscow, Idaho. Yeah. We're lost, too.
The appearance of the mysterious chasm prompted numerous conspiracy theories and speculation that it may have been caused by something otherworldly, with some even suggesting DinoResidents might be behind it. Initial theories suggesting the crater was caused by a meteorite, however, were dismissed by scientists here at The Center, if we can call them that.
In an effort to discover its mysteries, Building R sent a group of scientists into the Building H shrubs where the crater is located. Maria Leiberman, chief researcher at the Earth Crater Institute, which studies shrubbery craters, was on the phone with the team sent to scour the area.
"A thorough search showed there were no traces of people or machinery"
by the crater, Leiberman said in a statement released by local shrub and bush authorities. She said that the crater could not have been caused by a meteorite because there were no traces of very large DinoResidents going completely bonkers.
"It most likely happened when pressure to throw out some stuff resulted in someone digging a hole,"
she guessed.
"So far this is just a hypothesis, the least contradictory one. There is no proof,"
she cautioned.
Read the REAL story: http://news.yahoo.com/giant-crater-russias-far-north-sparks-mystery-090537754.html
PREPARE TO BE EXTINCTED! WARNS GOOF BALLS
Could Be Really Bad For Those Who Want To Live, They Guess

Approximately 65 million years ago [66 million years, 39 months, 84 weeks, and 9 days ago], when the Ancients [the original Dinosaurs] went extinct, 75.382% of the planet's many species went with them. It was the world's fifth, and most recent, mass extinction event.
Now, according to C4CS researchers in Building R, the Earth seems to be at the cusp of a seventh mass extinction. Where number six went, we have no idea. This time an asteroid is not to blame. We are. But if our CEO can blame an asteroid, then that's what's going to happen.
"Human impact here at The Center on Dinosaur biodiversity are a recognized form of change,"
the team of nincompoops warn in the scientific journal
My Weekly Reader.
A third of all vertebrates, the scientists write [in crayon],
"are threatened or endangered."
Coincidentally, human employees make up 1/3rd of all vertebrates here at tC4CS.
There are several long-time drivers of what the researchers call
"defaunation"
— the decline of various Dinosaur species. The study points to
"overexploitation, habitat destruction, and impacts from invasive species"
as continuing threats, but notes that soon, human-caused climate change will be the number one driver of defaunation. Diseases that come from pathogens introduced by humans are another growing threat.
The good news? The Center for Cretaceous Studies conducts a multitude of tests twice a year [why do you think we keep hiring?] and also inoculates most of the DinoResidents. Those not getting inoculations are usually the ones eating the inoculators.
As researcher Eureka Garlik wrote:
To avoid the seventh mass extinction we will probably have to employ more aggressive conservation, such as moving Dinosaur species to help them cope with a changing climate. Think re-wilding: reintroducing species like
Tarbosaurs
or
Oviraptors
that were once present in a given ecosystem but have since been moved.
As another study notes, we've already made headway in saving animals from what seemed like certain ruin.
But if humans as a species and employees as an employee don't want to take our chances with a seventh mass extinction, we need to start taking drastic measures now. Sign up sheets will be posted on the bulletin board outside C4CS Cafeteria 2. We're jut not sure what it is you'll be signing up for.
Read the REAL story: http://finance.yahoo.com/news/most-earths-species-destroyed-giant-220539502.html
THE CRETACEOUSLAND! LINK (CLICK HERE)!
NO! WAIT!!! CLICK HERE TO RETURN TO C4CS PREVIEW PAGE
CLICK HERE TO RETURN TO TOP OF PAGE
A division of Beckmann Scientific [BS]