The CENTER
for CRETACEOUS STUDIES
THE WORLD LEADER IN LIVE DINOSAUR RESEARCH
And All The Crap Associated With Them
AS INDOOR SEASON APPROACHES, SO DO TELEMARKETERS!
Who Left The Door Open AGAIN?!?

PROUD MEMBER OF THE MID-AMERICA PALEONTOLOGY SOCIETY
even though they asked us to go away

FOLLOW
THE CENTER FOR CRETACEOUS STUDIES
ON FACEBOOK!
what? are you kidding? how'd THAT happen?!?

Look For CEO, Founder, DR. S BECKMANN On LinkedIn
seriously, why would you do that?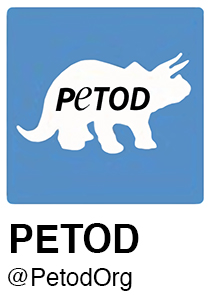 Charter Member of People for the Ethical Treatment of Dinosaurs Since Last Week
W
ELCOME to the Center for Cretaceous Studies [tC4CS] Dinosaur research institution website. Unfortunately for you, but GREAT for us, the DinoResidents have been moved to the outdoor Habitats at Cretaceousland! for the summer. Unfortunately for us, summer is coming to an end soon so expect the return of the DinoResidents sometime in October. Until then our offices are closed and this site will be updated only sporadically. For the latest company information, please click on the link below:


la lala la la lala la....


Huh? What? You're still here?

Well, ummm, ok. Guess at this site we could go ahead and show you the day-to-day operations, the research, the screaming, and the evacuation techniques we 'practice' around the clock.

At the Center for Cretaceous Studies we often research and sometimes study the unstudied and unresearched aspects of Dinosaur life, both past and present. That is, when we're not attending the funerals of those doing that unstudied and unresearched stuff. However, as the ONLY research institute in the world with eating, biting, living, biting, breathing, biting, carnivorous Dinosaurs from the Cretaceous Period [wait, did we mention biting?], we have live examples just down the hall, so eh, what do we care if we discover something in fossils or not?

Our record is incomparable to any other live Dinosaur research institute on Earth. Not because our "residents" are actually live, meat-eating Dinosaurs, but mostly because we are the only ones stupid enough to house live, meat-eating Dinosaurs.

Our unofficial motto: "Museums Are Nice, But We Have Them LIVE", remains our unofficial motto to this day, mostly because we don't want to be sued by Universal Studios or that Spielberg guy. Then again we thought it was slightly better than our previous motto: "You're Probably Going To Die Here".

Set on a gorgeous college campus-like setting, our Dinosaur research facility would be on the cover of Better Homes & Gardens if not for the... well, you-know-what's. This research institution, located near Chicago, Illinois, is home to over 158 species* - we think - and probably growing every year, for all we know.

*Note: Most of our DinoCensus volunteers have never returned, so we're kinda guessing at numbers.

BOOKMARK! BOOKMARK!:
'Bookmark' this site on your Favorites or Bucket List as company news and information [below] is updated often, sometimes daily - or as long as someone is still around [alive] to write.

You don't want to miss any of the 'adventures'... specially if for some insane reason you actually plan to visit us some day. Thanks for looking, and we hope to see you here soon!

Proof of life insurance, next of kin contact information, and blood type on separate piece of paper [in case the original is eaten] are required before admission will be granted.


CEO DR. BECKMANN RUINS ANOTHER COUPLE DINODIGS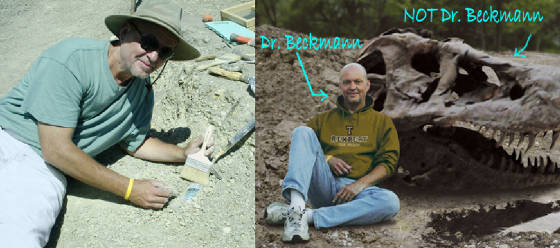 Over The Years Dr. Beckmann Has Dug Up Many Ounces Of Bones- Some Of Them Belong To Dinosaurs!
THE LATEST BUZZ, QUESTIONABLE FACTS, INNUENDO, HINTS,
ANCIENT NEWS, RUMORS AND GOSSIP...

ok, mostly just rumors and gossip,
DIRECT FROM tC4CS WATER COOLER

LAST UPDATED
2 SEPTEMBER 2015
A.D.
AKA: 66,005,320 YEARS AFTER "THE ANCIENTS" KICKED THE BUCKET
WHY A REPORTER'S SIGHTING WAS SO RARE
Duh. It's A Dinosaur. Next Question.

You know that feeling when you see something shocking mid-conversation and totally lose your cool? Well that's what a reporter did when he saw a
Beishanlong grandis
during an interview with CEO and founder Dr. S Beckmann.
"Oh, stop. I'm so sorry. I've just found out -- this is incredible -- I've heard word that we have in our room a live Dinosaur!,"
reporter Sven Shallbeback says.
If you're unfamiliar with DinoResidents you might be thinking,
"Okay, but people see Dinosaurs here all the time."
And that's true, but this was a 23-ft., 1200-lb. animal, which is the largest animal to ever horn in on an interview with Dr. Beckmann.
Although the species can be found in Habitat 82 at Cretaceousland!, the International Union of Nature Lists says the species as endangered, and who are we to argue, with only 10-25 left in the world - and guess where those 10-25 are?
The endangered species label is a result of a 'slight' gap of 66 million years. In the 1960s,
Beishanlongs
were given protection when they moved into their very own Indoor Paddock here at The Center, and pestering the species was outlawed.
"This is one of the most extraordinary things I've ever seen. ... Some of these
Beishanlong
are the size of 1984 Toyotas or small bungalows,"
ShallbeBack said.
Even though pestering them is illegal, visitors are encouraged to walk right into their live outdoor Habitat at Cretaceousland! for a looksie. Other factors are making the DinoResident's main food source, meat, harder to find,
"so please,"
added Dr. Beckmann,
"go on in."
Read The REAL Story: Why a BBC reporter's blue whale sighting was so rare
THE CRETACEOUSLAND! LINK (CLICK HERE)!
NO! WAIT!!! CLICK HERE TO RETURN TO C4CS PREVIEW PAGE
CLICK HERE TO RETURN TO TOP OF PAGE
A division of Beckmann Scientific [BS]