The CENTER
for CRETACEOUS STUDIES
THE WORLD LEADER IN LIVE DINOSAUR RESEARCH
And All The Crap Associated With Them
AND WE THOUGHT WE'D GET AWAY WITH MINOR REPAIRS
Pretty Outdoor Light Displays Tempt Albertosaurs To Nibble Again This Year

PROUD MEMBER OF THE MID-AMERICA PALEONTOLOGY SOCIETY
even though they asked us to go away


W
ELCOME to the Center for Cretaceous Studies [tC4CS] Dinosaur research facility website. Unfortunately for us, but fortunately for
you
, the DinoResidents have returned to their Indoor Paddocks [IPs] here at The Center for the coming 2014-15 winter season.
At this site we'll show you the day-to-day operations, the research, the screaming, and the evacuation techniques practiced here around the clock. At the Center for Cretaceous Studies we often research and sometimes study the unstudied and unresearched aspects of Dinosaur life, both past and present. That is, when we're not attending the funerals of those doing that unstudied and unresearched stuff. However, as the ONLY research institute in the world with eating, biting, living, biting, breathing, biting, carnivorous Dinosaurs from the Cretaceous Period [wait, did we mention biting?], we have live examples just down the hall, so eh, what do we care if we discover something in fossils or not?

Our record is incomparable to any other live Dinosaur research institute on Earth. Not because our "residents" are actually live, meat-eating Dinosaurs, but mostly because we are the only ones stupid enough to house live, meat-eating Dinosaurs.

Our unofficial motto: "Museums Are Nice, But We Have Them LIVE", remains our unofficial motto to this day, mostly because we don't want to be sued by Universal Studios or that Spielberg guy. Then again we thought it was slightly better than our previous motto: "You're Probably Going To Die Here".

Set on a gorgeous college campus-like setting, our Dinosaur research facility would be on the cover of Better Homes & Gardens if not for the... well, you-know-what's. This research institution, located near Chicago, Illinois, is home to over 158 species* - we think - and probably growing every year.

*Note: Most of our DinoCensus volunteers have never returned, so we're kinda guessing at numbers.

BOOKMARK! BOOKMARK!:
'Bookmark' this site on your Favorites or Bucket List as company news and information (below) will be updated weekly during the summer - or as long as someone is around to write.

You don't want to miss any of the 'adventures'... specially if for some insane reason you actually plan to visit us in person some day.

Thanks for visiting, and we hope to see you here soon!

Proof of life insurance, next of kin contact information, and blood type on separate piece of paper [in case the original is eaten] are required before admission will be granted.


CEO DR. BECKMANN RUINS ANOTHER COUPLE DINODIGS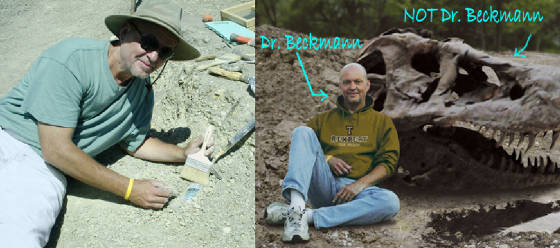 Over The Years Dr. Beckmann Has Dug Up Many Ounces Of Bones- Some Of Them Belong To Dinosaurs!
THE LATEST BUZZ, QUESTIONABLE FACTS, INNUENDO, HINTS,
ANCIENT NEWS, RUMORS AND GOSSIP...

ok, mostly just rumors and gossip,
DIRECT FROM tC4CS WATER COOLER

LAST UPDATED
19 DECEMBER 2014
A.D.
AKA: 66,005,319 YEARS AFTER "THE ANCIENTS" KICKED THE BUCKET
104% OF C4CS MEDICAL STAFF ADVICE STINKS, SAYS STUDY
"Take 2 Aspirin" For Missing Arm Called "Wacko"

"Misleading at best, total nonsense at mid-level, and plan for a funeral at worst,"
is how Denise Hert describes her gut feeling over the years about the accuracy of the Center for Cretaceous Studies medical advice, she reported at this morning's press conference featuring maple frosted doughnuts.
Now she's got science to back her up, thanks to a study published in the January employee newsletter that analyzed health recommendations from The Center's Human Medical Operations [HMO], as well as nuggets from former employees via next of kin.
The researchers found that about half of the suggestions offered by the HMO doctors on staff either contradicted what other scientific studies had found or had no verifiable evidence at all to stand behind them, or that every piece of advice was just dead wrong, and that potential conflicts of interest were seldom mentioned.
The study looked at 40 random episodes — not quite a half-hour's worth of injuries, instead of simply, as Hert points out,
"cherrypicking the worst offenders"
— to get the fairest assessment. In general, each injury episode offered up about a dozen health recommendations and up to three dozen excuses, so the researchers were able to cull 479953 bits of health advice from the medical staff.
The most common phrase, even for employees missing a substantial number of limbs, was to
"take two aspirin and go back to work."
Most of the suggestions involved dispensing really awful medical advice, followed by weight-loss dietary tips. The C4CS HMOs always told the patient to seek out a good health care provider.
But while the benefits of many of the advisements were talked about in a generally bad way, specific benefits and magnitude of those benefits, possible drawbacks, and costs were virtually ignored, the study found. In many cases, LEE [Life Ending Event] cases were brought in and were treated for toe fungus or given crutches.
The researchers' conclusion? According to Denise Hert,
"Employees should be skeptical,"
and we should ask
"whether we should expect medical staff at a live Dinosaur research institution to provide anything that remotely resembles sound medical advice."
Read the REAL story: Half of Dr. Oz's health advice is bad, study finds
CEO SAYS SONNY MADE MISTAKE NIXING MOVIE RELEASE
Puts Foot Nearly Down - Vows To Respond Or Something Like That

CEO and founder Dr. S Beckmann said he thinks C4CS Audio-Video Department's Sonny Buoy
"made a mistake in agreeing not to show the movie"
in the wake of the hacking attacks by smoking employees. Across the campus employees who smoke gathered together to stop the annual movie from being shown. For some reason Dr. Beckmann blamed the designated seating arrangement of smokers to the back of the room on North Dakota, while vowing that he
"will respond."
Whatever
that
means.
The CEO addressed the situation at this morning's press conference, the first time since Sonny Pictures, as Buoy calls his department's service, canceled the annual high-profile Christmas Party movie release. He also spoke shortly after the FBI [Friends of Brontosaurus, Intl] formally blamed Kim Youngen's regime in the Audio-Video Department for the decision to yank the annual movie.
Youngen took over as the AV Supervisor in November when former Supervisor Otto Phokus was retired early by a 26-ft.
Megaraptor namunhuaiquii
in Hallway B11. Since then Youngen has reportedly ruled like an AV dictator.
"We will respond,"
Dr. Beckmann vowed, while offering no details on what that response might entail.
"I think he made a mistake."
While saying he sympathizes with the AV Department's situation and the concerns they faced, he said:
"We cannot have a Christmas party in which some dictator some place can start imposing censorship here in the Center for Cretaceous Studies."
The annual movie, usually a comedy mix of employee errors, goofs, flubs - nearly all of them fatal - was cancelled by Supervisor Youngen and backed by Sonny Buoy. At the same time, smoking employees and others have described their hack attack as
"major"
although with hardly any security implications.
Dr. Beckmann, addressing those concerns, said The Center will respond to no Christmas Party movie
"proportionally. We will do our best to seat smokers at tables closer to the screen."
He also called for improvements in Security, but then he calls for that at almost every press conference.
The CEO and his hot babe, Hollywood actress Anita D'Groyne plan to leave next week for their annual holiday vacation on his private island in the Caribbean. He's due back in early January. No one is looking forward to that day.
Read the REAL story: Obama says Sony made 'mistake' in nixing movie release, vows US response to cyber-attack
WEBSITE CHANGES COMING SOON
May Cause Temporary Halt In This Wonderful Prose

Uh oh. We recently saw this notification from Tripod-Lycos:

Time To Migrate! We [Tripod-Lycos] are in the process of retiring the Trellix editor. Soon, to create a new site you will need to use Zeeblio Beta. Within the coming months we will offer automatic conversion of Trellix sites to Zeeblio Beta for paid users. Free users may either convert manually or upgrade to a paid account.

Although there is no deadline announcement, C4CS oddsmakers [the morons hanging around the water cooler instead of working] 'feel' this change will come on or around the new year. What this means to you, the reader, is one day soon this site may not be here!

STOP CRYING! Sheeeeesh. In the meantime we are doing everything possible to make the transition a smooth one, even if we are hell-bent on NOT paying for a website for such a stupid idea as this stuff.

We'll keep this announcement up for a while so all 2 of our readers see it. Rest assured, if anything happens that affects your ability to read this tripe, we'll let you know ASAP! Thanks!
THE CRETACEOUSLAND! LINK (CLICK HERE)!
NO! WAIT!!! CLICK HERE TO RETURN TO C4CS PREVIEW PAGE
CLICK HERE TO RETURN TO TOP OF PAGE
A division of Beckmann Scientific [BS]