The CENTER
for CRETACEOUS STUDIES
THE WORLD LEADER IN LIVE DINOSAUR RESEARCH
And All The Crap Associated With Them
WHAT'S-HIS-NAME AND ANITA DeGROYNE ATTEND PREMIERE
CEO Gives "Dinosaur 13" Three Thumbs Up During Last Weekends Appearance

PROUD MEMBER OF THE MID-AMERICA PALEONTOLOGY SOCIETY
even though they asked us to go away


W
ELCOME to the Center for Cretaceous Studies [tC4CS] Dinosaur research facility website. Unfortunately for you, but fortunately for
us
, the DinoResidents have been moved next door to Cretaceousland! for the summer season. The Center, though it remains open, is undergoing building rehab, construction, and demolition in the meantime to repair damages done by the Dinosaurs during their stay here last winter.
What this means is, the "news and information" found below this cheerful welcome is updated only weekly -- not daily -- during the summer season. Mostly because we deserve a vacation or most of us are in the hospital. Hey, YOU try working around live, carnivorous, 9-ton Dinosaurs, pal.
___________________________________________________________________________________
All latest and updated information, news, and warnings now originates from the Cretaceousland! offices during the summer season.
Click on the link below!

CLICK HERE FOR THE LATEST C4CS INFORMATION!

_____________________________________________________________________________________________________

At this site we'll show you the day-to-day operations, the research, the screaming, and the evacuation techniques practiced here around the clock. At the Center for Cretaceous Studies we often research and sometimes study the unstudied and unresearched aspects of Dinosaur life, both past and present. That is, when we're not attending the funerals of those doing that unstudied and unresearched stuff. However, as the ONLY research institute in the world with eating, biting, living, biting, breathing, biting, carnivorous Dinosaurs from the Cretaceous Period [wait, did we mention biting?], we have live examples just down the hall, so eh, what do we care if we discover something in fossils or not?

Our record is incomparable to any other live Dinosaur research institute on Earth. Not because our "residents" are actually live, meat-eating Dinosaurs, but mostly because we are the only ones stupid enough to house live, meat-eating Dinosaurs.

Our unofficial motto: "Museums Are Nice, But We Have Them LIVE", remains our unofficial motto to this day, mostly because we don't want to be sued by Universal Studios or Spielberg. Then again we thought it was slightly better than our previous motto: "You're Probably Going To Die Here".

Set on a gorgeous college campus-like setting, our Dinosaur research facility would be on the cover of Better Homes & Gardens if not for the... well, you-know-what's. This research institution, located near Chicago, Illinois, is home to over 158 species* - we think - and probably growing every year.

*Note: Most of our DinoCensus volunteers have never returned, so we're kinda guessing at numbers.

BOOKMARK! BOOKMARK!:
'Bookmark' this site on your Favorites or Bucket List as company news and information (below) will be updated weekly during the summer - or as long as someone is around to write.

You don't want to miss any of the 'adventures'... specially if for some insane reason you actually plan to visit us in person some day.

Thanks for visiting, and we hope to see you here soon!

Proof of life insurance, next of kin contact information, and blood type on separate piece of paper [in case the original is eaten] are required before admission will be granted.


CEO DR. BECKMANN RUINS ANOTHER COUPLE DINODIGS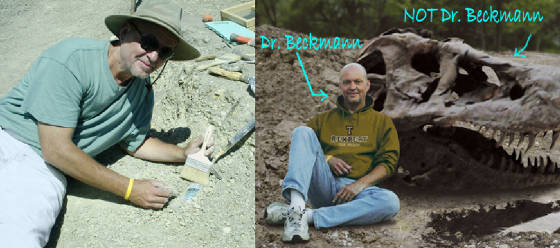 Over The Years Dr. Beckmann Has Dug Up Many Ounces Of Bones- Some Of Them Belong To Dinosaurs!
THE LATEST BUZZ, QUESTIONABLE FACTS, INNUENDO, HINTS,
ANCIENT NEWS, RUMORS AND GOSSIP...

ok, mostly just rumors and gossip,
DIRECT FROM tC4CS WATER COOLER

LAST UPDATED
20 AUGUST 2014
A.D.
AKA: 66,005,319 YEARS AFTER "THE ANCIENTS" KICKED THE BUCKET
CENTER REPORTEDLY ASKING EMPLOYEES TO PAY TO WORK HERE
Parking Still Free

The Center for Cretaceous Studies is a DinoResident lovers biggest stage. It's also the most-ambulanced American research institution. In recognition of this, the C4CS has asked some of the employees to pay The Center to work here according to a published report found in the Men's Room on level 4 of Building F.

C4CS spokesman Kent Shuddup reported today that The Center has notified Rihanna Haas, Kathy Pery, and Brent Coldplay that they are under consideration to pay a fee to be able to work with live Dinosaurs. In the process of notifying them, Shuddup reported that The Center has also asked some of the other employees to either give a portion of their income to The Center or make some type of financial contribution in exchange for being offered the job.

Employees familiar with the matter told a packed Conference Room 1 that The Center's request received a "chilly reception" from the employees. All three employees are currently working in the warehouse freezer section until the DinoResidents return this autumn. The C4CS does not pay very well, though The Center typically covers the parking and up to 1/64th of ambulance expenses.

Spokesman Shuddup said that the C4CS's contracts with employees were confidential and said The Center's only goal was to "make money... I mean enhance our employee's time here, no matter how short it is." Shuddup also said that the offer is only good for those employees working with smaller species. "Everyone else works here for a few hours and then they're gone, so we can't make any money off that now, can we?"

Last year, an estimated 115 billion potential employees stayed away from The Center. According to the Numbers & Estimation Dept., the entire 2013-14 winter season employed over 112.2972.1 million people. The 8 survivors should be going home from CFI Care next month.

Read the REAL story: http://www.foxnews.com/entertainment/2014/08/20/nfl-reportedly-asking-music-acts-to-pay-for-playing-super-bowl-halftime-show/?intcmp=latestnews
ANITA DeGROYNE AND SOME GUY ATTEND PREMIER OF DINOSAUR 13
Drops His Goobers

There was a buzz in the air this past Friday night as the new undies, er, indie film
"Dinosaur 13"
premiered in Chicago. Moments later the Center for Cretaceous Studies Security team fired a few shotgun blasts into the night sky knocking down several drones and the buzzing pretty much stopped.
CEO and founder Dr. S Beckmann attended th... aw, who cares? What everyone was climbing over everyone else for, was the moment when Hollywood actress, movie and TV star, hot babe and somehow Dr. Beckmann's girlfriend Anita DeGroyne walked the red carpet wearing a beautiful purple evening gown designed by Elizabeth Gillett Ltd [like we really care] and a handbag by.... really? Are you
still
reading this?
Seated in Row 19 with Dr. Beckmann's seat behind a support column, the two enjoyed what the CEO reviewed as,
"A movie."
The Center was well represented at the premiere as ticket give-aways throughout last week meant a lot of employees would be enjoying comfortable seating munching popcorn in air conditioned comfort as opposed to being chased around by man-eating DinoResidents. The place was packed.
Even tC4CS resident film critic Otto Phokus said he was
"pleasantly surprised"
at the film, which is the story behind
"Sue"
-- the
Tyrannosaurus rex
fossil at Chicago's Field Museum of Natural History -- and how the U.S. government screwed over our friends at The Black Hills Institute of Geological Research.
"It's not 'Gone With The Wind',"
said Phokus, still slurping his 188-oz Coca-Cola,
"and even if it was, why would they burn Atlanta in a dinosaur movie?"
Phokus went on to say - after another slurp - the documentary style of the movie goes well with the book it is based on. A book he has never read.
"Hey. I'm a movie critic, not a book critic,"
he argued.
Many C4CS employees said they would refuse to pay their taxes next year because of the mistreatment of the people at BHI. Ha.. these people work with live Dinosaurs. It's unlikely they'll be
able
to pay taxes next year, even if they're still alive.
Habitat 83 DinoFeeder Bud Tuggli said,
"My wife and I were having a great time until some idiot behind us dropped what seemed like 5 or 6 boxes of Goobers. You could hear them rolling all the way down to the first row. I'd like to find out who that moron was and punch him in the nose."
Tuggli and his lovely wife, Vera, were sitting in Row 18.
THE CRETACEOUSLAND! LINK (CLICK HERE)!
NO! WAIT!!! CLICK HERE TO RETURN TO C4CS PREVIEW PAGE
CLICK HERE TO RETURN TO TOP OF PAGE
A division of Beckmann Scientific [BS]