The CENTER
for CRETACEOUS STUDIES
THE WORLD LEADER IN LIVE DINOSAUR RESEARCH
And All The Crap Associated With Them
2018 TELETHON DRIVE ENDS IN NEGATIVE FUNDS AGAIN
We're Not Sure WHO Keeps Pilfering The Funds To Use In The Coffee Machine

PROUD MEMBER OF THE MID-AMERICA PALEONTOLOGY SOCIETY
even though they asked us to go away

FOLLOW
THE CENTER FOR CRETACEOUS STUDIES
ON FACEBOOK!
what? are you kidding? how'd THAT happen?!?

Look For CEO, Founder, DR. S BECKMANN On LinkedIn
seriously, why would you do that?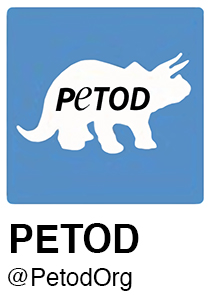 Charter Member of People for the Ethical Treatment of Dinosaurs Since Last Week
WELCOME to the Center for Cretaceous Studies [C4CS] LIVE Dinosaur research institution website. The animals [that is, the Dinosaurs, not the staff], have been moved outdoors to their summer homes at Cretaceousland!. However, this means it is nearly safe enough to walk around inside giant, although empty, Indoor Paddocks [IPs] at your leisure. We're pretty sure we got all the animals out.
Here at the Center for Cretaceous Studies we often research and sometimes study the unstudied and unresearched aspects of Dinosaur life, both past and present. That is, when we're not attending the funerals of those doing that unstudied and unresearched stuff. However, as the ONLY research institute in the world with eating, biting, living, biting, breathing, biting, carnivorous Dinosaurs from the Cretaceous Period [wait, did we mention biting?], we have live examples just down the hall, so eh, what do we care if we discover something in fossils or not?

Our record is incomparable to any other live Dinosaur research institute on Earth. Not because our "residents" are actually live, meat-eating Dinosaurs, but mostly because we are the only ones stupid enough to house live, meat-eating Dinosaurs. You're sure we mentioned "biting", right?

Our unofficial motto: "Museums Are Nice, But We Have Them LIVE", remains our unofficial motto to this day, mostly because we don't want to be sued by Universal Studios or that Spielberg guy. Then again we thought it was slightly better than our previous motto: "You're Probably Going To Die Here".

Set on a gorgeous college campus-like setting, our Dinosaur research facility would be on the cover of Better Homes & Gardens if not for the... well, you-know-what's. This research institution, located southwest of Chicago, Illinois, is home to over 158 species* - we think - and probably growing every year, for all we know.

*Note: Most of our DinoCensus volunteers have never returned, so we're kinda guessing at numbers.

BOOKMARK! BOOKMARK!:
'Bookmark' this site on your Favorites or Bucket List as company news and information [below] is updated nearly every weekend - or as long as someone is still around [alive] to write.

You don't want to miss any of the 'adventures'... specially if for some insane reason you actually plan to visit us some day. Thanks for looking, and we hope to see you here soon!

Proof of life insurance, next of kin contact information, and blood type on separate piece of paper [in case the original is eaten] are required before admission will be granted.


CEO DR. BECKMANN RUINS ANOTHER COUPLE DINODIGS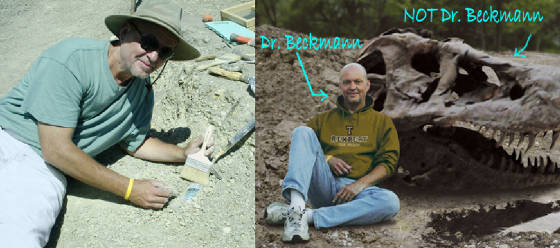 Over The Years Dr. Beckmann Has Dug Up Many Ounces Of Bones- Some Of Them Belong To Dinosaurs!
THE WEEK IN REVIEW BUZZ
QUESTIONABLE FACTS, INNUENDO, HINTS,
ANCIENT NEWS, RUMORS AND GOSSIP...

ok, mostly just rumors and gossip,
DIRECT FROM tC4CS WATER COOLER

LAST UPDATED
9 AUGUST 2018
A.D.
AKA: 66,005,323 YEARS AFTER "THE ANCIENTS" KICKED THE BUCKET
CEO SAYS THIS DUMP IS "ABSOLUTE AND TOTAL DISASTER"
"Eh, Big Whoop," Say Employees. "He Always Says That."

The Center for Cretaceous Studies CEO and founder, Dr. S Beckmann weighed in on the recent string of missing employees and tourists in Cretaceousland! and on the grounds of The Center on Thursday, labeling the bloodshed that's left at least 11,8234,092,298,321.7 people reported as MPE [Missing, Presumed Eaten] and 70 others injured [since last Tuesday] an
"absolute and total disaster."
>br>
Speaking at a program reform roundtable at Building K, alongside Habitat and Indoor Paddock supervisors, the CEO laid much of the blame for the violence at the feet of the leadership.
That
didn't go over too well.
"We must strengthen bonds with our animals, bonds which, up until now, have been an absolute and total disaster,"
Dr. Beckmann said.
"We'll be talking about those bonds today because that is something that – in terms of this company – nobody would believe it could be happening. I sure didn't think it would.

"Bad stuff happening,"
the Big Shot [BS] continued.
"And probably, I guess you have to take from the leadership. It's called bad leadership. There's no reason in 66 million years that something like that should be happening in Chicago."
Yeah, it was right about at this point where several supervisors suddenly "had" to leave the room.
"Our souls are burdened,"
IP Supervisor Ron Forret said in response.
"It is unacceptable to happen to any person in a leadership position at this dump. We are a better organization. Well, I hope we are... maybe?"
Thursday's meeting in Building K was largely with officials representing live DinoResident living areas that have implemented changes similar to those backed by several years of similar feeble attempts, C4CS spokesman Kent Shuddup said. After 63 people were listed MPE over the weekend, Cretaceousland! Habitat Supervisor Nadia Baliemee says the community needs more resources to fight the violence. Or less DinoResidents.
The administration has been pressing the C4CS Board of Director [we only have one since Monday's C4CS Board of Directors vs. 26
Buitreraptor gonzalezorum
"incident"] that would provide The Center with $50 million over the next five years for fence treatment, education and job-skills programs. Dr. Beckmann said he has felt
"very, very strongly"
about wanting every child to grow up in a safe neighborhood with a live Dinosaur Research Institute next door, surrounded by families that are loving and helpful and know CPR, and with a path to great education and a life-long career.
Read The REAL Story: Trump says Chicago shootings are 'absolute and total disaster'


HERE IT IS!!!
GET THE INSIDE STORY OF THE CENTER FOR CRETACEOUS STUDIES!!
Most Likely THE BEST Live Dinosaur Research Institution Book Every Written Without Typohs

NOW you can get your paperback or eBook, the aptly titled The Center for Cretaceous Studies from AuthorHouse, Amazon, or Barnes & Noble! If you're on this site then we're pretty sure you know what kind of book to expect.

Where can you get it? Search no more!

An eBook is available exclusively from the AuthorHouse site. The paperback only is for sale online from the fine bookstores listed below. Just type in 'Center for Cretaceous Studies' when you get there:

AuthorHouse (eBook and paperback)
THE CRETACEOUSLAND! LINK (CLICK HERE)!
NO! WAIT!!! CLICK HERE TO RETURN TO C4CS PREVIEW PAGE
CLICK HERE TO RETURN TO TOP OF PAGE
A division of Beckmann Scientific [BS]