The CENTER
for CRETACEOUS STUDIES
THE WORLD LEADER IN LIVE DINOSAUR RESEARCH
And All The Crap Associated With Them
THE ALL-NEW IP85 IS A BIG HIT, SAYS DINOFEEDER
Now If We Can Only Get Someone Out Alive We Could Ask Them!

PROUD MEMBER OF THE MID-AMERICA PALEONTOLOGY SOCIETY
even though they asked us to go away

FOLLOW
THE CENTER FOR CRETACEOUS STUDIES
ON FACEBOOK!
what? are you kidding? how'd THAT happen?!?

Look For CEO, Founder, DR. S BECKMANN On LinkedIn
seriously, why would you do that?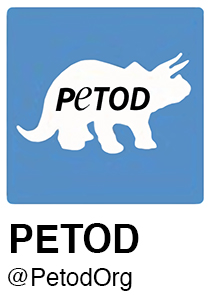 Charter Member of People for the Ethical Treatment of Dinosaurs Since Last Week
WELCOME to the Center for Cretaceous Studies [tC4CS] LIVE Dinosaur research institution website. The animals [that is, the Dinosaurs and not the staff], have been moved outdoors to their summer homes at Cretaceousland!. Now is the absolute WORST time to visit The DinoResidents are here -- back indoors, so your chances of getting out of here alive have fallen like stock in the Weinstein Company.
Here at the Center for Cretaceous Studies we often research and sometimes study the unstudied and unresearched aspects of Dinosaur life, both past and present. That is, when we're not attending the funerals of those doing that unstudied and unresearched stuff. However, as the ONLY research institute in the world with eating, biting, living, biting, breathing, biting, carnivorous Dinosaurs from the Cretaceous Period [wait, did we mention biting?], we have live examples just down the hall, so eh, what do we care if we discover something in fossils or not?

Our record is incomparable to any other live Dinosaur research institute on Earth. Not because our "residents" are actually live, meat-eating Dinosaurs, but mostly because we are the only ones stupid enough to house live, meat-eating Dinosaurs.

Our unofficial motto: "Museums Are Nice, But We Have Them LIVE", remains our unofficial motto to this day, mostly because we don't want to be sued by Universal Studios or that Spielberg guy. Then again we thought it was slightly better than our previous motto: "You're Probably Going To Die Here".

Set on a gorgeous college campus-like setting, our Dinosaur research facility would be on the cover of Better Homes & Gardens if not for the... well, you-know-what's. This research institution, located southwest of Chicago, Illinois, is home to over 158 species* - we think - and probably growing every year, for all we know.

*Note: Most of our DinoCensus volunteers have never returned, so we're kinda guessing at numbers.

BOOKMARK! BOOKMARK!:
'Bookmark' this site on your Favorites or Bucket List as company news and information [below] is updated nearly every weekend - or as long as someone is still around [alive] to write.

You don't want to miss any of the 'adventures'... specially if for some insane reason you actually plan to visit us some day. Thanks for looking, and we hope to see you here soon!

Proof of life insurance, next of kin contact information, and blood type on separate piece of paper [in case the original is eaten] are required before admission will be granted.


CEO DR. BECKMANN RUINS ANOTHER COUPLE DINODIGS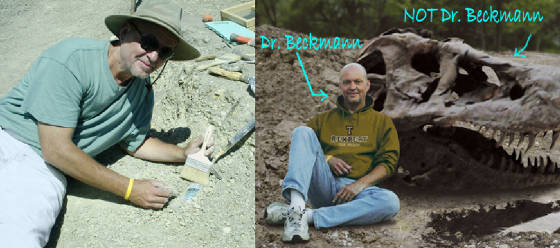 Over The Years Dr. Beckmann Has Dug Up Many Ounces Of Bones- Some Of Them Belong To Dinosaurs!
THE WEEK IN REVIEW BUZZ
QUESTIONABLE FACTS, INNUENDO, HINTS,
ANCIENT NEWS, RUMORS AND GOSSIP...

ok, mostly just rumors and gossip,
DIRECT FROM tC4CS WATER COOLER

LAST UPDATED
11 NOVEMBER 2017
A.D.
AKA: 66,005,322 YEARS AFTER "THE ANCIENTS" KICKED THE BUCKET
CENTER ASKS FOR "COMFORT DINO" BACK
Too Many Who Need Help Are Being Eaten, Says Legal Department

A Florida man has been served with a return notice over his emotional support
Daspletosaurus horneri
.
Bryan Roylan, 40, of Indoor Paddock [IP]65, says he needs Brutis to deal with anxiety from a long ago accident but The Center says the carnivorous Cretaceous Period creature needs to vacate the premises because he is being selfish in keeping the animal for so long.
"I am not sure how any animal that weighs less than 22,000 pounds can harm anyone,"
he told anyone who would listen.
Roylan told his Supervisor he fell in love with Brutis after he was nursed back to health more than a year ago. The
Daspletosaur
has the run of Roylan's apartment building. One of her perches is the next door neighbor's minivan.
"There's just no way I would give her up,"
he told reporters Friday.
The C4CS Board of Director [we only have one following Tuesday's C4CS Board of Directors vs.
Tyrannosaurus rex
"incident"] found out about Brutis in October when a dog was eaten. Well, ok, make that every dog in the neighborhood -- and by "neighborhood" we mean 12-square mile area.
Royland was served with return papers last month.
The complaint says Roylan never submitted paperwork claiming Brutis was an emotional support animal until this past weekend, according to Hugh Kidding, C4CS Supervisor.
Roylan says his personal doctor gave him a note for the
Daspletosaurus
in July
"due to his emotional disability.
"
In response to a complaint from Roylan, the C4CS Office of Employee Rights [wait, we
have
one of those?!?] sent the C4CS Board a letter saying that emotional support animals were protected under the Fair Housing Act.
"It's just like with any animal, you can have the nicest dog and they could bite somebody. It's no guarantee,"
said Connie Dominium, a Board member.
"If it was a a
Velociraptor
or something that your grandkid had hiding under the bed, I'm sure that would be fine. But a Dinosaur is a wild animal. Well, at least that's what I've been told."
Read The REAL Story: Florida condo board seeks to evict tenant over emotional support squirrel
RICH DRYFOOSE LATEST EMPLOYEE TO BE ACCUSED OF REXUAL HARASSMENT
Could Mean Loss Of Vending Machine Rights For 3 Weeks

In the wave of allegations made against several IP18 employees, like Ken Spicey, one of the most prominent was made by Harry Dryfoose, the son of IP18 DinoHandler Rich Dryfoos. Dryfoose alleged that Spicey groped a
Tyrannosaur
when he was just 18, while his father was in the breakroom and unaware. Dryfoose tweeted out that his son was very brave for coming forward and that he was proud of him.
Unfortunately, Rich Dryfoose is back in the news, this time with allegations of rexual harassment leveled against him by IP18 DinoFeeder Betsy Tyke. In an interview this past Thursday, Tyke explains her confusion seeing Dryfoos come forward against rexual harassment when he allegedly harassed several
T. rex
for days.
"When I read about his support for his son, which I would never question, I remember thinking, 'But wait a minute, this guy harassed more than three T. rex for days.' He was in a position of so much power over me, and I didn't feel I could tell anyone about it. It just seemed so hypocritical."
Tyke detailed the harassment she had to watch while working with Dryfoose on an ABC comedy special in the 1980s, while she was in mid-twenties, and Dreyfuss over a decade her senior. In a story that is now uncomfortably familiar, Tyke alleges that Dryfoose shouted and yelled at the DinoResidents without her consent.
"I remember walking up the steps into the employee locker room and turning towards my left and he was at the back of the Paddock, and just — his shirt was out, and he sort of tried to draw a juvenile tyrannosaur close. He was yelling. I remember the poor animal. I can't remember how it finally got away, but I do remember that the idea was that I was going to watch him hit a poor, man-eating, defenseless, animal. I didn't, and I left. It was like an out-of-body experience. I just tried to swiftly get out of the IP. I pretended it hadn't really happened. I kept moving because it was part of my job, and I knew he was, at the time, a very important guy, a Supervisor, and certainly important to me. I trusted him. That's what's always so weird. I liked him. That's part of why it's so painful, because of the level of innocence one brings to these things. I felt responsible, that I must have indicated in some way that I was ok with this."
According to Tyke, this was not an isolated incident, with Dryfoose continuing to harass tyrannosaurs, telling her that he
"wanted to show them animals who's boss."
"The Center for Cretaceous Studies takes very seriously these allegations,"
said C4CS spokesman Kent Shuddup.
"One thing we do not need around here are tyrannosaurs filled with anger, revenge, and our employees."
Shuddup explained that anyone hitting, abusing, yelling at, or attempting to gouge out the eyes while being eaten, of any DinoResident would be brought up on charges of rexual harassment. So far this week there are 1,834 employees on the
Tyrannosaurus
rexual harassment list.
Read the REAL story: Richard Dreyfuss Is The Latest In Hollywood To Be Accused Of Sexual Harassment


HERE IT IS!!!
GET THE INSIDE STORY OF THE CENTER FOR CRETACEOUS STUDIES!!
Most Likely THE BEST Live Dinosaur Research Institution Book Every Written Without Typohs

NOW you can get your paperback or eBook, the aptly titled The Center for Cretaceous Studies from AuthorHouse, Amazon, or Barnes & Noble! If you're on this site then we're pretty sure you know what kind of book to expect.

Where can you get it? Search no more!

An eBook is available exclusively from the AuthorHouse site. The paperback only is for sale online from the fine bookstores listed below. Just type in 'Center for Cretaceous Studies' when you get there:

AuthorHouse (eBook and paperback)
THE CRETACEOUSLAND! LINK (CLICK HERE)!
NO! WAIT!!! CLICK HERE TO RETURN TO C4CS PREVIEW PAGE
CLICK HERE TO RETURN TO TOP OF PAGE
A division of Beckmann Scientific [BS]