The CENTER
for CRETACEOUS STUDIES
THE WORLD LEADER IN LIVE DINOSAUR RESEARCH
And All The Crap Associated With Them
UPDATED SECURITY SYSTEM 2.1 "READY TO GO"
Reportedly 20 Times Better Than The Last Junk We Installed

PROUD MEMBER OF THE MID-AMERICA PALEONTOLOGY SOCIETY
even though they asked us to go away

FOLLOW
THE CENTER FOR CRETACEOUS STUDIES
ON FACEBOOK!
what? are you kidding? how'd THAT happen?!?

Look For CEO, Founder, DR. S BECKMANN On LinkedIn
seriously, why would you do that?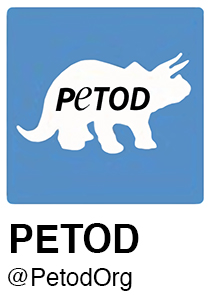 Charter Member of People for the Ethical Treatment of Dinosaurs Since Last Week
WELCOME to the Center for Cretaceous Studies [C4CS] LIVE Dinosaur research institution website. The animals [that is, the Dinosaurs, not the staff], are back indoors here in the warm, friendly confines of their Indoor Paddocks [IPs], of which you are more than welcome to walk around inside and experience these gentle, loving, man-eaters, up close and personal!
Here at the Center for Cretaceous Studies we often research and sometimes study the unstudied and unresearched aspects of Dinosaur life, both past and present. That is, when we're not attending the funerals of those doing that unstudied and unresearched stuff. However, as the ONLY research institute in the world with eating, biting, living, biting, breathing, biting, carnivorous Dinosaurs from the Cretaceous Period [wait, did we mention biting?], we have live examples just down the hall, so eh, what do we care if we discover something in fossils or not?

Our record is incomparable to any other live Dinosaur research institute on Earth. Not because our "residents" are actually live, meat-eating Dinosaurs, but mostly because we are the only ones stupid enough to house live, meat-eating Dinosaurs. You're sure we mentioned "biting", right?

Our unofficial motto: "Museums Are Nice, But We Have Them LIVE", remains our unofficial motto to this day, mostly because we don't want to be sued by Universal Studios or that Spielberg guy. Then again we thought it was slightly better than our previous motto: "You're Probably Going To Die Here".

Set on a gorgeous college campus-like setting, our Dinosaur research facility would be on the cover of Better Homes & Gardens if not for the... well, you-know-what's. This research institution, located southwest of Chicago, Illinois, is home to over 158 species* - we think - and probably growing every year, for all we know.

*Note: Most of our DinoCensus volunteers have never returned, so we're kinda guessing at numbers.

BOOKMARK! BOOKMARK!:
'Bookmark' this site on your Favorites or Bucket List as company news and information [below] is updated nearly every weekend - or as long as someone is still around [alive] to write.

You don't want to miss any of the 'adventures'... specially if for some insane reason you actually plan to visit us some day. Thanks for looking, and we hope to see you here soon!

Proof of life insurance, next of kin contact information, and blood type on separate piece of paper [in case the original is eaten] are required before admission will be granted.


CEO DR. BECKMANN RUINS ANOTHER COUPLE DINODIGS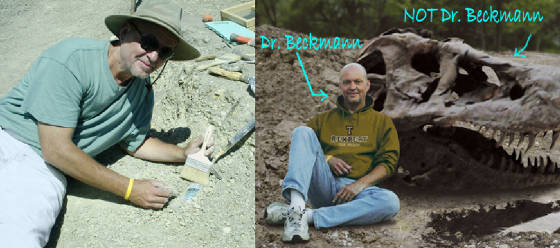 Over The Years Dr. Beckmann Has Dug Up Many Ounces Of Bones- Some Of Them Belong To Dinosaurs!
THE WEEK IN REVIEW BUZZ
QUESTIONABLE FACTS, INNUENDO, HINTS,
ANCIENT NEWS, RUMORS AND GOSSIP...

ok, mostly just rumors and gossip,
DIRECT FROM tC4CS WATER COOLER

LAST UPDATED
17 MARCH 2019
A.D.
AKA: 66,005,323 YEARS AFTER "THE ANCIENTS" KICKED THE BUCKET
LOOKS LIKE ANOTHER MILLION POUNDS OF PORK HEADED OUR WAY
"We'll Take It!" Cries CEO

Because U.S. Customs and Border Protection seized around 1 million pounds of pork at the Newark Port or Entry on Friday, in what authorities are calling the largest agricultural bust in U.S. history, it appears a sure-bet that the Center for Cretaceous Studies will once again be the sole benefactor.
The raid was made to combat the spread of African swine fever, a contagious disease that has killed more than 1 million pigs in China. The virus, according to C4CS DinoResident Dietician [8th Class] Adolph DeFlore
"doesn't even give these guys
[the DinoResidents]
an upset tummy."
When U.S. agriculture specialists make a critical interception of prohibited animal products, and stop them from entering the U.S. before they could potentially cause grave damage, The Center is by far the easiest place to get rid of all the meat. According to DeFlore, the animals tear into it
"like a fat kid in a doughnut shop"
.
At this morning's press conference, featuring double chocolate doughnuts, DeFlore said it would cause nearly $10 billion worth of damage to the U.S. pork industry within one year if the meat wasn't confiscated. CEO and founder Dr. S Beckmann noted that an agreement with the U.S. government and the Center for Cretaceous Studies automatically puts The Center in front of a very short line of places that are willing to get rid of the tons of meat.
"Actually, we're the only ones in that line,"
he said at the podium.
According to the U.N. Food and Agriculture Organization, the pork is so bad, 79 outbreaks of icky have been confirmed already.
During the Friday press conference, C4CS officials announced they anticipate receiving more than 50 shipping containers filled with illegally smuggled pork products from a warehouse in Elizabeth, New Jersey. U.S. Agricultural specialists and inspectors are still going through the boxes and when the Department of Agriculture examines all 50 shipping containers, they plan on bringing the illegal pork to the C4CS, said U.S. Customs Agent Supervisor Lauren Order at the press conference.
"This is highly appreciated, there is just way too much pork here to bring this product into the country,"
said Order,
"and we're just glad the meat is going somewhere it is needed, but mostly we're glad we don't have to feed the recipients."
The World Organization for Animal Health says there is no approved vaccine for African swine fever and mortality rates are as high as 100 percent in acute forms of the virus. In the decades since the agreement between the U.S. government and The Center, over 110 billion tons of spoiled, contaminated, rotten, eww icky, meat has made its way here. There has never been a bad side effect.
"The animals simply love it,"
said DeFlore.
"People forget, much of what these things eat is already dead or dying very soon. A little spoiled meat isn't gnna hurt 'em.
DeFlore also pointed out that employees should refrain from using Building E Hallways 12 through 27 on Tuesday.
"Yeah, it's gonna stink in there for a while."
The U.S. Department of Agriculture says the investigation is ongoing for those involved.
Read The REAL Story: 1 million pounds of pork seized at US border amid deadly Chinese outbreak


HERE IT IS!!!
GET THE INSIDE STORY OF THE CENTER FOR CRETACEOUS STUDIES!!
Most Likely THE BEST Live Dinosaur Research Institution Book Every Written Without Typohs

Need that "perfect" gift for that dinosaur nut case in your life? Well, this is a great ninth or tenth option when you can't find it. Get your paperback or eBook of the aptly titled The Center for Cretaceous Studies from AuthorHouse, Amazon, or Barnes & Noble! If you're on this site then we're pretty sure you know what kind of book to expect.

Where can you get it? Search no more!

An eBook is available exclusively from the AuthorHouse site. The paperback only is for sale online from the fine bookstores listed below. Just type in 'Center for Cretaceous Studies' when you get there:

AuthorHouse (eBook and paperback)
THE CRETACEOUSLAND! LINK (CLICK HERE)!
NO! WAIT!!! CLICK HERE TO RETURN TO C4CS PREVIEW PAGE
CLICK HERE TO RETURN TO TOP OF PAGE
A division of Beckmann Scientific [BS]