The CENTER
for CRETACEOUS STUDIES
THE WORLD LEADER IN LIVE DINOSAUR RESEARCH
And All The Crap Associated With Them
SIGNS SWITCHED IN BIG CHANGE OF DINOSAUR DIRECTION
The Last Known Photo Of C4CS Signs Dept. Employee Juan Wayrode

PROUD MEMBER OF THE MID-AMERICA PALEONTOLOGY SOCIETY
even though they asked us to go away

FOLLOW
THE CENTER FOR CRETACEOUS STUDIES
ON FACEBOOK!
what? are you kidding? how'd THAT happen?!?

Look For CEO, Founder, DR. S BECKMANN On LinkedIn
seriously, why would you do that?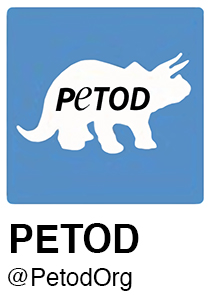 Charter Member of People for the Ethical Treatment of Dinosaurs Since Last Week
WELCOME to the Center for Cretaceous Studies [tC4CS] LIVE Dinosaur research institution website. The animals [that is, the Dinosaurs, not our staff] are now in their Indoor Paddocks [IPs] for the 2016-17 winter. Now is a GREAT time to visit The Center! Well, unless you have plans for a long life, that is.
Here at the Center for Cretaceous Studies we often research and sometimes study the unstudied and unresearched aspects of Dinosaur life, both past and present. That is, when we're not attending the funerals of those doing that unstudied and unresearched stuff. However, as the ONLY research institute in the world with eating, biting, living, biting, breathing, biting, carnivorous Dinosaurs from the Cretaceous Period [wait, did we mention biting?], we have live examples just down the hall, so eh, what do we care if we discover something in fossils or not?

Our record is incomparable to any other live Dinosaur research institute on Earth. Not because our "residents" are actually live, meat-eating Dinosaurs, but mostly because we are the only ones stupid enough to house live, meat-eating Dinosaurs.

Our unofficial motto: "Museums Are Nice, But We Have Them LIVE", remains our unofficial motto to this day, mostly because we don't want to be sued by Universal Studios or that Spielberg guy. Then again we thought it was slightly better than our previous motto: "You're Probably Going To Die Here".

Set on a gorgeous college campus-like setting, our Dinosaur research facility would be on the cover of Better Homes & Gardens if not for the... well, you-know-what's. This research institution, located southwest of Chicago, Illinois, is home to over 158 species* - we think - and probably growing every year, for all we know.

*Note: Most of our DinoCensus volunteers have never returned, so we're kinda guessing at numbers.

BOOKMARK! BOOKMARK!:
'Bookmark' this site on your Favorites or Bucket List as company news and information [below] is updated nearly every weekend - or as long as someone is still around [alive] to write.

You don't want to miss any of the 'adventures'... specially if for some insane reason you actually plan to visit us some day. Thanks for looking, and we hope to see you here soon!

Proof of life insurance, next of kin contact information, and blood type on separate piece of paper [in case the original is eaten] are required before admission will be granted.


CEO DR. BECKMANN RUINS ANOTHER COUPLE DINODIGS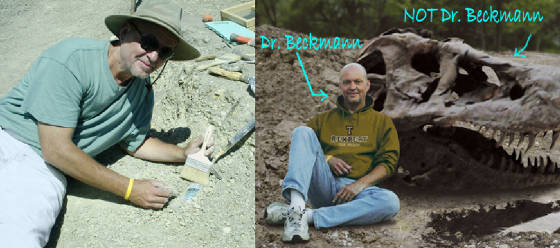 Over The Years Dr. Beckmann Has Dug Up Many Ounces Of Bones- Some Of Them Belong To Dinosaurs!
THE WEEK IN REVIEW BUZZ
QUESTIONABLE FACTS, INNUENDO, HINTS,
ANCIENT NEWS, RUMORS AND GOSSIP...

ok, mostly just rumors and gossip,
DIRECT FROM tC4CS WATER COOLER

LAST UPDATED
25 MARCH 2017
A.D.
AKA: 66,005,322 YEARS AFTER "THE ANCIENTS" KICKED THE BUCKET
CEO SIGNALS NEW HOPE FOR DINOCARE OVERHAUL
Says "Do Not Worry. Unless You Are An Employee"

Center for Cretaceous Studies CEO and founder Dr. S Beckmann hinted Friday that overhauling DinoCare is still alive, perhaps through a deal that may involve buying pizza and beer for the C4CS Board of Director [we only have one following Tuesday's Board of Directors vs.
Carnotaurus sastrei
"incident"], after his dramatic and seemingly terminal failure on Monday.
"DinoCare will explode and we will all get together and piece together a great healthcare plan for THE DINOS,"
the CEO said in a statement.
"Do not worry! Well, maybe a little... specially if you work here and are human. Then your healthcare is pretty much nonexistent."
Dr. Beckmann released the statement after the Board on Wednesday cancelled the final vote for the DinoCare replacement bill, upon concluding he didn't have enough votes because one remaining Board Director doesn't count.
"We're going to be living with DinoCare for the foreseeable future,"
the Board Director said afterward, making clear that neither he nor Mr. Big Shot [BS] CEO intend to introduce new legislation. That means every employee at The Center and Cretaceousland! will keep their current healthcare policy: $5 off on any major surgery and 3% off your choice of casket, up to $25.
Meanwhile, Dr. Beckmann appeared to already be turning his attention to rex reform and abandoning his plan to allow DinoCare to continue -- with the expectation that 2010 DinoHealth care plan -- something
he
introduced -- would implode amid increasing loss of hospital staff with
any
DinoResident experience and few options for replacing hospital staff that is eaten or worse during DinoResident care or surgery.
Still, his statement Friday suggested a potential willingness to work on a plan on overhauling DinoCare -- albeit a scenario in which employees come to work together on improvements to the catastrophic on-th-job injuries here at The Center and at Cretaceousland!.
Indoor Paddock [IP] DinoHandler [7th Class] Les Digits on Saturday seemed open to such discussions, acknowledging that DinoCare indeed has problems, including too much insurance for the animals and not enough pay for employees to afford any insurance.
"DinoCare is not perfect. Sure, the animals are worth millions each, but we need to fix things so that those working with the animals, the ones being chased and eaten, have some type of medical coverage"
he said on This Week In Paleontology.
"This is all fixable if we sit down as reasonable people. Then again, anyone considered reasonable wouldn't work here."
Read the REAL story: Trump signals new hope for ObamaCare overhaul, says 'Do not worry!'
MORE BIG BRANDS PULL ADS FROM C4CS
More? We Didn't Know We Had Any To Begin With!

An advertising boycott of The Center for Cretaceous Studies is broadening, a sign that big-spending companies doubt The Center's ability to prevent marketing campaigns from disappearing while here doing their promotions.
Ralph's MiniMart, John's Shoe Repair, and Auntie Jane's Pancake House on Friday confirmed that they have also suspended their advertising with The Center for Cretaceous Studies after they visiting here, even for business, placed their brands and their employees on five different levels of dead. Ken's Mailbox Service, The Doodlebug Hobby Shop, and Lloyd's Tire & Gas and several other companies pulled ads earlier this week.
The defections are continuing even after The Center apologized for
"many of our advertising sponsors losing some or all of their on-campus representatives"
and outlined steps to ensure unsavory activity doesn't happen again.
Fat chance.
It's not an easy problem to fix, even for a live dinosaur research company that billions trust... well, millions... ok ok, a couple or three people... to see, hear, smell, walk with, and run from all the live DinoResidents they want in a matter of seconds.
The Center depends mostly on automated programs to lock gates and seal hallway doors because the job is too much for humans to handle on their own, or want to do on their own. About 400 DinoAlert!s — when animals are outside of their IP — are sounded daily at The Center.
The company has pledged to hire more people to lock gates and develop even more sophisticated locking mechanisms to teach its employees to figure out which clips would be considered to be too 'delicate' to use. As one C4CS employee put it,
"You can't put a regular padlock on a 4-ton animal gate and expect it to last forever. Maybe once, ok. But ten times at the max and no more than twenty."
Contacted Friday, CEO and founder, Dr. S Beckmann, speaking through C4CS spokesman Kent Shuddup, stood by his earlier promise, signaling the company's confidence that it will be able to placate advertisers. As part of that effort, The Center intends to lock more gates and keep all "incidents" from ever being posted on YouTube — an effort that could spur compliments about security.
Some outraged advertisers are making it clear that they won't return to The Center until they are certain the situation is under control.
"The three times we sent employees there which we are advertising our product, we lost 9 employees before they got out of the company car. This is appalling and completely against our company values,"
Michelle, from Michelle's Cupcake Emporium said in a Friday statement.
If The Center can't lure back big name advertisers like these, it could result in a loss of hundreds of dollars in revenue. Most analysts, though, doubt the ad loss will be more like $12.85 after the smoke clears.
Read the REAL story: More big brands pull ads from YouTube in widening boycott


HERE IT IS!!!
GET THE INSIDE STORY OF THE CENTER FOR CRETACEOUS STUDIES!!
Most Likely THE BEST Live Dinosaur Research Institution Book Every Written Without Typohs

NOW you can get your paperback or eBook, the aptly titled The Center for Cretaceous Studies from AuthorHouse, Amazon, or Barnes & Noble! If you're on this site then we're pretty sure you know what kind of book to expect.

Where can you get it? Search no more!

An eBook is available exclusively from the AuthorHouse site. The paperback only is for sale online from the fine bookstores listed below. Just type in 'Center for Cretaceous Studies' when you get there:

AuthorHouse (eBook and paperback)
THE CRETACEOUSLAND! LINK (CLICK HERE)!
NO! WAIT!!! CLICK HERE TO RETURN TO C4CS PREVIEW PAGE
CLICK HERE TO RETURN TO TOP OF PAGE
A division of Beckmann Scientific [BS]