The CENTER
for CRETACEOUS STUDIES
THE WORLD LEADER IN LIVE DINOSAUR RESEARCH
And All The Crap Associated With Them
A BEAUTIFUL FALL DAY IN THE NEARBY SUBURBS
Don't Call Us. We Were Here First.

PROUD MEMBER OF THE MID-AMERICA PALEONTOLOGY SOCIETY
even though they asked us to go away

FOLLOW
THE CENTER FOR CRETACEOUS STUDIES
ON FACEBOOK!
what? are you kidding? how'd THAT happen?!?

Look For CEO, Founder, DR. S BECKMANN On LinkedIn
seriously, why would you do that?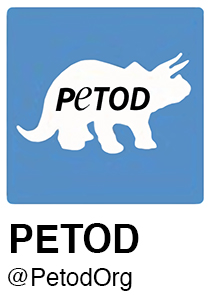 Charter Member of People for the Ethical Treatment of Dinosaurs Since Last Week
WELCOME to the Center for Cretaceous Studies [C4CS] LIVE Dinosaur research institution website.
Here at the Center for Cretaceous Studies we often research and sometimes study the unstudied and unresearched aspects of Dinosaur life, both past and present. That is, when we're not attending the funerals of those doing that unstudied and unresearched stuff. However, as the ONLY research institute in the world with eating, biting, living, biting, breathing, biting, carnivorous Dinosaurs from the Cretaceous Period [wait, did we mention biting?], we have live examples just down the hall, so eh, what do we care if we discover something in fossils or not?

Our record is incomparable to any other live Dinosaur research institute on Earth. Not because our "residents" are actually live, meat-eating Dinosaurs, but mostly because we are the only ones stupid enough to house live, meat-eating Dinosaurs. You're sure we mentioned "biting", right?

Our unofficial motto: "Museums Are Nice, But We Have Them LIVE", remains our unofficial motto to this day, mostly because we don't want to be sued by Universal Studios or that Spielberg guy. Then again we thought it was slightly better than our previous motto: "You're Probably Going To Die Here".

Set on a gorgeous college campus-like setting, our Dinosaur research facility would be on the cover of Better Homes & Gardens if not for the... well, you-know-what's. This research institution, located southwest of Chicago, Illinois, is home to over 158 species* - we think - and probably growing every year, for all we know.

*Note: Most of our DinoCensus volunteers have never returned, so we're kinda guessing at numbers.

BOOKMARK! BOOKMARK!:
'Bookmark' this site on your Favorites or Bucket List as company news and information [below] is updated nearly every weekend - or as long as someone is still around [alive] to write.

You don't want to miss any of the 'adventures'... specially if for some insane reason you actually plan to visit us some day. Thanks for looking, and we hope to see you here soon!

Proof of life insurance, next of kin contact information, and blood type on separate piece of paper [in case the original is eaten] are required before admission will be granted.


CEO DR. BECKMANN RUINS ANOTHER COUPLE DINODIGS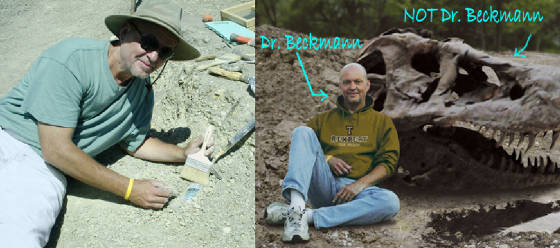 Over The Years Dr. Beckmann Has Dug Up Many Ounces Of Bones- Some Of Them Belong To Dinosaurs!
THE WEEK IN REVIEW BUZZ
QUESTIONABLE FACTS, INNUENDO, HINTS,
ANCIENT NEWS, RUMORS AND GOSSIP...

ok, mostly just rumors and gossip,
DIRECT FROM tC4CS WATER COOLER

LAST UPDATED
7 NOVEMBER 2019
A.D.
AKA: 66,005,323 YEARS AFTER "THE ANCIENTS" KICKED THE BUCKET
LOCAL HOUSING DEVELOPMENT SAYS ANIMALS TERRORIZING COMMUNITY
Nearly 46 Missing, Presumed Eaten Since The Time We Wrote This Headline

A large flock of supposed aggressive carnivorous Dinosaurs appears to be exacting some revenge, having swooped down out of what appears to be nowhere on a once-tranquil nearby housing development community that is now being terrorized by the unwelcome invaders. The latest suburban sprawl to threaten The Center for Cretaceous Studies and Cretaceousland! is "Holiday Circle" located 251.7 yards outside the SouthEast Gate.
No one appears to be happy that the mean animals — as many as 60 of them — have muscled in on what is usually a festive time, and a time when locals begin hanging Christmas lights and displays. They have, according to some surviving neighbors, become a nuisance, according to reports.
"The turkey-sized ones aren't bad. It's those 50-foot ones that are taking over,"
one resident told the local Neighborhood Watch gathering on Tuesday night.
"It's like an infestation."
Asked by representatives of the C4CS if she could identify the animals as belonging to The Center, if they had any identification indicating they were
our
animals as opposed to someone else's animals, she replied,
"no"
. The woman said people think it's a laughing matter but it's serious.
"When I can't get out of my house to get in the car because they won't go away and you can't get them to go away and they go to bite you, yes, it's a problem,"
she told those in attendance. Many wore bandages, walked on crutches, and a few were missing appendages or next-of-kin.
The meeting reported that the unofficially unidentified animals have broken windows in homes and garages. They've also broken homes and garages. One resident reported being told by another that the animals were
"clearing the neighborhood of all cats and dogs, and whoever is outside walking them or mowing their lawn. I spotted five or six standing around a bicycle rider they had knocked over, pecking away."

"Our brand-new vehicles? They're pecking at our vehicles,"
she told the gathering.
"All I'm looking for is that they be moved. Put them back in the big property on the other side of those fences. They got hundreds of acres of property."
That brought at least three irate people to their feet, shouting,
"Yeah!"
Despite fielding a number of complaints, the local animal control office can't and won't do anything about the marauding DinoResidents, er, animals, due to the fact that they've tried to do something before and lost everyone from the Home Office in 4 minutes of very "educational excitement".
"It's nuisance, this kind of wildlife we are not licensed to trap, relocate, or as they use the word, harass them or any research wildlife, for that matter, that's a nuisance,"
Animal Control Agent Katherine "Kat" Puhrring told the crowd.
Representatives from The Center reported being told that state wildlife officials were aware of the situation but that was all they were told. Again, there was a time when state wildlife officials would
try
to do something, but were wiped out in a few minutes. Since then the official reply has been,
"Good luck!"
The large animals, possibly very large turkeys probably weigh only between 4000 and 9000 pounds but can run up to 20 miles per hour. The Center recommended that concerned citizens should stay in their house or move. Preferably the latter.
Read The REAL Story: New Jersey homeowners say aggressive turkeys are terrorizing community


HERE IT IS!!!
GET THE INSIDE STORY OF THE CENTER FOR CRETACEOUS STUDIES!!
Most Likely THE BEST Live Dinosaur Research Institution Book Every Written Without Typohs

Need that "perfect" gift for that dinosaur nut case in your life? Well, this is a great ninth or tenth option when you can't find it. Get your paperback or eBook of the aptly titled The Center for Cretaceous Studies from AuthorHouse, Amazon, or Barnes & Noble! If you're on this site then we're pretty sure you know what kind of book to expect.

Where can you get it? Search no more!

An eBook is available exclusively from the AuthorHouse site. The paperback only is for sale online from the fine bookstores listed below. Just type in 'Center for Cretaceous Studies' when you get there:

AuthorHouse (eBook and paperback)
THE CRETACEOUSLAND! LINK (CLICK HERE)!
NO! WAIT!!! CLICK HERE TO RETURN TO C4CS PREVIEW PAGE
CLICK HERE TO RETURN TO TOP OF PAGE
A division of Beckmann Scientific [BS]