Our semi-new $1.7 gazillion bucks Indoor Paddock [IP] upgrade to Paddocks 34 through 38 in 2011 now features locking gates for your safety - and larger elephant guns for ours!

The moment you open your car door in the C4CS parking lot you'll begin to wonder a few things, like, where is all that noise coming from and why am I here? When you can't carry on a normal conversation because of the deafening, thundering noise, you'll wonder where the roaring is coming from. While you're running and screaming down our hallways, past flashing red lights and ear-splitting sirens, you'll wonder where the animals chasing you came from. No need to wonder any longer... this is it!

Not only do our IPs act as a place to keep our Dinosaurs from the ravages of Old Man Winter [seriously, 87-year old DinoHandler George Winter works in IP21 and he's terrible with animals], they're also a great, yet not safe, place to see our DinoResidents. Each species has it's own IP, which is the equivalent of your local zoo's animal cages, just on a much, much larger scale. As with any other wild animal exhibit, and they don't get any wilder than this, you can spend as much time as you want or dare at each Paddock!
PROBABLY THE LAST TIME HE DOES THAT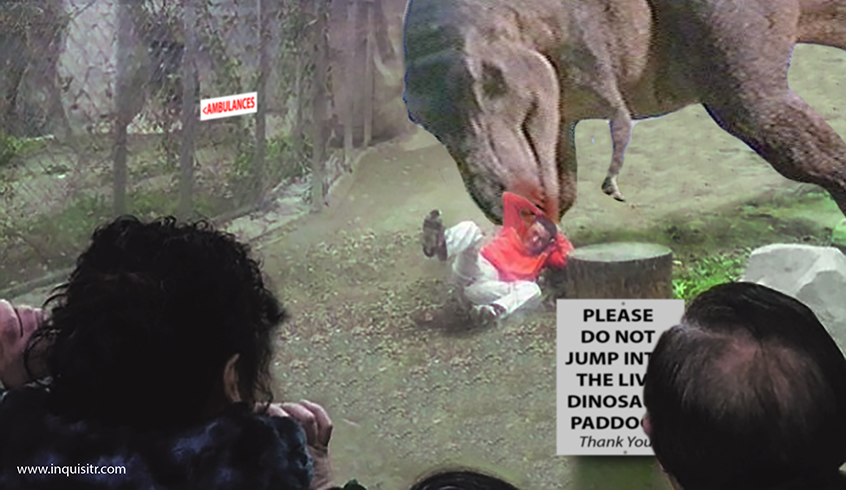 It's Loud. It Stinks. And That's Just The Receptionist Area. Wait 'Til You Get In HERE.
There are several places to hear, watch, smell, and run from our DinoResidents while they spend the winter months indoors. You'll find there are "public access" doorways [aka: doors we forgot to close] at many IPs. Sometimes you'll need to walk inside the IP to spot a certain species, because many of our Paddocks have a very "jungle-ish" Cretaceous Period landscaping, and the theropods like to stay out of sight until they pounce - mostly on idiots, er, people walking in from Public Access doorways.

Think of the times you visit your local zoo, looking for the tiger or lion, and the stupid things are sleeping in the farthest corner of their pen. At least here you can walk right on in and get a much better, close-up look... measured in inches. Isn't that considerate of us?
WHY DO PARENTS ALWAYS USE THE KIDS AS BAIT?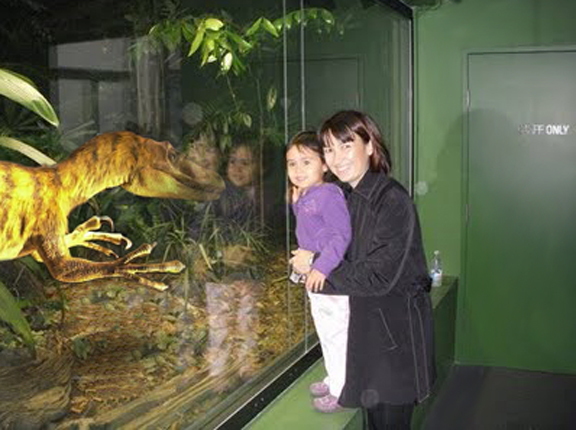 Holding A Meal Up Against The Glass Like That Will Cause The Group To Rush The Glass And... Uh Oh
SAFETY GLASS HELD IN PLACE WITH OLD GUM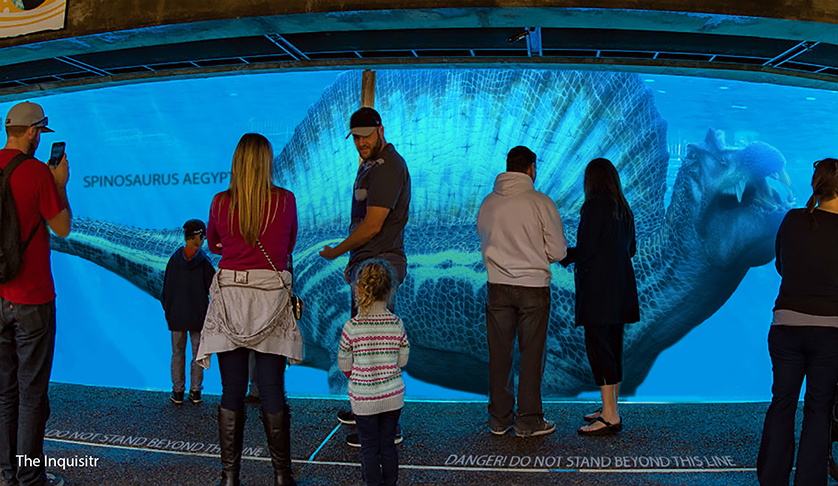 The Spinosaurid Paddock Includes Cretaceous Olympic-Sized Swimmin' Hole
With over 140.65 different species at The Center, each Paddock offers a different perspective to view these giant meat eaters. Some of our residents can be viewed at ground level through security glass. We call it 'security glass' because after the animal breaks through the glass and eats you... er, plays with you, you'll probably need to call Security.
Our larger, and far more dangerous residents, specially the ones that are
crazy
dangerous, should be viewed from safer, overhead balconies, walkways, or bridges. Don't fret! We still offer the option of walking through the "Big Boys" [the Greater Carnivores] Indoor Paddock on blood-marked trails. Doing this brings a whole new meaning to the phrase ENTER AT OWN RISK - and we put the 'RISK' in 'Enter At Own Risk'. Even from the balconies, it's amazing to witness the jumping ability of these huge raptors. Ok, so maybe not 'amazing', but more like 'horrifying'.
THE VALLEY OF THE SHADOW OF DEATH WALKWAY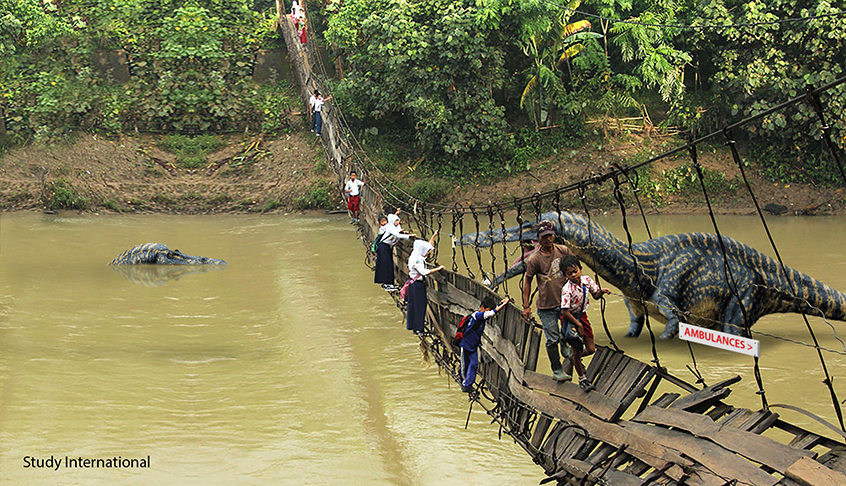 Recently Repaired - You Should See The 'BEFORE' Pic
If you MUST view these giants from ground level, several of our Indoor Paddocks await your arrival. You can get directions from any of the C4CS hallway emergency exit diagrams. Just follow the red arrows in reverse. In fact, we invite you, nay, we
dare
you to follow the safety signs in the C4CS corridor - the ones that say "STAY OUT" "DO NOT ENTER" and "CAN YOU READ?!?"
SHORT FENCE KEEPS YOU AWAY FROM DANGEROUS PLANTS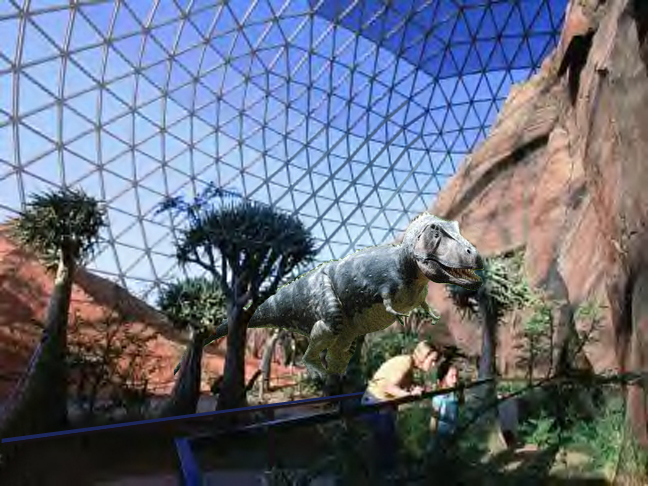 Really? You Can't Hear The 5-Ton Daspletosaur Behind You?!?
Please remember that while visiting the IPs, you are inside a live Dinosaur building. YOU are not the top of the food chain here. Would you be scared if lions or tigers got loose while visiting the local zoo? Yes? Well bucko, these things eat lions and tigers. Oh my!

It is loud. It is smelly. And your visit will push all your senses into maximum overload immediately. Oh, and did we mention it is very dangerous? But wow, what fun- and educational in SO many ways!! Unfortunately, none of them good.




To Help With Our Building Funds, Or Just To Give Us A LOT Of Money, Contact Us At

CretaceouStudies@aol.com or CretaceouStudies@yahoo.com or CretaceouStudies@gmail.com TODAY! or tomorrow....