The CENTER
for CRETACEOUS STUDIES
THE WORLD LEADER IN LIVE DINOSAUR RESEARCH
And All The Crap Associated With Them
TIME FOR ANNUAL REVIEWS AT THE CENTER
Not Good. This Was His Third Vehicle Stuck In A Tree

PROUD MEMBER OF THE MID-AMERICA PALEONTOLOGY SOCIETY
even though they asked us to go away

FOLLOW
THE CENTER FOR CRETACEOUS STUDIES
ON FACEBOOK!
what? are you kidding? how'd THAT happen?!?

Look For CEO, Founder, DR. S BECKMANN On LinkedIn
seriously, why would you do that?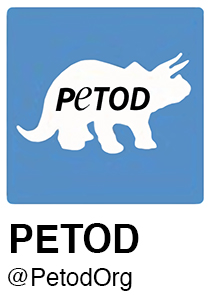 Charter Member of People for the Ethical Treatment of Dinosaurs Since Last Week
WELCOME to the Center for Cretaceous Studies [C4CS] LIVE Dinosaur research institution website.
Here at the Center for Cretaceous Studies we often research and sometimes study the unstudied and unresearched aspects of Dinosaur life, both past and present. That is, when we're not attending the funerals of those doing that unstudied and unresearched stuff. However, as the ONLY research institute in the world with eating, biting, living, biting, breathing, biting, carnivorous Dinosaurs from the Cretaceous Period [wait, did we mention biting?], we have live examples just down the hall, so eh, what do we care if we discover something in fossils or not?

Our record is incomparable to any other live Dinosaur research institute on Earth. Not because our "residents" are actually live, meat-eating Dinosaurs, but mostly because we are the only ones stupid enough to house live, meat-eating Dinosaurs. You're sure we mentioned "biting", right?

Our unofficial motto: "Museums Are Nice, But We Have Them LIVE", remains our unofficial motto to this day, mostly because we don't want to be sued by Universal Studios or that Spielberg guy. Then again we thought it was slightly better than our previous motto: "You're Probably Going To Die Here".

Set on a gorgeous college campus-like setting, our Dinosaur research facility would be on the cover of Better Homes & Gardens if not for the... well, you-know-what's. This research institution, located southwest of Chicago, Illinois, is home to over 158 species* - we think - and probably growing every year, for all we know.

*Note: Most of our DinoCensus volunteers have never returned, so we're kinda guessing at numbers.

BOOKMARK! BOOKMARK!:
'Bookmark' this site on your Favorites or Bucket List as company news and information [below] is updated nearly every weekend - or as long as someone is still around [alive] to write.

You don't want to miss any of the 'adventures'... specially if for some insane reason you actually plan to visit us some day. Thanks for looking, and we hope to see you here soon!

Proof of life insurance, next of kin contact information, and blood type on separate piece of paper [in case the original is eaten] are required before admission will be granted.


CEO DR. BECKMANN RUINS ANOTHER COUPLE DINODIGS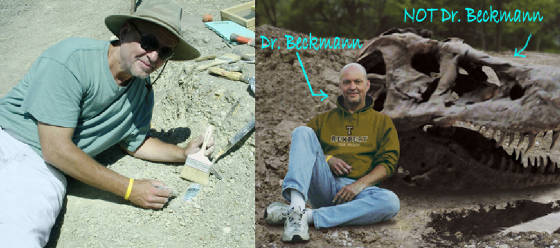 Over The Years Dr. Beckmann Has Dug Up Many Ounces Of Bones- Some Of Them Belong To Dinosaurs!
THE WEEK IN REVIEW BUZZ
QUESTIONABLE FACTS, INNUENDO, HINTS,
ANCIENT NEWS, RUMORS AND GOSSIP...

ok, mostly just rumors and gossip,
DIRECT FROM tC4CS WATER COOLER

LAST UPDATED
27 FEB 2021
A.D.
AKA: 66,005,325 YEARS AFTER "THE ANCIENTS" KICKED THE BUCKET
CEO WANTS SHOOTING, DINO-STEALING, CARPET-MESSING SUSPECTS TRIED FOR CRIMES
Remains Of Kidnappers Still Being Sought

Center for Cretaceous Studies CEO and founder, Dr. S Beckmann says he's breathing a sigh of relief after two juvenile
Tyrannosaurus rex
chicks were returned unharmed Friday -- but he's still demanding justice for the DinoWalker.
On Friday night, the C4CS Security Department confirmed the safe return of The Center's two
T. rex
chicks, Koji and Godzilla, who were stolen by suspects who approached a C4CS DinoWalker, shot at him once, and made off with the prehistoric babies.
"I want them apprehended so that they are tried for illegal parking, entry without paying admission, and.. oh yeah, stealing approximately $2.9 million worth of DinoResidents,"
Dr. Beckmann said in a rare Saturday morning appearance in front of the press in Media Room 1.
The DinoWalker -- whom the CEO named as Brian Mitschner but that C4CS Security has not identified yet -- was transported to CFI Care after the incident. He's since been listed in stable condition after being induced into a coma following the event and his injuries are being described as "made up".
Dr. Beckmann said he's
"relieved"
the DinoWalker is going to be OK, and is thankful both juvenile DinoResidents were returned, but wants to see Security catch the suspects.
"I am relieved that Brian is going to be OK and Koji and Godzilla were found. Thanks to the two of them most likely acting like hungry baby dinosaurs and possibly ripping their captors to pieces - like they do to our DinoHandlers,"
Dr. Beckmann added.
Security Chief Barb Dwyer said she's confident her people will locate the two suspects, who were described on Thursday by Security officials as two males or possibly females estimated to be between 10-85 years old, and from 5'1" to about 7'3" in height.
"Letting Koji and Godzilla go unharmed was nice but they must be punished for what they did to our indoor carpet. It was all brand new and now there's blood everywhere,"
the Big Shot added.
"Oh, and they should probably be punished for what they did to Brian, too, I guess. It was embarrassing to hear him squeal like a little girl on that Security tape. Special thanks to the doctors and nurses in the emergency room at CFI Care for knocking him out and shutting him up."
The Center for Cretaceous Studies spokesman, Kent Shuddup also spoke out on social media late Friday, one day after The Center offered a $5.00 Off general admission coupons reward for the return of the precious carnivores.
"The SouthWest Gate Security Officials found the juveniles near the entrance in a metal canister and immediately, after lunch break, called Building A to return them. The note inside, splattered with human blood, saying "HERE. TAKE THEM BACK. We don't want to mess with these things!!" will remain confidential due to the active criminal investigation and for the safety of the people who stole the animals,"
Shuddup told the press between bites of apple-filled doughnuts.
Security officials said Koji and Godzilla were returned to the southwest gate of The Center at approximately 6 p.m. Friday.
C4CS Security officials ensured employees they
"will continue to investigate to ensure the persons responsible are ultimately arrested and brought before justice."
Current searching is being conducted at local hospitals and morgues because of the wounds suspected to have been delivered by the two juvenile rex chicks.
Read The REAL Story: Lady Gaga's father wants shooting, dog-stealing suspects tried for 'assault, attempted murder'
THE CRETACEOUSLAND! LINK (CLICK HERE)!
NO! WAIT!!! CLICK HERE TO RETURN TO C4CS PREVIEW PAGE
CLICK HERE TO RETURN TO TOP OF PAGE
A division of Beckmann Scientific [BS]